Kamado Joe Kettle Joe 22-Inch Charcoal Kettle Grill - KJ15040320
Sale
Save $100 on a Kettle Joe Charcoal Grill.
was

$499.00

20% off ($100.00)
Free Shipping
As low as $35 /mo with
*
Buy it used as low as $449.10

View All
Professional Grill Assembly for $99
Book a professional to help assemble this grill for only $99. All bookings and inquiries are handled by Handy.
Frequently Bought Together
+
+
Choose items to buy together
Key Features
Patented hyperbolic ring allows for true smoking capability and even heating in a kettle grill
Heavy duty ceramic firebox provides excellent heat retention and even heating
Adjustable hinged lid does not need to be removed in order to open and cook
Grill can be taken off of the cart and on the go for a portable charcoal kettle experience
Folding aluminum side shelves provide extra space for prep or storage
Kamado Joe continues their takeover of the grilling world with the Kettle Joe, their first charcoal kettle grill. This simple porcelain-coated grill features ceramic inserts and comes with the patented hyperbolic ring to elevate the charcoal kettle experience. The grill can be used with or without the hyperbolic ring, which lets you choose between the standard kettle experience and the upgraded smoke-infusing style of a Kamado Joe. Adding to this experience is the heavy duty ceramic firebox that is standard in Kamado Joe grills. This firebox is excellent at retaining heat, and protects the shell of the grill from the extreme heat inside. With the hinged lid, you don't have to worry about one-handed grilling. It also adjusts up and down easily to accommodate the hyperbolic insert. The 22-inch cooking surface is made up of two half-moon stainless steel rod cooking grates, for durability and heat retention properties. A removable ash bucket sits below the stainless steel charcoal grate to aid in heat retention while making cleanup quick and painless. It can be accessed via the sliding door on the bottom of the grill. The top Kontrol Tower lets you easily adjust the airflow and control the temperature inside the grill. Folding aluminum side shelves provide extra space for prep or storage. Once folded, they expose the side handles which are used to remove and carry your kettle. The porcelain-coated steel body stands up to high temperatures and wear while keeping it lightweight, ensuring that the Kettle Joe will be your charcoal kettle of choice for grilling at home or on the go.
Legal disclaimers and warnings
Product packaging, owners' manuals, installation instructions, and/or operating instructions may include more information than what is shown on our website. The content on our site is intended to be used for reference purposes only. Please fully read all included manuals and documentation before installing or using this product. WARNING for California residents: this product may contain chemical(s) known to the state of California to cause birth defects, cancer, or other reproductive harm.
Product Information
UPC

811738023137

Model Number

KJ15040320
Ask an Expert
Buy with confidence.
Contact our experts today.
Specifications
| | |
| --- | --- |
| Class | Entry-Level |
| Fuel Type | Charcoal |
| Collection | Kettle Joe |
| Configuration | Freestanding |
| Exterior Material | Porcelain Coated Steel |
| Primary Color | Red |
| Cooking Grate Material | Stainless Steel |
| Cooking Grid Dimensions | 22 Inch Diameter |
| Main Grilling Area | 363 Sq. Inches |
| Total Grilling Area | 363 Sq. Inches |
| Burger Count | 17 |
| WiFi/Bluetooth Enabled | None |
| Grill Lights | None |
| Spring Assisted Hood | No |
| Thermometer | Analog |
| Side Shelves | Yes |
| Side Burner | None |
| Made In USA | No |
| Cart Assembly | Some Assembly Required |
| Commercial-Grade Multi-User | No |
| Size | Small (0 - 26") |
| Marine Grade | No |
Dimensions
| | |
| --- | --- |
| Width | 43.7" |
| Depth | 29.5" |
| Height | 48" |
| Weight | 107 lbs |
For the Kamado Joe warranty to apply, you must register your grill. All ceramic kamado parts are warrantied to be free of defects in material and workmanship for as long as the original purchaser owns the grill. All metal and cast iron parts are warrantied for a period of five (5) years. The electronic components are warrantied for a period of three (3) years. Any miscellaneous components including, but not limited to the thermometer, gaskets, and iKamand controllers are warrantied for a period of two (2) years. This warranty assumes normal and reasonable domestic household use combined with expected good maintenance. This warranty does not apply to commercial usages. Commercial applications are warrantied to be free of defects in material and workmanship for a period of one (1) year. Labor not included.

Refer to manufacturers manual for full warranty details.
85% of reviews recommend this product
Customer images featuring this product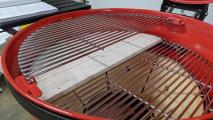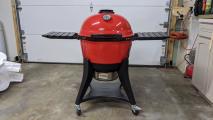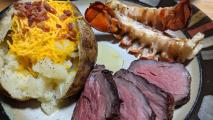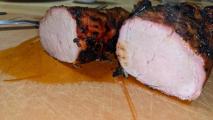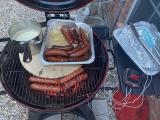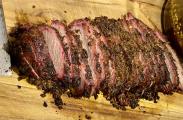 For the price its the best cooker on the market

I have had Traeger pellets, Pit Boss pellets, Weber kettles and Char-Grillers. After having The Kettle Joe for only 8 days and cooking virtually everyday on it, I have found it to be easy to use with outstanding flavor and performance. Yesterday I put a small pork shoulder on for some pulled pork. It held a constant temp at 240 for six hours. When done I wrapped the shoulder for an hour, then pulled it and it fell off the bone and shredded with ease. Best butt I have ever eaten at home or from a BBQ place. My family tasted and asked what I did differently. I said nothing its the cooker. Next purchase a Kettle Joe Jr. I am sold on Kamado Joe.

Was This Helpful?

Kettle joe

It's a great lighter weight grill/smoker. I have the Big Joe this a good tweener

Was This Helpful?

Great smoker for reasonable price

Received my Kettle Joe in July, used it every week since them, for smiked ham, Montreal smoked meat, brisket, baby ba k ribs, skomed salmon, etc. Never regret buying it :-)

Was This Helpful?

Great Grill

I haven't tried smoking yet, but for steaks and burgers, it's great!

Was This Helpful?

Awesome

Wish I had bought a kamado style cooker sooner. For the money it was a great place to start for inexperienced kamado user like myself. I lovey it

Was This Helpful?

Love it!

This is such an exciting new product! Hybrid kettle and kamado grill. So many possibilities of things to cook. Assemble was easy. Very reasonably priced.

Was This Helpful?

Great features

I love that I can, sear, grill and smoke. I had a high end pellet grill and I get a better smoke flavor from this unit then my pellet grill.

Was This Helpful?

Great smoker

I bought this is at first came out. It was an upgrade from a smaller Akron. I love the SLO roller and ease of use. I have had several long cooks with not having to add any charcoal. Good less expensive option without sacrificing quality.

Was This Helpful?

A level up from the Weber Kettle

I've had my Kettle Joe since June and I love it. Coming from a Weber kettle, this offers the heat retention and the Slo Roller technology in a kettle format. I've smoked tri tips, grill steaks and chicken, and even made Pakistani Nihari It's a great stepping stone towards a ceramic grill.

Was This Helpful?

More than a kettle

Recently added a kettle Joe to my outdoor cooking arsenal. Been able to do everything a Weber kettle can do, but with a lot more features and overall capability. I am a big 2 zone cooking guy and love the versatility u get by having split cooking grates where u can start over direct heat and finish over indirect or reverse sear with the same setup. The removable sloroller also turns this kettle into a bonafide smoker with improved airflow and 22" of edge to edge indirect cooking. I also really like the hinged lid, stainless charcoal ash basket and ceramic petals which help this cooker retain heat and act more like a Kamado style grill. Here are a few cooks I've done thus far with many more to come!

Was This Helpful?
The Skinny:
Reimagined, 2-in-1 kettle grill lets you switch between grilling and kamado-style cooking
SloRoller hyperbolic ring insert uses Harvard science to promote even heat and smoke
Comes with heavy-duty ceramic firebox inserts that transform the kettle into a kamado
Half-moon, stainless steel rod cooking grates can be set in 2 tiers for versatile cooking
Ash drawer and adjustable, hinged lid simplify your grilling experience
A charcoal kettle from a kamado grill brand? As unorthodox as that may sound, the Kamado Joe Kettle Joe charcoal grill is proof that it can be done — and done well. In fact, this fresh approach to the classic kettle grill that started it all is actually 2 grills in 1, with included inserts that make alternating between cooking styles remarkably simple. It's the best of both worlds in a single, reasonably sized hybrid grill that lends versatility rarely seen in a charcoal kettle, all at one of Kamado Joe's most accessible price points. This makes the Kettle Joe an excellent option for those who want to dip a toe into kamado cooking or don't have the budget for a fully ceramic grill.
If those sound like bold statements, rest assured that we back them all up in this Kamado Joe Kettle Joe review. Our experts took a hard look at every aspect of the Kamado Joe kettle grill to get a better idea of its quality, performance, and features so you can have a complete picture before buying. And while the Kettle Joe is a bit pricier than other Entry-Level charcoal grills, you'll soon see that the cooking flexibility you receive in return more than makes up for the difference in cost.
Quality:
The Kamado Joe Kettle Joe meets every expectation — and even exceeds a few — for Entry-Level construction.
Keeping in line with other charcoal kettles, Kamado Joe swapped its usual ceramic grill body for porcelain-coated steel construction. This material has no problem handling high heat, plus the porcelain layer does a great job preventing rust and making the exterior easy to clean. Porcelain-coated steel is also lightweight compared with Kamado Joe's ceramic, which is key considering you can take the Kettle Joe off its cart for portable grilling.
The Kettle Joe steps up its quality with durable stainless steel in the heavy-duty charcoal basket and rod cooking grates, the latter of which we love to see in an Entry-Level charcoal grill. The side shelves, meanwhile, are made of sturdy aluminum that holds cutting boards and serving trays with no problem. And while technically an accessory, the heavy-duty ceramic firebox inserts that line the charcoal basket boast the thick, high-quality ceramic that Kamado Joe uses in its regular kamado grills. The inserts not only simulate the awesome thermodynamics of kamado cooking (more on that below), but also protect the steel grill shell from heat to extend its lifespan. Best of all, Kamado Joe brings a strong warranty to the table: 5 years on all metal grill parts, and coverage on the ceramic inserts as long as the original purchaser owns the grill.
Performance:
The Kettle Joe shines as both a classic grill and a slow-cooking kamado, bringing newfound versatility to the kettle game.
As a standard charcoal kettle grill, the Kettle Joe checks every box for cooking performance at both high and low temperatures. But where this groundbreaking grill really stands out is through the SloRoller hyperbolic ring and ceramic firebox inserts, a pair of included accessories that promote ideal low-and-slow conditions in ways ordinary kettles never could. We'll start with the SloRoller, which Kamado Joe previously included with only its higher-end Classic III and Big Joe III models; that goes to show how much work it puts in as a smoking enhancer.
In simplest terms, the SloRoller is a modified heat deflector that offers true smoking capabilities and astonishingly even temperatures. Kamado Joe slightly redesigned the Classic III SloRoller to better fit this kettle grill, but the idea is the same: a squat, hourglass-shaped ring featuring strategic airflow holes, placed between the coal bed and cooking grates. The SloRoller sucks up heat and smoke from below, then continually circulates them in upward spirals from the airflow holes to evenly coat food in flavor. This cyclonic pattern of steady temperature and smoke production is especially useful for charcoal kettles, which sometimes produce uneven heat when the fuel settles to one side of the charcoal basket. It's also backed by patented Harvard research on hyperbolic pressure chambers, though the gorgeous smoke rings and delicious results were all the proof we needed.
The ceramic firebox inserts left us equally impressed by their simplicity and effectiveness. True to their name, these ceramic plates slide into the charcoal basket to form a ring around the fuel in an admirable rendition of the kamado cooking experience. They essentially transform the kettle grill into a heat-retaining machine, leading to markedly stable temperatures that aren't typically found in Entry-Level charcoal grills. That means legit low-and-slow cooking with no extra accessories or excessive time spent fine-tuning the airflow vents — a huge bonus in our book.
We were amazed by how easily the Kettle Joe grill morphed into a slow-cooking kamado, but we're also glad to report it also functions on its own as a solid charcoal grill. Kamado Joe carried over the Top Kontrol Tower from its kamado collection, making it easy to manage airflow and temperatures in tandem with the bottom air vent. The 2-tiered, half-moon cooking surface is another Kamado Joe calling card, with the lower rack providing direct-flame searing and the upper grates serving for more indirect methods. Whether you keep them split, bring them to the same level, or sit them in the SloRoller insert, you'll have 363 square inches of cooking space on stainless steel rods that are excellent at retaining heat. In our experience, the hardest part of cooking on a Kamado Joe Kettle Joe grill is deciding whether you'd rather the standard kettle experience or a glimpse into the world of ceramic kamados.
Features:
Beyond the experience-altering SloRoller and ceramic inserts, Kamado Joe offers convenience from the hinged lid, removable ash bucket, and more.
The SloRoller and ceramic firebox inserts undoubtedly steal the show among the Kettle Joe's features, but we covered them in depth when discussing the grill's (or should we say "the kamado's?") performance. Let's instead look at some of the finer details that Kamado Joe included to make cooking as seamless as possible. Lifelong kettle users will be overjoyed to see a hinged lid; without it, you'd have to find a place to set down the lid when cooking — or resort to one-handed grilling. To fit the SloRoller insert within the lid, the hinge's height is adjustable via a simple hand knob and locking pin. Now that's a design we can appreciate.
Where cleanup is concerned, Kamado Joe makes things easy with a removable ash bucket positioned directly below the charcoal basket. There are also side shelves for extra prep or storage space when grilling, and they fold down to reveal — surprise! — carrying handles for removing the Kettle Joe from the cart and taking it on the go. When left on its cart, the grill remains incredibly mobile thanks to the 4 caster wheels, 2 of which lock to hold the unit in place.
Between the casters stretches a bottom storage shelf, another sign that Kamado Joe values a convenient experience. One final note to that point: as a 22" charcoal grill, the Kettle Joe can fit both Kamado Joe half-moon accessories and add-ons for other 22" kettles. We'd say we're surprised, but if this Kettle Joe review has proven one thing, it's that Kamado Joe created a grill that's much more than the standard charcoal kettle.
Question:
Can you use any of the Kamado Joe accessories like the Joe-tisserie or pizza oven on the kettle Joe?
Was This Helpful?
Answer:
Hi, Carter. Unfortunately, neither of those accessories will fit the Kettle Joe.
Question:
Can you use wood in the kettle
Was This Helpful?
Answer:
Hi Juli, wood chips and wood chunks are acceptable sources of fuel for the Kamado Joe Kettle.
Product

Current Item

Kamado Joe Kettle Joe 22-Inch Charcoal Kettle Grill - KJ15040320

Weber Performer Deluxe 22-Inch Freestanding Charcoal Grill With Touch-N-Go Ignition - Black - 15501001

Weber 26-Inch Kettle Ultimate Bundle - Black

Napoleon PRO 22-Inch Freestanding Charcoal Kettle Grill - PRO22K-CART-2

Price & Shipping Information

You Save: $100.00 (20%)

Free Shipping

Leaves Warehouse: 24 Hours

You Save: $100.00 (15%)

Leaves Warehouse: 24 Hours

View Item

You Save: $120.00 (18%)

Free Shipping

Leaves Warehouse: 24 Hours

View Item

Free Shipping

Leaves Warehouse: 24 Hours

View Item
ID

3073447

2893260

3080342

2988525

Model Number
KJ15040320
15501001
16401001 + 7153 + 7416 + 7649
PRO22K-CART-2
Class
Entry-Level
Entry-Level
Entry-Level
Entry-Level
Fuel Type
Charcoal
Charcoal
Charcoal
Charcoal
Collection
Kettle Joe
Performer
Original Kettle Premium
Charcoal Kettle
Configuration
Freestanding
Freestanding
Freestanding
Freestanding
Exterior Material
Porcelain Coated Steel
Porcelain Coated Steel
Porcelain Coated Steel
Porcelain Coated Steel
Primary Color
Red
Black
Black
Stainless Steel
Cooking Grate Material
Stainless Steel
Plated Steel
Stainless Steel
Cast Iron
Cooking Grid Dimensions
22 Inch Diameter
22 Inch Diameter
26 Inch Diameter
—
Main Grilling Area
363 Sq. Inches
363 Sq. Inches
508 Sq. Inches
365 Sq. Inches
Total Grilling Area
363 Sq. Inches
363 Sq. Inches
508 Sq. Inches
365 Sq. Inches
Burger Count
17
17
23
23
WiFi/Bluetooth Enabled
None
None
None
None
Grill Lights
None
None
None
None
Spring Assisted Hood
No
No
No
No
Thermometer
Analog
Analog
Analog
Analog
Side Shelves
Yes
Yes
No
Yes
Side Burner
None
None
None
None
Made In USA
No
No
No
No
Cart Assembly
Some Assembly Required
Some Assembly Required
Some Assembly Required
Some Assembly Required
Commercial-Grade Multi-User
No
No
No
No
Size
Small (0 - 26")
Small (0 - 26")
Small (0 - 26")
Small (0 - 26")
Marine Grade
No
No
No
No
Free Shipping on orders over $49
Ship your entire order to your home for free, especially the big stuff! *Continental US only
When will my item arrive?
Once shipped, items usually arrive within 3-5 business days. While UPS and FedEx are our carriers for smaller items, be aware that larger items and orders are shipped via freight. The freight process is a bit more complicated than what we've all come to expect for small parcels, so it's important that you're prepared and understand what's required of you well before delivery day.
Most freight products ship on a pallet
Some carriers will call to schedule a delivery window, while others will deliver the shipment to a reasonably accessible location closest to your residence (their goal is to deliver as near a garage door as they can).
We'll specify which process you can expect in your shipping confirmation email.
For carriers that schedule delivery appointments:
Carriers that schedule delivery appointments require you to be home for delivery and provide your signature. The delivery is made with a semi-truck with lift gate services, and the shipment is dropped off at the curb. If you authorize the shipping company to leave the delivery without a signature, BBQGuys can't be held responsible for damages that occur during delivery. As complicated as this process may seem, we've only scratched the surface here — please review our detailed guide to freight delivery so there are no surprises when a freight shipment heads your way.
For carriers that deliver without an appointment:
Carriers that deliver without an appointment don't require you to be home or set up a delivery window, and you aren't required to sign for the pallet(s). Instead of scheduling an appointment, arranging your schedule to be home for the delivery, and signing to confirm receipt, you can sit back and let your items come to you. If you're home at the time of the drop-off, you can request the driver place your delivery in the garage; if you're out of the house, the driver will leave it near the garage or doorstep.
This item leaves our warehouse within 24 Hours
$6.95 Flat-Rate Shipping
Anything under $49 ships at one low price. If your order increases, your shipping stays the same!
30-Day Returns
Return all new, unused, and unassembled items in their original packaging, and we'll give you a full refund minus the cost of the original AND return shipping.
No Restocking Fee
Most companies charge a restocking fee. We just don't do business that way.
Message to our customers: Like all retailers and manufacturers, we're currently experiencing well-publicized supply-chain issues and steel shortages that have caused some orders to be delayed. We sincerely apologize for any inconveniences arising from this situation, and we assure you we're making every effort to solve these problems with our vendors and logistical partners.

So, why are some orders being affected? Major ports around the world are still operating at reduced capacity because of COVID-19 restrictions — on average, container boats sit at port for about 3 weeks before being unloaded. Combine these shipping inefficiencies with a scarcity of natural resources, and virtually every industry has been crippled to some degree. Yet we acknowledge that it's our duty to meet these challenges head-on and work toward solutions so you can enjoy more time outdoors with the people you love. We appreciate your patience as we strive to smooth out our supply chain, and we thank you for choosing us for your grilling and outdoor living needs.
Your Shopping History. Pick up where you left off.