This product is temporarily unavailable. May we recommend...
Everdure By Heston Blumenthal FURNACE 52-Inch 3-Burner Propane Gas Grill With Stand - Orange - HBG3OUS
Clearance
Clearance-Save Up To 60%.
Temporarily Unavailable
This product is temporarily unavailable for purchase
Have questions?
Call or chat with our experts for availability.
1-877-743-2269
was

$1,299.00

20% off ($259.80)
Free Shipping
Professional Grill Assembly for $99
Book a professional to help assemble this grill for only $99. All bookings and inquiries are handled by Handy.
Frequently Bought Together
Key Features
Reaching high temperatures in only 5 minutes lets you get searing potential almost instantly
Feed all your guests in a timely manner with 479 sq. inches of grilling surface area
Produces 27000 BTUs of cooking power
Made of die-cast aluminum that will never rust
3-tiered stand allows for multiple height configurations
The Everdure FURNACE propane grill by Heston Blumenthal is great for outdoor grilling anywhere you want to be. Constructed of die-cast aluminum this grill is very durable and will never rust. The FURNACE series grills come equipped with 3 burners that feature flame port holes on the top which allow for close contact with the cooking grates providing great searing potential and can be ready in about 5 minutes from first igniting the grill. The cooking grates are made of enamel coated cast-iron and have integrated flame tamers that prevent flare ups and burner port clogging to help keep your grill clean and grilling experience safe. The extra high hood is designed to enhance air-flow for convection cooking providing an even cook across the entire grill. With 479 sq. inches of grilling space and a whopping 27000 BTUs of cooking power, you can churn out meals for your guests in no time. Capable of cooking with either the hood up or closed, you can grill the way you want to. With collapsible side shelves, the FURNACE grill can accommodate many spaces and can be stored easily. Comes with a 3-tiered stand that provides multiple height variations, good for freestanding, tabletops, or tailgating. This model has a orange color painted exterior.
Legal disclaimers and warnings
Product packaging, owners' manuals, installation instructions, and/or operating instructions may include more information than what is shown on our website. The content on our site is intended to be used for reference purposes only. Please fully read all included manuals and documentation before installing or using this product. WARNING for California residents: this product may contain chemical(s) known to the state of California to cause birth defects, cancer, or other reproductive harm.
Product Information
UPC

9312646026858

Model Number

HBG3OUS
Ask an Expert
Buy with confidence.
Contact our experts today.
Specifications
| | |
| --- | --- |
| Class | Practical |
| Fuel Type | Propane |
| Collection | FURNACE |
| Configuration | Freestanding |
| Exterior Material | Cast Aluminum |
| Primary Color | Orange |
| Number Of Main Burners | 3 Burners |
| Grilling Surface BTUs | 27000 |
| Infrared Main Burner | Not Available |
| Main Burner Material | 304 Stainless Steel |
| Cooking Grate Material | Porcelain Coated Cast Iron |
| Cooking Grid Dimensions | 29 X 16 1/2" |
| Total Grilling Area | 479 Sq. Inches |
| Burger Count | 22 |
| WiFi/Bluetooth Enabled | None |
| Rotisserie Kit | No |
| Heat Zone Separators | No |
| Ignition Type | Single Spark |
| Flash Tubes | No |
| Grill Lights | None |
| Spring Assisted Hood | No |
| Thermometer | Analog |
| Includes Smoker Box | No |
| Side Shelves | Yes |
| Hose Included | Yes |
| Side Burner | None |
| Made In USA | No |
| Commercial-Grade Multi-User | No |
| Size | Medium (27 - 33") |
| Marine Grade | No |
Dimensions
| | |
| --- | --- |
| Width | 51.6" |
| Depth | 20.4" |
| Height | 42" |
| Weight | 85 lbs |
Everdure grills are warrantied to the original owner for ten (10) years for the outer body, burners, hood, and cart against all rust or burn through and five (5) years for exterior paint and finish against rust through. Labor not included.

Refer to manufacturers manual for full warranty details.
100% of reviews recommend this product
Customer images featuring this product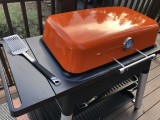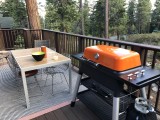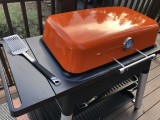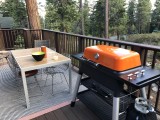 An Excellent Grill for Cooking

I've had this grill for about a month, and I can say it's the best cooking grill I've ever used. Better than my Weber, better than my Artisan. The direct-heat set up works as advertised. I can light just two burners and have the grill at 500 degrees in 5-6 minutes, no joke. Just as important, I can dial up a consistent medium temperature and get nicely browned, fully cooked chicken without the charring. The bottom half of the grill is finished in a textured, nonstick aluminum that feels premium and is easy to clean. The burner knobs are precise. The whole thing is more like a refined kitchen appliance than a bulky grill. Not everyone will like that, but it makes for good open-flame cooking. What's wrong with it? Well, the cart feels like an Ikea project (I hate Ikea) though it's stable and attractive, and it's difficult to attach the grill head to the cart. Also, having a shallow grill box has downsides along with the benefits. Sure, it's easy to clean under the burners, but when the bottom of the grill is so close to your food it probably needs to be kept clean. Is that a bad thing? Depends how you feel about chores. We'll see about durability, but it's very well made. And after having a big stainless-steel grill that was indestructible but didn't cook well I'm not too worried. I really like the smart simplicity of this grill design. It encourages quick, easy use. For cooking performance, it's a definite upgrade from a standard gas grill.

Was This Helpful?

So Far I Love This Grill

I received my Furnace Grill last week and love it! It is very attractive. The orange lid is beautiful. It is very well made and feels quality. It is very well thought out. The grill part comes fully assembled. The legals and shelves under require assembly. Everything is quality materials and feels nice, even the plastic parts are quality. The assembly of the legs is complicated and there were lots of little washers and screws that were too similar in size to be clear what goes where. The instructions were ok but there was a lot of cross referencing which was slow. They need a lesson from Ikea. I've used the grill and it heats up fast!!! Gets to 600 in a little over 5 minutes! My rib-eye was perfect and the grilled asparagus had a nice char on them. In ordered the tepanaki plate but have not used it yet. The propane cover and storage accommodation is stunning. Very smart. Its nice that this grill is convertible to portable tail-gate grill as well. Over-all I love this thing. Easy to clean too!

Was This Helpful?
The Skinny:
Only 2 inches from heat to meat
Preheats to max temperature in only 5 minutes
Perfect for high-heat, steakhouse searing
Die-cast aluminum body will never rust
Easily converts into portable configuration
Things We Love:
Everdure Force and Furnace gas grills are some of our favorite new additions to the BBQ industry. Introduced to the American market in 2019, Australian-based Everdure Grills partnered with Michelin Star chef Heston Blumenthal to design models that are as efficient as they are aesthetically pleasing.
Contemporary & Durable Design
The unconventional, minimalist look of these grills can tie your home's contemporary feel to your outdoor space or serve as a conversation piece in a more traditional setting. You even have several choices for grill color — the Everdure Furnace is available in stone, graphite, orange, and mint, while the Everdure Force comes in all those colors plus red.

Thanks to die-cast aluminum used throughout the 2-burner Force and 3-burner Furnace, you'll never have to worry about rust forming on their legs, bodies, and fireboxes. Those components can easily last decades with proper maintenance, while the commercial-grade, stainless steel burners and cast iron cooking grids are similarly sturdy.
2 Inches from Heat to Meat
In a traditional gas grill, the burners and cooking surface are separated by a layer of internal components called flame tamers. These components are designed to both protect your burners from drippings, which can cause flare-ups, and to help disperse heat evenly throughout a grill's firebox.
The firebox of Everdure by Heston Blumenthal gas grills is just 10 inches from top to bottom, and the burners sit only 2 inches below the cooking grates. Because of the lack of vertical space within the Furnace or Force firebox, Everdure doesn't include a traditional layer of flame tamers between the burners and cooking grates. Instead, the flame tamers are cleverly built into the cooking grids themselves! Everdure has shaped the Furnace and Force's cast iron cooking grids to cover and protect the burners from any drippings at the cooking surface.
So what does this minimalist firebox mean for grillers? Because of the short distance between burner and cooking surface along with a lack of traditional flame tamers, heat from the vertically ported propane burners is fed directly to the cast iron cooking grids at full force. That's how Everdure Furnace and Force grills produce extraordinarily high levels of heat at the cooking surface, allowing you to create steakhouse-quality sear marks with very little effort. This setup also allows you to reach those ultra-high temperatures in as little as 5 minutes after lighting.

Everdure gas grills generate this powerful heat with a fairly low BTU count. The Everdure by Heston Blumenthal Force packs just 22,000 BTUs, while the Furnace offers only 27,000 BTUs. Those low totals mean that Everdure grills use far less propane fuel than most of their competitors, which usually rely on high-output burners to hit screaming-hot temperatures. If fuel efficiency is your top priority, then look no further than the Force and Furnace.
Even Heat
Though gas grills built to crank out high temperatures often struggle to evenly spread that heat across the cooking surface, Everdure Furnace and Force grills accomplish this feat by using high-quality materials. The cast iron used in the cooking grids, for example, is excellent at absorbing and dispersing heat. Then there's the die-cast aluminum grill head, which is also great for quickly absorbing and radiating high levels of heat back at your food.
2 Grills in 1
Everdure by Heston Blumenthal Furnace and Force models are actually two grills in one. Removing the grill head from the cart reveals an attached set of smaller aluminum legs that allow these grills to become portable BBQ pits measuring just under 22 inches in height. We found the portable Everdure Force to be lightweight and quite easy to carry around a campground, while the Everdure Furnace's 51-inch width makes it perfect for sitting on a truck's tailgate.
Wide Temperature Range
Converting to travel size isn't the only trick up these grills' sleeves. Because of the relatively low BTU output of each burner, the Force and Furnace can maintain low temperatures in addition to searing. During testing, Grill Master Randy was even able to sustain a consistent smoking temperature that resulted in some of the best ribs we've ever eaten off a gas grill.

As if the wide range of heat of these grills wasn't enough, Everdure also offers multiple cooking accessories to fit either model. The Everdure roasting rack can help you achieve perfectly smoked ribs as seen in the video above, and flat cast iron plates or the Furnace's stainless steel teppanyaki plate stretch the limits of what can be cooked on a gas grill. You can even get your hands on an Everdure warming rack for toasting buns while your burgers broil.
Things To Consider:
The Everdure Furnace and Force collection don't have a great deal of extra features like side burners or rotisseries that you may find with other gas grills in its class, like the Napoleon Prestige Pro series. If you are looking for a grill with lots of bells and whistles or complex cooking systems, this may not be the grill for you. If, however, you are looking for a grill built for longevity and rock solid cooking performance time after time, then we think you'll love the lineup of gas grills from Everdure by Heston Blumenthal.
For more information about Everdure gas grills, call our BBQ experts at 1-877-743-2269 today! They are always standing by to answer all of your gas grilling questions.
Question:
Can this grill be hooked up to natural gas connection (vs.propane)?
Was This Helpful?
Answer:
Hi Joe! Yes, this grill can be converted to natural gas by a licensed plumber with the appropriate conversion kit by Everdure Grills. Give us a call at 877-743-2269 if you need to order one!
Question:
Considering this grill - replacing a Vermont Castings that I've had for YEARS! Like it as an alternative to a comparable priced Weber - because everybody has one of those! BUT - would that be a wise decision? What is your opinion? If ordered from you, is there assembly required? I don't use a small propane tank, I have it hooked to my home propane - can this come from you ready to be hooked up that way? Thanks.
Was This Helpful?
Answer:
Hi Mark! Assembly is required for this product, but the instructions are listed in pages 13-17 of the FURNACE Owner's Manual, which is included with the product or found on this page as a PDF. As for hooking up to your home propane, you'll need a 1/2" inch hose, a bulk propane regulator, and a licensed plumber to replace the regulator that comes on the grill with a bulk propane regulator and have it hooked directly to your home propane. If you have any other questions or concerns, please give us a call at 877-743-2269 and we'll be happy to help!
View Product Comparisons

Current Item

Everdure By Heston Blumenthal FURNACE 52-Inch 3-Burner Propane Gas Grill With Stand - Orange - HBG3OUS

Weber GENESIS E-325s Propane Gas Grill with Sear Burner - Black - 35310001

Weber GENESIS E-325s Propane Gas Grill with Sear Burner - Copper - 35320001

Weber GENESIS S-325s Propane Gas Grill with Sear Burner - Stainless Steel - 35300001

Price & Shipping Information

$259.80 (20%)

$150.00 (13%)

Free Shipping

Leaves Warehouse: 24 Hours

View Item

$150.00 (13%)

Free Shipping

Leaves Warehouse: 24 Hours

View Item

$53.64 (5%)

Free Shipping

Leaves Warehouse: 24 Hours

View Item
ID
#3051102
#3081326
#3081332
#3081338
Model
HBG3OUS
35310001
35320001
35300001
Class
Practical
Practical
Practical
Practical
Fuel Type
Propane
Propane
Propane
Propane
Collection
FURNACE
GENESIS 2022
GENESIS 2022
GENESIS 2022
Configuration
Freestanding
Freestanding
Freestanding
Freestanding
Exterior Material
Cast Aluminum
Painted Steel
Painted Steel
Stainless Steel
Primary Color
Orange
Black
Brown
Stainless Steel
Number Of Main Burners
3 Burners
3 Burners
3 Burners
3 Burners
Grilling Surface BTUs
27000
39000
39000
39000
Infrared Main Burner
Not Available
Not Available
Not Available
Not Available
Main Burner Material
304 Stainless Steel
Stainless Steel
Stainless Steel
Stainless Steel
Cooking Grate Material
Porcelain Coated Cast Iron
Porcelain Coated Cast Iron
Porcelain Coated Cast Iron
Stainless Steel
Cooking Grid Dimensions
29 X 16 1/2"
27 X 19"
27 X 19"
27 X 19"
Total Grilling Area
479 Sq. Inches
787 Sq. Inches
787 Sq. Inches
787 Sq. Inches
Burger Count
22
20
20
20
WiFi/Bluetooth Enabled
None
None
None
None
Rotisserie Kit
No
No
No
No
Heat Zone Separators
No
No
No
No
Ignition Type
Single Spark
Continuous Spark
Continuous Spark
Continuous Spark
Flash Tubes
No
No
No
No
Grill Lights
None
None
None
None
Spring Assisted Hood
No
No
No
No
Thermometer
Analog
Analog
Analog
Analog
Includes Smoker Box
No
No
No
No
Side Shelves
Yes
Yes
Yes
Yes
Hose Included
Yes
Yes
Yes
Yes
Side Burner
None
None
None
None
Made In USA
No
—
—
—
Commercial-Grade Multi-User
No
No
No
No
Size
Medium (27 - 33")
Medium (27 - 33")
Medium (27 - 33")
Medium (27 - 33")
Marine Grade
No
No
No
No
(a) The burning of gas cooking fuel generates some by products which are on the listof substances known by the State of California to cause cancer, reproductive harm,or other birth defects. To reduce exposure to these substances, always operate thisunit according to the use and care manual, ensuring you provide good ventilation whencooking with gas.(b) Handling the brass material on this product exposes you to lead, a chemical knownto the State of California to cause cancer and birth defects or other reproductive harm.Wash hands after handling.(c) This product contains chemicals, including lead and compounds, known by the Stateof California to cause cancer, reproductive harm, or other birth defects.(d) Wash your hands after using this product.
For more information, go to www.p65warnings.ca.gov.
Free Shipping on orders over $49
Ship your entire order to your home for free, especially the big stuff! *Continental US only
When will my item arrive?
Once shipped, items usually arrive within 3-5 business days. While UPS and FedEx are our carriers for smaller items, be aware that larger items and orders are shipped via freight. The freight process is a bit more complicated than what we've all come to expect for small parcels, so it's important that you're prepared and understand what's required of you well before delivery day.
Most freight products ship on a pallet
Some carriers will call to schedule a delivery window, while others will deliver the shipment to a reasonably accessible location closest to your residence (their goal is to deliver as near a garage door as they can).
We'll specify which process you can expect in your shipping confirmation email.
For carriers that schedule delivery appointments:
Carriers that schedule delivery appointments require you to be home for delivery and provide your signature. The delivery is made with a semi-truck with lift gate services, and the shipment is dropped off at the curb. If you authorize the shipping company to leave the delivery without a signature, BBQGuys can't be held responsible for damages that occur during delivery. As complicated as this process may seem, we've only scratched the surface here — please review our detailed guide to freight delivery so there are no surprises when a freight shipment heads your way.
For carriers that deliver without an appointment:
Carriers that deliver without an appointment don't require you to be home or set up a delivery window, and you aren't required to sign for the pallet(s). Instead of scheduling an appointment, arranging your schedule to be home for the delivery, and signing to confirm receipt, you can sit back and let your items come to you. If you're home at the time of the drop-off, you can request the driver place your delivery in the garage; if you're out of the house, the driver will leave it near the garage or doorstep.
This item leaves our warehouse within
$6.95 Flat-Rate Shipping
Anything under $49 ships at one low price. If your order increases, your shipping stays the same!
30-Day Returns
Return all new, unused, and unassembled items in their original packaging, and we'll give you a full refund minus the cost of the original AND return shipping.
No Restocking Fee
Most companies charge a restocking fee. We just don't do business that way.
Message to our customers: Like all retailers and manufacturers, we're currently experiencing well-publicized supply-chain issues and steel shortages that have caused some orders to be delayed. We sincerely apologize for any inconveniences arising from this situation, and we assure you we're making every effort to solve these problems with our vendors and logistical partners.

So, why are some orders being affected? Major ports around the world are still operating at reduced capacity because of COVID-19 restrictions — on average, container boats sit at port for about 3 weeks before being unloaded. Combine these shipping inefficiencies with a scarcity of natural resources, and virtually every industry has been crippled to some degree. Yet we acknowledge that it's our duty to meet these challenges head-on and work toward solutions so you can enjoy more time outdoors with the people you love. We appreciate your patience as we strive to smooth out our supply chain, and we thank you for choosing us for your grilling and outdoor living needs.
Your Shopping History. Pick up where you left off.