Camp Chef Woodwind WiFi 36-Inch Pellet Grill With Propane Sidekick Burner - PG36CL
Sale
Save up to $360 on select Camp Chef Woodwind Pellet Grills.
Learn More
List: $1,682.99
12% off ($203.00)
Free Shipping
Payments as low as $47.76 per month.*
Professional Grill Assembly for $99
Book a professional to help assemble this grill for only $99.
All bookings and inquiries are handled by Handy.
Similar Options To Consider
Frequently Bought Together
Full-color PID controller with WiFi & Bluetooth connects to your mobile device via the Camp Chef Connect app
Sidekick propane side burner can be used as a stove or a griddle
Monitor cooking temperatures on the PID controller and your mobile device using four included meat probes
Patent pending Slide and Grill technology lets you switch between direct and indirect flame cooking
Patented simple ash cleanout system makes cleaning easy
Take your grilling game to the next level with the Camp Chef Woodwind WiFi, featuring all of your favorite Woodwind series features, plus a full-color display, WiFi and Bluetooth-enabled PID controller that lets you control your cooks from the palm of your hand. Set temperatures, adjust smoke levels, set timers and even receive notifications when your meat reaches desired temperature using the Camp Chef Connect app on your mobile device. With the turn of a knob or tap of a finger you can set temperatures as low as 160 degrees for smoking and up to 500 degrees for the perfect sear. Smart Smoke technology keeps your Camp Chef pellet grill within 15 degrees of your selected temperature. Adjust smoke intensity just as easily with 10 levels to choose from. The PID controller also allows you to connect and monitor up to 4 meat probes and grill temperatures simultaneously, it even has a built-in cover to protect the display when not in use. The Woodwind WiFi is constructed of durable powder coated steel with a stainless steel lid and fire box. It features a 19 1/2 by 34 inch enameled-steel primary cooking area and a 2-piece nickel plated upper rack for 1236 square inches of total cooking space, all heated by up to 25,000 BTUs of cooking power. The 2-piece upper rack is also height adjustable, giving you more room for taller food without having to completely remove the upper rack. The automatic auger dispenses pellets as needed from the high capacity hopper, which holds up to 22 pounds of pellets at once and has a viewing window and pellet purge feature for emptying or changing out pellets. The hopper even has a built-in bottle opener and a chord wrap for extra convenience. Slide and Grill technology allows you to switch between direct and indirect flame cooking with just the pull of a knob. A continuous fan insures that your grill stays evenly heated and smoky, so every bit of food is perfectly cooked. When you are done cooking, clean up is easy, thanks to the exclusive Camp Chef ash cleanout system. Simply pull open the trap door with the side knob and empty the ash cup underneath the grill. This grill also features a pair of large, heavy-duty wheels and a pair of swivel casters for easy rolling and maneuverability, and a powder coated steel bottom shelf. Includes 4 stainless steel meat probes. This Woodwind WiFi also includes a Sidekick, which has a 30,000 BTU cast aluminum burner and 231 square inch True Seasoned griddle surface. Remove the griddle plate to use the Sidekick as a powerful stove, great for frying or boiling. The Sidekick also has matchless ignition using a fully adjustable heat-control knob, and Wind Baffled Technology to prevent your burner from being blown out. A hose, regulator, and holding bracket are included for a 20-pound propane tank (tank not included).
Legal disclaimers and warnings
Product packaging, owners' manuals, installation instructions, and/or operating instructions may include more information than what is shown on our website. The content on our site is intended to be used for reference purposes only. Please fully read all included manuals and documentation before installing or using this product. WARNING for California residents: this product may contain chemical(s) known to the state of California to cause birth defects, cancer, or other reproductive harm.
Product Information
UPC

33246216362

Model Number

PG36CL + PG14
Ask an Expert
Buy with confidence.
Contact our experts today.
Specifications
| | |
| --- | --- |
| Class | Practical |
| Fuel Type | Pellets |
| Collection | Woodwind |
| Configuration | Freestanding |
| Exterior Material | Painted Steel |
| Primary Color | Stainless Steel |
| Cooking Grate Material | Porcelain Coated Steel |
| Cooking Grid Dimensions | 34 X 19 1/2" |
| Main Grilling Area | 663 Sq. Inches |
| Secondary Grilling Area | 573 Sq. Inches |
| Total Grilling Area | 1236 Sq. Inches |
| Burger Count | 54 |
| WiFi/Bluetooth Enabled | WiFi & Bluetooth |
| Grill Lights | None |
| Spring Assisted Hood | No |
| Thermometer | SmartPhone App |
| Side Shelves | Yes |
| Side Burner | Griddle |
| Made In USA | No |
| Cart Assembly | Some Assembly Required |
| Commercial-Grade Multi-User | No |
| Size | Medium (27 - 33") |
| Hopper Capacity | 22 Pounds |
| Max Temperature | 500 F |
Dimensions
| | |
| --- | --- |
| Width | 69" |
| Depth | 30" |
| Height | 49" |
| Weight | 193 lbs |
Camp Chef pellet grills are warrantied to be free from defects in materials and workmanship for a period of three (3) years from the original date of purchase (excluding paint and finish).

Refer to manufacturers manual for full warranty details.
78% of reviews recommend this product
Customer images featuring this product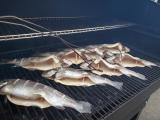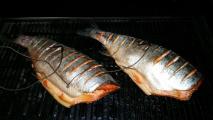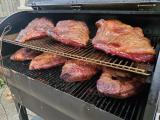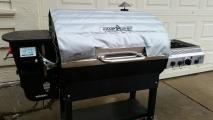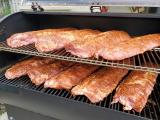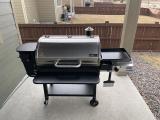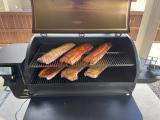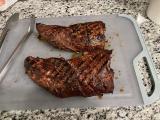 | | | |
| --- | --- | --- |
| Undisclosed | Great smoker! | Was This Helpful? |
| Tucson | Absolutely AMAZING!!! | Was This Helpful? |
| Madison, AL | LOVE THIS PELLET GRILL!!!!!! | Was This Helpful? |
| Gainesville,fl | Hello all from Gainesville,Fl | Was This Helpful? |
| San Diego, California | Great grill great features easy to use. | Was This Helpful? |
| Fort Collins, CO | The best, most versatile grill I've ever owned. | Was This Helpful? |
| Jackson MO | Greatness! | Was This Helpful? |
| Undisclosed | Love the smoker and sidekick | Was This Helpful? |
| Mechanicsburg, PA | Solid and easy to use smoker / grill. | Was This Helpful? |
| Oakwood, OH | Low and slow for most tender meats! | Was This Helpful? |
The Skinny:
WiFi-enabled controller links with Camp Chef Connect app on your smartphone
Smoke Control technology dials in one of 10 levels of smoke intensity
Full-color display lets you view and control your settings with the push of a button
Easily switches between direct and indirect cooking
Things We Love:
Convenience & Control
Camp Chef Woodwind WiFi pellet grills put you in command of the cooking process like few other grills can. With the Camp Chef Connect app, you're able to adjust smoke level, set temperature and timers, and receive notifications all on your smartphone. You can also control just about every aspect of your cook from the full-color PID display panel, which shows readouts for the included meat probes as well.
These WiFi-enabled grills are equipped with Smart Smoke technology that maintains heat levels within 15 degrees Fahrenheit of your selected temperature. And just like other Camp Chef pellet grills, the Slide & Grill system allows Woodwind WiFi Series to go from indirect cooking straight to a direct flame with the simple pull of a knob.
Smoky & Tender Results
Smokiness is key for pellet grilling, and Woodwind WiFi pellet grills double down on this concept with a helpful Smoke Control function. Just dial in a setting between 1 and 10, then let the grill go to work! The direct fan evenly circulates heat and whichever smoke level you choose, helping you achieve the precise amount of flavor you crave. While the low-end temperature of 160 degrees Fahrenheit is perfect for low-and-slow smoking, these Camp Chef models can top out around 500 degrees to give you nice sear marks. Best of all, you never have to guess what the internal temperature of your food is thanks to the included meat probes.
Durable & Easy to Clean
In addition to their cooking capabilities, Camp Chef Woodwind WiFi pellet grills are built with a stainless steel lid and a 304 stainless steel firepot. Emptying ash from the firepot is simple — just pull the knob on the lower right side of the grill. The ash can then be thrown out by removing a cup located underneath the grill body. These models even have a purge feature on the PID controller that unloads all remaining pellets from the auger, allowing you to quickly clean out the whole system for storage or a new pellet flavor.
Multiple Sizes & Options
The Woodwind WiFi collection is available in 20-inch, 24-inch, and 36-inch sizes. For the larger two options, there are a few different configurations:
Woodwind WiFi grill only
Woodwind WiFi grill with a propane sear box
Woodwind WiFi grill with a 30,000-BTU Sidekick power burner
Standard models are compatible with both side attachments, which can be purchased separately and added later. The 20-inch Woodwind WiFi pellet grill, meanwhile, is a great option for those who have limited space or prefer the convenience of a lighter and more mobile grill.
Things To Consider:
Though the firebox and lid are both stainless steel, the rest of the grill is built using power-coated steel. These grills pack 25,000 BTUs of cooking power along with four stainless steel meat probes so you can monitor different types of food at the same time. If you have more questions about Camp Chef Woodwind WiFi pellet grills, call one of our BBQ experts at 1-877-743-2269 today!
Question:
Can I add this sidekick burner to my woodwind 36" WiFi? Is this item sold separately?
Was This Helpful?
Answer:
Yes you can. You will have to assemble it all. They shipped my sidekick a couple months after I had my woodwind because they were sold out.
Answer:
Yes, you can add the sidekick burner to your Woodwind 36" WiFi.
Question:
Can the burner be hooked up to a gas line ?
Was This Helpful?
Answer:
Hi Robin. The Sidekick burner is shipped ready to be used with a 20lb propane tank, but it can be converted for natural gas use with part #PG14-3NG.
Answer:
If you were asking if it can be hooked up to a natural gas line you would have to check to make sure Camp Chef could change the orifice on the burner from propane to natural gas. That is very important.
Answer:
Yes, though you need a natural gas conversion kit (search for part# PG14-3NG)
Question:
If you get the Temp probes "wires" wet while cleaning will that ruin them!
Was This Helpful?
Answer:
Hi Manny, thanks for asking. The temp probe wires are protected by a rubber casing, however, if the casing is damaged it could mean the wires are exposed, and water could cause damage to them.
Question:
How many packer briskets can it smoke at once (12-15#), also how many pork butts can it smoke at once (7-9#)?
Was This Helpful?
Answer:
Hi Michael. That would be dependent on the measurements of the briskets and butts. There are 1236 total inches of cooking space in the main chamber, with the cooking grid measuring 34"W x 9.5" D. The top rack is also removable if you need more vertical space.
Question:
Hello, Are you able to access the controller via WiFi if you are not on the local network? In other words can I go several miles away, use the app , connect via 4G/5G or even WiFi on another network and access the grill? Thanks, Sean
Was This Helpful?
Answer:
Hi Sean. Yes, as long as the grill is connected to your home wifi and paired with your phone via the Camp Chef Connect App, you can access your grill from anywhere.
Current Item

Camp Chef Woodwind WiFi 36-Inch Pellet Grill With Propane...

Camp Chef Woodwind WiFi 36-Inch Pellet Grill With Propane...

Traeger Ironwood 885 Wi-Fi Controlled Wood Pellet Grill...

Camp Chef Woodwind WiFi 36-Inch Pellet Grill - PG3...

Price & Shipping Information

List: $1,682.99

You Save: $203.00 (12%)

Free Shipping

Leaves Warehouse: 4-6 Weeks

List: $1,682.98

You Save: $100.00 (6%)

Free Shipping

Leaves Warehouse: 24 Hours

View Item

Free Shipping

Leaves Warehouse: 24 Hours

View Item

List: $1,391.99

You Save: $192.00 (14%)

Free Shipping

Leaves Warehouse: 24 Hours

View Item
ID

3062788

3062791

3065495

3062785

Model Number
PG36CL + PG14
PG36CL + PGSEAR
TFB89BLF
PG36CL
Class
Practical
Practical
Premium
Practical
Fuel Type
Pellets
Pellets
Pellets
Pellets
Collection
Woodwind
Woodwind
Ironwood
Woodwind
Configuration
Freestanding
Freestanding
Freestanding
Freestanding
Exterior Material
Painted Steel
Painted Steel
Powder Coated Steel
Painted Steel
Primary Color
Stainless Steel
Stainless Steel
Black
Stainless Steel
Cooking Grate Material
Porcelain Coated Steel
Porcelain Coated Steel
Porcelain Coated Steel
Porcelain Coated Steel
Cooking Grid Dimensions
34 X 19 1/2"
34 X 19 1/2"
30 X 19"
34 X 19 1/2"
Main Grilling Area
663 Sq. Inches
663 Sq. Inches
570 Sq. Inches
663 Sq. Inches
Secondary Grilling Area
573 Sq. Inches
573 Sq. Inches
315 Sq. Inches
573 Sq. Inches
Total Grilling Area
1236 Sq. Inches
1236 Sq. Inches
885 Sq. Inches
1236 Sq. Inches
Burger Count
54
54
24
54
WiFi/Bluetooth Enabled
WiFi & Bluetooth
WiFi & Bluetooth
WiFi Only
WiFi & Bluetooth
Grill Lights
None
None
None
None
Spring Assisted Hood
No
No
No
No
Thermometer
SmartPhone App
SmartPhone App
SmartPhone App
SmartPhone App
Side Shelves
Yes
Yes
Yes
Yes
Side Burner
Griddle
Sear Station
None
—
Made In USA
No
No
No
No
Cart Assembly
Some Assembly Required
Some Assembly Required
Some Assembly Required
Some Assembly Required
Commercial-Grade Multi-User
No
No
No
No
Size
Medium (27 - 33")
Medium (27 - 33")
Medium (27 - 33")
Medium (27 - 33")
Hopper Capacity
22 Pounds
22 Pounds
20 Pounds
22 Pounds
Max Temperature
500 F
500 F
500 F
500 F
Free Shipping on orders over $49
Ship your entire order to your home for free, especially the big stuff! *Continental US only
When Will My Item Arrive?
Once shipped, items usually arrive within 3–5 business days. If your item or order is large, it may ship via one of our third-party freight carriers, which deliver from semi trucks with lift gates. Freight delivery is much more complicated than standard parcel shipping — you must schedule a drop-off time, be present for the delivery, and move items from the curb to your residence, among other differences. Sound stressful? If you prepare in advance with our guide to freight delivery, it doesn't have to be.
We strongly encourage reading the entire freight delivery guide, but here's a quick snapshot of what you need to be ready for when you order a large package:
Your freight carrier will call you to schedule a delivery window of about 4–8 hours
You're required to be physically present at the specified delivery location during the scheduled window
Freight shipments are carried in semi trucks, which have lift gates to assist with unloading
Freight deliveries are dropped off at the curb and no further — not up the driveway, not the porch, not the garage, and most definitely not the backyard — so it's on you to transport packages to their intended location
For an easier time hauling items to your home or backyard, arrange for at least 2 helpers to be on standby during your delivery window
You must sign for the shipment to indicate that you've accepted the delivery
Again, we recommend reading our entire breakdown of freight delivery so you can become familiar with the process. Trust us when we say that getting caught off guard with the strict requirements of freight delivery can lead to a whole lot of headaches.
This item leaves our warehouse within 4-6 Weeks
$6.95 Flat-Rate Shipping
Anything under $49 ships at one low price. If your order increases, your shipping stays the same!
30-Day Returns
Return all new, unused, and unassembled items in their original packaging, and we'll give you a full refund minus the cost of the original AND return shipping.
No Restocking Fee
Most companies charge a restocking fee. We just don't do business that way.
Message to our customers: Like all retailers and manufacturers, we're currently experiencing well-publicized supply-chain issues and steel shortages that have caused some orders to be delayed. We sincerely apologize for any inconveniences arising from this situation, and we assure you we're making every effort to solve these problems with our vendors and logistical partners.

So, why are some orders being affected? Major ports around the world are still operating at reduced capacity because of COVID-19 restrictions — on average, container boats sit at port for about 3 weeks before being unloaded. Combine these shipping inefficiencies with a scarcity of natural resources, and virtually every industry has been crippled to some degree. Yet we acknowledge that it's our duty to meet these challenges head-on and work toward solutions so you can enjoy more time outdoors with the people you love. We appreciate your patience as we strive to smooth out our supply chain, and we thank you for choosing us for your grilling and outdoor living needs.
Your Shopping History.
Pick up where you left off.