Blaze Premium LTE 32-Inch 4-Burner Natural Gas Grill With Rear Infrared Burner & Grill Lights - BLZ-4LTE2-NG
Call for Best Pricing
Get Exclusive Savings on Blaze Outdoor Kitchen Bundles.
was

$3,687.48

20% off ($737.50)
Free Shipping
As low as $95 /mo with
*
Professional Grill Assembly for $99
Book a professional to help assemble this grill for only $99. All bookings and inquiries are handled by Handy.
Frequently Bought Together
Key Features
Blaze Grills offers a best-in-class Lifetime warranty
Patented Triangle-shaped Searing Rods create an ideal surface for cooking and produce impressive sear marks
Heat zone separators allow you to cook multiple types of food at the same time using different temperatures
Full-width, 14-gauge stainless steel flame tamers cover the entire grilling area to improve flavor, minimize flare-ups, and reduce cold spots
Cast stainless steel Linear Burners for durability and longevity
Blaze is proud to introduce an affordable, premium-grade grill that was designed with your outdoor BBQ challenges in mind. The Premium LTE series takes grilling to the next level with a signature LED Illuminated Control System and integrated halogen hood lighting, perfect for nighttime grilling and entertaining. The 32-inch Premium LTE cooking system comes with four 304 cast stainless steel burners that deliver an impressive 14,000 BTUs of cooking power, for a total of 56,000 BTUs on the cooking surface. The 10,000 BTU infrared rear burner works great with the optional rotisserie kit for grilling versatility. Durable patented, triangle-shaped 9mm stainless steel searing rods on the spacious 715 square inches of cooking space allow for searing the heartiest steaks while preventing your veggies from rolling away. The stainless steel heat zone separators empower you to use different cooking zones across the grilling surface. Creating separate zones that can be used for different styles of cooking is what premium grilling is all about, after all. The Blaze Push & Turn Flame-Thrower with Backup Flashtube & Crossover Channels ignition system provides a steady and reliable flame with every start. The removable warming rack, meanwhile, is an ideal place to keep bread and other food heated while you grill the other courses. The flame tamer system includes a 14-gauge flame stabilizer grid that minimizes flare-ups while you enjoy your Blaze grill. The Grease Control system with removable lower heat baffles and a full-width drip tray makes cleanup a breeze. The 304 stainless steel grill hood is double-lined to protect the outer layer from heat discoloration, keeping your Blaze grill looking shiny and new well past first, 10th, or 50th use! The stainless steel grill cart features two front doors for storing your tank, grill cover and BBQ accessories. The cart also includes four heavy duty caster wheels, allowing you to relocate the grill easily whenever necessary, and two side shelves for a convenient work area. Please note that a 110V power source is required.
CSA Certified to the following Standard:
CSA/AM ANSI Z21.58-2018/CSA 1.6-2018 (Fifth Edition) - Outdoor cooking gas appliances
Legal disclaimers and warnings
Product packaging, owners' manuals, installation instructions, and/or operating instructions may include more information than what is shown on our website. The content on our site is intended to be used for reference purposes only. Please fully read all included manuals and documentation before installing or using this product. WARNING for California residents: this product may contain chemical(s) known to the state of California to cause birth defects, cancer, or other reproductive harm.
Product Information
Model Number

BLZ-4LTE2-NG + BLZ-4-CART
Ask an Expert
Buy with confidence.
Contact our experts today.
Specifications
| | |
| --- | --- |
| Class | Premium |
| Fuel Type | Natural Gas |
| Collection | Blaze Premium LTE |
| Configuration | Freestanding |
| Exterior Material | Stainless Steel |
| Exterior Stainless Grade | 304 Stainless Steel |
| Primary Color | Stainless Steel |
| Number Of Main Burners | 4 Burners |
| Grilling Surface BTUs | 56000 |
| Infrared Main Burner | Available |
| Main Burner Material | 304 Cast Stainless Steel |
| Flame Tamer Material | Stainless Steel |
| Cooking Grate Material | Stainless Steel |
| Cooking Grid Dimensions | 29 1/2 X 18" |
| Main Grilling Area | 531 Sq. Inches |
| Secondary Grilling Area | 184 Sq. Inches |
| Total Grilling Area | 715 Sq. Inches |
| Burger Count | 18 |
| WiFi/Bluetooth Enabled | None |
| Rotisserie Burner BTUs | 10000 |
| Rotisserie Kit | Available |
| Heat Zone Separators | Yes |
| Ignition Type | Flame Thrower |
| Flash Tubes | Yes |
| Grill Lights | Internal / External |
| Spring Assisted Hood | No |
| Thermometer | Analog |
| Includes Smoker Box | No |
| Side Shelves | Yes |
| Hose Included | No |
| Side Burner | None |
| Made In USA | No |
| Cart Assembly | Some Assembly Required |
| Commercial-Grade Multi-User | No |
| Size | Medium (27 - 33") |
| Marine Grade | No |
Dimensions
| | |
| --- | --- |
| Width | 56.25" |
| Depth | 25.75" |
| Height | 57.25" |
| Weight | 183 lbs |
Blaze gas grills have a lifetime warranty that warrants against any defects in the manufacturing and workmanship on the control valves, cooking grids, stainless steel housing, stainless steel burners, flame tamers, heat zone separators, and all other stainless steel components. All electrical and ignition components are covered for one (1) year after the date of purchase. Grills must be registered within thirty days for the warranty to apply. Labor not included.

Refer to manufacturer's manual for full warranty details.
81% of reviews recommend this product
Customer images featuring this product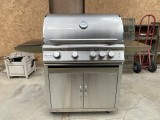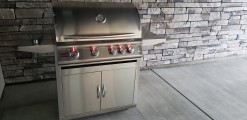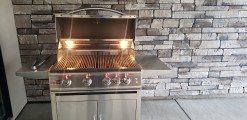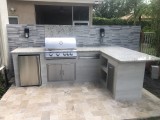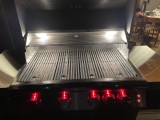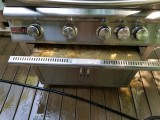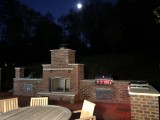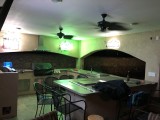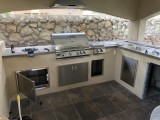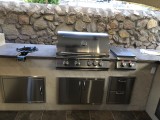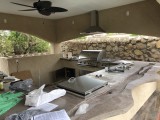 yes

Great grill and it has a heavy duty grill lid to keep the heat in as I grill even in the winter time. The last time it was only 28 and a little wind and the heat stayed hot. i would buy again.

Was This Helpful?

I would buy this grill again & recommend it!

We love this grill... bbq guys was the best choice we made

Was This Helpful?

I would buyt this again

So far so good, we had a family bbq and everything was great.

Was This Helpful?

yes

works great

Was This Helpful?

A must buy for BBQ enthusiasts!!

Best grill I have ever owned!!!

Was This Helpful?

Great grill

Love this grill. Bought separate searing burner and cooked steaks perfectly while keeping juices in steak.

Was This Helpful?

Yes

Great grill. Love it. Wish you included a cover with the grill of that spend.

Was This Helpful?

Very happy with the grill. Recommend it.

Heavy duty, great looking. Sears beautifully. Like the full size Drip drawer and infrared rotisserie burner.

Was This Helpful?

Blown away by this grill!

Cooking on this thing is like driving a Tesla. The food cooks itself practically. I bought this grill and the power burner and now I cook outside more than I do in the kitchen!

Was This Helpful?

yes

Used it twice so far and very happy with my purchase.

Was This Helpful?
The Skinny:
The best value for a gas grill we've ever encountered
Durably constructed from 304-grade stainless steel for years of premium grilling
Patented triangle-shaped cooking rods expertly channel heat for impressive sear marks
Heat Zone Separators and optional accessories combine for remarkable versatility
Best-in-class, lifetime warranty and outstanding customer support
We've spent more than 20 years testing and selling grills of all kinds, so we can confidently say that Blaze Premium LTE gas grills are the most value-packed models on the market.
Blaze was founded on the simple yet daring concept of offering the best all-around Premium grill at a desirable price. Nearly a decade after shaking up the grilling industry, Blaze's core idea still lives on in the Premium LTE. It feels reductive to distill every astounding advantage of this grill series into a single sentence, but we'll give it a try: Blaze Premium LTE gas grills provide premium-quality construction, standout cooking performance, and an arsenal of helpful features not commonly found on grills within their cost bracket. In line with Blaze's original vision, they truly represent the total package at an unbeatable price point.
If that initial review sounds a little too glowing, rest assured that we have the data to support those claims. Chef Tony ran every test and cooking experiment he could think of to properly gauge this grill's quality, performance, and features, and the results were consistent with Blaze's promise of an all-around Premium grill at the most agreeable price point. We'll review his findings from all 3 phases to show why we believe Blaze Premium LTE gas grills offer the highest degree of value in the industry today.
Quality:
Commercial-grade stainless steel bodies and burners are the gold standard for outdoor longevity, even before you factor in Blaze's lifetime warranty.
Blaze prides itself on the durable construction of its Premium LTE models, so we put them under the gun to see just how well-built they are. No, seriously — Chef Tony took readings of every component with an XRF gun, which analyzes the elemental composition of metals. The 9mm cooking rods, 3mm-thick cast Linear burner, and entire exterior of the grill proved to be 304-grade stainless steel, as advertised. We're glad to see so much 304 used throughout; most Premium grills include some, but the sheer amount of commercial-grade material drives home just how seriously Blaze takes quality. Chef Tony was particularly impressed with the Linear burners. That degree of quality and design is typically found in more expensive models (and even some in the Luxury class), plus they're far more durable and perform better than the welded tube burners we're used to seeing in grills from this price range.
The following components all checked in as 443-grade stainless steel: the Heat Zone Separators, removable Drip Pan Baffles, 14-gauge Flame Tamers, inner lining of the hood, and interior walls of the firebox. So, why not 304 like the rest? We'll let Chef Tony explain: "These particular parts will be involved in the flame area — a lot more heat cycling going on. (443) is just a more malleable stainless, so it will actually have a lot more durability in those particular areas." It's the kind of thoughtful engineering that almost makes us forget to mention the grill hood, which is double-lined to trap high heat, prevent discoloration from those searing temperatures, and last for years even in the harshest environments.
That such rock-solid quality exists in a grill this sleek and stylish is another positive mark for the Blaze Premium LTE. The mirror-finished control panel is especially attractive, regardless of whether the grill is built-in or freestanding. But perhaps the greatest overall indicator of this grill's quality is Blaze's confidence in it, as evidenced by the company's best-in-class, lifetime warranty. Blaze covers these grills against any defects in the workmanship and manufacturing on the housing, burners, cooking rods, Heat Zone Separators, full-width Flame Tamers, control valves, and all other stainless steel components. Additionally, Blaze offers 1 year of coverage for the Ignition System and other electrical components. This warranty simply can't be beat, and it makes us even more convinced that Blaze Premium LTE gas grills are built for the long run.
Performance:
Take it from a former restaurateur: these grills never fail to deliver restaurant-quality results with every cook.
It doesn't take Chef Tony long to recognize a powerful cooker, but he knew right off the bat that he was in for a treat with the Blaze Premium LTE. These grills are engineered for all-around exceptional performance, and it starts with the Linear burners that are rated for 14,000 BTUs apiece. (Blaze decided to toss in another 10,000 BTUs from the rear infrared rotisserie burner, just for good measure.) We'll be the first to acknowledge that BTUs tell only part of the story when it comes to grill performance, but the total output is on par for Premium models and sets the stage for how the rest of the Premium LTE operates. For a better idea, Chef Tony conducted high- and low-temperature tests: all burners on high for 20 minutes resulted in an average temperature of 670°F, while all burners on low for 30 minutes produced an average readout of 350°F. "As far as the variance is concerned," Chef Tony says, "it's rock-solid."
Before testing, Chef Tony was intrigued by Blaze's patented, triangle-shaped cooking rods. They're designed so the flat bottoms absorb heat from below then channel it upward toward a single point of contact on your food, a configuration that's far more effective than traditional round cooking grates. Throughout his grill sessions, Chef Tony found that the triangular rods exceeded even his high expectations with gorgeous sear marks every time — in fact, they reminded him of past experiences with commercial-quality char-broilers from his restaurant days. What's going on below the grilling surface impressed him even more: Flame Tamers made of perforated grids that run the full width of the grill. This design played a crucial role in the even heat we measured across the grill while also living up to its billing for keeping flare-ups at bay, protecting the burners from debris, and vaporizing food drippings into flavorful smoke. "They not only help by turning what would be flare-ups into flame kisses," Chef Tony says, "but they also help with heat retention and increase the grill's temperature evenness."
To test the effectiveness of Blaze's removable Heat Zone Separators, Chef Tony attempted to sear ribeyes on one end of the grill while slow-roasting veggies on the opposite side. Both methods worked exactly as intended, illustrating just how much command grillers have over the Premium LTE's impressive versatility. (Bonus points to Blaze for making the Heat Zone Separators removable for cleaning or when you're aiming for one cooking style across the whole grill.) We're also pleased to report that at no point during testing did Chef Tony have a problem with the Ignition System, which consists of a reliable Push & Turn Flame-Thrower design with Backup Flashtube & Crossover Channels. In the unlikely event this simple and reliable system fails, a household utility lighter is all you need to get the Backup Flashtube going. From there, the Crossover Channels carry the flame from burner to burner, ensuring you get to harness the Blaze Premium LTE gas grill's serious cooking power no matter what.
Features:
With more convenient touches than we'd ever expect at this price point, it's clear Blaze values a premium experience above all else.
Building a Premium grill all the way down to the finer details means a greater focus on features, and that's exactly what the Blaze Premium LTE delivers. We'll start with the first thing just about everyone notices when they take stock of this grill: the red LED Illuminated Control System that lights up each burner knob and adds a bit of flair to the cookout. Inside the grill hood, meanwhile, rests a pair of halogen lights — one for each end of the grilling surface — that makes it possible to grill well past sundown (which was a good thing, considering just how much Chef Tony cooked as part of his examinations). On the hood itself is an easy-to-read thermometer that Chef Tony found quite helpful throughout his cooking and temperature tests.
The highly effective Grease Management System doubles down on Blaze's push for convenience, making cleanup as easy as we'd reasonably expect. A series of pyramid-shaped Drip Pan Baffles direct drippings onto the full-width drip pan below, and the whole system is removable for hassle-free cleaning. With cleanup taken care of, the Blaze Premium LTE grill invests heavily in features and optional add-ons to vastly improve cooking versatility. Chef Tony really appreciates the permanent rear infrared burner, optional infrared burner that can be easily installed and removed in place of a conventional burner, the rotisserie kit with a waterproof motor for operation in any weather, and the more-than-meets-the-eye smoker box. Not only did Chef Tony manage to achieve much sought after smoky flavor in a gas grill, but he was also able to use the solidly welded smoker box to cook with apple juice, beer, and wine. Throw in a removable warming rack for toasting buns or baking side dishes, and you've got a grill fit for well-rounded backyard chefs.
If you choose the freestanding model instead of a built-in grill for your outdoor kitchen, you'll be treated to a few more quality-of-life features that drive home Blaze's attention to detail. A pair of removable stainless steel side shelves provides ample prep space, while the cart offers plenty of enclosed storage for your propane tank (with a locking stainless steel bolt for safety) and whatever else you need to keep nearby. There's even a paper towel holder attached to the inside of the cart door, not to mention that all 4 caster wheels swivel and lock for easy movement and stability. We'd act more surprised, but we knew from the beginning to expect premium touches everywhere we looked. Any parting thoughts, Chef Tony? "If you're in the market for a Premium gas grill, I definitely recommend checking this out."
Question:
HI - Can I please get the specs for the grill and grill cart? I see specs just for the grill, but not for when it's in the cart. I'm using it next to outdoor cabinets and need to check dimensions with wheels, etc.
Was This Helpful?
Question:
Does the grill come with a LP tank?
Was This Helpful?
Answer:
Hello Steve! This grill does not come with an LP tank, you will need to supply your own.
Question:
Does the Premium LTE 32-Inch 4-Burner LP Regulator have a fuel level gauge?
Was This Helpful?
Answer:
Hi Cheryl, this grill does not have a fuel level gauge.
Question:
Where is this grill made?
Was This Helpful?
Answer:
Hi Kathy, Blaze products are made in China.
Question:
Do you attach the AC transformer on the inside or the outside of the grill cart? Can't seem to find the answer in the product materials, and since there are no nutserts, it could be installed either way. Thanks!
Was This Helpful?
Answer:
Hi Jesse, thanks for asking! The transformer is best to install on the inside, as far away from the heat of the grill as possible. The requirements for the transformer is that it should remain dry and safely away from heating surfaces, sharp edges, and dripping grease. Also keep flammable liquids stored separately away from it.
Question:
I purchased this grill last summer and have enjoyed it ever since. I am looking to upgrade our bbq area by installing a bbq kitchen/counter on our patio. I want to take the base off the grill and use the corresponding Blaze 32'' insulated jacket bbqguys sells. Is that what the insulated jacket is designed for? Also, I have the LP grill and want to know if I can upgrade to LG. If so, is there a kit bbqguys sells?
Was This Helpful?
Question:
Why is an electric connection needed?
Was This Helpful?
Question:
Does the Natural Gas model come with an NG regulator valve? Is there a picture of where this is located on the grill? If I already have a shutoff valve and hose to an existing NG grill regulator, can I just unscrew that and attach it to the new grill?
Was This Helpful?
Question:
Can i leave the side shelves off and use this in my built in?
Was This Helpful?
Answer:
Hi Geoff! The shelves do not need to be installed. However, if you're going to have the cart pushed into a cabinet unit, be sure there are no combustible materials such as wood in the counter/cabinetry.
Question:
Can you tell me exactly the extent of assembly this needs? Is the compatible with portable propane tanks?
Was This Helpful?
Answer:
Hey Tom! The majority of the assembly required will be for the cart and we have the document provided on the product page. In the instructional guide, we walk you through the steps for LP/NG. This will in fact work with 20 lb. portable propane tanks. Hope this information helps!
cdn.shocho.co/sc-specsheets/Blaze-LTE2-User-Manual-04-2019.pdf
Question:
Does the grill come completely assembled? How wide are the two side shelves? Are the shelves just bolted or screwed on and one can be removed? Or can the grill be ordered with just one side shelf? Stewart
Was This Helpful?
Answer:
Hi Stewart. Some assembly is required. The side shelves cannot be folded once attached, and it comes with 2 shelves.
Question:
Can this be converted to a stand alone grill later?
Was This Helpful?
Answer:
Hi! When purchasing the grill, there is an option of built-in or freestanding configuration. If you purchase freestanding, then it comes with the cart you would need to make the grill freestanding. If you purchase the built-in, then it is only the grill meant for building into an island with no cart. Hope this helps!
Product

Current Item

Blaze Premium LTE 32-Inch 4-Burner Natural Gas Grill With Rear Infrared Burner & Grill Lights - BLZ-4LTE2-NG

Napoleon Prestige PRO 500 Natural Gas Grill with Infrared Rear Burner and Infrared Side Burners and Rotisserie Kit - PRO500RSIBNSS-3

Coyote C-Series 36-Inch 4-Burner Freestanding Natural Gas Grill - C2C36NG + C1S36CT

Coyote C-Series 34-Inch 3-Burner Freestanding Natural Gas Grill - C2C34NG C1C34CT

Price & Shipping Information

Free Shipping

Leaves Warehouse: 24 Hours

Free Shipping

Leaves Warehouse: 24 Hours

View Item

Free Shipping

Leaves Warehouse: 1-3 Business Days

View Item

Free Shipping

Leaves Warehouse: 1-3 Business Days

View Item
ID

2973510

3049383

3010359

3010347

Model Number
BLZ-4LTE2-NG + BLZ-4-CART
PRO500RSIBNSS-3
C2C36NG + C1S36CT
C2C34NG + C1C34CT
Class
Premium
Premium
Premium
Premium
Fuel Type
Natural Gas
Natural Gas
Natural Gas
Natural Gas
Collection
Blaze Premium LTE
Prestige Pro
C-Series
C-Series
Configuration
Freestanding
Freestanding
Freestanding
Freestanding
Exterior Material
Stainless Steel
Stainless Steel
Stainless Steel
Stainless Steel
Exterior Stainless Grade
304 Stainless Steel
—
304 Stainless Steel
304 Stainless Steel
Primary Color
Stainless Steel
Stainless Steel
Stainless Steel
Stainless Steel
Number Of Main Burners
4 Burners
4 Burners
4 Burners
3 Burners
Grilling Surface BTUs
56000
48000
80000
60000
Infrared Main Burner
Available
Not Available
Not Available
Not Available
Main Burner Material
304 Cast Stainless Steel
Stainless Steel
304 Cast Stainless Steel
304 Cast Stainless Steel
Flame Tamer Material
Stainless Steel
Stainless Steel
Stainless Steel
Stainless Steel
Cooking Grate Material
Stainless Steel
Stainless Steel
Stainless Steel
Stainless Steel
Cooking Grid Dimensions
29 1/2 X 18"
28 X 17 3/4"
33 1/4 X 17 1/4"
32 X 17 1/4"
Main Grilling Area
531 Sq. Inches
500 Sq. Inches
640 Sq. Inches
616 Sq. Inches
Secondary Grilling Area
184 Sq. Inches
400 Sq. Inches
235 Sq. Inches
164 Sq. Inches
Total Grilling Area
715 Sq. Inches
900 Sq. Inches
875 Sq. Inches
780 Sq. Inches
Burger Count
18
22
26
26
WiFi/Bluetooth Enabled
None
None
None
None
Rotisserie Burner BTUs
10000
18000
No Rear Burner
No Rear Burner
Rotisserie Kit
Available
Yes
Available
Available
Heat Zone Separators
Yes
No
No
No
Ignition Type
Flame Thrower
Flame Thrower
Flame Thrower
Flame Thrower
Flash Tubes
Yes
No
No
No
Grill Lights
Internal / External
Internal / External
Internal
Internal
Spring Assisted Hood
No
No
No
No
Thermometer
Analog
Analog
Analog
Analog
Includes Smoker Box
No
No
No
No
Side Shelves
Yes
Yes
Yes
Yes
Hose Included
No
Yes
No
No
Side Burner
None
Sear Station
None
None
Made In USA
No
No
No
No
Cart Assembly
Some Assembly Required
Some Assembly Required
Some Assembly Required
Some Assembly Required
Commercial-Grade Multi-User
No
No
No
No
Size
Medium (27 - 33")
Medium (27 - 33")
Medium (27 - 33")
Medium (27 - 33")
Marine Grade
No
No
No
No
This product can expose you to chemicals including Chromium (hexavalaent compounds), which are known to the State of California to cause cancer and birth defects or other reproductive harm. For more information go to: www.p65Warnings.ca.gov
Free Shipping on orders over $49
Ship your entire order to your home for free, especially the big stuff! *Continental US only
When will my item arrive?
Once shipped, items usually arrive within 3-5 business days. While UPS and FedEx are our carriers for smaller items, be aware that larger items and orders are shipped via freight. The freight process is a bit more complicated than what we've all come to expect for small parcels, so it's important that you're prepared and understand what's required of you well before delivery day.
Most freight products ship on a pallet
Some carriers will call to schedule a delivery window, while others will deliver the shipment to a reasonably accessible location closest to your residence (their goal is to deliver as near a garage door as they can).
We'll specify which process you can expect in your shipping confirmation email.
For carriers that schedule delivery appointments:
Carriers that schedule delivery appointments require you to be home for delivery and provide your signature. The delivery is made with a semi-truck with lift gate services, and the shipment is dropped off at the curb. If you authorize the shipping company to leave the delivery without a signature, BBQGuys can't be held responsible for damages that occur during delivery. As complicated as this process may seem, we've only scratched the surface here — please review our detailed guide to freight delivery so there are no surprises when a freight shipment heads your way.
For carriers that deliver without an appointment:
Carriers that deliver without an appointment don't require you to be home or set up a delivery window, and you aren't required to sign for the pallet(s). Instead of scheduling an appointment, arranging your schedule to be home for the delivery, and signing to confirm receipt, you can sit back and let your items come to you. If you're home at the time of the drop-off, you can request the driver place your delivery in the garage; if you're out of the house, the driver will leave it near the garage or doorstep.
This item leaves our warehouse within 24 Hours
$6.95 Flat-Rate Shipping
Anything under $49 ships at one low price. If your order increases, your shipping stays the same!
30-Day Returns
Return all new, unused, and unassembled items in their original packaging, and we'll give you a full refund minus the cost of the original AND return shipping.
No Restocking Fee
Most companies charge a restocking fee. We just don't do business that way.
Message to our customers: Like all retailers and manufacturers, we're currently experiencing well-publicized supply-chain issues and steel shortages that have caused some orders to be delayed. We sincerely apologize for any inconveniences arising from this situation, and we assure you we're making every effort to solve these problems with our vendors and logistical partners.

So, why are some orders being affected? Major ports around the world are still operating at reduced capacity because of COVID-19 restrictions — on average, container boats sit at port for about 3 weeks before being unloaded. Combine these shipping inefficiencies with a scarcity of natural resources, and virtually every industry has been crippled to some degree. Yet we acknowledge that it's our duty to meet these challenges head-on and work toward solutions so you can enjoy more time outdoors with the people you love. We appreciate your patience as we strive to smooth out our supply chain, and we thank you for choosing us for your grilling and outdoor living needs.
Your Shopping History. Pick up where you left off.