Weber SmokeFire EX4 Gen 2 24-Inch Wi-Fi Enabled Wood Fired Pellet Grill - 22510201
Free Shipping
As low as $51 /mo with
*
Professional Grill Assembly for $99
Book a professional to help assemble this grill for only $99. All bookings and inquiries are handled by Handy.
Frequently Bought Together
Key Features
100 Day, 100% Money Back Guarantee For SmokeFire Grills Purchased Starting 5/26/2021
Temperature range of 200-600 degrees Fahrenheit allows smoking and searing
Dual level grilling surface provides 672 square inches of cooking area
DC-powered engine is specially designed to prevent auger jams
Flavorizer Bars distribute even heat across the cooking area, preventing hot and cold spots
Discover the SmokeFire difference with the all-new, updated SmokeFire EX4 Gen 2 from Weber. With a DC-powered engine designed for a temperature range of 200-600 degrees Fahrenheit, the Weber SmokeFire pellet grill has the ability to sear, smoke, bake, and everything in between. This grill is the only one you will ever need to sear a perfectly juicy steak, smoke low-and-slow BBQ ribs, bake pizzas and dessert, or cook whatever you have a taste for. Best of all, Weber Connect makes grilling easier than ever. The built-in app acts as a step-by-step assistant, notifying you via Wi-Fi or Bluetooth when it is time to flip food and when it should be done. The easy-to-read, weather-resistant LCD display shows each of these notifications as well as time, temperature, and controller output. All of these readouts are also available on the Weber Connect smartphone app, which you can also use to control the temperature of SmokeFire pellet grills, and it features new updates to the software and firmware to include the SmokeBoost feature right out of the box. The Weber SmokeFire stands out even more in the pellet grill industry because it is made in America using globally sourced components. The large hopper can hold 22 pounds of pellets at a time, perfect for all-day smoking. And if you are running low on fuel, the Weber Connect app will send a notification so you have time to grab another bag of pellets. Speaking of pellets, the auger is inclined and runs at a variable speed to prevent jams. When you want even more wood fired taste, you can use the Smoke Boost feature to enhance the flavor of your food. That flavor can be achieved across the 672 square inches of cooking space on the SmokeFire EX4, which has a dual-level cooking surface made from plated steel. The body of the grill, meanwhile, is built with porcelain-enameled steel that is easy to clean and designed to last. Additionally, even heat distribution is never a problem on Weber SmokeFire grills because of the Flavorizer bars and porcelain-enameled heat distribution plate that help prevent hot and cold spots. You can take your cook to the next level with a water pan and rack, which are sold separately, that sit on top of the Flavorizer bars so you can grill without sacrificing valuable cooking space. Cleaning the SmokeFire pellet grill is similarly simple thanks to the easy-clean system that directs ash and grease into a removable drawer. In addition to withstanding the elements, the Weber exclusive porcelain-enameled finish helps retain heat to keep your grill at precise temperatures. These grills feature a large stainless steel side table with tool hooks plus a heavy-duty steel cart frame with four swivel casters, two of which can be locked. This new and improved generation also includes a hopper slide to assist the flow of pellets with a steeper angle, a welded chute for decreasing temperature fluctuations and mid cook interruptions, two extra glow plugs for future use, and two meat probes for more accurate temperature readings. The Weber SmokeFire EX4 delivers the best wood fired flavor, no matter what you crave.

Weber assumes 100% responsibility for the return and refund of the SmokeFire purchased through BBQGuys. The 100 days begins from the date of purchase. Claims will be initiated through the Weber Consumer Care department. The consumer must have their receipt and register their grill upon receipt. Weber will arrange pick up from the consumer, process the refund for the BBQGuys customer, and send them a check within 4-6 weeks after receiving the grill.
Legal disclaimers and warnings
Product packaging, owners' manuals, installation instructions, and/or operating instructions may include more information than what is shown on our website. The content on our site is intended to be used for reference purposes only. Please fully read all included manuals and documentation before installing or using this product. WARNING for California residents: this product may contain chemical(s) known to the state of California to cause birth defects, cancer, or other reproductive harm.
Product Information
UPC

77924162763

Model Number

22510201
Ask an Expert
Buy with confidence.
Contact our experts today.
| | |
| --- | --- |
| Class | Practical |
| Fuel Type | Pellets |
| Collection | SmokeFire |
| Configuration | Freestanding |
| Exterior Material | Porcelain Coated Steel |
| Primary Color | Black |
| Cooking Grate Material | Plated Steel |
| Cooking Grid Dimensions | 23 1/2 X 17 1/4" |
| Main Grilling Area | 432 Sq. Inches |
| Secondary Grilling Area | 240 Sq. Inches |
| Total Grilling Area | 672 Sq. Inches |
| Burger Count | 15 |
| WiFi/Bluetooth Enabled | WiFi & Bluetooth |
| Grill Lights | None |
| Spring Assisted Hood | No |
| Thermometer | SmartPhone App |
| Side Shelves | Yes |
| Side Burner | None |
| Made In USA | Made In The USA With Globally Sourced Parts |
| Cart Assembly | Some Assembly Required |
| Commercial-Grade Multi-User | No |
| Size | Small (0 - 26") |
| Marine Grade | No |
| Hopper Capacity | 22 Pounds |
| Max Temperature | 600 F |
| | |
| --- | --- |
| Width | 43" |
| Depth | 33" |
| Height | 47" |
| Weight | 156 lbs |
Weber warrants this product against defects in the materials and workmanship of the cooking grates, pellet slide, burn pot, heat baffle, pellet grate, and controller bezel for three (3) years, all electrical components for three (3) years, and the cook box and all other components not mentioned previously for five (5) years.

Refer to manufacturers manual for full warranty details.
74% of reviews recommend this product
Customer images featuring this product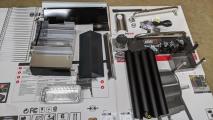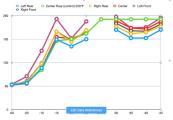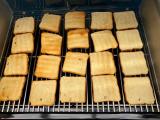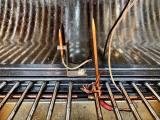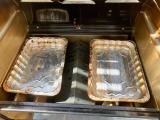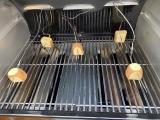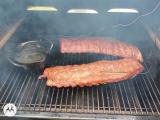 Best Ribs Ever & SO EASY!

We just used our new smoker to smoke some ribs. The meat fell off the bones and the smoky flavor was perfect! We previously owned a Pitt Boss that did not keep a consistent temperature, which was very problematic. The Weber Smoke Fire pellet grill was easy to use. The app feature was great! Being able to check the grill temperature, the cooking time and the meat temperature with an iPhone made it so convenient! We are looking forward to smoking a turkey for Thanksgiving.

Was This Helpful?

REPLACE YOUR GAS GRILL NOW WITH SMOKEFIRE

I have wanted a smoker for a long time but we have a small patio with room for only one unit. I had the top of the line Weber Summit gas grill and loved it, but it was not like having a smoker. I finally bit the bullet, got rid of the Summit and bought the SmokeFire. This was a hard decision to make, but I am very happy I did. It does everything I could do on the gas grill (600 degree grilling) and it has the added benefit to me of low and slow smoking. I am addicted. Just buy one now, you will not regret it.

Was This Helpful?

SmokeFire EX4 (2nd Gen) Wood Fired Pellet Grill

The grill works well. The grill can be set to a specific temperature and it will maintain that temperature or you can change the temperature as you go along. It has timers and there are recipes on the web site that show you how to grill everything. Great grill. Initially we had an issue with the auger but with customer service we were able to work through the problem and get it resolved.

Was This Helpful?

The Best Pellet Grill I've Owned

I have owned several pellet grills including some of the big named ones. This Weber is the best I've ever used. It maintains temperature, easy easy to use and clean and very sturdily built.

Was This Helpful?

Best grill I have owned

Best grill I have ever owned. Ton of space to grill. Can smoke and also grill a great steak.

Was This Helpful?

Great Grill

I have seen lots of negative comments online about the Smokefire pellet grill. I have experienced no problems. I did have a felt gasket that was damaged in shipping but one call to Weber got me a free replacement. It does operate a little differently than other pellet smokers. This difference may be most of the problems people are having adjusting to the Smokefire. Cleaning between long low and slow cooks is required. It does out perform other pellet grills when it comes to high temperature grilling. Grill marks are easy pm the Smokefire. Great grill.

Was This Helpful?

Everything you could ask for in a smoker and more!

Lives up to the Weber reputation! I have been contemplating a pellet smoker/grill for quite some time and have not been disappointed with the Smokefire.

Was This Helpful?

Heats up quick

Ease of use.reliabilty .Lots of smoke when you want it.

Was This Helpful?

Great so Far

A little high tech for me but I'm learning how to cook on it.

Was This Helpful?

Need to know the tricks!

It's a Webber. If you follow the little tricks here and there online the grill is absolutely amazing!!!!

Was This Helpful?
The Skinny:
Our testing experience suggests that Weber has heard (and solved) prior flaws
Temperatures ranging 200–600 degrees Fahrenheit help you smoke and sear
22-pound pellet hopper features low-pellet sensors and quick-change chute
Weber Connect app makes the grill compatible with Wi-Fi and Bluetooth
Back-vented barrel design creates high smoke circulation inside grill
In our experiences, the second-gen Weber SmokeFire solves the sorrows of the first.
The Weber SmokeFire aimed to be a one-of-a-kind machine that didn't behave like any other pellet grill on the market. (Credit where credit is due — it succeeded.) Pellet grills tend to function like BBQ smokers, after all. But when Weber replaced the full-coverage heat baffles with its classic Weber Flavorizer Bars, it designed a pellet grill that, while capable of holding steady smoking temperatures, could also cook with high heat like a more traditional grill. Our original testing pushed the first-generation Weber SmokeFire to its rational limits — cooking immense amounts of meat within its full range of temperature capability while scrutinizing its ash output and grease management.
To speak delicately, the original run had its issues. Weber has tried to address them both publicly and through internal research and development. That's why we put our very own Chef Tony on the case — while fading natural light and a spinning clock above our expert's scrutiny of user forums doesn't exactly make for exciting video footage, our expert spent countless hours researching user experiences and taking notes. Armed with those expectations, he ran this pellet grill through a new round of rigorous examination to stress-test its predecessor's weakest links. His findings? The Weber SmokeFire Gen 2 made a worthy follow-up.
Quality:
Without any sacrifices in solid construction at this price point, Weber SmokeFire II blew through all our safety testing.
As far as aesthetically pleasing and well-designed pellet grills go, Weber SmokeFire II is a serious contender. We set the mad chef loose with a pair of calipers and an XRF gun — the lid handle, accent trim pieces, side shelves, and Weber Flavorizer Bars all proved to remain constructed from genuine 304 stainless steel. Weber retained aluminized steel in other components; the fire pot's heat baffle and the interior paneling of the side walls come to mind. Galvanized steel-plating still comprises the cooking grids.
Those calipers measured thickness for the Weber SmokeFire's cooking grids at 6mm (a perfectly fine thickness for a pellet grill), the porcelainized fire box at 16-gauge steel, the porcelainized enamel lid at 12-gauge, and those trademark Flavorizer Bars at 17-gauge. By design, an air gap in the double side walls provides enough insulation to hold those temperatures steady — there were some scattered complaints with air flow apparently getting into the ash system, but we didn't find any reasonable concerns in that area.
On that note, it's time to address the elephant in the room: the grease management system. Though it's fantastic that a pellet grill would even offer a pull-out, full-width grease and ash drawer, there were some unfortunate design choices that presented problems with the original model. Chef Tony did not experience these problems with the Weber SmokeFire II's grease management system. From his extensive testing, the grease management system worked like a dream — he personally witnessed no evidence of sparking, flares, or fires.
Performance:
Following up its already impressive performance, Weber SmokeFire II maintains an eyepopping temperature range while rethinking power and pellet management.
To say Weber SmokeFire II performed admirably here is putting it mildly. While there are some impossibilities in the physics of a thermocouple test on a pellet grill — recall that, by nature, they operate by completely different thermodynamic principles than standard gas and charcoal grills — Chef Tony's findings fell in line with what he expects to see in this type of cooking environment. At its worst, he saw a disparity of 85 degrees Fahrenheit in one tiny spot; this was on the top-tier, screaming hot searing point of 600 degrees, which is a temperature point nearly unheard of on most pellet grills. (Thanks to the open body design, large air vents, and powerful variable-speed fans, he repeated hit that mark in 20 minutes.) In real-world usage, that sort of disparity isn't just expected; it's perfectly acceptable.
Speaking of real-world testing, Chef Tony bombarded the grill with wave upon wave of brisket, burgers, steaks, chickens, and enough meat to satisfy an entourage of medieval Vikings. On our test models, here's what he found as a stand-out: whoever you want fed first, cook their entrees on the right-front quadrant of Weber SmokeFire II. That section of the grill runs hotter than the rest by a noticeable margin. While we won't call that a feature per se, a little planning ahead can make it one.
Finally, Weber made a few positive adjustments to the grill's performance. One recurring concern Chef Tony's research unearthed was that the previous model allegedly suffered power issues. He intentionally ran every test on the same 40-foot extension cord; from beginning to end, he saw no electrical issues. Furthermore, Weber reworked the angled slope of the pellet hopper. On the higher end at 425–500 degrees, expect 2–2 ½ hours of prime pellet grilling before you have to touch the pellets. On the lower end, he saw that low-and-slow cooks would generally last 8 hours before requiring a pellet check. From his findings, Chef Tony concludes: "I'd say nearly all pellet grillers will be satisfied with these hopper revisions."
Features:
Weber SmokeFire II keeps its excellent features with quality companion app updates and overall grill redesign.
Weber SmokeFire II still shines in its grilling output with its 22-pound pellet capacity and a rear trap door releases pellets to swap flavors at a whim. This continues to dazzle us. Equally rare for pellet grills is the direct flame access afforded by the main cooking area; with two hanging knobs for accessories and that 304 stainless steel side shelf for prepping food and holding pans, it's clear Weber had the hands-on multitasker in mind in the design phase. A robust PID controller continues to supervise the DC-powered auger motor and fan (each of which boasting variable speeds). Throw in that pair of leave-in internal temperature probes and an innovative pellet auger design that provides larger cooking fire and higher heat…
In support of the original launch, the Weber Connect companion app released with limited functionality via wireless or Bluetooth connection. Compatible with iOS 12+ and Android 7.0+ and backed with the industry-leading JuneOS, recurring app updates have upped the app's capabilities — monitor (and now control!) your SmokeFire grill's temperature remotely, study readings from up to 4 temperature probes, set timers and probe temperature alerts, receive timely and relevant push notifications, and more. Registering a Weber ID provides in-app product and warranty information. Weber plans to roll out in-app recipes, guided cooking programs, and further quality-of-life updates. While we can't comment on them (SmokeFire didn't give us these problems), we've also heard of firmware algorithm changes to solve aggressive temperature overcorrection.
But we think the feature you'll love most circles back to the grease management system. Chef Tony put the second-generation Weber SmokeFire through every test available — and his continuous pellet grilling experiences make the apparent faults of the original ash and grease catch a bad dream. While Weber doesn't run their SmokeFire shipments through us (nor would we ever wish that upon ourselves), the ones we've tested proved to have ironed out the kinks from before. Between the assumed redesigns of the power delivery system and full-width pull-out tray, our resident expert Chef Tony expressed confidence in recommending this pellet grill to just about anybody.
Question:
Does the 672 sq inch cooking area include both racks? Or is that the measurement for the lower rack only?
Was This Helpful?
Answer:
HI Ken. That is the total for both racks on the Weber SmokeFire.
Question:
Good to hear that the grease fire issues have been resolved. To ensure that's the case, how often do you have to clean the inside? Also, what parts (if any) do you recommend lining with foil? Lastly, is it true that for fatty meats Weber recommends that you put an aluminum pan under the grates to catch grease?
Was This Helpful?
Answer:
Hi Ben. Weber recommends cleaning the SmokeFire before every cook. The bottom of the cookbox should be cleared of extra grease after 20 hours of use, or every 12 cooks. The drip pan can be replaced as needed. You can clean the grill grates by pre-heating the grill to 500 degrees and brushing them clean with a stainless steel grill brush. If you're grilling fatty meats, using an aluminum pan under the grates will catch drippings and help make quick work of cleanup.
Answer:
I brush the dust out after every use. It's probably not necessary but I don't want the fan blowing dust onto the food, a problem I've never had, by the way. I take the flavor bars out and wash them every 4 or 5 uses, and I clean the grill with a wire brush every use. I don't use aluminum foil. The only disposables I use is a Weber foil tray in the ash/grease hopper and when I water smoke I rest a large foil tray with some water in it on the flavor bars if I'm doing fatty meat, as I did for the Christmas goose.
Question:
Will this grill cook pizza's?
Was This Helpful?
Answer:
Hello! Yes, this grill can cook pizzas!
Question:
Do you have to run an extension cord to this grill as you do a Treager?
Was This Helpful?
Answer:
If an extension cord is needed, only use a 14-gauge cable with a grounded plug, suitable for use with outdoor appliances. The maximum length for the extension cord is 13 feet. You should keep the extension cord as short as possible.
Question:
Is there a flat top grill accessory ?
Was This Helpful?
Question:
How far does the SmokeFire grill need to be positioned from the house? How much heat does the grill produce externally?
Was This Helpful?
Answer:
Hi Tom. The grill should not be operated within 2 feet of any combustible materials. The grill will be hot to the touch when in use, so be cautious.
Question:
Does this smoker have a method to dump or remove unused pellets after use?
Was This Helpful?
Answer:
Hi Gary. Yes. There is a slide on the rear of the hopper that lets you empty out your unused pellets.
View Product Comparisons

Current Item

Weber SmokeFire EX4 Gen 2 24-Inch Wi-Fi Enabled Wood Fired Pellet Grill - 22510201

Traeger Ironwood 650 Wi-Fi Controlled Wood Pellet Grill W/ WiFIRE & Pellet Sensor - TFB65BLF

Broil King Regal 400 Wi-Fi & Bluetooth Controlled 26-Inch Pellet Grill - 495051

Louisiana Grills LG0800BL Black Label Series Pellet Grill W/ Wi-Fi Control - 10638

Price & Shipping Information

Free Shipping

Leaves Warehouse:

24 Hours

$0.04 (0%)

Free Shipping

Leaves Warehouse:

24 Hours

View Item

$200.00 (13%)

Free Shipping

Leaves Warehouse:

1-3 Business Days

View Item

Free Shipping

Leaves Warehouse:

5-7 Business Days

View Item
ID
#3072919
#3065492
#3052122
#3095003
Model
22510201
TFB65BLF
495051
10638
Class
Practical
Premium
Practical
Practical
Fuel Type
Pellets
Pellets
Pellets
Pellets
Collection
SmokeFire
Ironwood
Regal
Black Label
Configuration
Freestanding
Freestanding
Freestanding
Freestanding
Exterior Material
Porcelain Coated Steel
Powder Coated Steel
Painted Steel
Powder Coated Steel
Primary Color
Black
Black
Black
Black
Cooking Grate Material
Plated Steel
Porcelain Coated Steel
Cast Iron
Porcelain Coated Cast Iron
Cooking Grid Dimensions
23 1/2 X 17 1/4"
22 X 19"
25 3/5 X 19 1/4"
—
Main Grilling Area
432 Sq. Inches
418 Sq. Inches
500 Sq. Inches
520 Sq. Inches
Secondary Grilling Area
240 Sq. Inches
231 Sq. Inches
130 Sq. Inches
289 Sq. Inches
Total Grilling Area
672 Sq. Inches
650 Sq. Inches
630 Sq. Inches
809 Sq. Inches
Burger Count
15
16
20
—
WiFi/Bluetooth Enabled
WiFi & Bluetooth
WiFi Only
WiFi & Bluetooth
WiFi & Bluetooth
Grill Lights
None
None
None
None
Spring Assisted Hood
No
No
No
—
Thermometer
SmartPhone App
SmartPhone App
Digital
SmartPhone App
Side Shelves
Yes
Yes
Yes
Yes
Side Burner
None
None
None
None
Made In USA
Made In The USA With Globally Sourced Parts
No
Made In The USA With Globally Sourced Parts
No
Cart Assembly
Some Assembly Required
Some Assembly Required
Some Assembly Required
Some Assembly Required
Commercial-Grade Multi-User
No
No
No
No
Size
Small (0 - 26")
Small (0 - 26")
Small (0 - 26")
Small (0 - 26")
Marine Grade
No
No
No
No
Hopper Capacity
22 Pounds
20 Pounds
22 Pounds
18 Pounds
Max Temperature
600 F
500 F
600 F
600 F
Free Shipping on orders over $49
Ship your entire order to your home for free, especially the big stuff! *Continental US only
When will my item arrive?
Once shipped, items usually arrive within 3-5 business days. While UPS and FedEx are our carriers for smaller items, be aware that larger items and orders are shipped via freight. The freight process is a bit more complicated than what we've all come to expect for small parcels, so it's important that you're prepared and understand what's required of you well before delivery day.
Most freight products ship on a pallet
Some carriers will call to schedule a delivery window, while others will deliver the shipment to a reasonably accessible location closest to your residence (their goal is to deliver as near a garage door as they can).
We'll specify which process you can expect in your shipping confirmation email.
For carriers that schedule delivery appointments:
Carriers that schedule delivery appointments require you to be home for delivery and provide your signature. The delivery is made with a semi-truck with lift gate services, and the shipment is dropped off at the curb. If you authorize the shipping company to leave the delivery without a signature, BBQGuys can't be held responsible for damages that occur during delivery. As complicated as this process may seem, we've only scratched the surface here — please review our detailed guide to freight delivery so there are no surprises when a freight shipment heads your way.
For carriers that deliver without an appointment:
Carriers that deliver without an appointment don't require you to be home or set up a delivery window, and you aren't required to sign for the pallet(s). Instead of scheduling an appointment, arranging your schedule to be home for the delivery, and signing to confirm receipt, you can sit back and let your items come to you. If you're home at the time of the drop-off, you can request the driver place your delivery in the garage; if you're out of the house, the driver will leave it near the garage or doorstep.
This item leaves our warehouse within
24 Hours
$6.95 Flat-Rate Shipping
Anything under $49 ships at one low price. If your order increases, your shipping stays the same!
30-Day Returns
Return all new, unused, and unassembled items in their original packaging, and we'll give you a full refund minus the cost of the original AND return shipping.
No Restocking Fee
Most companies charge a restocking fee. We just don't do business that way.
Your Shopping History. Pick up where you left off.