Traeger Pro 780 Wi-Fi Controlled Wood Pellet Grill W/ WiFIRE - Bronze W/ Front Shelf & Grill Cover - TFB78GZE + BAC442 + BAC504
Sale
Save up to $400 on select Traeger Pellet Grills.
was

$1,169.85

13% off ($150.00)
Free Shipping
As low as $47 /mo with
*
Professional Grill Assembly for $99
Book a professional to help assemble this grill for only $99. All bookings and inquiries are handled by Handy.
Frequently Bought Together
Key Features
D2 direct drive features the first built-to-last, brushless motor in the industry, as well as a variable speed fan, and TurboTemp
Grill, smoke & monitor your Traeger Pro wirelessly using the Traeger smart phone app!
Keep the extra grill rack near by with the exterior storage hooks
Extra large capacity hopper holds up to 18 lbs of Traeger hardwood pellets at once
Includes a folding front shelf and custom cover designed to fit the Traeger Pro 780
Take your wood-fired cooking skills to the next level with the Pro 780 from Traeger. With more precise temperature control, D2 Direct Drive, and rugged all-terrain wheels and a stronger body, the Pro Series pellet grill can tackle any grilling challenge. The Pro series 780 pellet grill is constructed with a stamped bronze lid, powder coated steel, and boasts 36,000 BTUs of cooking power for the 780 square inches of cooking area. The versatility of this pellet grill allows you to smoke at temperatures as low as 180 degrees and then crank it up to 500 degrees to sear to perfection. The natural airflow inside of the grill allows for convection cooking, so you can bake a pizza right on your grill. This convection cooking also means you do not have to turn your meat, unless cooking with high temperatures or if you want those even grill marks. Tired of babysitting your grill? Try out the WiFIRE controller to change the temperature, set timers and access thousands of Traeger recipes using the Traeger app and your smart phone (available for iOS & Android devices). Single meat probes give you accurate temperature readings. With the purchase of this grill you will have access to the Traeger Grill Guide app with the perfect recipe for every occasion. The D2 Direct Drive drivetrain technology makes the Pro 780 more durable, with the DC brushless motor, and also increases the efficiency of the grill with Turbo Temp fast start-up, and the variable speed fan. This grill also has a keep warm mode so you can eat when you are ready to, not when the food is ready. The Pro series also adds a clean out door to the 18 lb capacity hopper, allowing you to quickly change the smoke flavor of the pellets while grilling. Traeger grills feature an auto-start system that is simple and safe to use. When you turn on the grill, the auger begins to feed pellets into the firepot while the draft induction fan feeds air into it. The igniter rod is activated and glows red hot to ignite the pellets in the firepot. These cost-effective wood pellets burn at a rate of only 2 lbs per hour on high heat, 1 lb per hour on medium heat and only 1/2 lb per hour when smoking. This energy efficient grill runs off of a standard 110 volt outlet. The Pro 780 also features storage hooks for extra grill racks, a sawhorse chassis and a lift bar on the side of the barrel, allowing you to easily move the grill around on the patio. The proprietary design and thick legs make the grill more maneuverable while the large, locking caster wheels help the grill roll quietly.
Legal disclaimers and warnings
Product packaging, owners' manuals, installation instructions, and/or operating instructions may include more information than what is shown on our website. The content on our site is intended to be used for reference purposes only. Please fully read all included manuals and documentation before installing or using this product. WARNING for California residents: this product may contain chemical(s) known to the state of California to cause birth defects, cancer, or other reproductive harm.
Product Information
Model Number

TFB78GZE + BAC442 + BAC504
Specifications
| | |
| --- | --- |
| Class | Practical |
| Fuel Type | Pellets |
| Collection | Pro |
| Configuration | Freestanding |
| Exterior Material | Powder Coated Steel |
| Primary Color | Bronze |
| Cooking Grate Material | Porcelain Coated Steel |
| Cooking Grid Dimensions | 30 X 19" |
| Main Grilling Area | 570 Sq. Inches |
| Secondary Grilling Area | 210 Sq. Inches |
| Total Grilling Area | 780 Sq. Inches |
| Burger Count | 24 |
| WiFi/Bluetooth Enabled | WiFi Only |
| Grill Lights | None |
| Spring Assisted Hood | No |
| Thermometer | Digital |
| Side Shelves | Yes |
| Side Burner | None |
| Made In USA | No |
| Cart Assembly | Some Assembly Required |
| Commercial-Grade Multi-User | No |
| Size | Medium (27 - 33") |
| Marine Grade | No |
| Hopper Capacity | 18 Pounds |
| Max Temperature | 500 F |
Traeger warrants their pellet grills to be free from defects in materials and workmanship for a period of three years from the date of purchase.

Refer to manufacturers manual for full warranty details.
84% of reviews recommend this product
Customer images featuring this product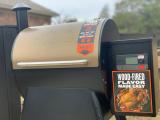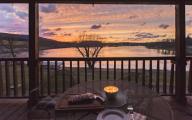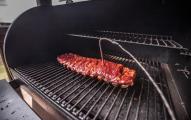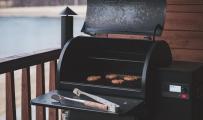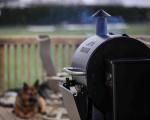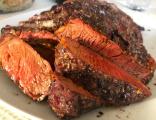 More of a question or two

Can I use the Traeger if it's raining? I'm in chicago and like to grill in the winter; is there a low end temperature where it's best not to use a Traeger? I just got my Traeger previously a Weber grilled, hence the questions. Thank you

Was This Helpful?

If you're thinking about it... Buy it!

I honestly can't believe some of the negative reviews on this grill. Everything that I've seen negative makes me scratch my head. I've had this grill about a month and have made some pulled pork which was to die for and some of the best Tri-Tip that I've ever had in my life. This grill has plenty of smoke, the Wi-Fi feature and app is incredible. I upgraded from a grill that didn't have the Wi-Fi feature and i couldn't be happier with my purchase. I hope everybody that is thinking about buying this grill pulls the trigger! Get ready for some of the best BBQ of your life.

Was This Helpful?

Great GRILL

I received this grill for Christmas in 2020 and have been very pleased with this unit. I've read some of these reviews and am honestly shocked that some people have any issues. I do think it could be better insulated however it's always put out consistently amazing food with little effort. Highly recommended form the experienced to the novice! I do recommend the pellet monitor, front shelf and cover for optimal enjoyment and to prevent you from running out of pellets when cooking at high temperatures as I did once.

Was This Helpful?

Can't believe I didn't buy this sooner!!

I had heard many people brag about their Traeger's and boy they didn't do it justice! I bought the Pro 575 and there has not been one meal that hasn't tasted like heaven. If your debating about getting one, just do it you will not regret it!!

Was This Helpful?

Amazing Grill

I purchased this grill because I could never seem to perfect a long cook, like a pork shoulder, or master the baby back rib. I have cooked for years on the Big Green Egg. Don't get me wrong, I love the Egg. But when I purchased the 575 Pro I was smitten. Within two cooks I have cooked baby back ribs that fall off the bone and will make you eat till your sick, pork shoulder that is restaurant quality. I am already eyeing the Ironwood 885.

Was This Helpful?

Hooked

Wife bought me a 575 for father's day this year and I have used it twice once for ribs, and just did a pack of chicken legs. I was not a big fan of chicken but since we got the smoker I know I will be eating a lot more. Thank you Wife

Was This Helpful?

Excellent for a first timer

I have had my 575 pro for almost 2 months now and absolutely love it. This is my first smoker and it has been a pleasure to use. I have done ribs, jerky, pizza, salmon and pork shoulders on it so far and have yet to be let down.

Was This Helpful?

Unbelievable

My wife got me the pro 575 for an early Father's Day present and after about 2 dozen different grills/ smokes on it I can't even begin to tell you how happy I am with this pellet grill. Perfect size for our family/ backyard space. So easy to multitask with the built in WiFire. Perfect food, every time.

Was This Helpful?

It's a Traeger - Not a Grill

I purchased my Pro 575 a few weeks ago and I'm really enjoying it. The assy was very simple and I only needed help to roll it over onto all four. TIP - Use some masking tape and securely tape the door and hopper lid so that they don't fly open during assy. Overall it took about an hour to assemble. I moved on to the seasoning of the Traeger and it went just as in the manual. Since then I've smoked some ribeyes and made a blackberry cobbler. I now have a rack of baby back ribs on low and slow (3-2-1) and the Traeger is performing excellently after 2 hours into the cook. I love the Traeger app even though I'm still learning how to use features such as the cook now in the recipes. I've also swapped out the Signature for the Hickory pellets for my ribs. That was very easy using the trap door. I also used a wooden spoon to push the remaining pellets out into the bucket. Then just topped it off with hickory pellets and on my way. TIP - Purchase an HD Homer bucket and lid to store pellets in and help with swapping pellets. Overall the cooking process has been very simple and I enjoy being able to check on my Traeger from my couch using the app. I am looking into a searing plate to help sear steaks. Even at 450F the sear wasn't quite what I like on my steaks and the sear plate will help with that. Overall, I do recommend the Pro 575. It has everything I want without all of the bells and whistles AND WiFire. Just remember it's a Traeger and not your run of the mill grill. Do your research to understand what a Traeger is compared to a grill to help with your purchase. All in all you won't be disappointed in the Traeger.

Was This Helpful?

Easy as "set it and forget it"

I received a Traeger 575 for Christmas and I couldn't be happier. So easy to use and after smoking five different types of meat, the results have been fantastic.

Was This Helpful?
The Skinny:
The original wood-fired pellet grill brand
WiFIRE Technology allows you to control grill from your smartphone
Industry first brushless DC motor gives more power to the auger
Variable speed fan creates powerful smoke vortex inside of the barrel
Pill shaped design gives more space for large cooks
Things We Love:
Traeger, the original pellet grill brand, is a true innovator and the most popular name in the pellet grill industry. Combining rugged durability with top-of-the-line features, Traeger brings refinement and style to the pellet industry. Traeger Pro series grills are built to last and make grilling simple. The Pro 575 and Pro 780, the newest models released in 2019, are packed with new features and added conveniences. Continue reading to discover how the Traeger Pro pellet grill will change the way you think about grilling. For more information on the first generation of Traeger Pro pellet grills, check out our expert review on the Pro 22 and Pro 34.
D2 Controller
The brain of the Pro Series is Traeger's innovative D2 Controller. The D2 is a PID controller – the most precise type of controller for maintaining a desired temperature. The D2 allows the fan to use variable speed; it will speed up or slow down as needed to reach and hold the desired temperature and smoke level. The D2 comes with one temperature probe so you can monitor the internal temperature of your food from the controller interface, or through WiFIRE.
WiFIRE
The D2 controller uses Treager's WiFIRE technology, which allows you to remotely monitor and control temperature, set timers, and shut off your Pro Series grill from your smartphone. The Treager smartphone app also provides access to GrillGuide, which features hundreds of digital recipes available to download directly to your smartphone with WiFIRE. Once you download a recipe, GrillGuide will program the entire cooking cycle from start to finish – changing temperature, smoke, and air circulation automatically as the recipe progresses. The Traeger app connects you to thousands of other users in the Traeger community and you can shop for Traeger accessories and wood pellets from the palm of your hand.
Direct Drive
The D2 direct drive takes advantage of a brushless DC motor to achieve higher torque at lower RPM, making the auger more powerful and less likely to clog. Since brushless motors have fewer mechanical/moving parts, the auger's motor is more resilient. it'll work harder for longer without requiring maintenance. The brushless motor allows the auger to move the same amount of pellets with more efficiency than earlier models.
Turbotemp
The PID controller and brushless DC motor work together to achieve Turbotemp. TurboTemp assists the Pro Series in ignition and reaching desired temperatures faster than ever before. Combining the pill-shaped design of the barrel with the powerful variable speed fan creates a vortex of smoke inside the grill. The smoke rolls around the barrel to coat your food in delicious smoky flavor. This results in outstanding heat retention and even less fuel needed to maintain high temperatures. With increased efficiency, Traeger has reduced the Pro Series pellet burn rate to 2 pounds per hour on high heat, and only ½ pound per hour when smoking. The Traeger Pro Series has a range of 180 degrees – 500 degrees and produces amazingly consistent temperatures from left to right and top to bottom.
Sizes
The Pro Series comes in 2 sizes, the Pro 575 and the Pro 780, which refers to the total amount of grilling space available between the two cooking grates. The Pro 575 has 575 square inches of total cooking surface, while the Pro 780 has 780 square inches of total cooking surface. Each size is available in 2 colors: rustic bronze or classic black.
Like other Traeger models, The Pro Series' classic sawhorse design and all-terrain wheels result in excellent durability and maneuverability. The proprietary design and thick legs make it easy to transport the grill while the large, all-terrain wheels help the grill roll quietly and smoothly. The Pro Series has a large hopper capacity, holding up to 18 pounds of Traeger hardwood pellets. It also has a magnetic hopper cleanout door, allowing you to quickly change out flavors of pellets on the fly. Hang BBQ tools or extra grill racks within arm's reach on the included storage hooks. The Pro Series has an available folding front shelf which can be purchased separately as an accessory.
Traeger offers several useful grilling tools that will give your grill even more cooking versatility. Some of the most popular Traeger accessories are a digital thermometer, chicken throne, and grill racks.
Things To Consider:
The Pro Series offers a leaner selection of grill features than what is found in Traeger's more advanced collections like the Ironwood or Timberline Series. If extra features like downdraft exhaust, super smoke mode, TRU convection, dual position grill grates, or double side-walled insulation are important to you, then you may want to upgrade to the Traeger Ironwood or Traeger Timberline collection of grills.
Question:
Would 2 full briskets fit in the 780 pro Traeger grill?
Was This Helpful?
Answer:
Hi JD. That depends on the size. The cooking area of the grill measures 30" W x 19" D, and the top rack is removable.
Product

Current Item

Traeger Pro 780 Wi-Fi Controlled Wood Pellet Grill W/ WiFIRE - Bronze W/ Front Shelf & Grill Cover - TFB78GZE + BAC442 + BAC504

Traeger Pro 780 Wi-Fi Controlled Wood Pellet Grill W/ WiFIRE - Black W/ Front Shelf & Grill Cover - TFB78GLE + BAC442 + BAC504

Camp Chef Woodwind WiFi 36-Inch Pellet Grill - PG36CL

Camp Chef Woodwind Pro WiFi 24-Inch Pellet Grill - PG24WWSB

Price & Shipping Information

Free Shipping

Leaves Warehouse: 24 Hours

Free Shipping

Leaves Warehouse: 24 Hours

View Item

Free Shipping

Leaves Warehouse: 24 Hours

View Item

Free Shipping

Leaves Warehouse: 7-10 Business Days

View Item
ID

3054447

3054444

3062785

3096122

Model Number
TFB78GZE + BAC442 + BAC504
TFB78GLE + BAC442 + BAC504
PG36CL
PG24WWSB
Class
Practical
Practical
Practical
Practical
Fuel Type
Pellets
Pellets
Pellets
Pellets
Collection
Pro
Pro
Woodwind
Woodwind
Configuration
Freestanding
Freestanding
Freestanding
Freestanding
Exterior Material
Powder Coated Steel
Powder Coated Steel
Painted Steel
Stainless Steel
Primary Color
Bronze
Black
Stainless Steel
Stainless Steel
Cooking Grate Material
Porcelain Coated Steel
Porcelain Coated Steel
Porcelain Coated Steel
Stainless Steel
Cooking Grid Dimensions
30 X 19"
30 X 19"
34 X 19 1/2"
22 X 19 1/2"
Main Grilling Area
570 Sq. Inches
570 Sq. Inches
663 Sq. Inches
429 Sq. Inches
Secondary Grilling Area
210 Sq. Inches
210 Sq. Inches
573 Sq. Inches
382 Sq. Inches
Total Grilling Area
780 Sq. Inches
780 Sq. Inches
1236 Sq. Inches
811 Sq. Inches
Burger Count
24
24
54
—
WiFi/Bluetooth Enabled
WiFi Only
WiFi Only
WiFi & Bluetooth
WiFi Only
Grill Lights
None
None
None
None
Spring Assisted Hood
No
No
No
No
Thermometer
Digital
Digital
SmartPhone App
SmartPhone App
Side Shelves
Yes
Yes
Yes
Yes
Side Burner
None
None
—
—
Made In USA
No
No
No
No
Cart Assembly
Some Assembly Required
Some Assembly Required
Some Assembly Required
Some Assembly Required
Commercial-Grade Multi-User
No
No
No
No
Size
Medium (27 - 33")
Medium (27 - 33")
Medium (27 - 33")
Medium (27 - 33")
Marine Grade
No
No
No
No
Hopper Capacity
18 Pounds
18 Pounds
22 Pounds
22 Pounds
Max Temperature
500 F
500 F
500 F
500 F
This product can expose you to chemicals including diisononylphthalate, which is known to the State of California to cause cancer, and carbon monoxide, a byproduct of combustion from this product, which is known to the State of California to cause birth defects or other reproductive harm. For more information, go to www.P65Warnings.ca.gov.
Free Shipping on orders over $49
Ship your entire order to your home for free, especially the big stuff! *Continental US only
When will my item arrive?
Once shipped, items usually arrive within 3-5 business days. While UPS and FedEx are our carriers for smaller items, be aware that larger items and orders are shipped via freight. The freight process is a bit more complicated than what we've all come to expect for small parcels, so it's important that you're prepared and understand what's required of you well before delivery day.
Most freight products ship on a pallet
Some carriers will call to schedule a delivery window, while others will deliver the shipment to a reasonably accessible location closest to your residence (their goal is to deliver as near a garage door as they can).
We'll specify which process you can expect in your shipping confirmation email.
For carriers that schedule delivery appointments:
Carriers that schedule delivery appointments require you to be home for delivery and provide your signature. The delivery is made with a semi-truck with lift gate services, and the shipment is dropped off at the curb. If you authorize the shipping company to leave the delivery without a signature, BBQGuys can't be held responsible for damages that occur during delivery. As complicated as this process may seem, we've only scratched the surface here — please review our detailed guide to freight delivery so there are no surprises when a freight shipment heads your way.
For carriers that deliver without an appointment:
Carriers that deliver without an appointment don't require you to be home or set up a delivery window, and you aren't required to sign for the pallet(s). Instead of scheduling an appointment, arranging your schedule to be home for the delivery, and signing to confirm receipt, you can sit back and let your items come to you. If you're home at the time of the drop-off, you can request the driver place your delivery in the garage; if you're out of the house, the driver will leave it near the garage or doorstep.
This item leaves our warehouse within 24 Hours
$6.95 Flat-Rate Shipping
Anything under $49 ships at one low price. If your order increases, your shipping stays the same!
30-Day Returns
Return all new, unused, and unassembled items in their original packaging, and we'll give you a full refund minus the cost of the original AND return shipping.
No Restocking Fee
Most companies charge a restocking fee. We just don't do business that way.
Message to our customers: Like all retailers and manufacturers, we're currently experiencing well-publicized supply-chain issues and steel shortages that have caused some orders to be delayed. We sincerely apologize for any inconveniences arising from this situation, and we assure you we're making every effort to solve these problems with our vendors and logistical partners.

So, why are some orders being affected? Major ports around the world are still operating at reduced capacity because of COVID-19 restrictions — on average, container boats sit at port for about 3 weeks before being unloaded. Combine these shipping inefficiencies with a scarcity of natural resources, and virtually every industry has been crippled to some degree. Yet we acknowledge that it's our duty to meet these challenges head-on and work toward solutions so you can enjoy more time outdoors with the people you love. We appreciate your patience as we strive to smooth out our supply chain, and we thank you for choosing us for your grilling and outdoor living needs.
Your Shopping History. Pick up where you left off.