Smokin Tex Pro Series Residential BBQ Electric Smoker - 1400
Free Shipping
As low as $77 /mo with
*
Professional Grill Assembly for $99
Book a professional to help assemble this grill for only $99. All bookings and inquiries are handled by Handy.
Frequently Bought Together
Key Features
Electric power provides consistent heat at the selected temperature
Double walled for enhanced insulation
Stainless steel construction makes everything durable and dishwasher safe
Temperature range of 100-250 degree
38 lb maximum capacity
The Smokin Tex 1400 Pro Series Stainless Steel Electric Smoker is easy to use, just plug it in, put in the wood and food, shut the door, and set the temperature. Enjoy authentic old-fashioned pit barbecue and delicious natural wood smoked foods. Your food is slow cooked with exact temperature control from 100 to 250 degrees and will require no attention during cooking! This electric smoker features all stainless steel construction to survive the elements and double wall insulation to keep it cool to the touch. Controlled heat, combined with the no-draft cooking conditions produces a consistently moist and tender product. Smoker has five shelf positions and includes three 14 1/2 x 14 1/2 inch shelves for a maximum capacity of 38 lbs. Comes equipped with a stainless steel drip pan, four caster wheels, cookbook, and instructions. Electric smoker requires 700W/10 amps/120V. Smoker Dimensions (in inches): 17 1/2 W x 21 D x 29 H (including wheels) 26 3/4 H (without wheels).
Legal disclaimers and warnings
Product packaging, owners' manuals, installation instructions, and/or operating instructions may include more information than what is shown on our website. The content on our site is intended to be used for reference purposes only. Please fully read all included manuals and documentation before installing or using this product. WARNING for California residents: this product may contain chemical(s) known to the state of California to cause birth defects, cancer, or other reproductive harm.
Product Information
UPC

693876514001

Model Number

1400
Ask an Expert
Buy with confidence.
Contact our experts today.
| | |
| --- | --- |
| Smoker Type | Vertical |
| Smoker And Grill | No |
| Class | Premium |
| Fuel Type | Electric |
| Best Use | Residential |
| Collection | Pro Series |
| Max Temperature | 250 F |
| Lowest Smoking Temp | 100 F |
| Configuration | Freestanding |
| Exterior Material | Stainless Steel |
| Number Of Racks | 3 |
| Primary Color | Stainless Steel |
| Max Food Capacity | 38 Lbs |
| Water Smoker | No |
| Nsf Certification | No |
| Cooking Grid Dimensions | 14.5 X 14.5" |
| Total Grilling Area | 630 Sq" |
| WiFi/Bluetooth Enabled | None |
| Thermometer | Analog |
| Made In USA | No |
| Size | Small (0 - 26") |
| Marine Grade | No |
| | |
| --- | --- |
| Width | 17.5" |
| Depth | 21" |
| Height | 29" |
| Weight | 70 lbs |
Smokin Tex warrants this smoker for three (3) years on all components from the date of purchase. Labor not included.

Refer to manufacturers manual for full warranty details.
96% of reviews recommend this product
Customer images featuring this product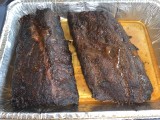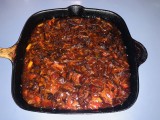 I would purchase again.

I used it the first time to smoke a brisket. It came out very good, even though I need more expensive with brisket.

Was This Helpful?

Already a hit after 2 days

Received my 1400 on Friday. Spent an hour putting together the cart, then fired it up to season it. First batch was a load of Apple smoked lobster tails and brats. I used too many chips, and they were okay, but oversmoked. On Sunday, I prepped two trip-tip roasts from Costsco with an 8-hour marinade in Stubbs beef marinade, then rubbed a standard Montreal rub on the outside. I smoked them with 3 oz of cherry wood, at a low 215, until the meat temp was 132. Then pulled them out, let them rest for a few, then seared them in a cast iron skillet with plenty of butter and fresh rosemary. It was the best meat I've ever cooked. I want to take a picture, but it went so fast, that by the time i grabbed my phone, there was only empty plates. The 1400, or at least mine, runs a little hotter than the dial on tops says. My thermo was telling me that the air temp was 215 degrees, and the dial was 200. No big, because at that temp, it's all low and slow - and heat is pretty consistent from top shelf to the bottom shelf. Love this 1400. We're going to be making people smile for years to come.

Was This Helpful?

Will be buying the next size!!

I have had my little smoker since they first came out in 1999 and it is still going strong. Since I am now retired and moving I will be buying the next size up. I have smoked tremoundous amounts of fresh Albacore and other fish and it always turned out well in my smoker. I no long have my Sportfisher but still smoke turkey, pork shoulders, brisket, chicken and whatever else I can think of in my Smokin Tex. It also does a great job with stuffed jalapenos and adding smoke to onions. Just be careful when smoking veggies and use very little wood or no wood if your smoker is well seasoned like mine.

Was This Helpful?

Outstanding

My old gas smoker would blow out when turned down low if there was any amount of wind. I just smoke 2 racks of ribs. The weather was 40 MPH wind and constant heavy rain and my new smoker never missed a beat ( it is on the back porch). It did a great job of maintaining the temperature during that intense storm. The ribs were great.

Was This Helpful?

Great Product

This is a great, quality made product including the cart but beware that the oven temperature varies 40 to 50 degrees. I bought a digital oven thermometer (Square DOT) to monitor the oven temp. I've done several batches of ribs, a pork roast that all came out delicious. On the other hand, I did both chicken wings and and whole, spatchcocked chicken that were disasters. The skin on both were tough and rubbery. The 5 pounds of wings went directly into the garbage. I was able to salvage the breast meat from the whole chicken which was pretty good but the rest of it was not due to her tough, rubbery skin.

Was This Helpful?

Highly recommend

Love it and super easy to use! I love it more than I expected to. The ribs...!

Was This Helpful?

This smoker is fantastic!

I have had this smoker for 2+ years and it is fantastic! I just ordered one for my daughter.

Was This Helpful?

Very good product

I have it since 2004. I love it. I am getting closer to retirement and I want to buy a new one (the old one works just fine) while I still have a job and can afford it. Very well built, easy to clean etc.

Was This Helpful?

Great for the wife and me.

don't know of any.

Was This Helpful?

Best Purchase Made for Outdoor Cooking

Owned for over 2 years. Use it 2-3 times a month - brisket, ribs, tri tip, pork loin and shoulder, salmon, whole chickens, whole turkeys, and cold smoking steaks. Never disappoints. Highly recommend it. Am getting the stand - it does cost a lot -as it does sit low w/o it.

Was This Helpful?
The Skinny:
Simple to use
Comes completely assembled
No-draft cooking environment ensures perfectly moist food every time
Things We Love:
Easy to Use: Set It and Forget It
If you value simplicity in a smoker, then you have to try the Smokin Tex Pro Series 1400 Electric Smoker. We found it to be among the easiest smokers to use — all you need is a 120-volt power supply, some fuel, and a couple cuts of delicious meat just waiting to be smoked! Once your fuel is in the wood box and your food is on the racks, all you have to do is set the temperature to the desired level and let this Smokin Tex Pro Series model do its thing. Virtually no maintenance or observation is required during the cooking process, giving you more time to enjoy the company of friends and family.
The slow-cooking temperature range of this smoker falls between 100 and 250 degrees Fahrenheit, which is perfect for producing fall-of-the-bone results that'll have everyone's mouths watering. Thanks to its construction, the Smokin Tex 1400 electric smoker is able to maintain exact temperatures over long periods of time for evenly controlled heat. The result is old-fashioned, low-and-slow cooking at its finest!
Excellent Construction
The same design that makes this smoker excellent at retaining heat also lends to its durability. Most notable is the double-insulated cabinet, which traps heat and smoke to create moist food while keeping the exterior cool to the touch. There's also stainless steel used throughout the smoker body, including the removable drip pan.
Because the three adjustable racks — which are removable and dishwasher-safe — can be placed in five different shelf positions for a maximum capacity of 38 pounds, the Smokin Tex 1400 is great for those who love to experiment with their cooking technique. Did we mention this smoker comes fully assembled with four caster wheels and a cookbook? No assembly required so you can get straight to smoking!
Things To Consider:
The smoker's interior needs to be seasoned before first use. For help with this important step, call one of our BBQ experts at 1-877-743-2269. You should operate this Smokin Tex unit only in dry, covered, and well-ventilated areas. Because of its electrical components, this smoker shouldn't be allowed to get wet and needs to be protected from rain, snow, and sprinklers. We offer Smokin Tex smoker covers for added protection from the elements.
The unit should also be unplugged and stored inside when not in use. Make sure you adjust the controls to the "OFF" position, unplug, and let the smoker cool before removing or placing any parts. Never leave a hot smoker unattended with the door open, and always be aware of the presence of hot grease when moving the smoker while in use. When using an extension cord, keep in mind that an overly long or light-duty cord will cause the smoker's heating element to be less efficient.
Question:
Hi, hiw long last wood chips and how often is recomended to replace them, is the door has to be opened to replace wood chips? Thank you.
Was This Helpful?
Answer:
Hi Azeke. Smokin Tex suggests using wood chunks. Depending on the temperature set, the chunks should last for many, many hours without the need to refil.
Answer:
You only use 4-6 small chips of wood and you replace them every time you use the smoker, you have to open the door to replace the wood in the smoker tray. -Aaron
Question:
Need a label and knob for my smoker 1400 series
Was This Helpful?
Answer:
Hi Billy. Please reach out to our Support team at 877-743-2269. They can help you locate the Smoking Tex parts.
Question:
Hello y'all. I was wondering about what the temperature swing is?
Was This Helpful?
Answer:
HI Buck. The temperature range for the Smokin Tex is 100 to 250 F.
Answer:
Hi Buck, We have been operating this unit commercially for 5 years with 1 small repair requiring a new thermostat which BBQGuys replaced for free even though we weren't covered under warranty as commercial use and it was our fault for not cleaning it properly, and we operate it outside in Truckee, CA near Lake Tahoe in extreme temperatures. We get a temperature swing of less than +- 25 degrees. We had one of our chefs when smoking pork bellies for our house made bacon wrap bricks in foil and place on the bottom rack and preheat which he claimed helped maintain temp at a tighter tolerance, I don't know, but all in all, this is a solid unit that can be used in a commercial kitchen for years with little to no maintenance. Good luck -Aaron
Question:
Does the 1400 electric smoker have a timer ?
Was This Helpful?
Answer:
No, this unit does not have a timer.
Answer:
Hi, Kathy. Smokin Tex Pro 1400 only has a temperature control. There is no timer.
Answer:
No it does not. Not sure how valuable that would be as you smoke proteins to a temperature, not a time limit. We use the meater plus and the meater block, both available at
meater.com
to get a wifi notification of when our products reach the desired temperature. There are cheaper non-commercial options available as well. Cheers, -Aaron
Question:
Can this smoker be left outside without a cover under the elements? Is the rheostat/knob waterproof?
Was This Helpful?
Answer:
Hi Robben. This unit should not be left unattended in the rain. I would highly recommend a cover, and for it to be placed under cover if not used for extended periods of time.
Answer:
You would want to cover it for storage if using I've had light rain on it and ok
Answer:
I leave mine outside and I have not had any problems yet I've had it for approx 4 months I use it regularly for my business 
Question:
Can you run a meat thermometer cord to the outside with this unit?
Was This Helpful?
Answer:
Yes, I run the cord through the vent hole in the top. I love this smoker. I would get the stand if you do not have one. 
Answer:
Yes. I just ran cord through hole in top
Question:
Is this wide enough to smoke a full rack of ribs? How about a full brisket? Thanks
Was This Helpful?
Answer:
I did not answer your question about the Brisket. I do not think you could cook a full brisket without cutting it. I always cut in half and put on separate shelves. I love my Smokin Tex.  I always cut my ribs in half, that's just me. You have 14-1/2 inches both directions. It will depend on your type of ribs and size.  I just built entire out-door kitchen and my Smokin Tex is my Favorite.If you are going to smoke a large amount, I would get the larger Smokin Tex. Enjoy, Jimmy
Answer:
I would say "no" the inside demensions are about 14" x 14" we use ours to smoke chicken leg quarters and pork belly and occasionally a tri tip great smoker though... have used it commercial daily for 3 years -Aaron
Question:
I assume the legs and casters are removable so the smoker can be placed on the stand?
Was This Helpful?
Answer:
Hi Michael! The legs are welded on and not removable. The casters are removable. Hope this helps.
Question:
I'm looking for the internal height of the 1400 smoking compartment
Was This Helpful?
Answer:
Hi Ray. The interior is about 20 inches high.
Question:
How big of a turkey will this fit? Is it safe to operate on a Trex deck surface?
Was This Helpful?
Answer:
Hi, Ali. You can fit up to an 18 pound turkey in this smoker. This also factors in food safety, because a larger bird may not cook properly at such low temperatures. If you plan on using this smoker on composite or wood decking, we recommend a grill pad, such as these, to protect your deck:
www.bbqguys.com/grill-accessories/grill-attachments
View Product Comparisons

Current Item

Smokin Tex Pro Series Residential BBQ Electric Smoker - 1400

Cookshack SuperSmoker SM045 Electric Smoker

Cookshack Amerique SM066 Electric Smoker

Smokin Tex BBQ Electric Smoker 1100

Price & Shipping Information

Free Shipping

Leaves Warehouse:

1-3 Business Days

Free Shipping

Leaves Warehouse:

24 Hours

View Item

Free Shipping

Leaves Warehouse:

24 Hours

View Item

Free Shipping

Leaves Warehouse:

1-3 Business Days

View Item
ID
#1530808
#2512311
#2121460
#2729222
Model
1400
SM045
SM066
1100
Smoker Type
Vertical
Vertical
Vertical
Vertical
Smoker And Grill
No
No
No
No
Class
Premium
Premium
Premium
Premium
Fuel Type
Electric
Electric
Electric
Electric
Best Use
Residential
Residential
Residential
Residential
Collection
Pro Series
SuperSmoker
AmeriQue
Pro Series
Max Temperature
250 F
300 F
300 F
250 F
Lowest Smoking Temp
100 F
140 F
140 F
100 F
Configuration
Freestanding
Freestanding
Freestanding
Freestanding
Exterior Material
Stainless Steel
Stainless Steel
Stainless Steel
Stainless Steel
Number Of Racks
3
3
4
2
Primary Color
Stainless Steel
Stainless Steel
Stainless Steel
Stainless Steel
Max Food Capacity
38 Lbs
35 Lbs
50 Lbs
23 Lbs
Water Smoker
No
No
No
No
Nsf Certification
No
—
—
No
Cooking Grid Dimensions
14.5 X 14.5"
18 X 14"
18 X 14"
13 1/4 X 12 1/8"
Total Grilling Area
630 Sq"
756 Sq"
1008 Sq"
321 Sq"
WiFi/Bluetooth Enabled
None
None
None
None
Thermometer
Analog
Digital
Digital
—
Made In USA
No
Yes
Yes
No
Size
Small (0 - 26")
Small (0 - 26")
Small (0 - 26")
Small (0 - 26")
Marine Grade
No
No
No
No
Per the manufacturer, this product does not require a California Proposition 65 Warning.
For more information, go to www.p65warnings.ca.gov.
Free Shipping on orders over $49
Ship your entire order to your home for free, especially the big stuff! *Continental US only
When will my item arrive?
Once shipped, items usually arrive within 3-5 business days. While UPS and FedEx are our carriers for smaller items, be aware that larger items and orders are shipped via freight. The freight process is a bit more complicated than what we've all come to expect for small parcels, so it's important that you're prepared and understand what's required of you well before delivery day.
Most freight products ship on a pallet
Some carriers will call to schedule a delivery window, while others will deliver the shipment to a reasonably accessible location closest to your residence (their goal is to deliver as near a garage door as they can).
We'll specify which process you can expect in your shipping confirmation email.
For carriers that schedule delivery appointments:
Carriers that schedule delivery appointments require you to be home for delivery and provide your signature. The delivery is made with a semi-truck with lift gate services, and the shipment is dropped off at the curb. If you authorize the shipping company to leave the delivery without a signature, BBQGuys can't be held responsible for damages that occur during delivery. As complicated as this process may seem, we've only scratched the surface here — please review our detailed guide to freight delivery so there are no surprises when a freight shipment heads your way.
For carriers that deliver without an appointment:
Carriers that deliver without an appointment don't require you to be home or set up a delivery window, and you aren't required to sign for the pallet(s). Instead of scheduling an appointment, arranging your schedule to be home for the delivery, and signing to confirm receipt, you can sit back and let your items come to you. If you're home at the time of the drop-off, you can request the driver place your delivery in the garage; if you're out of the house, the driver will leave it near the garage or doorstep.
This item leaves our warehouse within
1-3 Business Days
$6.95 Flat-Rate Shipping
Anything under $49 ships at one low price. If your order increases, your shipping stays the same!
30-Day Returns
Return all new, unused, and unassembled items in their original packaging, and we'll give you a full refund minus the cost of the original AND return shipping.
No Restocking Fee
Most companies charge a restocking fee. We just don't do business that way.
Your Shopping History. Pick up where you left off.