Backwoods Chubby 3400 Vertical Charcoal Smoker - LVPBSCH3400
was

$869.00

9% off ($80.00)
Free Shipping
As low as $69 /mo with
*
Buy it used as low as $811.25

View All
Professional Grill Assembly for $99
Book a professional to help assemble this grill for only $99. All bookings and inquiries are handled by Handy.
Frequently Bought Together
Key Features
Award winning design for competition quality food in your backyard
Four adjustable nickel plated racks give a total 1,023 square inches of cooking area
Can reach temperatures between 180 and 300 degrees Fahrenheit for low and slow smoking
Can smoke 8 racks of ribs, 3 briskets or 4 Boston butts at a time
Water pan can be removed to use the smoker as a grill
The Backwoods Chubby 3400 vertical charcoal smoker brings competition quality BBQ to your backyard! With four (4) nickel plated racks, the Chubby 3400 has a total 1,023 square inches of cooking area. An extra slider on the stainless steel interior walls allows the height of the racks to be adjusted for a more flexible meat arrangement. A heat diverter plate keeps the heat indirect, which allows for low and slow smoking at temperatures approximately between 180 and 300 degrees Fahrenheit. The stainless steel water pan can be used to keep food moist while cooking, or it can be removed to use the Chubby 3400 as an effective grill. The charcoal tray can hold up to approximately 10 pounds of charcoal at a time. As the charcoal burns, ash falls into a removable ash tray for easy cleanup. Between the stainless steel interior and the powder coated steel exterior is a 1-inch layer of insulation, which assures better fuel efficiency and temperature control. Both the firebox and the cooking compartment have slam latch doors, keeping them tightly closed so heat and smoke are not lost. A thermometer on the cooking compartment door lets you keep an eye on the internal ambient temperature. Weighing only 130 pounds, two people can easily lift and move the Chubby 3400 using the convenient side handles.
Legal disclaimers and warnings
Product packaging, owners' manuals, installation instructions, and/or operating instructions may include more information than what is shown on our website. The content on our site is intended to be used for reference purposes only. Please fully read all included manuals and documentation before installing or using this product. WARNING for California residents: this product may contain chemical(s) known to the state of California to cause birth defects, cancer, or other reproductive harm.
Product Information
UPC

855425007000

Model Number

LVPBSCH3400
Specifications
| | |
| --- | --- |
| Smoker Type | Vertical |
| Smoker And Grill | Yes |
| Class | Practical |
| Fuel Type | Charcoal |
| Best Use | Residential |
| Collection | Chubby |
| Max Temperature | 350 F |
| Lowest Smoking Temp | 180 F |
| Configuration | Freestanding |
| Number Of Racks | 4 |
| Exterior Material | Powder Coated Steel |
| Primary Color | Black |
| Max Food Capacity | 40 Lbs |
| Water Smoker | Yes |
| Cooking Grate Material | Plated Steel |
| Nsf Certification | No |
| Cooking Grid Dimensions | 16 1/2 X 15 1/2" |
| Total Grilling Area | 1020 Sq. Inches |
| Burger Count | 32 |
| WiFi/Bluetooth Enabled | None |
| Grill Lights | None |
| Spring Assisted Hood | No |
| Thermometer | Analog |
| Side Shelves | No |
| Side Burner | None |
| Made In USA | No |
| Commercial-Grade Multi-User | No |
| Size | Small (0 - 26") |
| Marine Grade | No |
Dimensions
| | |
| --- | --- |
| Width | 20" |
| Depth | 22.5" |
| Height | 31.5" |
| Weight | 130 lbs |
Related Articles
Product Videos
Backwoods Smoker offers a one (1) year limited warranty, which covers all materials, parts, and workmanship when used under normal conditions. This warranty is extended only to the original purchaser and is not transferable. This warranty does not cover damage caused by abuse, neglect or accidents and is void if any temporary or permanent modifications, alteration, or additions are made to the inside or outside of the smoker / grill without consulting the manufacturer for possible performance issues. Labor not included.

Refer to manufacturers manual for full warranty details.
100% of reviews recommend this product
Customer images featuring this product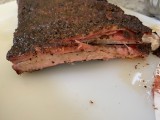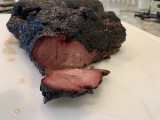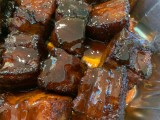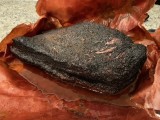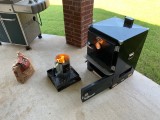 Yes

I really like my smoker and it's one of the center pieces of my outdoor kitchen.

Was This Helpful?

My first Smoker

I have now had the Chubby 3400 for six months and have wonderful results. I have done brisket, pork bellies, and ribs in the 3400 and the have come out amazing. I have attached some pictures of my BBQ cooks with the 3400. Highly recommended!!

Was This Helpful?

I highly recommend BBQGUYS and the Chubby 3400!

I have smoked pork chops, turkey legs, ribs, Boston Butt and brisket in the short few months I have owned my Chubby 3400. I simply fire it up per the instructional video, prepare my meat of choice and cook! I have cooked up to 10 hours at 225 to 250 deg without having to add coals or water. The simplicity of the smoker is awesome and quality of food is spot on. The Chubby 3400 has exceeded my expectations. The folks at BBQGUYS are fantastic to work with, ordering through delivery and resending my cover that was missing in the original shipment. If you are enthusiastic about back yard cooking you will enjoy the Chubby 3400.

Was This Helpful?

Love my Chubby 3400

Best ribs ever my family love my ribs ,Us Mcknights takes BBQ serious mine is the best out of everybody.

Was This Helpful?

Excellent smoker

I've had this smoker for over a decade and have had consistently excellent results. One of the most important things about smoking is maintaining consistent temperature and the Backwoods never disappoints. It is easy to adjust the top and bottom vents to get the exact temperature you need and keep it there.I wish it were a little bigger though.

Was This Helpful?

It's the best poultry cooker I have ever had

Love it

Was This Helpful?

Phenomenal smoker

Great smoker that can hold temperature on very cold days. I have owned a Backwoods for many years and have made excellent meals. Getting it to temperature can be trickly with the large water pan. I usually don't add the pan and water until after the smoker has reached 300 degrees. I urge you to get casters from the hardware store that you can put on the smoker after it is delivered. The smoker is heavy.

Was This Helpful?

Great smoker

Received promptly, box in good condition however a few things were messed up inside but were quickly remedied by Backwoods, which has excellent customer service. I've only smoked a pork butt, home-cured bacon and a couple of whole chickens but they all have exceeded my expectations. I love how the chubby holds a consistent temperature.

Was This Helpful?

I would not hesitate to buy this for a second.

I Have had a couple cooks now and I have not had one complaint. Food is tender and smokey. I recommend a little extra wood peices in juxtaposition to dry smoking. Despite being made over seas, the chubby 3400 will stand tall with any cooker in terms of quality and food quality. I don't see how people can waste money on a traeger or Egg when you can have a Backwoods smoker. I dealt with Chase and he is an asset to a new owner. Join the Chubby club. The water is just fine. (Full disclosure, I did not purchase from BBQ guys, but I would not hesitate to in the future.

Was This Helpful?

Love my Smoker

Arrived in perfect shape and on time. Great on line buying experience

Was This Helpful?
The Skinny:
Smart design paired with competition-quality results
Can be used as a smoker or a grill
Total cooking area of 1,023 square inches
Things We Love:
Cooks Competition-quality BBQ
Just about everyone thinks their BBQ is competition-worthy, but the Backwoods Chubby 3400 vertical charcoal smoker has everything to help you really reach that level! It comes with several accessories to satisfy even the most season griller, such as the water pan that sits at the bottom of the smoking chamber to coat your food in moisture. Setting up indirect heat for smoking is also easy with the included heat diverter plate, and you can hit temperatures between 180 and 300 degrees Fahrenheit for true low-and-slow cooking.
The four nickel-plated racks provide 1,023 square inches of cooking space, but we particularly love that they can be adjusted depending on what you're cooking. We were able to fit larger items like eight racks of ribs, four Boston butts, or three briskets with little difficulty. With a slide-out charcoal pan that holds about 10 pounds of fuel, you can put the Backwoods Chubby 3400 to use for hours at a time!
Multiple Uses Make It Extremely Versatile
We love BBQ smoking as much as anyone, but it's hard not to appreciate this model's ability to function as a grill by simply removing the water pan. As a bonus, you can add wood into the unit to give your food smoke-infused flavor even when grilled. The Backwoods Chubby 3400 is also relatively easy to move with just two people thanks to its 130-pound frame and built-in side handles for convenience. Put it on your patio, take it to the tailgate, or bring it along as your trusty companion at the next BBQ smoking competition.
Expertly Constructed for Superior Durability
If you want to know what makes the Backwoods Chubby 3400 such a powerful and versatile smoker, look no further than its design. The exterior is made of power-coated steel with thick, 1-inch insulation that keeps temperatures consistent and creates an efficient use of fuel. Both the cooking area and the lower firebox that houses the charcoal tray have slam-latch doors, which further help the unit trap heat and smoke for juicy results. To top it all off, the built-in thermometer on the cooking chamber door shows the internal ambient temperature in an easy-to-read location. All these features come together for an incredible smoking — or grilling — experience!
Things To Consider:
This unit doesn't include the technological bells and whistles found in some modern smokers, but the Backwoods Chubby 3400's simplicity is part of what makes it a quality product. With such a straightforward approach to BBQ smoking, no wonder it's an award-winner in competitions! For more help deciding if this vertical charcoal smoker is right for you, reach out to one of our grilling experts today by calling 1-877-743-2269.
Question:
Two questions: Someone asked about temp probes;: The probes I use have flexible and thin cabling; I assume those the doors can close on those cables and thus temp probes can be used. Q #2 - is there a recommended electronic temp regulator for this unit? I believe I saw one, but wanted to confirm.
Was This Helpful?
Answer:
I use the probes, thin wires, and run them out the door. I think it's fine. No smoke or heat release due to the rubber trim placed around the interior door. I love this smoker.
Question:
Does the smoker get hot on the outside where it might cause a burn if you touch it and can it be returned if not satisfied with its performance after it's initial use?
Was This Helpful?
Answer:
Hello Thomas! The outside of the Backwood Smoker Chubby 3400 is well insulated. The outside will cooking will be warm but should not be hot enough to burn you. Unfortunately, per our return policy items must be in unused, unassembled condition and returned in the original packaging within 30 days of delivery. You can view our return policy here:
www.bbqguys.com/policies
Question:
Hello. Is there an opening to put electronic probes to measure the internal meat temp? Maybe through the top vent?
Was This Helpful?
Answer:
Hi Suzy, there are not any spots for cables on probes to be fed through on the Smoker.
Question:
Does the Chubby 3400 come with a cover or If not, do you sell one?
Was This Helpful?
Answer:
Hi there! The Chubby 3400 does not come with a cover but Backwoods does make one. Give us a call at 877-743-2269 to get one ordered.
Question:
Hey there, At 100+ lbs, it doesn't make for good mobility. Seems as though where ever I position it, is where it's going to be staying. Does it come with wheels or something that would make it easier to move? If no, do you think wheels could be added as a modification? Thanks!
Was This Helpful?
Answer:
Hi there! Backwoods actually does sell castors for the feet of this grill, it is our item number 3062587. The 3 inch feet already have a pre-drilled caster bolt hole pattern on bottom. It will also raise your grill up 6 inches. Give us a call at 877-743-2269 and we can get them ordered for you!
Question:
Can you add an extension to the chimney so you have the smoker inside a screened in porch? If so, where can you buy an extension?
Was This Helpful?
Answer:
Hi Heather, thanks for asking. It is not recommended to use any grill or smoker inside of any enclosure. The most cover that is recommended is a covered patio ceiling, but not enclosed with any screens or walls. If you have any other questions please message us on Live Chat or call 877-743-2269 and we'll be happy to help.
Question:
Is this electric
Was This Helpful?
Answer:
Hi Oscar! No, this smoker is charcoal only.
Question:
How long will the cubby cook on the initial 10 lbs of charcoal?
Was This Helpful?
Answer:
Hi Richard. The Chubby 3400 will hold about 6-10 lbs of charcoal and last for approximately 6-10 hours of cooking time, depending on the temperature you cook at.
Question:
I'm a weber guy wsm but now at 70 some od years old its getting harder to handle taking it down putting it back up, its getting not fun anymore , I was at a gathering and smoker was using a backwoods chubby it seemed what would be the ticket for me find a spot set it up and just cook no more construction my question is are they not made here in the USA anymore? Charlie.
Was This Helpful?
Answer:
Hi Charlie, Backwoods Smokers are still made here in the US, manufactured in Dixie, Louisiana.
Product

Current Item

Backwoods Chubby 3400 Vertical Charcoal Smoker - LVPBSCH3400

Broil King Regal Charcoal Offset 400 Smoker - 955050

Oklahoma Joe's Bronco Pro Drum Smoker - Black - 19202099

Backwoods G3 Chubby Vertical Charcoal Smoker - G3CHUBBY

Price & Shipping Information

Free Shipping

Leaves Warehouse: 1-3 Business Days

Free Shipping

Leaves Warehouse: 1-3 Business Days

View Item

Free Shipping

Leaves Warehouse: 24-48 Hours

View Item

Free Shipping

Leaves Warehouse: 1-3 Business Days

View Item
ID

3047199

3096059

3094079

3075097

Model Number
LVPBSCH3400
955050
19202099
G3CHUBBY
Smoker Type
Vertical
Offset
Vertical
Vertical
Smoker And Grill
Yes
Yes
No
Yes
Class
Practical
Practical
—
Practical
Fuel Type
Charcoal
Charcoal
Charcoal
Charcoal
Best Use
Residential
Residential
Residential
Residential
Collection
Chubby
Regal
—
Chubby
Max Temperature
350 F
—
550 F
350 F
Lowest Smoking Temp
180 F
—
150 F
180 F
Configuration
Freestanding
Freestanding
Freestanding
Freestanding
Number Of Racks
4
2
1
4
Exterior Material
Powder Coated Steel
Painted Steel
Painted Steel
Powder Coated Steel
Primary Color
Black
Black
Black
Black
Max Food Capacity
40 Lbs
—
—
60 Lbs
Water Smoker
Yes
No
No
Yes
Cooking Grate Material
Plated Steel
Cast Iron
Porcelain Coated Steel
Stainless Steel
Nsf Certification
No
No
No
No
Cooking Grid Dimensions
16 1/2 X 15 1/2"
25 5/8 X 19 1/4"
21 1/2 X 21 1/2"
22 X 15 1/2"
Total Grilling Area
1020 Sq. Inches
500 Sq. Inches
366 Sq. Inches
1364 Sq. Inches
Burger Count
32
20
16
52
WiFi/Bluetooth Enabled
None
None
None
None
Grill Lights
None
None
None
None
Spring Assisted Hood
No
No
No
No
Thermometer
Analog
Analog
Analog
Analog
Side Shelves
No
No
Yes
No
Side Burner
None
None
None
None
Made In USA
No
No
No
No
Commercial-Grade Multi-User
No
No
No
No
Size
Small (0 - 26")
Small (0 - 26")
Small (0 - 26")
Small (0 - 26")
Marine Grade
No
No
No
No
The burning of charcoal may generate byproducts which are on the list of substances known by the State of California to cause cancer, reproductive harm, or other birth defects. To reduce exposure to these substances, always operate this unit outdoor and ensuring you provide good ventilation when cooking. For more information visit: www.p65Warnings.ca.gov.
Free Shipping on orders over $49
Ship your entire order to your home for free, especially the big stuff! *Continental US only
When will my item arrive?
Once shipped, items usually arrive within 3-5 business days. While UPS and FedEx are our carriers for smaller items, be aware that larger items and orders are shipped via freight. The freight process is a bit more complicated than what we've all come to expect for small parcels, so it's important that you're prepared and understand what's required of you well before delivery day.
Most freight products ship on a pallet
Some carriers will call to schedule a delivery window, while others will deliver the shipment to a reasonably accessible location closest to your residence (their goal is to deliver as near a garage door as they can).
We'll specify which process you can expect in your shipping confirmation email.
For carriers that schedule delivery appointments:
Carriers that schedule delivery appointments require you to be home for delivery and provide your signature. The delivery is made with a semi-truck with lift gate services, and the shipment is dropped off at the curb. If you authorize the shipping company to leave the delivery without a signature, BBQGuys can't be held responsible for damages that occur during delivery. As complicated as this process may seem, we've only scratched the surface here — please review our detailed guide to freight delivery so there are no surprises when a freight shipment heads your way.
For carriers that deliver without an appointment:
Carriers that deliver without an appointment don't require you to be home or set up a delivery window, and you aren't required to sign for the pallet(s). Instead of scheduling an appointment, arranging your schedule to be home for the delivery, and signing to confirm receipt, you can sit back and let your items come to you. If you're home at the time of the drop-off, you can request the driver place your delivery in the garage; if you're out of the house, the driver will leave it near the garage or doorstep.
This item leaves our warehouse within 1-3 Business Days
$6.95 Flat-Rate Shipping
Anything under $49 ships at one low price. If your order increases, your shipping stays the same!
30-Day Returns
Return all new, unused, and unassembled items in their original packaging, and we'll give you a full refund minus the cost of the original AND return shipping.
No Restocking Fee
Most companies charge a restocking fee. We just don't do business that way.
Message to our customers: Like all retailers and manufacturers, we're currently experiencing well-publicized supply-chain issues and steel shortages that have caused some orders to be delayed. We sincerely apologize for any inconveniences arising from this situation, and we assure you we're making every effort to solve these problems with our vendors and logistical partners.

So, why are some orders being affected? Major ports around the world are still operating at reduced capacity because of COVID-19 restrictions — on average, container boats sit at port for about 3 weeks before being unloaded. Combine these shipping inefficiencies with a scarcity of natural resources, and virtually every industry has been crippled to some degree. Yet we acknowledge that it's our duty to meet these challenges head-on and work toward solutions so you can enjoy more time outdoors with the people you love. We appreciate your patience as we strive to smooth out our supply chain, and we thank you for choosing us for your grilling and outdoor living needs.
Your Shopping History. Pick up where you left off.