Traeger Timberline 850 Wi-Fi Controlled Wood Pellet Grill W/ WiFIRE - TFB85WLE
Sale
Save up to $400 on select Traeger Pellet Grills.
was

$2,099.99

19% off ($400.04)
Free Shipping
As low as $78 /mo with
*
Frequently Bought Together
Key Features
Grill, smoke & monitor your Traeger wirelessly using the Traeger smart phone app!
Grill more with 850 sq. in. of cooking space across 3 tiers of adjustable, stainless steel cooking grates
D2 Direct Drive delivers more power and more flavor than ever before
Double-walled 304 stainless steel interior insulates for superior temperature control
Extra large 24 lb capacity hopper features a pellet sensor to monitor fuel levels and alert you when running low
Join the Hall of Flame with the Traeger Timberline 850. Grill more food and enjoy more versatility with 850 square inches of cooking area over three tiers of dual-position stainless steel cooking grids. The bottom cooking grate can be lowered for searing juicy steaks, or raised for grilling. Cook up to 38 burgers, 6 chickens, 54 hot dogs or 9 rib racks 20% faster and with more smoky flavor than ever thanks to the TRU Convection system and Traeger Downdraft Exhaust system, fully circulating fresh blue smoke using a built-in induction fan. The Timberline features a double-walled 304 stainless steel interior and airtight lid gasket to insulate and maintain heat for unbeatable temperature control from 165-500 degrees Fahrenheit. The advanced Timberline D2 Controller gives you full command with a navigation dial and dedicated buttons for creating custom cook cycles and quick access to handy functions like keep warm mode and Super Smoke Mode, amping up the flavor with the push of a button. This works in tandem with all new D2 Direct Drive. Traeger D2 Direct Drive takes grilling to the next level with its dynamic drivetrain that delivers more power and more flavor than ever before. The variable speed fan keeps your flame at the optimal intensity and produces more smoke for intense wood-fired flavor. The Turbotemp feature ignites and heats up your grill faster, which gets you down to business quicker than ever. At the heart of the D2 Direct Drive is an industry-first brushless motor that powers the single-piece auger, delivering power and precision more reliably for years to come. Tired of babysitting your grill? Try out the WiFIRE controller to change the temperature, set timers, and access thousands of Traeger recipes using the Traeger app and your smart phone (available for iOS & Android devices). The included meat probe stores above the control panel for quick access, easily connecting to a dedicated control panel port for precise monitoring. There's no shortage of food prep convenience with a stainless steel side shelf with BBQ tool hooks, a full-length stainless steel front-shelf and a magnetic bamboo cutting board that stores above the pellet hopper. Keep the fire burning with an extra large capacity pellet hopper, holding up to 24 pounds of Traeger hardwood pellets. A pellet sensor in the hopper allows you to keep track of fuel levels using the Traeger app and alerts you when the hopper is running low. A hopper clean-out door lets you quickly empty contents for cleaning and swapping out flavors. Tucked away out of sight, is a concealed grease pan that slides out for easy cleanup. The Timberline is built to outlast the competition from the ground up with a rock-solid sawhorse-style chassis, all-terrain wheels, heavy-duty locking casters and black powder coat finish.
Legal disclaimers and warnings
Product packaging, owners' manuals, installation instructions, and/or operating instructions may include more information than what is shown on our website. The content on our site is intended to be used for reference purposes only. Please fully read all included manuals and documentation before installing or using this product. WARNING for California residents: this product may contain chemical(s) known to the state of California to cause birth defects, cancer, or other reproductive harm.
Product Information
UPC

6.35E+11

Model Number

TFB85WLE
Specifications
| | |
| --- | --- |
| Class | Premium |
| Fuel Type | Pellets |
| Collection | Timberline |
| Configuration | Freestanding |
| Exterior Material | Powder Coated Steel |
| Primary Color | Black |
| Cooking Grate Material | Stainless Steel |
| Cooking Grid Dimensions | 22 X 16" |
| Main Grilling Area | 366 Sq. Inches |
| Secondary Grilling Area | 308 Sq. Inches |
| Total Grilling Area | 850 Sq. Inches |
| Burger Count | 12 |
| WiFi/Bluetooth Enabled | WiFi Only |
| Grill Lights | None |
| Spring Assisted Hood | No |
| Thermometer | SmartPhone App |
| Side Shelves | Yes |
| Side Burner | None |
| Made In USA | No |
| Cart Assembly | Some Assembly Required |
| Commercial-Grade Multi-User | No |
| Size | Small (0 - 26") |
| Marine Grade | No |
| Hopper Capacity | 24 Pounds |
| Max Temperature | 500 F |
Dimensions
| | |
| --- | --- |
| Width | 46" |
| Depth | 28" |
| Height | 51" |
| Weight | 213 lbs |
Traeger warrants their pellet grills to be free from defects in materials and workmanship for a period of three years from the date of purchase.

Refer to manufacturers manual for full warranty details.
85% of reviews recommend this product
Customer images featuring this product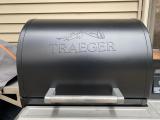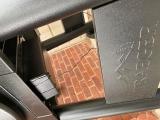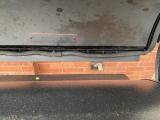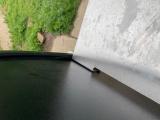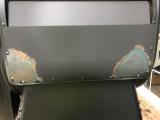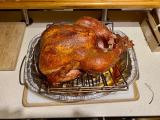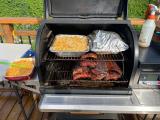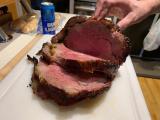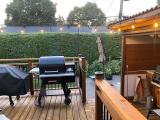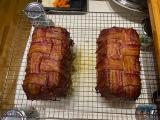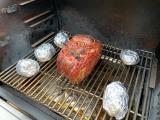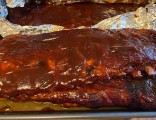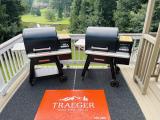 Love my Traeger grill

I'm writing a review on my smoker and would like to make a couple comments. A Traeger grill, when kept properly cleaned will produce the most wonderful results that are humanly possible when smoking meats. My next-door neighbor has a stand-up, 4 rack smoker that cooks with wood chips (not pellets) that you must attend the entire time that you're cooking. If you are seeking to achieve a very heavily charred deep deep smoky taste, then you own the wrong grill. The only way you're going to achieve that rich (wood taste) is with a manual add your own chips smoker. Yes my neighbors meat when cooked turns out completely different than mine both in looks and taste. Definitely not a look or taste that we desire. My entire family and friends have attended our cook outs and everyone chooses our well balanced flavor that my wonderful Traeger produces. I'm not writing this because anyone has influenced me or enticed me to do so. Smoking meat properly will leave you with the taste of spices, sauces and meat in a balanced nature. Now my neighbors results are so high in smoke flavor that you don't have that balance at all. You taste smoke with everything else not tasting the way it was intended to taste. This will probably be taken down but in case it doesn't, I speak the truth. I prefer that my meat has the flavors that are true to their intended flavors with the lovely smoke flavor married to it. Not tasting like wood.Thomas

Was This Helpful?

Fantastic

I would like to start by saying I came from a traditional smoker. I have spent many years trying to perfect one thing on that smoker and it was a pork shoulder. I was looking at a Traeger and it wasn't until a random stranger walked up to me and told me to spring for the Timberline 850 that I had bought one. Well... that man changed my life. Today my wife and I made two shoulders. They were by far the easiest shredding, juiciest pork I've ever seen. When my wife tasted it she gave my a fiery look that I have not seen in our 13 years of marriage. My only issue with this grill is the food is just too good and it's the only food our family will eat now. The app is super convenient to use and has fantastic recipes. Take it from someone that spent lots of time starting a wood fire to make assorted meats this things is the best!!

Was This Helpful?

Great Service

I bought the original 850 and had temperature consistency issues at year 3 or so. I was in the retailer talking about it and decided buy a Memphis Beal Street. After 6 months with it, the rtd probe went bad, and now its controller has gone bad. I had a conversation with the Traeger Rep at the retailer I bought both grills about the Traeger, and Traeger sent a new one, free of charge. That is GREAT SERVICE and a manufacturer that stands behind their product. I am going to swap the Memphis controller and sell it. Traeger you are GREAT!

Was This Helpful?

I love my 850's... yes, I have two!

I full willingly admit it, I have a problem! I've owned so many grills over the years it's crazy. From Primo, to Pitboss, GreenEgg, etc... I can honestly say nothing compares to the build quality coupled with ease of use as these Traeger's! My only wish is that Traeger would come out with an iPad app. C'mon Traeger, you made an app for the watch... how about one for the tablet? I know the iPhone app will work, but you have to switch to portrait view to use it. Other than that, I really don't have any cons on these grills. Some will ask, why didn't you just get a 1300 instead of 2 850's? Great question. The logic is, I've done a 23lb brisket on 1 of my 850's (turned out amazing btw), and that's probably the biggest piece of meat I'll ever need to cook. Having 2 though allows me to cook everything I need for a meal outside as I can run at 2 different temps. If you're on the fence on whether or not to go with a Traeger, I can honestly say they are money well spent! Oh, and I did not receive an incentive for this review, but selecting "yes" that I did is the only option

Was This Helpful?

Best grill/smoker ever

Got this for Father's Day and have used it everyday! My wife even uses it and has something smoked when I get home from work almost every weekday. Glad I finally have a Traeger!!

Was This Helpful?

Buying this grill may result in a loss of privacy

Ever since I got this grill I haven't had a peaceful night alone. Now friends are always bringing meat over wanting me to have cookouts. It's been about a month now, a few days after getting this beast delivered (timberline 1300) my girlfriend found out how much I spent on it. We came to the conclusion that I may have a problem, she diagnosed me as a grilling addict and I'm okay with that. She also said that now I have to cook on it everyday to justify the price, jokes on her because I'm okay with that too. But now I have guests over every night wanting me to throw their food on the grill too and although I enjoy it I haven't had a date night since. While I am very pleased with the product its important to understand the side effects that may come with it

Was This Helpful?

Great Grill

I consider myself something of a grill master. This is by far one of the best grills that I have ever used. No hot spots or flare ups. Just even cooking.

Was This Helpful?

Very happy with this smoker

Expensive? Yes, kind of.. Most expensive grill I've bought? Nope. Quality and satisfaction? Spot on, and I'm not the easiest to please. I've called twice with minor questions and both times have been quite impressed with service and a short wait time. You WILL need 2 people at the end of assembly to set the smoker upright but moves around on the wheels pretty decent. The app for the wifi is great. Get yourself a cheap or used shop-vac to keep it clean (I'm weird that way, sue me). The cover they offer is the best I've ever seen, worth every penny even though I keep mine indoors most of the time.

Was This Helpful?

grill

Excellent grill no problems

Was This Helpful?

Timberline 850 is AWESOME!

I have done a whole brisket, chicken legs and breasts, pork chops, St. Louis style ribs, and my daughter even did a couple of batches of the gingerbread cookies. I'm doing a 10lb. Prime Rib tomorrow for Christmas and am totally confident that it will turn out perfect. I have never had that feeling before! I live in NW Montana and it's pretty cool up here in the winter, but this cooker is so well insulated that it is very capable of maintaining temp even if I'm searing something at 500° F! With the built in temp probe and the WIFIRE I can sit in my recliner and monitor or change settings as I need. I have fought with gas grills, and electric and gas smokers and temp control was impossible. This unit is the ultimate! I will never buy another cooker that's not a Traeger!

Was This Helpful?
The Skinny:
The original wood-fired pellet grill brand
WiFIRE Technology allows you to control grill from your smartphone
Double-walled insulation retains heat
Pill-shaped barrel gives you more cooking space
TRU Convection creates powerful smoke vortex of flavor
Extra-large capacity hopper with low-pellet sensor
Things We Love:
As the original pellet grill brand, Traeger is a true pellet pioneer and is the most popular name in the pellet grill industry. That's why it's no surprise that Traeger continues to push the envelope of pellet grill innovation with the Timberline series, the most advanced Traeger grill to date.
WiFIRE
The Timberline series offers innovative WiFIRE Technology, which uses your wifi network to connect your smartphone to the grill. The Traeger app allows you to set and monitor grill temperature, set custom cook cycles to maintain consistency every time you cook, and gives you access to thousands of Traeger recipes. It also gives you access to GrillGuide, where you can download recipes to your WiFIRE enabled controller. GrillGuide programs the whole cooking cycle from start to finish by changing temperature, smoke, and air circulation automatically as the recipe progresses. The Timberline also includes a handy meat probe, allowing you to monitor the temperature of your food on your smartphone to ensure doneness. Simply put, WiFIRE lets you entertain with friends and family or relax while you cook, instead of hovering over the grill.
TurboTemp
With a temperature range of 165 – 500 degrees Fahrenheit, the Timberline offers the widest temperature range of any Traeger grill. It also maintains your set temperature within an incredible 5 degree range. The Timberline offers Traeger's Turbotemp system, making ignition and preheat time faster than ever before. The grill is built with 16 gauge steel, which is thicker than other Traeger grills. The professional grade lid gasket and double-walled 304 stainless steel insulation helps the grill achieve ultra-precise temperature consistency. Using a set of thermocouples, we were able to put the Timberline to the test, and found that it produces amazingly consistent temperatures across the entire volume of the barrel.
D2 Controller
The beauty of the Timberline design is its innovative D2 controller. The D2 is a PID controller, the most accurate and stable controller type available for regulating temperature. The D2 allows the fan to utilize variable speed functionality, meaning it will speed up or slow down as necessary to properly control temperature and air flow. Traeger has combined this feature with their patented downdraft exhaust to create TRU Convection, a powerful vortex of smoke moving inside the Timberline's barrel. The downdraft exhaust port is located at the bottom of the Timberline's pill shaped barrel and is oriented in a way that smoke is only allowed to leave the grill after circulating around the inside of the barrel, coating your food in delicious smoky flavor.
Brushless DC Motor
The Timberline's auger is the industry's first brushless DC motor. This innovative feature achieves higher torque at a lower RPM, meaning the auger is more powerful, efficient, and far less likely to get obstructed. Since brushless motors have fewer moving parts, the auger's motor is much more resilient than a brushed motor, and will work for longer without requiring much maintenance. The efficiency of the brushless motor allows the auger to move the same number of pellets with less power than earlier models.
Sizes
The Traeger Timberline comes in 2 sizes, the Timberline 850 and the Timberline 1300, which indicates the total square inches of cooking space that the grills offer. To maximize the cooking space inside the barrel, Traeger gave the Timberline a pill-shaped design which makes the barrel taller than other pellet grills, providing 3 fully adjustable cooking grates. The main cooking grate can even be lowered closer to the fire pot for searing steaks, or raised to be further away from the fire pot for smoking.
SuperSmoke
The Timberline also offers a couple new features that aren't found on other Traeger grills. With the push of a button, Super Smoke mode drops the temperature of your grill to its lowest setting and shuts off the fan. This lets you craft the ultimate smoke profiles by blasting your food with a high dosage of smoke. The Keep-Warm mode keeps your food warm on the grill for long periods of time, which is great for entertaining.
Hopper
The Timberline offers the largest hopper capacity of any Traeger grill. You can store up to 24 pounds of pellets, which is large enough to hold an entire bag of Traeger pellets, plus more. Traeger grills have a burn rate of 2 pounds of pellets per hour at the highest temperature setting, and only half a pound of pellets per hour at the lowest setting. A built-in pellet sensor warns you when pellets are low. The pellet cleanout shoot has a magnetic door so you can easily switch pellet flavors on the fly.
Design
Like Traeger Pro Series models, the Timberline also features a saw-horse design and all terrain wheels, which adds durability and toughness to the grill. The grease management system channels grease into the disposable concealed grease pan for easy clean up. The grill also includes a handy stainless steel front shelf and side shelf, along with a magnetic cutting board for convenient food prep.
Accessories
Traeger offers several useful grilling tools that will give your grill even more cooking versatility. Some of the most popular Traeger accessories are bottom shelves, a digital thermometer, chicken throne, and grill racks.
Things To Consider:
While the Timberline does an amazing job at retaining heat while cooking, we noticed that the temperature drops quickly when you open the lid, and can take a while to get back to your set temperature. It's also important to remember to prime the auger when you first use the Timberline, or when you run out of pellets, as it may cause the auger to seize.
Question:
do you need to empty hopper when you finish grilling or can you leave them in until next time also is there a "fillline"
Was This Helpful?
Answer:
Hello. You do not need to empty out the pellets. But it is recommended, as they can absorb moisture, which would cause them to jam the auger, or attract insects.
Answer:
I live in Southern California and use my Timberline weekly. I only swap out pellets when I want to change the type of wood type. According to Traeger: "Pellets can be compromised from exposure to water, age or handling. Keep an eye out for the following to determine if a bag of pellets has gone bad: • Pellets are dull and have no sheen • Pellets easily crumble • Moisture in the pellet bag/storage container • Clumps of saw dust • Sawdust throughout the bag" The same applies to pellets left in the hopper. There is not really a fill line, but the Timberline has a pellet level sensor that tells you when more need to be added.
Answer:
I empty mind useless I am sure when I will cook again. I bought 3.5 gallon buckets with lids from Home depot. That holds a bag of pellets. easy to empty and store. I also put something in to absorb moisture. That is the issue. Buck
Answer:
I usually don't empty the hopper since I use it often.
Answer:
Yes, you can leave them in. May YHVH bless you with Shalom.
Question:
Does the 850 timberline come with a pallet sensor?
Was This Helpful?
Answer:
Yes it has a pellet sensor. Be advised I've had mine for over a month and after several calls and three controllers it still will not connect to the wifi app. Customer service is very nice but have no idea what the problem is. Good luck.
Answer:
Yes, this has a pellet sensor that will also alert you in the app.
Question:
1. May I use other brands of pellets, (i.e. Camp Chef) in this grill & will that affect the warranty? 2. Do you offer a military discount to retired military?
Was This Helpful?
Answer:
Hi Chuck! You can use any pellet brands with any pellet grill, they are all made virtually the same, just some have different flavors. We do also offer a military discount! If you message us on Live Chat or call us at 877-743-2269, we'll help you get setup!
Product

Current Item

Traeger Timberline 850 Wi-Fi Controlled Wood Pellet Grill W/ WiFIRE - TFB85WLE

Traeger Timberline 850 Wi-Fi Controlled Wood Pellet Grill W/ WiFIRE & Grill Cover - TFB85WLE + BAC359

Memphis Grills Beale Street Wi-Fi Controlled 26-Inch 430 Stainless Steel Pellet Grill - BGSS26

Weber SmokeFire EX4 Gen 2 24-Inch Wi-Fi Enabled Wood Fired Pellet Grill - 22510201

Price & Shipping Information

Free Shipping

Leaves Warehouse: 24 Hours

Free Shipping

Leaves Warehouse: 24 Hours

View Item

Free Shipping

Leaves Warehouse: 1-3 Business Days

View Item

Free Shipping

Leaves Warehouse: 24 Hours

View Item
ID

3054387

3054426

3062602

3072919

Model Number
TFB85WLE
TFB85WLE + BAC359
BGSS26
22510201
Class
Premium
Premium
Luxury
Practical
Fuel Type
Pellets
Pellets
Pellets
Pellets
Collection
Timberline
Timberline
Beale Street
SmokeFire
Configuration
Freestanding
Freestanding
Freestanding
Freestanding
Exterior Material
Powder Coated Steel
Powder Coated Steel
Stainless Steel
Porcelain Coated Steel
Primary Color
Black
Black
Stainless Steel
Black
Cooking Grate Material
Stainless Steel
Stainless Steel
Stainless Steel
Plated Steel
Cooking Grid Dimensions
22 X 16"
22 X 16"
25 1/4 X 17 5/8"
23 1/2 X 17 1/4"
Main Grilling Area
366 Sq. Inches
352 Sq. Inches
558 Sq. Inches
432 Sq. Inches
Secondary Grilling Area
308 Sq. Inches
498 Sq. Inches
259 Sq. Inches
240 Sq. Inches
Total Grilling Area
850 Sq. Inches
850 Sq. Inches
817 Sq. Inches
672 Sq. Inches
Burger Count
12
12
20
15
WiFi/Bluetooth Enabled
WiFi Only
WiFi Only
WiFi Only
WiFi & Bluetooth
Grill Lights
None
None
None
None
Spring Assisted Hood
No
No
No
No
Thermometer
SmartPhone App
SmartPhone App
SmartPhone App
SmartPhone App
Side Shelves
Yes
Yes
Yes
Yes
Side Burner
None
None
None
None
Made In USA
No
No
No
No
Cart Assembly
Some Assembly Required
Some Assembly Required
Some Assembly Required
Some Assembly Required
Commercial-Grade Multi-User
No
No
No
No
Size
Small (0 - 26")
Small (0 - 26")
Small (0 - 26")
Small (0 - 26")
Marine Grade
No
No
No
No
Hopper Capacity
24 Pounds
24 Pounds
12 Pounds
22 Pounds
Max Temperature
500 F
500 F
550 F
600 F
This product can expose you to chemicals including diisononylphthalate, which is known to the State of California to cause cancer, and carbon monoxide, a byproduct of combustion from this product, which is known to the State of California to cause birth defects or other reproductive harm. For more information, go to www.P65Warnings.ca.gov.
Free Shipping on orders over $49
Ship your entire order to your home for free, especially the big stuff! *Continental US only
When will my item arrive?
Once shipped, items usually arrive within 3-5 business days. While UPS and FedEx are our carriers for smaller items, be aware that larger items and orders are shipped via freight. The freight process is a bit more complicated than what we've all come to expect for small parcels, so it's important that you're prepared and understand what's required of you well before delivery day.
Most freight products ship on a pallet
Some carriers will call to schedule a delivery window, while others will deliver the shipment to a reasonably accessible location closest to your residence (their goal is to deliver as near a garage door as they can).
We'll specify which process you can expect in your shipping confirmation email.
For carriers that schedule delivery appointments:
Carriers that schedule delivery appointments require you to be home for delivery and provide your signature. The delivery is made with a semi-truck with lift gate services, and the shipment is dropped off at the curb. If you authorize the shipping company to leave the delivery without a signature, BBQGuys can't be held responsible for damages that occur during delivery. As complicated as this process may seem, we've only scratched the surface here — please review our detailed guide to freight delivery so there are no surprises when a freight shipment heads your way.
For carriers that deliver without an appointment:
Carriers that deliver without an appointment don't require you to be home or set up a delivery window, and you aren't required to sign for the pallet(s). Instead of scheduling an appointment, arranging your schedule to be home for the delivery, and signing to confirm receipt, you can sit back and let your items come to you. If you're home at the time of the drop-off, you can request the driver place your delivery in the garage; if you're out of the house, the driver will leave it near the garage or doorstep.
This item leaves our warehouse within 24 Hours
$6.95 Flat-Rate Shipping
Anything under $49 ships at one low price. If your order increases, your shipping stays the same!
30-Day Returns
Return all new, unused, and unassembled items in their original packaging, and we'll give you a full refund minus the cost of the original AND return shipping.
No Restocking Fee
Most companies charge a restocking fee. We just don't do business that way.
Message to our customers: Like all retailers and manufacturers, we're currently experiencing well-publicized supply-chain issues and steel shortages that have caused some orders to be delayed. We sincerely apologize for any inconveniences arising from this situation, and we assure you we're making every effort to solve these problems with our vendors and logistical partners.

So, why are some orders being affected? Major ports around the world are still operating at reduced capacity because of COVID-19 restrictions — on average, container boats sit at port for about 3 weeks before being unloaded. Combine these shipping inefficiencies with a scarcity of natural resources, and virtually every industry has been crippled to some degree. Yet we acknowledge that it's our duty to meet these challenges head-on and work toward solutions so you can enjoy more time outdoors with the people you love. We appreciate your patience as we strive to smooth out our supply chain, and we thank you for choosing us for your grilling and outdoor living needs.
Your Shopping History. Pick up where you left off.