Traeger Tailgater 20 Portable Wood Pellet Grill - Black - TFB30KLF
Free Shipping
As low as $47 /mo with
*
Frequently Bought Together
Key Features
Digital Elite controller keeps the preset temperature in 5-degree increments for reliable cooking
The simple grease drain management system draws all of your excess liquids into a bucket underneath
EZ-Fold legs fold up and let you wheel the grill onto your tailgate for game day
Features a Keep Warm Mode that ensures the food will still be hot coming off the grill
Large capacity hopper allows you to hold up to 8 lbs of pellets at once
Traeger Tailgater: Convenient, Compact, and Full of Flavor
The Tailgater pellet grill offers the convenience and rich flavor of a wood-burning pellet grill in a more compact size. With a smaller footprint and legs that fold flat, the Tailgater black 20-inch pellet grill is perfect for apartment balconies, tailgating, or anywhere else you want to bring the wood-fired flavor.
Designed for Portability, Built to Last
This grill is constructed of powder-coated steel and boasts 19,500 BTUs of cooking power. The 300 square inches of porcelain-coated grilling surface produces excellent sear marks while being easy to clean. Features EZ-Fold legs that offer maximum portability, letting you quickly place the grill in the bed of your truck, the back of your SUV, or the trunk of your car and be on your way.
Low and Slow or Searing Hot: This Traeger Does It All
The versatility of this pellet grill allows you to smoke at temperatures as low as 180 degrees and then crank it up to 450 degrees to sear to perfection. The Digital Arc Controller displays the temperature inside the grill on the bright orange LED panel and is monitored by a resistance temperature detector probe which keeps the preset temperature in 5-degree increments. Keep Warm Mode maintains the hot temperature of the food for when it comes off the grill.
Easy to Start, Safe to Use
Traeger grills feature an auto-start system that is simple and safe to use. The natural airflow inside of the grill allows for convection cooking, so you can bake a pizza right on your grill or slow smoke a large brisket. Turning and flipping different kinds of meat will be necessary at high temperatures.
Efficient Pellet Consumption
When you turn on the grill, the auger begins to feed pellets into the firepot while the draft induction fan feeds air into it. The igniter rod is activated and glows red hot for the first four minutes to ignite the pellets in the firepot. These cost-effective pellets burn at a rate of only 2 lbs per hour on high heat, 1 lb per hour on medium heat, and only 1/2 lb per hour when smoking.
Traeger Tailgater FAQ
Can you smoke with a Traeger Tailgater?
Yes, indeed! The Tailgater can maintain temperatures as low as 180 degrees, so low-and-slow is no problem.
Can you fit a brisket on a Tailgater?
The cooking grid dimensions are 20-in x 15-in, so all but the largest briskets should fit with no problem. Note that you do need to keep an inch or two free on each side to allow for air circulation.
Can you cook a steak on a Traeger Tailgater?
The Tailgater can cook as hot as 450 degrees, which is the sweet spot for grilling and searing a steak, so yes!
Does the Tailgater have WiFi?
The Tailgater doesn't have WiFi. It's meant for portable use, where there often isn't available WiFi. We recommend using a wireless Bluetooth meat thermometer if you feel the need to wander while your cook is ongoing.
Is the Traeger Tailgater electric?
The Tailgater does require a standard 120 volt AC current and has a 3-prong plug.
How long can you cook on a Tailgater without reloading the pellets?
The hopper has an 8 lb. capacity, so you should be able to go for 4 hours on high heat, 8 hours on medium heat, and about 16 hours when smoking.
Legal disclaimers and warnings
Product packaging, owners' manuals, installation instructions, and/or operating instructions may include more information than what is shown on our website. The content on our site is intended to be used for reference purposes only. Please fully read all included manuals and documentation before installing or using this product. WARNING for California residents: this product may contain chemical(s) known to the state of California to cause birth defects, cancer, or other reproductive harm.
Product Information
UPC

634868932205

Model Number

TFB30KLF
Ask an Expert
Buy with confidence.
Contact our experts today.
Specifications
| | |
| --- | --- |
| Class | Entry-Level |
| Fuel Type | Pellets |
| Collection | Town And Travel |
| Configuration | Portable |
| Exterior Material | Powder Coated Steel |
| Primary Color | Black |
| Cooking Grate Material | Porcelain Coated Steel |
| Cooking Grid Dimensions | 20 X 15" |
| Main Grilling Area | 300 Sq. Inches |
| Burger Count | 12 |
| WiFi/Bluetooth Enabled | None |
| Grill Lights | None |
| Spring Assisted Hood | No |
| Thermometer | Digital |
| Side Shelves | No |
| Side Burner | None |
| Made In USA | No |
| Cart Assembly | Some Assembly Required |
| Commercial-Grade Multi-User | No |
| Size | Small (0 - 26") |
| Marine Grade | No |
| Hopper Capacity | 8 Pounds |
| Max Temperature | 450 F |
Dimensions
| | |
| --- | --- |
| Width | 37" |
| Depth | 18" |
| Height | 36" |
| Weight | 60 lbs |
Traeger warrants their pellet grills to be free from defects in materials and workmanship for a period of three (3) years from the date of purchase.

Refer to manufacturers manual for full warranty details.
53% of reviews recommend this product
Customer images featuring this product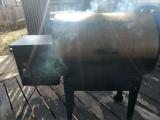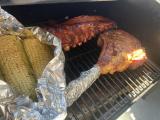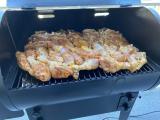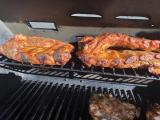 Lovin it.

Well I have watched my son-in-law cook on his and he has always made great food. Well I was surprised when a big box came to my house. My son-in-law and daughter bought me one. They even sent burgers and fixing with it. Amazing what you can do these days. Anyway I love it. Everything I cook on it turns out great. So easy to get to the temperature you need and it stay there it takes the work out and puts the fun in. Thanks kids. Love y'all and Traeger. It's going to be a great summer.

Was This Helpful?

Great Smoker

I read the manual first. I learned cleaning out burner chamber as well. I must say ever time we have smoked some meat, it has come out perfect! I also enjoy the various flavors of pellets.

Was This Helpful?

Excellent

Bought the Tailgater for myself last fall, everything I smoke has turned out perfect. I wanted a portable smoker I could bring along camping and this smoker is perfect. No problems whatsoever with the smoker. It is a bit difficult to fold and unfold the legs by myself but with help it's no problem. Love this smoker!!

Was This Helpful?

Best Little Grill Mate

I bought this just over a year ago. Best investment ever. This works well on my small apartment balcony and it's approved because it's electric started and powered. I can't wait to upgrade and then take this on tailgates or park events. This is one of the best cooking tools I own. I love to start off around 450 and sear my meats then lower for a nice slow cook and juicy dish! I have never failed at pork-chops since I have owned this!

Was This Helpful?

Great little smoker

I use this thing every weekend and has held up great so far, I like how portable the smoker is. Makes it easy to move around outside and take it places. Has a good amount of grilling space inside it.

Was This Helpful?

Jr Elite

I've had my Junior Elite for seven years now. Has worked flawlessly since the day I bought it. I love to cook ribs, brisket, pulled pork and some chicken recipes also. Trying to get enough money to buy another Traeger. Something a little bigger. It's been the best Investment I have ever made. Buy one I guarantee you'll be happy.

Was This Helpful?

Holds Temp

I have read some reviews it says it doesn't hold temperature I am not experiencing that same thing. I have a brisket in right now set the temperature at 215 and it has been holding plus or minus 2Degrees. 3rd time using it and its held true every time. Love it

Was This Helpful?

#1 portable grill?

I have had this grill for about 8 months now. I have owned a wide variety in pellet grills. I have two Scouts, which I struggled to maintain a temp with. If I just went to use those for grilling and baking, it would be fine but smoking I couldn't keep a good temp in colder outdoor temps However, this is a review on the tailgater, and for the price and portability there IS NOT a better grill than this one. I can set this on smoke while I am out hunting, or just simply away from the grill for 6 plus hours. You dont EVER have to worry about temperature fluctuations with this grill. Just set the temp, walk away and come home to 5 star food. I have BAKED anything from cinnamon rolls, corn bread, cakes, to smoking anything from fish, to wild wild game, beef, bison ect.. If you are going to read any reviews, dont let ANY negative reviews push you away. Like i said, this is the 5th pellet grill that I have added to my collection. I have a pit boss, 2 scouts, Pro Series 34, Pro Series 22. My father is a huge Bradley vertical smoker fan, I let him barrow this grill for the day to do a brisket. He had nothing but POSITIVE things to say about this. If I could change anything on this grill, my only improvement would be to make the hopper a little steeper to help with the occasional bridging in pellets, and adding a pellet drop out door for ease of changing pellets. I will say, I have NEVER in four years needed to order a single part of my Traegers. After cooking with mine, three of my family members went out and purchased them as well. BUT, for the price point this grill is, you cannot expect everything to be the way you want it! DO NOT HESITATE IN GETTING THIS GRILL.

Was This Helpful?

Great product

We have had this smoker for about 2 years and have enjoyed every minute of it. Our thermostat has recently gone out, but I called the help line and they are having the new part shipped out right away. 5 stars for customer service too!!!

Was This Helpful?

Great grill

The legs could be stronger. But a great compact grill for loading into a camper.

Was This Helpful?
Question:
What is the folded height of the treager tailgater?
Was This Helpful?
Answer:
Hi. With the legs folded into the storage position, the height is approximately 24 inches.
Question:
How do you "season" this grill for first time use?
Was This Helpful?
Answer:
add pallets to auger, turn on high for 45 minutes and let factory chemicals burn off 
Question:
What are the measurements with the legs up.
Was This Helpful?
Answer:
Hi Eric. With the Legs folded up the height is about 22 inches.
Question:
What are the dimensions of the grill when its legs are up.
Was This Helpful?
Answer:
Hi Eric! The grill is 37-inches wide and 18-inches deep. With the legs folded it is around 20-inches tall and with the legs extended it is 36-inches tall. The weight is 60 pounds. Hope this helps!
Question:
What the inches of width & length of grate not the whole grill itself ???
Was This Helpful?
Answer:
Thanks for asking Jerry. The cooking grid dimensions are 20 Inches X 15 Inches. If you have any other questions please message us on Live Chat or call 877-743-2269 and we'll be happy to help.
Question:
I'm considering a purchase of the tailgater. If I want to grill hamburgers but prefer not to have smoke, how would I accomplish that?
Was This Helpful?
Answer:
Hi, thanks for asking. There is no way to avoid having smoke while using a pellet grill, some level of smoke will be generated from the wood burning and the grease dripping. If you have any other questions please message us on Live Chat or call 877-743-2269 and we'll be happy to help.
Question:
What are the power requirements? I can't find them in the downloaded manual, description or specs. The best I cam come up with is it is AC. I would like to know the watt and amp requirements both start-up and running.
Was This Helpful?
Answer:
Hi Daniel, thanks for asking. This requires a standard 120 volt, 3-pronged outlet to function properly, both with starting up and running. If you have any other questions please message us on Live Chat or call 877-743-2269 and we'll be happy to help.
Question:
How many burgers could I cook at one time on this model, I'm interested in purchasing this model.
Was This Helpful?
Answer:
Hi Jeremy! This Traeger can hold 12 burgers. If you would like to know more about how we calculate this, here is a link to a video:
youtu.be/CjXL6p6N3as
Question:
Does the hopper come off easily (if you wanted to store it during the winter, for example)?
Was This Helpful?
Answer:
Hi, and thanks for asking. The hopper has to be screwed in from the inside of the grill in a number of spots, and a cover is placed over the box where the smoke is released in to the grill that would need to be removed as well. Other than that, the hopper just slides right in and out.
Question:
can you use this grill to smoke salmon? I do not see a smoke setting on this tailgater (TFB30KLF) like the older model tailgaters had.
Was This Helpful?
Answer:
Hi Mark! Yes, you can still smoke with this Traeger. They have added a digital control panel with temperature increments of 5 degrees between 180 to 450 degrees.
Product

Current Item

Traeger Tailgater 20 Portable Wood Pellet Grill - Black - TFB30KLF

Camp Chef Pursuit 20 Portable Wood Pellet Grill - PPG20

Traeger Ranger Portable Tabletop Wood Pellet Grill - TFT18KLD

Country Smokers Portable Wood Pellet Grill and Smoker - CSPEL015010497

Price & Shipping Information

Free Shipping

Leaves Warehouse: 24 Hours

Free Shipping

Leaves Warehouse: 7-10 Business Days

View Item

Free Shipping

Leaves Warehouse: 24 Hours

View Item

Free Shipping

Leaves Warehouse: 1-3 Business Days

View Item
ID

3069709

3045726

3015090

3061748

Model Number
TFB30KLF
PPG20
TFT18KLD
CSPEL015010497
Class
Entry-Level
Practical
Entry-Level
Entry-Level
Fuel Type
Pellets
Pellets
Pellets
Pellets
Collection
Town And Travel
Pursuit
Town And Travel
—
Configuration
Portable
Portable
Portable
Portable
Exterior Material
Powder Coated Steel
Painted Steel
Powder Coated Steel
Painted Steel
Primary Color
Black
Stainless Steel
Black
Black
Cooking Grate Material
Porcelain Coated Steel
Porcelain Coated Steel
Porcelain Coated Steel
Porcelain Coated Cast Iron
Cooking Grid Dimensions
20 X 15"
13 3/4 X 18 3/8"
15 X 12"
—
Main Grilling Area
300 Sq. Inches
253 Sq. Inches
184 Sq. Inches
—
Burger Count
12
8
6
—
WiFi/Bluetooth Enabled
None
None
None
—
Grill Lights
None
None
None
None
Spring Assisted Hood
No
No
No
No
Thermometer
Digital
Digital
Digital
Digital
Side Shelves
No
Yes
No
—
Side Burner
None
—
None
None
Made In USA
No
No
No
No
Cart Assembly
Some Assembly Required
Some Assembly Required
—
—
Commercial-Grade Multi-User
No
No
No
No
Size
Small (0 - 26")
Small (0 - 26")
Small (0 - 26")
Small (0 - 26")
Marine Grade
No
No
No
No
Hopper Capacity
8 Pounds
10 Pounds
8 Pounds
3.5 Pounds
Max Temperature
450 F
500 F
450 F
500 F
This product can expose you to chemicals including, diisononyl phthalate which is known to the State of California to cause cancer, and carbon monoxide, a by-product of combustion from this product, which is known to the State of California to cause birth defects or other reproductive harm. For more information go towww.p65Warnings.ca.gov
Free Shipping on orders over $49
Ship your entire order to your home for free, especially the big stuff! *Continental US only
When will my item arrive?
Once shipped, items usually arrive within 3-5 business days. While UPS and FedEx are our carriers for smaller items, be aware that larger items and orders are shipped via freight. The freight process is a bit more complicated than what we've all come to expect for small parcels, so it's important that you're prepared and understand what's required of you well before delivery day.
Most freight products ship on a pallet
Some carriers will call to schedule a delivery window, while others will deliver the shipment to a reasonably accessible location closest to your residence (their goal is to deliver as near a garage door as they can).
We'll specify which process you can expect in your shipping confirmation email.
For carriers that schedule delivery appointments:
Carriers that schedule delivery appointments require you to be home for delivery and provide your signature. The delivery is made with a semi-truck with lift gate services, and the shipment is dropped off at the curb. If you authorize the shipping company to leave the delivery without a signature, BBQGuys can't be held responsible for damages that occur during delivery. As complicated as this process may seem, we've only scratched the surface here — please review our detailed guide to freight delivery so there are no surprises when a freight shipment heads your way.
For carriers that deliver without an appointment:
Carriers that deliver without an appointment don't require you to be home or set up a delivery window, and you aren't required to sign for the pallet(s). Instead of scheduling an appointment, arranging your schedule to be home for the delivery, and signing to confirm receipt, you can sit back and let your items come to you. If you're home at the time of the drop-off, you can request the driver place your delivery in the garage; if you're out of the house, the driver will leave it near the garage or doorstep.
This item leaves our warehouse within 24 Hours
$6.95 Flat-Rate Shipping
Anything under $49 ships at one low price. If your order increases, your shipping stays the same!
30-Day Returns
Return all new, unused, and unassembled items in their original packaging, and we'll give you a full refund minus the cost of the original AND return shipping.
No Restocking Fee
Most companies charge a restocking fee. We just don't do business that way.
Message to our customers: Like all retailers and manufacturers, we're currently experiencing well-publicized supply-chain issues and steel shortages that have caused some orders to be delayed. We sincerely apologize for any inconveniences arising from this situation, and we assure you we're making every effort to solve these problems with our vendors and logistical partners.

So, why are some orders being affected? Major ports around the world are still operating at reduced capacity because of COVID-19 restrictions — on average, container boats sit at port for about 3 weeks before being unloaded. Combine these shipping inefficiencies with a scarcity of natural resources, and virtually every industry has been crippled to some degree. Yet we acknowledge that it's our duty to meet these challenges head-on and work toward solutions so you can enjoy more time outdoors with the people you love. We appreciate your patience as we strive to smooth out our supply chain, and we thank you for choosing us for your grilling and outdoor living needs.
Your Shopping History. Pick up where you left off.