Traeger Pro Series 22-Inch Wood Pellet Grill - Bronze - TFB57PZB
Sale
Save up to $400 on select Traeger Pellet Grills.
was

$599.95

17% off ($100.00)
Free Shipping
As low as $44 /mo with
*
Professional Grill Assembly for $99
Book a professional to help assemble this grill for only $99. All bookings and inquiries are handled by Handy.
Frequently Bought Together
Key Features
New sawhorse cart style with side plates for added stability and a large side lift bar for even weight distribution when moving
Versatile grill allows you to smoke, grill, bake, roast or braise for multiple cooking options
Digital Pro controller keeps the preset temperature within +/- 15 degrees Fahrenheit for precision cooking
Dual probe meat thermometers allow you to grill different cuts of meat to different temperatures
Large capacity hopper (18 pounds) features a clean out for quickly changing smoke flavors
Take Your Wood-Fired Cooking to the Next Level with Traeger Pro 22
With more precise temperature control, rugged all-terrain wheels and a stronger body, the Pro Series pellet grill can tackle any grilling challenge. The Pro series 22 pellet grill is constructed with a stamped bronze lid, powder coated steel, and boasts 20,000 BTUs of cooking power.
Small Footprint, Big Grilling Surface
The main grill grate is 22 X 19 inches of porcelain-coated grilling surface accompanied by a 22 X 7-inch extra grill rack for a total grilling area of 572 square inches, letting you cook a full meal all at one time.
The Pro 22 Does it All: Low & Slow or Searing Hot
The versatility of the Series 22 pellet grill allows you to smoke at temperatures as low as 180 degrees and then crank it up to 450 degrees to sear to perfection. The natural airflow inside of the grill allows for convection cooking, so you can bake a pizza right on your grill and do not have to turn your meat, unless cooking with high temperatures or if you want even grill marks.
Keep Track with the Digital Pro Controller
The Digital Pro controller displays the temperature inside the grill on the bright blue LED panel and is monitored by a resistance temperature detector (RTD) probe which takes 60 readings per minute to maintain the preset temperatures within 15 degrees. Dual meat probes give you perfect temperature readings on two items at once. pellets while grilling.
Easy to Start, Safe to Use
Traeger grills feature an auto-start system that is simple and safe to use. The natural airflow inside of the grill allows for convection cooking, so you can bake a pizza right on your grill or slow smoke a large brisket. Turning and flipping different kinds of meat will be necessary at high temperatures.
Efficient Pellet Consumption
When you turn on the grill, the auger begins to feed pellets into the firepot while the draft induction fan feeds air into it. The igniter rod is activated and glows red hot for the first four minutes to ignite the pellets in the firepot. These cost-effective pellets burn at a rate of only 2 lbs per hour on high heat, 1 lb per hour on medium heat, and only 1/2 lb per hour when smoking. The Pro series also adds a clean-out to the hopper, allowing you to quickly change the smoke flavor of the pellets while grilling.
Traeger Pro 22 FAQ
Is Traeger Pro 22 big enough?
The Pro 22 pellet grill has a 22 x 19-in cooking surface, and a secondary grill rack. Together, you get 572 square inches of cooking surface - ample for cooking several items at once.
Does Traeger Pro 22 have WiFi?
It does not. If you plan to wander from the grill, you may want to use a wireless or Bluetooth meat thermometer.
Is the Traeger Pro Series worth it?
It's hard to find a pellet grill that does what the Pro Series 22 does for a better price. It's a basic cooker, with many Traeger innovations to make cooking on it simple and enjoyable.
Can you fit a brisket on a Traeger Pro 22?
With a main cooking surface that measures 22 x 19-inches, you can fit all but the largest brisket. Keep in mind you will want to leave an inch or two around all sides to facilitate air and smoke circulation.
How big is a Traeger Pro 22?
The Pro 22 pellet smoker is 41-in wide, 27-in deep, and 49-in high. It weighs 103 lbs.
Legal disclaimers and warnings
Product packaging, owners' manuals, installation instructions, and/or operating instructions may include more information than what is shown on our website. The content on our site is intended to be used for reference purposes only. Please fully read all included manuals and documentation before installing or using this product. WARNING for California residents: this product may contain chemical(s) known to the state of California to cause birth defects, cancer, or other reproductive harm.
Product Information
UPC

634868920363

Model Number

TFB57PZBO
Specifications
| | |
| --- | --- |
| Class | Entry-Level |
| Fuel Type | Pellets |
| Collection | Pro |
| Configuration | Freestanding |
| Exterior Material | Powder Coated Steel |
| Primary Color | Bronze |
| Cooking Grate Material | Porcelain Coated Steel |
| Cooking Grid Dimensions | 22 X 19" |
| Main Grilling Area | 418 Sq. Inches |
| Secondary Grilling Area | 154 Sq. Inches |
| Total Grilling Area | 572 Sq. Inches |
| Burger Count | 16 |
| WiFi/Bluetooth Enabled | None |
| Grill Lights | None |
| Spring Assisted Hood | No |
| Thermometer | Digital |
| Side Shelves | Available |
| Side Burner | None |
| Made In USA | No |
| Cart Assembly | Some Assembly Required |
| Commercial-Grade Multi-User | No |
| Size | Small (0 - 26") |
| Marine Grade | No |
| Hopper Capacity | 18 Pounds |
| Max Temperature | 450 F |
Dimensions
| | |
| --- | --- |
| Width | 41" |
| Depth | 27" |
| Height | 49" |
| Weight | 103 lbs |
Traeger warrants their pellet grills to be free from defects in materials and workmanship for a period of three years from the date of purchase.

Refer to manufacturers manual for full warranty details.
85% of reviews recommend this product
Customer images featuring this product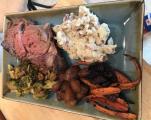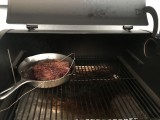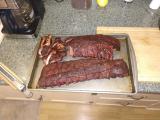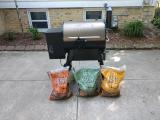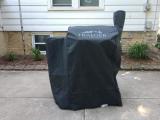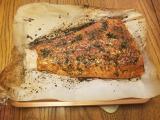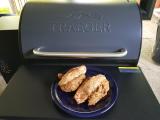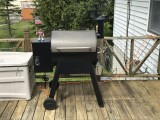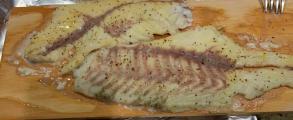 Overall works fantastic!

Great quality materials and overall fantastic smoking! Very little monitoring needed! Ran it for about 12 hours and the temperature was pretty consistent around 225F with only a few spikes little higher or lower. The pellets last quite a long time!! Half a day and only went through about 1/3 of the bag at 225F! Three racks of ribs and a small brisket, boom - taste like professional BBQ.

Was This Helpful?

Best smoker/grill you'll ever find

This is hands down the best smoker/grill you'll ever find. I've had mine since 2010, about 12 years now and we use weekly if not daily. We have smoked turkeys, ham, pork loin's, pork chops, briskets, steaks, deer steaks/roast to elk on it, you name it and we've grilled or smoked it on there. It does the work for you, no need to be a master. My wife uses it more then I do and she hated smoking meat before this. It's worth every penny and more.

Was This Helpful?

Loved my grill

I absolutely loved my grill, it perfectly cooked my ribs and my steaks were phenomenal. I unfortunately lost my grill when my house burnt down but I'm currently working on getting a new one. Best grill I've EVER had

Was This Helpful?

2nd Grill

The wife tried to sneak this 2nd grill in on me; but couldn't keep the secret. We literally cooked our first grill into pieces. She brought me the original grill over six (6) years ago and this grill PASSED everything I threw at it for over six 6 years. That includes exposure to outside elements without cover. I am looking forward to the new arrival. I'm in New Orleans and when I say everything you can include Alligator Gar :-)

Was This Helpful?

Worth every penny!

I got the PRO 34 Series about a month ago and I love it! It's built like a tank. You can tell it's high quality materials used in the construction. The heat consistency is fantastic throughout the grill. Personally I like that it's simple. The newer versions have the WiFi and all sorts of extras, but all I want to do is smoke. This does that and it does it well. Traegers are more expensive than some others out there, but you are paying for the quality and it's worth the extra. I expect to have this for years to come.

Was This Helpful?

Amazing grill

I received this grill little over a week ago. So far, it has been awesome. This is my 2nd Traeger and as customer service goes, they have been great to work with. Because if the quality of the product and everything they have done to help, they have a customer for life!!!

Was This Helpful?

Never Going Back

I've been grilling for years...on charcoal, with gas, wood chips, you name it. I got the Pro Series 22 and will never go back, only look forward to what I can create next. The Traeger was simple to put together because of the way all the parts were neatly arranged in the package. The instructions were easy to understand and follow. I live in Calif. and use my Traeger 3-4 times per week, for just about a year now and it's like new. Be sure to use your shop vac to clean out the pellet dust in the bottom of the burner every other time you use it. Otherwise, the temp doesn't come all the way up to 450. It's simple to do though-takes two minutes. If you are thinking about anything else, STOP! This is the Do-All/End-All grill. It's not just for smoking. I crank it up for hamburgers, hot dogs, Carne Asada, searing meats and it turns out way better than any grill I've ever owned. I'm buying one for my son as his house warming/college graduation gift.

Was This Helpful?

I don't have to smell like smoke anymore!

Received my grill for Christmas and we use it all the time. Brisket ribs pork roasts fish steaks you name it. We even smoked some cheek meat for Barbados tacos and wow! The best part is I don't have to hover over it so when my buddies come over I don't smell like smoke all day. I highly recommend

Was This Helpful?

I will purchasing appliances that are used with this smoker

we are very happy with our Traeger Smoker.

Was This Helpful?

Great grill, oven & smoker EZ to use & clean

So easy to unpack & assemble ( never ever bought anything that is so easy to get together & use so fast). Great Directions & cooking instructions. Great flavor for every kind of cooking. Great added tasti Meat vegetables & baking potatoes pies & pizza. Just as good or better than a wood fired pizza oven. These wood pallets are awesome to use & easy fire area cleanup with shop vac.

Was This Helpful?
The Skinny:
The original wood-fired pellet grill brand
Excellent value for the price
Design gives you more grilling space
Dual probe meat thermometers
Convenient grease management system
Things We Love:
Designed after traditional offset wood smokers, Traeger Pro Series pellet grills and smokers feature a barrel design, side hopper and smoke stack that gives this grill a classic look amd maximizes cooking space, giving you the ability to cook large amounts of food at once. Traeger's first generation Pro Series grills are available in 2 models: the Pro 22 and the Pro 34. For more information on Traeger's newest generation of Pro Series grills, check out our expert review on the Pro 575 and Pro 780.
The Pro Series adds a removable warming rack and easy, clean-out hopper, allowing you to change pellet flavors while cooking. The Pro Series 22 and 34 give you built-in, dual-probe thermometers, allowing you to monitor the temperature of two different meats at once on the grill. Inside the grill, the temperature is constantly monitored by the controller, keeping the set cooking temperature within +/- 15 degrees at all times.
Traeger Pro is offered in blue or bronze colors, and features a great looking logo-stamped lid. The grill has an easy-to-use thermostat with auto-start, that allows you to simply power up the grill, set the dial to your desired temperature and walk away. The blue LED display allows you to easily read and monitor the temperature while cooking. The grills' saw-horse design and all terrain wheels add durability and toughness to grill.
Traeger offers several great grill accessories that will allow you to customize your pellet grill for added versatility. Some of their most popular accessories are the folding front shelves and bottom cart shelves. Traeger also offers some pretty cool grilling tools like digital thermometers, chicken thrones, and grill racks.
Things To Consider:
While Traeger will definitely get the job done when it comes to cooking, the Pro Series maximum temperature is 450 degrees, while other pellet grill brands can get as high as 700 degrees.
Question:
Would you consider this easy or difficult to put together
Was This Helpful?
Answer:
The Trager Pro grill , was very difficult to put together. To complete this task, it took a total of two people. I'm requesting to exchange this grill. The grill is too heavy to manage. I haven't used this grill because its to heavy to manage. I'm requesting to replace this grill. Please call ***.****. I will pay the difference for the exchange . Please advise.
Answer:
It was straightforward to assemble. Go for it.
Answer:
Easy. The majority of the grill is preassembled except for wheels, exhaust pipe and front tray.
Question:
Can you add a WiFire controller to the gen 1 grill?
Was This Helpful?
Answer:
Hi Jon. No, the D2 direct drive controllers are not compatible with the older style grills.
Question:
Does this grill have wifire
Was This Helpful?
Answer:
Hi Chase, this Traeger pellet grill does not have a WiFIRE controller.
Question:
how many hamburgers can one cook at a time on this grill? Also, will this grill maintain its desired temperature at 20 degrees F with a 15 MPH wind?
Was This Helpful?
Answer:
Hi Randy, this grill can hold 16 hamburgers that are 4 inches in diameter, and the pellet hopper is designed to keep temperatures within plus or minus 15 degrees of the desired temperature range.
Question:
Does this smoker come with the temp probes?
Was This Helpful?
Answer:
Hi Karen. Yes, the grill comes with two meat probes and a temperature probe.
Question:
Can you use a cast Iron griddle to cook on this?
Was This Helpful?
Answer:
Hi Glen. Absolutely!
Question:
Does this model have the feature where you can empty the hopper to change to a different flavored pellet?
Was This Helpful?
Answer:
Hi Lori. Yes, Traeger Pro Series grills include a hopper clean-out feature for quickly changing pellet flavors.
Question:
Will be used on my deck, how close can it be to the wood siding on my house? jg
Was This Helpful?
Answer:
Hi, Jay! The manufacturer requires a minimum clearance of 12 inches from the grill to combustible material, like wood. It also requires a minimum of 40 inches of clearance under overhead combustibles.
Product

Current Item

Traeger Pro Series 22-Inch Wood Pellet Grill - Bronze - TFB57PZB

Camp Chef SmokePro DLX Wood Pellet Grill - Bronze - PG24B

Traeger Pro 575 Wi-Fi Controlled Wood Pellet Grill W/ WiFIRE - Bronze W/ Front Shelf & Grill Cover - TFB57GZE + BAC362 + BAC503

Traeger Pro 575 Wi-Fi Controlled Wood Pellet Grill W/ WiFIRE - Bronze - TFB57GZE

Price & Shipping Information

Free Shipping

Leaves Warehouse: 24 Hours

Free Shipping

Leaves Warehouse: 7-10 Business Days

View Item

Free Shipping

Leaves Warehouse: 24 Hours

View Item

Free Shipping

Leaves Warehouse: 24 Hours

View Item
ID

2929846

3000723

3054441

3054402

Model Number
TFB57PZBO
PG24B
TFB57GZE + BAC362 + BAC503
TFB57GZE
Class
Entry-Level
Entry-Level
Practical
Practical
Fuel Type
Pellets
Pellets
Pellets
Pellets
Collection
Pro
SmokePro
Pro
Pro
Configuration
Freestanding
Freestanding
Freestanding
Freestanding
Exterior Material
Powder Coated Steel
Painted Steel
Powder Coated Steel
Powder Coated Steel
Primary Color
Bronze
Brown
Bronze
Bronze
Cooking Grate Material
Porcelain Coated Steel
Porcelain Coated Steel
Porcelain Coated Steel
Porcelain Coated Steel
Cooking Grid Dimensions
22 X 19"
22 X 19 1/2"
22 X 19"
22 X 19"
Main Grilling Area
418 Sq. Inches
429 Sq. Inches
418 Sq. Inches
418 Sq. Inches
Secondary Grilling Area
154 Sq. Inches
141 Sq. Inches
154 Sq. Inches
154 Sq. Inches
Total Grilling Area
572 Sq. Inches
570 Sq. Inches
572 Sq. Inches
572 Sq. Inches
Burger Count
16
16
16
16
WiFi/Bluetooth Enabled
None
None
WiFi Only
WiFi Only
Grill Lights
None
None
None
None
Spring Assisted Hood
No
No
No
No
Thermometer
Digital
Digital
Digital
Digital
Side Shelves
Available
Yes
Yes
Available
Side Burner
None
—
None
None
Made In USA
No
No
No
No
Cart Assembly
Some Assembly Required
Some Assembly Required
Some Assembly Required
Some Assembly Required
Commercial-Grade Multi-User
No
No
No
No
Size
Small (0 - 26")
Small (0 - 26")
Small (0 - 26")
Small (0 - 26")
Marine Grade
No
No
No
No
Hopper Capacity
18 Pounds
18 Pounds
18 Pounds
18 Pounds
Max Temperature
450 F
500 F
500 F
500 F
This product can expose you to chemicals including, diisononyl phthalate which is known to the State of California to cause cancer, and carbon monoxide, a by-product of combustion from this product, which is known to the State of California to cause birth defects or other reproductive harm. For more information go to www.P65Warnings.ca.gov.
Free Shipping on orders over $49
Ship your entire order to your home for free, especially the big stuff! *Continental US only
When will my item arrive?
Once shipped, items usually arrive within 3-5 business days. While UPS and FedEx are our carriers for smaller items, be aware that larger items and orders are shipped via freight. The freight process is a bit more complicated than what we've all come to expect for small parcels, so it's important that you're prepared and understand what's required of you well before delivery day.
Most freight products ship on a pallet
Some carriers will call to schedule a delivery window, while others will deliver the shipment to a reasonably accessible location closest to your residence (their goal is to deliver as near a garage door as they can).
We'll specify which process you can expect in your shipping confirmation email.
For carriers that schedule delivery appointments:
Carriers that schedule delivery appointments require you to be home for delivery and provide your signature. The delivery is made with a semi-truck with lift gate services, and the shipment is dropped off at the curb. If you authorize the shipping company to leave the delivery without a signature, BBQGuys can't be held responsible for damages that occur during delivery. As complicated as this process may seem, we've only scratched the surface here — please review our detailed guide to freight delivery so there are no surprises when a freight shipment heads your way.
For carriers that deliver without an appointment:
Carriers that deliver without an appointment don't require you to be home or set up a delivery window, and you aren't required to sign for the pallet(s). Instead of scheduling an appointment, arranging your schedule to be home for the delivery, and signing to confirm receipt, you can sit back and let your items come to you. If you're home at the time of the drop-off, you can request the driver place your delivery in the garage; if you're out of the house, the driver will leave it near the garage or doorstep.
This item leaves our warehouse within 24 Hours
$6.95 Flat-Rate Shipping
Anything under $49 ships at one low price. If your order increases, your shipping stays the same!
30-Day Returns
Return all new, unused, and unassembled items in their original packaging, and we'll give you a full refund minus the cost of the original AND return shipping.
No Restocking Fee
Most companies charge a restocking fee. We just don't do business that way.
Message to our customers: Like all retailers and manufacturers, we're currently experiencing well-publicized supply-chain issues and steel shortages that have caused some orders to be delayed. We sincerely apologize for any inconveniences arising from this situation, and we assure you we're making every effort to solve these problems with our vendors and logistical partners.

So, why are some orders being affected? Major ports around the world are still operating at reduced capacity because of COVID-19 restrictions — on average, container boats sit at port for about 3 weeks before being unloaded. Combine these shipping inefficiencies with a scarcity of natural resources, and virtually every industry has been crippled to some degree. Yet we acknowledge that it's our duty to meet these challenges head-on and work toward solutions so you can enjoy more time outdoors with the people you love. We appreciate your patience as we strive to smooth out our supply chain, and we thank you for choosing us for your grilling and outdoor living needs.
Your Shopping History. Pick up where you left off.