Napoleon Prestige 500 Built-in Propane Gas Grill with Infrared Rear Burner and Rotisserie Kit - BIP500RBPSS-3
Free Shipping
As low as $69 /mo with
*
Frequently Bought Together
+
+
Choose items to buy together
Frequently Bought Together
+
+
+
Total price:
Free Shipping
As low as $87 /mo with
*
Choose items to buy together
Key Features
SafetyGlow Night Light illuminated controls
Four stainless steel burners deliver impressive heat and longevity
Rear infrared rotisserie burner and rotisserie kit allows you to slow roast food with restaurant quality results
Jetfire ignition system is designed to safely and reliably light the burners
Dual-Level stainless steel sear plates to vaporize drippings, control flare-ups, and keep food moist
The Napoleon Prestige 500 blends quality and performance into one package. This built-in propane gas grill has four stainless steel tube burners that provide up to 48,000 BTUs of cooking power. The grill has stainless steel cooking grates with 500 square inches of main cooking area and 260 square inches across the plated steel warming area for a total of 760 square inches of cooking area. The Napoleon Jetfire ignition with crossover lighting starts each burner individually for a reliable start up every time and allows you to light all the burners at the same time. The stainless steel wave cooking grids create the trademark Napoleon sear lines and allow for better heat retention. The dual level, stainless steel, sear plates vaporize drippings, control flare ups and keep your food moist. This Prestige 500 also has a 18,000 BTU stainless steel rear infrared burner and rotisserie kit for roasting. The hood features an Accu-Probe temperature gauge, cast aluminum end caps and retains heat for oven-like performance. The SafetyGlow control knobs turn from blue to red when a burner is in use. Clean up is a cinch with the full width removable drip pan. This Napoleon grill is manufactured in Canada.
Legal disclaimers and warnings
Product packaging, owners' manuals, installation instructions, and/or operating instructions may include more information than what is shown on our website. The content on our site is intended to be used for reference purposes only. Please fully read all included manuals and documentation before installing or using this product. WARNING for California residents: this product may contain chemical(s) known to the state of California to cause birth defects, cancer, or other reproductive harm.
Product Information
UPC

629162131218

Model Number

BIP500RBPSS-3
Ask an Expert
Buy with confidence.
Contact our experts today.
Specifications
| | |
| --- | --- |
| Class | Practical |
| Fuel Type | Propane |
| Collection | Prestige |
| Configuration | Built-In |
| Exterior Material | Stainless Steel |
| Primary Color | Stainless Steel |
| Number Of Main Burners | 4 Burners |
| Grilling Surface BTUs | 48000 |
| Infrared Main Burner | Not Available |
| Main Burner Material | Stainless Steel |
| Flame Tamer Material | Stainless Steel |
| Cooking Grate Material | Stainless Steel |
| Cooking Grid Dimensions | 28 X 17 3/4" |
| Main Grilling Area | 500 Sq. Inches |
| Secondary Grilling Area | 260 Sq. Inches |
| Total Grilling Area | 760 Sq. Inches |
| Burger Count | 22 |
| WiFi/Bluetooth Enabled | None |
| Rotisserie Burner BTUs | 18000 |
| Rotisserie Kit | Yes |
| Heat Zone Separators | No |
| Ignition Type | Flame Thrower |
| Flash Tubes | No |
| Grill Lights | External |
| Spring Assisted Hood | No |
| Thermometer | Analog |
| Includes Smoker Box | No |
| Side Shelves | No |
| Hose Included | No |
| Side Burner | None |
| Made In USA | No |
| Commercial-Grade Multi-User | No |
| Size | Medium (27 - 33") |
| Marine Grade | No |
Dimensions
| | |
| --- | --- |
| Width | 32.5" |
| Depth | 25.5" |
| Height | 22.25" |
| Weight | 125 lbs |
| Cutout Width | 30 3/4" |
| Cutout Depth | 20 5/8" |
| Cutout Height | 8 7/8" |
Napoleon Prestige and Prestige Pro grills feature a bumper to bumper lifetime warranty against defects in materials and workmanship on major components including the hood, stainless steel lid, porcelain enamel lid, aluminum castings, stainless steel cooking grids, and stainless steel tube burners. The stainless steel sear plates, porcelain enamel cast iron grids, stainless steel infrared rotisserie, infrared bottom/side burner, and all other parts are warrantied for fifteen (15) years. Labor not included.

Refer to manufacturers manual for full warranty details.
88% of reviews recommend this product
Customer images featuring this product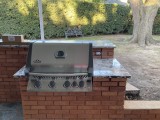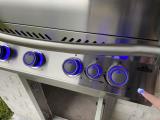 | | | |
| --- | --- | --- |
| | Soldier | Was This Helpful? |
| | Very Impressive | Was This Helpful? |
| | Built IN BBQ | Was This Helpful? |
| | Napoleon Built-in - HIGHLY RECOMMEND | Was This Helpful? |
| | Absolutely! | Was This Helpful? |
| | Best grill ever | Was This Helpful? |
| | Grill and customer service | Was This Helpful? |
| | Great built in grill kit | Was This Helpful? |
| | The Best grill! Definitely recommend it! | Was This Helpful? |
| | Great BBQ | Was This Helpful? |
The Skinny:
Rock-solid quality and lifetime warranty put it near the top of the Practical grill class
Thick, tent-shaped flame tamers hold up incredibly well for worry-free grilling
Infrared side sear burner delivers steakhouse results and unexpected versatility
Included rear infrared burner and rotisserie kit expand cooking options for entertainers
Phantom model features eye-catching matte black finish and a few notable upgrades
Napoleon has long been one of the top names in grilling, offering a combination of quality and affordability that few have been able to beat. Perhaps the best example of Napoleon's incredible value is the Prestige 500 gas grill, a star of the Practical class that immediately became a favorite among our experts. From its impressive construction and warranty to strong performance and comprehensive features, the Napoleon Prestige 500 is designed with all the right things in mind. But you know how we do things around here: we had to get Chef Tony under the literal hood to see if our suspicions were correct.
Chef Tony's Napoleon gas grill review included all the usual tests to measure quality, performance, and features, the 3 factors we use to determine any product's value as it relates to cost. There are XRF and caliper tests on materials, thermocouple measurements and real-world grilling trials to gauge performance, and a watchful eye on the convenience of features throughout the whole process. This review was conducted on the freestanding Prestige 500 RSIB (rear and side infrared burners) model; there's also a built-in option for outdoor kitchens, along with freestanding units that lack the pair of infrared burners. And we'd be remiss if we didn't mention the Phantom model, which has a standout matte black finish along with upgraded cooking grids. Let's get to it!
Quality:
The Napoleon Prestige 500 sets a high bar among Practical grills with both dependable construction and a lifetime warranty on most components.
As usual, Chef Tony's first order of business was checking every part of the grill for steel quality and thickness. His XRF gun clocked 300-grade stainless steel in the following components: the exterior hood, control panel, cooking grates, flame tamers, tube burners, and drip pan. The interior hood liner, meanwhile, proved to be galvanized steel, while the firebox graded as rust-proof cast aluminum. The Prestige 500's collection of materials left Chef Tony impressed and confident in the grill's overall durability.
Chef Tony's caliper measurements only reinforced that belief, starting with the exterior hood, which turned out to be 20-gauge stainless steel. He clocked 18-gauge stainless steel for both the flame tamers and front control panel, another reassuring sign of this grill's durability relative to other Practical models. The solid stainless steel rods that make up Napoleon's iconic wave cooking grids measured 7.5mm in thickness, and the tube burners below were an impressive 1.84mm thick — in Chef Tony's words, "very heavy for a Practical-class grill." The 3.5mm-thick firebox also caught his eye, but the real showstopper is the Prestige 500's warranty. Napoleon offers lifetime coverage on the main components, along with a 15-year warranty on all other parts. "Not very common for a Practical-class grill," Chef Tony says. "That's pretty solid."
Performance:
Good temperature metrics gave way to great real-world results, especially for the Napoleon Prestige 500's hard-working flame tamers.
After coming away pleased with the Napoleon Prestige 500 gas grill's quality, Chef Tony turned his eyes toward performance. He hooked up thermocouples across the cooking surface to measure temperature evenness, starting with a low-temperature trial that saw all burners on their lowest setting for 30 minutes. The average overall temperature was 343°F, which Chef Tony acknowledged was a little high before adding a caveat: "Keep in mind this test is run with all burners set to low; you can get a lower temperature by turning some of the burners off." Next was the 15-minute preheat test with all burners on high; the average temperature hit 522°F, more than enough to achieve effective searing with a standard preheat. Finally, the high-heat experiment yielded an average temperature of 578°F after 20 minutes with all burners on high.
Those were solid numbers, but temperature deviation matters just as much as overall heat. Chef Tony observed which thermocouple produced the greatest difference between its individual readout and the overall grill temperature, noting its location as well. The largest low-temperature deviation occurred in the front-right corner of the grill, about 70°F shy of the 343°F average. The remaining 5 probes were within 36°F of the overall average. For the high-temperature test, the front-right quadrant once again featured the largest difference, checking in at roughly 150°F below the 578°F average. The other thermocouples fell within about 50°F of the grill's average, which Chef Tony described as a "good range" despite the relatively large maximum deviation.
Numbers don't tell the whole story, though. The trusty burger tests always sheds light on real-world performance, so Chef Tony loaded down the Napoleon Prestige 500 with beef patties and got to grilling. This experiment confirmed that the front of the grill burned a bit cooler, "but not to a deal-breaking level" for Chef Tony, who merely had to cook the burgers in that area for an extra minute or so. Through it all, Napoleon's flame tamers exceeded expectations thanks to their tent shape that quickly rolls drippings down and away from the burners to reduce flare-ups. "There were plenty of flames broiling our burgers, but there weren't any that lost control or had to be extinguished," Chef Tony says. "This was pretty impressive for a Practical-class grill, and certainly not something you see from the majority of them." A round of grilled kebabs and veggies reaffirmed the effectiveness of the flame tamers. Overall, the Napoleon Prestige 500's performance earned medium-high marks from Chef Tony. "This grill is an example of how sometimes a thermocouple test can look somewhat off, but the real-world test where you have fat rendering and all those things happening in the system shows a completely different outcome."
Features:
An infrared sear burner, rotisserie capabilities, and SafetyGlow knobs highlight a well-rounded package of experience-enhancing features.
The first feature that jumped out to Chef Tony was Napoleon's 14,000-BTU ceramic infrared side burner. These burners are ideal for all-over caramelization, but the Prestige 500's stands out because of its adjustable cooking grate that can be raised for better searing or lowered to accommodate woks or pots and pans. When not in use, the burner lid can be closed to create additional prep space. Say Chef Tony: "Definitely a really cool feature for a Practical-class grill." So is the 18,000-BTU rear infrared rotisserie burner, which pairs with the included rotisserie to present cooking options beyond traditional grilling.
At first glance, Napoleon's SafetyGlow control knobs appear to be all style. But as their name suggests, they bring an important safety feature to the table — burners that glow blue when they're off and red when they're lit, allowing you to confirm from a distance that your grill is shut down. Chef Tony found the brand's quick and reliable Jetfire ignition system to be equally helpful, with rear crossover channels that enabled him to light the entire grill from just a single lit burner. He also liked seeing secondary ignition in the form of a long metal match-holder clip for manual lighting, not to mention a full-width, slide-out drip pan that simplified grease management and cleanup. For those who choose the freestanding model, there's much more to love in the cart itself: fully enclosed storage to stow propane tanks, a pair of side shelves with tool hooks and storage wells to keep grilling essentials close, and fold-down functionality on the right shelf to save space when storing the grill.
Though not necessarily a "feature," the Napoleon Phantom Prestige 500 gas grill deserves a mention here. This special model includes everything we've noted for the original Prestige 500, but coated in a matte black finish that oozes luxury and mystique. Napoleon also upgraded their distinct wave cooking grids to cast stainless steel, while also swapping out the standard warming rack with a multi-functional rack featuring cutouts for wings and other appetizers. Phantom or original, freestanding or built-in, Chef Tony had high praise for the Napoleon Prestige 500 gas grill. "Overall, I definitely enjoyed testing and grilling on this Prestige," he says. "For anyone who has been seriously considering this grill versus possibly other grills, I would say it definitely belongs on the top of your short list."
Question:
Am I able to use a quick disconnect for natural gas hook up?
Was This Helpful?
Answer:
Hi, Rocky. Permanently installed grill heads like this require permanent gas supply lines. Your licensed installer should be able to supply them.
Question:
Does the rotisserie need any power supply
Was This Helpful?
Answer:
Hello James! Yes, the rotisserie needs a grounded electrical outlet for the motor to work.
Question:
Can the night light knobs be turned off?
Was This Helpful?
Answer:
Hello Rocko! The knobs on this grill have an on/off switch, so you can choose when to illuminate the knobs!
Question:
Where are the assembly instructions for the Prestige 500 Propane ?
Was This Helpful?
Answer:
In the box it came in
Question:
Hi, for the built in model ( prestige pro 500) is the drip pan removable? And if not, do you guys have a review on how to clean it? Thanks
Was This Helpful?
Answer:
Great question Jose! The drip pan on this model is removable. We recommend that the drip pan is cleaned after each use, by using a putty knife or scraper. Never line the drop pan with foil, as this could prevent grease from flowing properly. You can find more information on cleaning this grill on page 9 of the manual we have on site under "Manufacturer's Downloads" on this item's page! While we do not have a review on how to clean this specific grill, this article provides a lot information you may find useful:
www.bbqguys.com/bbq-learning-center/care-maintenance/how-to-clean-your-grill-like-a-pro
Question:
There is no side or oblique view. I need to replace a builtin natural gas grill with opening 24" deep, 31' width and 8' height. How does this unit fit?
Was This Helpful?
Answer:
Hi Joe, the cut out requirements for this grill are 20 5/8-Inches Depth X 30 3/4-Inches Width X 8 7/8-Inches Height. The cutout for your previous model is a bit too small to fit this grill, but we also recommend speaking with a licensed professional who has experience with outdoor kitchens for professional advice.
Question:
I purchased the natural gas model and need to switch to propane. Is there a conversion kit?
Was This Helpful?
Answer:
Hi Mike. Napoleon does not make converison kits for their grill unfortunately.
Question:
Can you tell me the width without rotisserie? Have similar Napoleon grill and hoping to purchase this one to replace. My current Napoleon is 29" width without rotisserie. Thank you!
Was This Helpful?
Answer:
Hi Christopher! This Napoleon Prestige 500 is 32.5 inches wide without the rotisserie. The cut out width is 30.75 inches. Hope this helps.
Question:
What is the total overall width including the rotisserie?
Was This Helpful?
Answer:
Hi Jason, the overall width is approximately 33 inches with the rotisserie.
Question:
What is the difference between this 500 and the pro 500
Was This Helpful?
Answer:
Hi Brandon, thanks for asking! The Prestige PRO 500 comes with limitless color choices for the LED knobs that turn red when a burner is in use and includes two hood lights in the hood to help you see in the night. The Prestige 500 does not come with the two hood lights, and the knob colors are blue or will turn red when a burner is active.
Question:
Where is the drip pan, is it secured to the grill and removable. Or will I need to build a platform in my outdoor kitchen for it.
Was This Helpful?
Answer:
Hi Dakota! The drip pan is located beneath the grill, and comes with the grill on purchase.
Question:
Hi all - sorry if this is on the site and I missed it, but I was wondering if you can tell me what comes in the box with the built-in model? Some things I'm curious about include: Does the base still come with it? Does it come with an insulated jacket? Do I need one if I have a wooden frame or is this product shipped with the insulation built-in?
Was This Helpful?
Question:
does this come with the rotisserie kit
Was This Helpful?
Answer:
Hey Vinny! Yes it does.
Question:
What is the grill width??
Was This Helpful?
Answer:
Hey John! The width of the grill is 32.50 inches. Hope this information helps!
Product

Current Item

Napoleon Prestige 500 Built-in Propane Gas Grill with Infrared Rear Burner and Rotisserie Kit - BIP500RBPSS-3

Blaze Prelude LBM 32-Inch 4-Burner Built-In Propane Gas Grill - BLZ-4LBM-LP

Napoleon Built-In 500 Series 32-Inch Propane Gas Grill - BI32PSS

RCS Premier Series 32-Inch 4-Burner Built-In Propane Gas Grill With Rear Infrared Burner - RJC32ALP

Price & Shipping Information

Free Shipping

Leaves Warehouse: 5-7 Business Days

You Save: $392.50 (20%)

Free Shipping

Leaves Warehouse: 24 Hours

View Item

Free Shipping

Leaves Warehouse: 24 Hours

View Item

You Save: $260.00 (15%)

Free Shipping

Leaves Warehouse: 1-3 Business Days

View Item
ID

3049488

3073480

3076933

2873160

Model Number
BIP500RBPSS-3
BLZ-4LBM-LP
BI32PSS
RJC32ALP
Class
Practical
Premium
Practical
Premium
Fuel Type
Propane
Propane
Propane
Propane
Collection
Prestige
Blaze Prelude LBM
—
Premier
Cutout Width
30 3/4"
30 5/8"
30"
30 5/8"
Cutout Depth
20 5/8"
21 1/4"
19 2/5"
20 3/4"
Cutout Height
8 7/8"
8 1/2"
10 1/4"
8 1/4"
Configuration
Built-In
Built-In
Built-In
Built-In
Exterior Material
Stainless Steel
Stainless Steel
Stainless Steel
Stainless Steel
Primary Color
Stainless Steel
Stainless Steel
Stainless Steel
Stainless Steel
Number Of Main Burners
4 Burners
4 Burners
4 Burners
4 Burners
Grilling Surface BTUs
48000
56000
48000
48000
Infrared Main Burner
Not Available
Available
Not Available
Not Available
Main Burner Material
Stainless Steel
304 Stainless Steel
Stainless Steel
304 Stainless Steel
Flame Tamer Material
Stainless Steel
Stainless Steel
Stainless Steel
Ceramic
Cooking Grate Material
Stainless Steel
Stainless Steel
Stainless Steel
Stainless Steel
Cooking Grid Dimensions
28 X 17 3/4"
29 1/2 X 18"
29 1/2 X 18"
30 X 18"
Main Grilling Area
500 Sq. Inches
531 Sq. Inches
525 Sq. Inches
540 Sq. Inches
Secondary Grilling Area
260 Sq. Inches
184 Sq. Inches
261 Sq. Inches
170 Sq. Inches
Total Grilling Area
760 Sq. Inches
715 Sq. Inches
786 Sq. Inches
710 Sq. Inches
Burger Count
22
18
22
24
WiFi/Bluetooth Enabled
None
None
None
None
Rotisserie Burner BTUs
18000
No Rear Burner
—
12000
Rotisserie Kit
Yes
Available
Available
Available
Heat Zone Separators
No
Yes
No
No
Ignition Type
Flame Thrower
Flame Thrower
Flame Thrower
Flame Thrower
Flash Tubes
No
Yes
No
Yes
Grill Lights
External
None
None
None
Spring Assisted Hood
No
No
No
No
Thermometer
Analog
Analog
Analog
Analog
Includes Smoker Box
No
No
No
No
Side Shelves
No
No
—
No
Hose Included
No
Yes
Yes
No
Side Burner
None
—
—
—
Made In USA
No
No
No
No
Commercial-Grade Multi-User
No
Yes
No
No
Size
Medium (27 - 33")
Medium (27 - 33")
Medium (27 - 33")
Medium (27 - 33")
Marine Grade
No
No
No
No
This product can expose you to chemicals including soot, which are knownto the State of California to cause cancer, and chemicals including carbon monoxide, whichare known to the State of California to cause birth defects or other reproductive harm. Formore information go to www.p65Warnings.ca.gov.
Free Shipping on orders over $49
Ship your entire order to your home for free, especially the big stuff! *Continental US only
When will my item arrive?
Once shipped, items usually arrive within 3-5 business days. While UPS and FedEx are our carriers for smaller items, be aware that larger items and orders are shipped via freight. The freight process is a bit more complicated than what we've all come to expect for small parcels, so it's important that you're prepared and understand what's required of you well before delivery day.
Most freight products ship on a pallet
Some carriers will call to schedule a delivery window, while others will deliver the shipment to a reasonably accessible location closest to your residence (their goal is to deliver as near a garage door as they can).
We'll specify which process you can expect in your shipping confirmation email.
For carriers that schedule delivery appointments:
Carriers that schedule delivery appointments require you to be home for delivery and provide your signature. The delivery is made with a semi-truck with lift gate services, and the shipment is dropped off at the curb. If you authorize the shipping company to leave the delivery without a signature, BBQGuys can't be held responsible for damages that occur during delivery. As complicated as this process may seem, we've only scratched the surface here — please review our detailed guide to freight delivery so there are no surprises when a freight shipment heads your way.
For carriers that deliver without an appointment:
Carriers that deliver without an appointment don't require you to be home or set up a delivery window, and you aren't required to sign for the pallet(s). Instead of scheduling an appointment, arranging your schedule to be home for the delivery, and signing to confirm receipt, you can sit back and let your items come to you. If you're home at the time of the drop-off, you can request the driver place your delivery in the garage; if you're out of the house, the driver will leave it near the garage or doorstep.
This item leaves our warehouse within 5-7 Business Days
$6.95 Flat-Rate Shipping
Anything under $49 ships at one low price. If your order increases, your shipping stays the same!
30-Day Returns
Return all new, unused, and unassembled items in their original packaging, and we'll give you a full refund minus the cost of the original AND return shipping.
No Restocking Fee
Most companies charge a restocking fee. We just don't do business that way.
Message to our customers: Like all retailers and manufacturers, we're currently experiencing well-publicized supply-chain issues and steel shortages that have caused some orders to be delayed. We sincerely apologize for any inconveniences arising from this situation, and we assure you we're making every effort to solve these problems with our vendors and logistical partners.

So, why are some orders being affected? Major ports around the world are still operating at reduced capacity because of COVID-19 restrictions — on average, container boats sit at port for about 3 weeks before being unloaded. Combine these shipping inefficiencies with a scarcity of natural resources, and virtually every industry has been crippled to some degree. Yet we acknowledge that it's our duty to meet these challenges head-on and work toward solutions so you can enjoy more time outdoors with the people you love. We appreciate your patience as we strive to smooth out our supply chain, and we thank you for choosing us for your grilling and outdoor living needs.
Your Shopping History. Pick up where you left off.