Hestan 42-Inch Built-In Propane Gas Grill W/ Rotisserie - Steeletto - GABR42-LP-SS
Free Gift
Free Fridge w/ Hestan Built-in Gas Grills + Storage Code: FRIDGE.
was

$9,009.00

5% off ($430.00)
Free Shipping
As low as $277 /mo with
*
Key Features
Made in the USA for quality craftsmanship and long lasting durability
Multipurpose infrared rotisserie burner with Salamander positioning is perfect for rotissing, broiling and finish
Motion-activated Stadium under-hood lighting helps you keep an eye on your grilling day or night
Spring-assist Horizon hood hinges make lifting easy and allows you to hold hood at any desired height
Marquise accented stainless steel panels & hood handle in Steeletto signature finish
Hestan Outdoor grills combine the ultimate in precision performance & innovative design to meet the needs of every griller, from the novice to the experienced grill master. The Hestan Outdoor grill series is made in the USA with heavy-gauge welded-body construction, commercial grade end caps, Zamak die cast knobs, burner indicators & bezels and accented throughout by Hestan Marquise panels and handles. The Hestan 42-Inch Built-In Propane Gas Grill features four heavy duty 321 grade stainless steel Trellis tubular style burners that provide up to 25,000 BTUs for a total of 100,000 BTUs of high performance cooking power. Grilling surface temperatures are evenly distributed by a radiant ceramic briquette tray system. The 18,000 BTU multipurpose ceramic infrared top burner with salamander placement makes is perfect for rotisserie, broiling or finishing and includes a concealed whisper-quiet chain-driven rotisserie motor system rated for up to 50-pounds, as well as a porcelain broiling pan, rotisserie spit and forks. The laser DiamondCut 5/16-inch stainless steel cooking grates and warming rack provide of evenly-heated grilling surface. The warming rack features three vertical positions, allowing it to be used as additional cooking area or concealed storage when not in use. This grill comes packed with many convenient features that add to your grilling experience, including the easy-open, spring-assist Horizon hood, designed to stay open at any desired height. Motion-activated Stadium halogen under-hood lighting illuminates the grilling area while the LED control panel lighting keeps your controls visible for nighttime grilling and entertaining. The symmetrical flip-to-clean radiant tray and stainless steel removable drip tray make cleanup simple, and a one-push automatic ignition system makes lighting your grill a breeze. This grill features the all-stainless-steel Steeletto Hestan signature finish.
Legal disclaimers and warnings
Product packaging, owners' manuals, installation instructions, and/or operating instructions may include more information than what is shown on our website. The content on our site is intended to be used for reference purposes only. Please fully read all included manuals and documentation before installing or using this product. WARNING for California residents: this product may contain chemical(s) known to the state of California to cause birth defects, cancer, or other reproductive harm.
Product Information
UPC

842763101569

Model Number

GABR42-LP-SS
Ask an Expert
Buy with confidence.
Contact our experts today.
| | |
| --- | --- |
| Class | Luxury |
| Fuel Type | Propane |
| Collection | Hestan |
| Configuration | Built-In |
| Exterior Material | Stainless Steel |
| Exterior Stainless Grade | 304 Stainless Steel |
| Primary Color | Stainless Steel |
| Number Of Main Burners | 4 Burners |
| Grilling Surface BTUs | 100000 |
| Infrared Main Burner | Not Available |
| Main Burner Material | 321 Stainless Steel |
| Flame Tamer Material | Ceramic |
| Cooking Grate Material | Stainless Steel |
| Cooking Grid Dimensions | 36 1/2 X 21 1/5" |
| Main Grilling Area | 782 Sq. Inches |
| Secondary Grilling Area | 282 Sq. Inches |
| Total Grilling Area | 1064 Sq. Inches |
| Burger Count | 38 |
| WiFi/Bluetooth Enabled | None |
| Rotisserie Burner BTUs | 18000 |
| Rotisserie Kit | Yes |
| Heat Zone Separators | No |
| Ignition Type | Hot Surface |
| Flash Tubes | No |
| Grill Lights | Internal / External |
| Spring Assisted Hood | Yes |
| Thermometer | Analog |
| Includes Smoker Box | No |
| Hose Included | Yes |
| Made In USA | Made In The USA With Globally Sourced Parts |
| Commercial-Grade Multi-User | No |
| Size | Large (34 - 42") |
| Marine Grade | No |
| | |
| --- | --- |
| Width | 42" |
| Depth | 32.437" |
| Height | 29.5" |
| Weight | 335 lbs |
| Cutout Width | 41" |
| Cutout Depth | 23 1/2" |
| Cutout Height | 12" |
The stainless steel grill body, DiamondCut cooking grates and warming rack, stainless steel Trellis burners, sear burner and rotisserie infrared burner are free from defects in material and workmanship for the Lifetime of the original purchaser. The spit rod, briquette trays, manifolds, gas valves and sealed burner assemblies are warranted to be free from defects in material and workmanship for a period of five (5) years and Hestan Outdoor will repair or replace defective parts (excluding labor and shipping). All other grill components are warrantied to be free from defects in material and workmanship for a period of one (1) year (colored grill bodies warranty can be extended to two (2) years with purchase of grill cover). Labor not included.

Refer to manufacturers manual for full warranty details.
40% of reviews recommend this product
Customer images featuring this product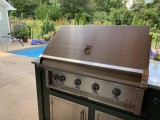 Great all around.

Great service and provided what they said in the timeframe promised. Definitely impressed.

Was This Helpful?

Beautiful, high end grill with great features and grates

Purchased this grill last Summer during Covid and glad we did. Main reasons for purchase (and it does not disappoint) are: #1- overhead rotisserie burner, #2- hefty SS grill grates, #3- charcoal insert tray, and #4- adjustable grill lid. Previously owned a Weber Summit, which was a great grill, and the Hestan is much, much better. The overhead rotisserie, which also serves as a broiler, is incredible, and more useful than the Weber or typical back of grill mounted burner. I bought the 42" with 3 trellis burners and the infrared sear burner. Very versatile and the charcoal insert is also a big bonus. The sear burner works very well especially for blistering veggies. Note this grill runs HOT - you have to learn how to use it to avoid flare-ups, and get the most out of the very high quality grill grates. Its very easy to keep clean. Note: the height adjustable grill lid has one major drawback - the handle gets hot when the grill lid is not fully closed. Not a real problem if you have a grill glove, dish towel or pot holder handy. Note to the other poster about wind issue - the installation manual and grill brochure (figure 1, page 11) both indicate that prevailing wind must blow towards the front of the grill, it is how this grill (and most others) are designed.

Was This Helpful?

Damage to grill by wind

Very surprised after purchasing this very expensive grill that if using when windy the wind blows back in and causes the fire to blow forward and damage the unit. Was never informed when purchasing or installing that wind would damage the unit . Heston and bbqguys should inform customers to purchase and install a wind guard at the time of installation or include it as part of the installation kit. Our grill has not worked properly since mid February- it is the end of April and the wind guard is back ordered for 2 months. The grill will be fixed but we will be unable to use again for another 2 months awaiting the wind guard . Extremely frustrating and surprising that this quality grill has a major issue grilling when windy - and I am not talking during a storm or extremely windy conditions - just normal breezy nights.

Was This Helpful?

Do Not Buy

I bought this Hestan Grill with the Infrared Top Grill I use for broiling. The ignitor went out for the Infrared Grill in less than 1 year. The Local Service repair people have been great but Hestan will soon go Out of Business. I am now happy to report that after 6 months I finally have the part. I have personally written the support at Hestan twice and they do not even bother to reply. What a way Not to run a business. Do not Buy these products bc when they break, which I hear from the service ppl is often, their factory support is awful. Despite the Local Repair shop wasting their time calling them over and over they don't care. It's a pretty BBQ, but what good is it without parts and support?

Was This Helpful?

Waiting for a year only to have it burn up two months later

If you want to wait and wait for a grill then Hestan is for you. I ordered one for my new outdoor kitchen. Waited almost a full year due to "supply chain issues. It burned up melting the wires and damaging the burner in September. Contacting warranty is easy getting anything done difficult. I am now waiting on a replacement grill due in March. It's taken five months to get an email saying they will replace it. It's a hassle for sure. In the meantime I use my green egg!

Was This Helpful?
The Skinny:
Diamond Laser Cut Cooking Grates
Unique Burner Design
Signature Colors Available
Made in the USA
Loaded with patented pending innovative features
Things We Love:
In all of my years in this industry, I have to say Hestan has some of the most truly unique, innovative features, with practical benefits that I've never seen.
You will notice these innovations, as soon as you lift the lid. The Spring-assisted Horizon Hood™ lifts with ease, and can stay balanced in any position. Besides being just plain cool, this also keeps the grill lid from ever slamming shut and allows you to keep an eye on things while grilling.
Hestan grills also feature motion activated under hood halogen Stadium Lighting™, which lights up every time you lift the lid. Not only is it great for nighttime grilling, but you will never have to worry about accidentally leaving the lights on, because they turn off when the lid is closed.
Cook like a pro with the Salamander positioned ceramic infrared top burner, which provides intense heat that delivers 12,500 to 18,000 BTU's. Not only is this the burner that cooks your food on the rotisserie, but also doubles as a restaurant style broiler, which can be quicker and more efficient than broiling in an oven.
To use this burner for broiling or finishing, simply put your food on the lasered DiamondCut 5/16" stainless steel warming rack. It's tough enough to handle the intense heat of the top burner, without warping. This versatile rack can be placed in one of 3 positions, depending on if you want your food closer or further away from the top burner. When not in use, the rack can be easily folded down at the back of the grill, which is a smart storage feature.
The rotisserie system is an ultra quiet, concealed, motorized chain driven system, which can hold up to 50 pounds, and always stays perfectly balanced. When your done with your rotisserie, store your rod behind the back panel, another great storage feature.
Hestan are all made using 304 grade stainless steel and feature a heavy gauge welded body construction. Maintain the perfect flame with the precision control of the 321 grade stainless steel Trellis tubular style burners, which are lit with hot surface glowing ignition. Based on 500 hours of 3rd party testing, Hestan found the 321 Stainless Steel to be the most durable material for their Trellis burners. Hestan grills are available with all Trellis burners, or with an installed, ceramic infrared sear burner in place of one of the Trellis burners.
I really love the lasered, DiamondCut 5/16″ stainless steel cooking grates. The extra wide grids allows for more surface area to contact your food, which means more flavor and caramelization. The cooking grates also feature smart finger holes in the corners, which makes them easy to flip, allowing for easy cleaning. Underneath the grates you will find symmetrical flip-to-clean radiant trays with ceramic briquettes, enclosed in Stainless Steel. These help to provide even heat distribution, and burn off the underside, while exposing the clean side.
Hestan Gas Grills have a unique style that is truly different from the competition. These luxury grills feature a Marquise accented control panel and hood handle, commercial grade end caps, and die cast control knobs. These features, along with others, compliment the beauty, durability, and craftsmanship, that you get with a Hestan Gas Grill.
Hestan Gas Grills typically come stocked in stainless steel, however, they offer an array of Signature Colors to give your outdoor grill a uniqueness like no other. Call our experts if interested in ordering any of the Signature Colors.
Things To Consider:
While the ceramic briquette flame tamers are great for even heat distribution, I did notice a bit more flare up than I would have hoped for.
You'll Like This Grill If:
You want a feature packed, luxury grill, that is Made in the USA, with Signature Color Options to choose from.
Question:
Due to access.. This grill will have no power. I understand without power the under the hood lite won't illuminate but can I still operate the grill? Safe regards, Outdoor Kitchen Designer
Was This Helpful?
View Product Comparisons

Current Item

Hestan 42-Inch Built-In Propane Gas Grill W/ Rotisserie - Steeletto - GABR42-LP-SS

Lynx Professional 42-Inch Built-In Propane Gas Grill With One Infrared Trident Burner And Rotisserie - L42TR-LP

Alfresco ALXE 56-Inch Built-In Propane Gas Deluxe Grill With Sear Zone, Rotisserie, And Side Burner - ALXE-56SZ-LP

Solaire 56 Inch Built-In All Infrared Propane Gas Grill With Rotisserie & Double Side Burner - SOL-AGBQ-56IR-LP

Price & Shipping Information

$430.00 (5%)

Free Shipping

Leaves Warehouse:

1-3 Business Days

$760.00 (8%)

Free Shipping

Leaves Warehouse:

5-7 Business Days

View Item

Free Shipping

Leaves Warehouse:

1-3 Business Days

View Item

Free Shipping

Leaves Warehouse:

7-10 Business Days

View Item
ID
#2957286
#3010083
#2911938
#2703874
Model
GABR42-LP-SS
L42TR-LP
ALXE-56SZ-LP
SOL-AGBQ-56IR-LP
Class
Luxury
Luxury
Luxury
Premium
Fuel Type
Propane
Propane
Propane
Propane
Collection
Hestan
Professional
ALXE
Deluxe
Cutout Width
41"
41"
54 1/2"
54 1/2"
Cutout Depth
23 1/2"
24 1/2"
23"
23"
Cutout Height
12"
10 7/8"
10 1/4"
10 1/4"
Configuration
Built-In
Built-In
Built-In
Built-In
Exterior Material
Stainless Steel
Stainless Steel
Stainless Steel
Stainless Steel
Exterior Stainless Grade
304 Stainless Steel
304 Stainless Steel
304 Stainless Steel
304 Stainless Steel
Primary Color
Stainless Steel
Stainless Steel
Stainless Steel
Stainless Steel
Number Of Main Burners
4 Burners
3 Burners
3 Burners
3 Burners
Grilling Surface BTUs
100000
73000
82500
82500
Infrared Main Burner
Not Available
One Infrared
One Infrared
All Infrared
Main Burner Material
321 Stainless Steel
Ceramic + Ceramic Infrared
18-SR Stainless Steel + Ceramic Infrared
Ceramic Infrared
Flame Tamer Material
Ceramic
Ceramic
Ceramic
—
Cooking Grate Material
Stainless Steel
Stainless Steel
Stainless Steel
Stainless Steel
Cooking Grid Dimensions
36 1/2 X 21 1/5"
39 X 21"
37 1/4 X 19"
37 3/4 X 17 7/8"
Main Grilling Area
782 Sq. Inches
855 Sq. Inches
707 Sq. Inches
667 Sq. Inches
Secondary Grilling Area
282 Sq. Inches
345 Sq. Inches
416 Sq. Inches
360 Sq. Inches
Total Grilling Area
1064 Sq. Inches
1200 Sq. Inches
1124 Sq. Inches
1027 Sq. Inches
Burger Count
38
40
32
30
WiFi/Bluetooth Enabled
None
None
None
None
Rotisserie Burner BTUs
18000
16000
18500
18000
Rotisserie Kit
Yes
Yes
Yes
Yes
Heat Zone Separators
No
No
No
No
Ignition Type
Hot Surface
Hot Surface
Continuous Spark
Continuous Spark
Flash Tubes
No
Yes
No
No
Grill Lights
Internal / External
Internal / External
Internal / External
None
Spring Assisted Hood
Yes
Yes
Yes
No
Thermometer
Analog
Analog
Analog
None
Includes Smoker Box
No
Yes
Yes
No
Hose Included
Yes
Yes
Yes
Yes
Made In USA
Made In The USA With Globally Sourced Parts
Made In The USA With Globally Sourced Parts
Yes
No
Commercial-Grade Multi-User
No
Yes
No
Yes
Size
Large (34 - 42")
Large (34 - 42")
Large (34 - 42")
Large (34 - 42")
Marine Grade
No
No
No
No
The burning of gas cooking fuel generates toxic by-products, which are on the list of substances which are known by the State of California to cause cancer or reproductive harm. California law requires businesses to warn customers of potential exposure ot such substances. To minimize exposure to these substances, always operate this unit according to the use and care manual, ensuring you provide good ventilation when cooking with gas. This warning is issued pursuant to California Health & Safety Code Sec. 25249.6.
For more information, go to www.p65warnings.ca.gov.
Free Shipping on orders over $49
Ship your entire order to your home for free, especially the big stuff! *Continental US only
When will my item arrive?
Once shipped, items usually arrive within 3-5 business days. While UPS and FedEx are our carriers for smaller items, be aware that larger items and orders are shipped via freight. The freight process is a bit more complicated than what we've all come to expect for small parcels, so it's important that you're prepared and understand what's required of you well before delivery day.
Most freight products ship on a pallet
Some carriers will call to schedule a delivery window, while others will deliver the shipment to a reasonably accessible location closest to your residence (their goal is to deliver as near a garage door as they can).
We'll specify which process you can expect in your shipping confirmation email.
For carriers that schedule delivery appointments:
Carriers that schedule delivery appointments require you to be home for delivery and provide your signature. The delivery is made with a semi-truck with lift gate services, and the shipment is dropped off at the curb. If you authorize the shipping company to leave the delivery without a signature, BBQGuys can't be held responsible for damages that occur during delivery. As complicated as this process may seem, we've only scratched the surface here — please review our detailed guide to freight delivery so there are no surprises when a freight shipment heads your way.
For carriers that deliver without an appointment:
Carriers that deliver without an appointment don't require you to be home or set up a delivery window, and you aren't required to sign for the pallet(s). Instead of scheduling an appointment, arranging your schedule to be home for the delivery, and signing to confirm receipt, you can sit back and let your items come to you. If you're home at the time of the drop-off, you can request the driver place your delivery in the garage; if you're out of the house, the driver will leave it near the garage or doorstep.
This item leaves our warehouse within
1-3 Business Days
$6.95 Flat-Rate Shipping
Anything under $49 ships at one low price. If your order increases, your shipping stays the same!
30-Day Returns
Return all new, unused, and unassembled items in their original packaging, and we'll give you a full refund minus the cost of the original AND return shipping.
No Restocking Fee
Most companies charge a restocking fee. We just don't do business that way.
Your Shopping History. Pick up where you left off.