Camp Chef Pursuit 20 Portable Wood Pellet Grill - PPG20
Free Shipping
As low as $44 /mo with
*
Key Features
Patent pending Slide and Grill technology lets you switch between direct and indirect flame cooking
Patented simple ash cleanout system makes cleaning easy
Firebox and lid is constructed from stainless steel for durability
Smart Smoke technology keeps cooking temperature within +/- 15 degrees Fahrenheit of selected temperature
Compact design with folding legs and leg levers for easy portability
The Camp Chef Pursuit 20 pellet grill is ready to go wherever you go on your next adventure. The heavy-duty wheels and push-button folding legs make this grill easily portable whether you are tailgating, camping or at the neighborhood block party. With the digital temperature display, simple temperature settings, and an exclusive ash cleanout system, this grill will have you spending less time monitoring your grill and more time enjoying the outdoors and a delicious meal. The Pursuit 20 is constructed of durable powder coated steel with a stainless steel lid and fire box. It features a 253 square inch primary cooking area and a 248 square inch upper warming rack. This gives you a total of 501 square inches of cooking space, all heated by 25,000 BTUs of cooking power. The Pursuit 20 also features Slide and Grill technology, which allows you to switch between direct and indirect flame cooking with just the pull of a knob. With the simple temperature selection system, the grill can be set to temperatures as low as 160 degrees for smoking and up to 500 degrees for the perfect sear. Once you have chosen your desired temperature, the digital display can be toggled between showing the grill temperature and internal food temperature, which are monitored by the two included stainless steel meat probes. Smart Smoke technology keeps your Camp Chef pellet grill with 15 degrees of your selected temperature. The automatic auger dispenses pellets as needed from the high capacity hopper, which holds up to 10 pounds of pellets at once. A continuous fan insures that your grill stays evenly heated and smoky, so every bit of food is perfectly cooked. When you are done cooking, clean up is easy, thanks to the exclusive Camp Chef ash cleanout system. Simply pull open the trap door with the side knob and empty the ash cup underneath the grill.
Legal disclaimers and warnings
Product packaging, owners' manuals, installation instructions, and/or operating instructions may include more information than what is shown on our website. The content on our site is intended to be used for reference purposes only. Please fully read all included manuals and documentation before installing or using this product. WARNING for California residents: this product may contain chemical(s) known to the state of California to cause birth defects, cancer, or other reproductive harm.
Product Information
UPC

33246215440

Model Number

PPG20
Specifications
| | |
| --- | --- |
| Class | Practical |
| Fuel Type | Pellets |
| Collection | Pursuit |
| Configuration | Portable |
| Exterior Material | Painted Steel |
| Primary Color | Stainless Steel |
| Cooking Grate Material | Porcelain Coated Steel |
| Cooking Grid Dimensions | 13 3/4 X 18 3/8" |
| Main Grilling Area | 253 Sq. Inches |
| Secondary Grilling Area | 248 Sq. Inches |
| Total Grilling Area | 501 Sq. Inches |
| Burger Count | 8 |
| WiFi/Bluetooth Enabled | None |
| Grill Lights | None |
| Spring Assisted Hood | No |
| Thermometer | Digital |
| Side Shelves | Yes |
| Made In USA | No |
| Cart Assembly | Some Assembly Required |
| Commercial-Grade Multi-User | No |
| Size | Small (0 - 26") |
| Marine Grade | No |
| Hopper Capacity | 10 Pounds |
| Max Temperature | 500 F |
Dimensions
| | |
| --- | --- |
| Width | 38" |
| Depth | 18.5" |
| Height | 32" |
| Weight | 82 lbs |
Camp Chef warrants this grill to be free from defects in materials and workmanship for a period of three (3) years from the date of purchase (excluding finish).

Refer to manufacturers manual for full warranty details.
77% of reviews recommend this product
Customer images featuring this product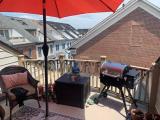 Fits in my motorhome basement storage

We bought this Pursuit because of its folded dimensions. It fits perfectly in the basement storage of our Thor Aria motorhome. Easy fold up, easy clean, easy storage when on the road. I use a Traeger at home and have to say after a week of cooking on this camp chef...I might like it better than the Traeger. Its got a more intuitive screen, easier to set it to run. My only complaint is no wifi. I would love to monitor it on my iPhone. But I guess you cant haver everything. Overall, it's a winner. We are thrilled with its performance and would recommend it to anybody traveling in an RV.

Was This Helpful?

Great Grill

Great little grill, we have the larger pellet grill and wanted something we can take camping, this is a great alternative.

Was This Helpful?

Great Grill

Great little grill, we have the larger pellet grill and wanted something we can take camping, this is a great alternative.

Was This Helpful?

Very Versatile

Very versatile and easy to use. Love the fact that I can also bake and grill and even get a sear while grilling. Plus it keeps the temp within +/- 5 degrees even when it is windy and cold. Will definitely recommend to friends.

Was This Helpful?

Pursuit 20 Portable Pellet Grill

Great little grill. New to pellet grills, so practicing has been fun and flavorful. Cleanout system is great. If you want to change pellet flavors, just replace the cleanout cup with a clean bowl and run FEED. Takes a while, but works well. Very happy with the purchase.

Was This Helpful?

Pursuit 20

It was ever thing i have come to expect from Campchief high quality easy to use and the food we have cooked while camping in are trailer out of this world

Was This Helpful?

Pursuit 20

It was ever thing i have come to expect from Campchief high quality easy to use and the food we have cooked while camping in are trailer out of this world

Was This Helpful?

great portable grill

I have now had this about a month and every weekend I have smoked something different on it. I love it, the ability to control the smoke the flavor the pellets give the food and how easy it is to clean. The best part is the ash cup very nice feature to not have to disassemble your grill just to remove the ash. The legs are a bit iffy but for being portable they will work.

Was This Helpful?

Perfect for "camping" in the city!

I wanted the quality and flavor of a dual purpose pellet grill but didn't have the space as a city dweller. The Pursuit solved that problem: what an amazing grill! I was a novice to pellet grills but Camp Chef made things easy with this model. It does all the work for you. I have made ribs, smoked chicken, and look forward to more exotics like pizza and pies. I'm spending so much more time on my patio and eating whole fresh meats and veggies. I highly recommend this grill if you have limited space and want a high quality smoker/grill.

Was This Helpful?

Great quality & features

I bought mine in June 2019, and as of Dec 1 have run more than 6 bags (120#) of pellets through it. Ribs, pork butts, sausage, meatloaf, meatballs, thick chops & steaks, prime rib, salmon, wings, beer-can and bricked chicken, kabobs ... Still doing research before tackling a brisket (thanks Franklin & Tom). The unit is easy to start & heats-up well. Maintains fairly consistent temperature. Develops great smoke ring & flavour (yes I'm Canadian). I rarely use the 'slide & sear' except when camping (I have other grills for high-heat searing). Lumberjack brand pellets leave very little ash. Cleaning is straighforward and should not be neglected: shopvac the dust out of the base + apply degreaser / brush all-around. The patio cover is good quality; I'm waiting for them to offer an insulating blanket for cold-weather cooking (please?). Others have commented on portability: Yes it is 100# and a little akward to fold-up etc. - but I say it's worth it vs alternatives - folks are always very happy to see it / enjoy the resulting food at a campsite / tailgater. No Regrets - I remain very very satisfied with my Campchef Pursuit.

Was This Helpful?
The Skinny:
Patent-pending Slide and Grill technology
Patented simple ash cleanout
Smart Smoke technology creates accurate temperatures
Compact, portable design
Things We Love:
Slide and Grill Feature
One of the most exciting aspects of grilling is experimenting with direct and indirect cooking. Luckily, the Camp Chef Pursuit 20 pellet grill makes that easy with its patent-pending Slide and Grill technology! Simply slide the knob out to put your food directly above the flame, then slide it back in for an indirect heating position. In addition to the Slide and Grill feature, Camp Chef included an ash cleanout system that requires nothing more than pulling a knob and emptying a detachable cup.
The Pursuit pairs those convenient components with a compact design for portability. With heavy-duty wheels, push-button folding legs, and secure lid latches, this pellet grill is easy to take with you no matter where you're going. The Camp Chef Pursuit's combination of versatility and portability makes it a perfect companion for your next tailgate or camping trip!
Smart Smoke Technology
Camp Chef made sure to give this pellet grill one more advanced feature in the form of Smart Smoke technology. This innovation keeps the heat within 15 degrees Fahrenheit of your target temperature, which leads to more smoke and greater flavor because the grill will burn pellets less often and in bigger numbers. But if you need exact temperature for your food, Smart Smoke also offers precise temperature settings between 175-350 degrees.
This model's durable, powder-coated steel parts, along with its stainless steel lid and fire box, are excellent at retaining heat and maintaining accurate temperatures. Thanks to those features and its simple temperature selection system, the Camp Chef Pursuit can reach a high-end searing temperature of 500 degrees and a low end of 160 degrees for slow smoking.
Deceptively Large Cooking Surface
Don't let the Pursuit's portability fool you — this pellet grill can crank out serious amounts of food. The main cooking area has 253 square inches of room for food, but the 248-square inch upper warming rack brings the total grilling space to just more than 500 square inches. That means you can fit up to four racks of ribs on this grill, and if you're cooking on indirect heat, you essentially have an on-the-go oven! Additionally, you don't have to worry about hotspots or using the top rack for warming only.
Convenient and Powerful Design
Portability wasn't the only thing Camp Chef had in mind when creating the Pursuit pellet grill. It boasts 25,000 BTUs of cooking power, and its auger releases pellets from a 10-pound capacity hopper, which is large for a portable model. This grill is also equipped with a continuous fan that ensures even heat no matter what you're cooking. To put you in total control of this powerful pellet pit, Camp Chef's digital display shows either the grill's temperature or the internal food temperature monitored by two included stainless steel meat probes. Above all else, you know you can rely on the respected name and durable construction of a Camp Chef grill.
Accessories for Safekeeping
The Pursuit pellet grill is an investment that should last for years, so why not protect it? Pick up a grill cover to keep your pit shielded from the elements when not in use, or get a carrying bag to prevent it from being damaged when you're on the go. Whatever you do, be sure to treat your grill well, and it will do the same in return!
Things To Consider:
The upside of the Pursuit is that you get all the great features of Camp Chef's larger pellet grills (patent-pending Slide and Grill technology, patented ash cleanout, and durable construction) in a portable package. However, be mindful that this grill's hopper can fit only 10 pounds of pellets and that you still need electricity to run the auger and temperature controller.
Question:
Same question here; what is the folded height of the camp chef pursuit?
Was This Helpful?
Answer:
Hi, and thanks for asking! The folded dimensions on the Camp Chef Pursuit are 38" w x 18.5" d x 21" h.
Question:
Hi. Does this require a gas connection or is it all electric? I'd much rather use electricity than gas.
Was This Helpful?
Answer:
Hi Jenny, the Camp Chef Pursuit 20 just uses electricity and wood pellets, no gas is required!
Question:
Hello at BBQGuys - I'm overhauling the "camp kitchen" for our adventure trailer. I'm new to pellet grills like this. Do I understand correctly that on indirect heat, I can essentially use this as an oven - i.e. maybe roast a chicken on the bottom rack, with a pan of potatoes on the top rack, that sort of thing? And is the indirect heat function different than the smoke function? Or are they the same thing? (Thanks in advance for your patience with my newbie questions :)
Was This Helpful?
Answer:
Hi Scott. Yes, when using indirect heat, the grill functions similarly to a convection oven. Smoke mode is used for cooking foods at lower temperatures with more smoke. Smoking is usually done with indirect heat, but they are not the same thing.
Question:
How does the camp chef pursuit 20 compare to the Traeger tailgater I am looking for the best smoker griller for my wife and I with the most grilling room and smoking room when we are up camping or just around our home with family and friends
Was This Helpful?
Answer:
Hi Dale, thanks for asking. Both this and the Traeger Tailgater are excellent choices so we can see why you'd have trouble choosing. If you're worried about space, however, this Camp Chef takes the cake with a total grilling area of 501 Sq. Inches with two grilling ares compared to Trager's 300 Sq. Inches on one grilling area. Hope this helps!
Product

Current Item

Camp Chef Pursuit 20 Portable Wood Pellet Grill - PPG20

Traeger Tailgater 20 Portable Wood Pellet Grill - Black - TFB30KLF

Green Mountain Grills Trek Prime WiFi Pellet Grill

Traeger Ranger Portable Tabletop Wood Pellet Grill - TFT18KLD

Price & Shipping Information

Free Shipping

Leaves Warehouse: 7-10 Business Days

Free Shipping

Leaves Warehouse: 24 Hours

View Item

Free Shipping

Leaves Warehouse: 3-5 Business Days

View Item

Free Shipping

Leaves Warehouse: 24 Hours

View Item
ID

3045726

3069709

3084200

3015090

Model Number
PPG20
TFB30KLF
Trek
TFT18KLD
Class
Practical
Entry-Level
Practical
Entry-Level
Fuel Type
Pellets
Pellets
Pellets
Pellets
Collection
Pursuit
Town And Travel
Prime
Town And Travel
Configuration
Portable
Portable
Portable
Portable
Exterior Material
Painted Steel
Powder Coated Steel
Powder Coated Steel
Powder Coated Steel
Primary Color
Stainless Steel
Black
Stainless Steel
Black
Cooking Grate Material
Porcelain Coated Steel
Porcelain Coated Steel
Stainless Steel
Porcelain Coated Steel
Cooking Grid Dimensions
13 3/4 X 18 3/8"
20 X 15"
17 1/2 X 12 1/2"
15 X 12"
Main Grilling Area
253 Sq. Inches
300 Sq. Inches
—
184 Sq. Inches
Secondary Grilling Area
248 Sq. Inches
—
—
—
Total Grilling Area
501 Sq. Inches
—
219 Sq. Inches
—
Burger Count
8
12
6
6
WiFi/Bluetooth Enabled
None
None
WiFi & Bluetooth
None
Grill Lights
None
None
None
None
Spring Assisted Hood
No
No
No
No
Thermometer
Digital
Digital
SmartPhone App
Digital
Side Shelves
Yes
No
No
No
Made In USA
No
No
No
No
Cart Assembly
Some Assembly Required
Some Assembly Required
Some Assembly Required
—
Commercial-Grade Multi-User
No
No
No
No
Size
Small (0 - 26")
Small (0 - 26")
Small (0 - 26")
Small (0 - 26")
Marine Grade
No
No
No
No
Hopper Capacity
10 Pounds
8 Pounds
10 Pounds
8 Pounds
Max Temperature
500 F
450 F
550 F
450 F
This product can expose you to chemicals including Lead, which is known to the State of California to cause cancer and birth defects or other reproductive harm. For more information go to www.p65Warnings.ca.gov.
Free Shipping on orders over $49
Ship your entire order to your home for free, especially the big stuff! *Continental US only
When will my item arrive?
Once shipped, items usually arrive within 3-5 business days. While UPS and FedEx are our carriers for smaller items, be aware that larger items and orders are shipped via freight. The freight process is a bit more complicated than what we've all come to expect for small parcels, so it's important that you're prepared and understand what's required of you well before delivery day.
Most freight products ship on a pallet
Some carriers will call to schedule a delivery window, while others will deliver the shipment to a reasonably accessible location closest to your residence (their goal is to deliver as near a garage door as they can).
We'll specify which process you can expect in your shipping confirmation email.
For carriers that schedule delivery appointments:
Carriers that schedule delivery appointments require you to be home for delivery and provide your signature. The delivery is made with a semi-truck with lift gate services, and the shipment is dropped off at the curb. If you authorize the shipping company to leave the delivery without a signature, BBQGuys can't be held responsible for damages that occur during delivery. As complicated as this process may seem, we've only scratched the surface here — please review our detailed guide to freight delivery so there are no surprises when a freight shipment heads your way.
For carriers that deliver without an appointment:
Carriers that deliver without an appointment don't require you to be home or set up a delivery window, and you aren't required to sign for the pallet(s). Instead of scheduling an appointment, arranging your schedule to be home for the delivery, and signing to confirm receipt, you can sit back and let your items come to you. If you're home at the time of the drop-off, you can request the driver place your delivery in the garage; if you're out of the house, the driver will leave it near the garage or doorstep.
This item leaves our warehouse within 7-10 Business Days
$6.95 Flat-Rate Shipping
Anything under $49 ships at one low price. If your order increases, your shipping stays the same!
30-Day Returns
Return all new, unused, and unassembled items in their original packaging, and we'll give you a full refund minus the cost of the original AND return shipping.
No Restocking Fee
Most companies charge a restocking fee. We just don't do business that way.
Message to our customers: Like all retailers and manufacturers, we're currently experiencing well-publicized supply-chain issues and steel shortages that have caused some orders to be delayed. We sincerely apologize for any inconveniences arising from this situation, and we assure you we're making every effort to solve these problems with our vendors and logistical partners.

So, why are some orders being affected? Major ports around the world are still operating at reduced capacity because of COVID-19 restrictions — on average, container boats sit at port for about 3 weeks before being unloaded. Combine these shipping inefficiencies with a scarcity of natural resources, and virtually every industry has been crippled to some degree. Yet we acknowledge that it's our duty to meet these challenges head-on and work toward solutions so you can enjoy more time outdoors with the people you love. We appreciate your patience as we strive to smooth out our supply chain, and we thank you for choosing us for your grilling and outdoor living needs.
Your Shopping History. Pick up where you left off.