Broil King Smoke XL 32-Inch Offset Charcoal Smoker - Black
was

$999.00

10% off ($100.00)
Free Shipping
As low as $79 /mo with
*
Professional Grill Assembly for $99
Book a professional to help assemble this grill for only $99. All bookings and inquiries are handled by Handy.
Frequently Bought Together
Key Features
Porcelain coated cast iron grates retain heat and deliver excellent sear marks
Two dual-purpose stainless steel smoke diffusing charcoal trays
The durable stainless steel ash trays are easily accessed from either side of the grill
Adjustable cast aluminum air dampers allow for precise temperature control
Built-in bottle opener for quenching your thirst
The Broil King Smoke Offset Smoker features 955 square inches total cooking space, heavy-duty cast iron cooking grids, two-dual purpose charcoal trays, removable ash trays and fully adjustable dampers.
Legal disclaimers and warnings
Product packaging, owners' manuals, installation instructions, and/or operating instructions may include more information than what is shown on our website. The content on our site is intended to be used for reference purposes only. Please fully read all included manuals and documentation before installing or using this product. WARNING for California residents: this product may contain chemical(s) known to the state of California to cause birth defects, cancer, or other reproductive harm.
Product Information
UPC

62703580500

Model Number

958050
Ask an Expert
Buy with confidence.
Contact our experts today.
| | |
| --- | --- |
| Smoker Type | Offset |
| Smoker And Grill | Yes |
| Class | Practical |
| Fuel Type | Charcoal |
| Best Use | Residential |
| Collection | Smoke |
| Configuration | Freestanding |
| Number Of Racks | 2 |
| Exterior Material | Painted Steel |
| Primary Color | Black |
| Water Smoker | No |
| Cooking Grate Material | Cast Iron |
| Cooking Grid Dimensions | 32 X 19 1/4" |
| Nsf Certification | No |
| Main Grilling Area | 625 Sq. Inches |
| Secondary Grilling Area | 330 Sq. Inches |
| Total Grilling Area | 955 Sq. Inches |
| Burger Count | 28 |
| WiFi/Bluetooth Enabled | None |
| Grill Lights | None |
| Spring Assisted Hood | No |
| Thermometer | Analog |
| Side Shelves | Yes |
| Side Burner | None |
| Made In USA | Made In The USA With Globally Sourced Parts |
| Cart Assembly | Some Assembly Required |
| Commercial-Grade Multi-User | No |
| Size | Medium (27 - 33") |
| Marine Grade | No |
| | |
| --- | --- |
| Width | 60" |
| Depth | 26" |
| Height | 52.5" |
| Weight | 150 lbs |
The steel cookbox is warrantied against defects in materials and workmanship for a period of five (5) years. The stainless steel grates and all other parts & paint are warrantied for a period of two (2) years. Labor not included.

Refer to manufacturers manual for full warranty details.
50% of reviews recommend this product
Customer images featuring this product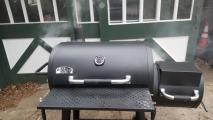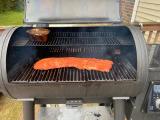 After four years, still rocking!

After four years and a few self made modifications, the Broil King Smoke Offset XL is my go to smoker for that authentic barbecue smoke flavor. Pork Butts, Ribs, Brisket, it can handle it all.

Was This Helpful?

Smoking Paradise

I am two months into my ownership of my new pellet grill, and I absolutely love it. Bringing the taste of authentic barbeque food to my dinner table, is that Has brought new realm to the menu ideas for lunch and for dinner. It has a very large cooking space, the grills come out for easy cleaning, most importantly I think, it's made and manufactured in a northern climate, so they know what we need to grill in Canada, and I can tell you I'm having a blast thank you Broil King

Was This Helpful?

Great offset smoker and bbq

I have had the offset smoker for a couple of months now, and have smoked pork shoulder, brisket, ribs (many types), and also grilled steaks kebabs, burgers etc. My experience does not tally with some of the negative reviews on this site, but I can't deny people seem to have had issues with temperature. The unit appears to have been redesigned in a few areas, and all I can say is I had non of these issues. I had originally intended to get an Egg type smoker, but after doing some research found that they lacked some flexibility when wanted to do a large standard grill session with steaks etc. Some forums had people advocating getting an Egg and a standard BBQ, which seems mad to me. Up steps the offset smoker. You can slow cook and smoke any joints you like, then pull this off the grill and fire up the charcoal in the main chamber for the burgers and steaks. This flexibility makes the offset smoker great value, even at the price point of the Broil King. My experience with the Broil King Offset Smoker specifically: - Some assembly issues. The instructions didn't match the video or booklet. Broil King confirmed this was because of a redesign on some aspects of the unit. This was my one negative experience, but Broil King support were excellent and made it right. - The seals are fine. I mean they leak a little, but only when the input and output dampers are not configured correctly. I have smoked pork shoulders and got perfect smoke rings. - Temperature regulation is fine. Takes some practise but able to hold around 105c or up to 170c easily. You wouldn't want to go much out of this range for smoking anyway or else you would ruin whatever you are smoking. If you do then a small amount of charcoal in the cook box to the side would give it a boost. - Build quality is good, money seems to have been spent in the right areas, i.e. the dampers are well engineered, and the grills are high quality when seasoned a couple of times. - The damper between chambers has been removed in a redesign. Presumably this was a source of temperature issues. - Agree with previous reviews on the ash pan. This design could be improved to catch more of the ash. Tips: - When lighting the firebox for a smoke, follow the instructions which says to put unlit charcoal to the left of the firebox, and empty a lit chimney starter on the right. This means the charcoal burns right to left and the smoker can be left unattended and still maintain the correct temperature. I also put clusters of smoking chips at intervals meaning they will give a fresh injection of smoke at regular intervals. - The dampers are marked with 5 notches for amount of openness. Because of the clever way the dampers are engineered these notches represent a linear adjustment. If you want a higher temperature open the firebox and chimney dampers together. There is no point opening just the firebox damper if the air can't get through the whole smoker. - Resist opening the cook box lid, let the thermometer do the checking for you. Every time you open the lid you have to start again heating the cook box. - Only use the grills you need when cooking anything! If you leave in grills you aren't using you will have a lot of cleaning to do! - Once finished cooking, I clean the grills and brush with oil before opening all the dampers to raise the temperature. This re-seasons the grills between uses and can happen while you eat.

Was This Helpful?

Great smoker

I bought this grill a month ago after replacing a grill I had for about 9 years. I've been cooking on this grill every weekend since. I really enjoyed smoking a whole chicken for the first time.

Was This Helpful?

A great offset smoker

I actually won my smoker from a contest at Brady's Butcher and Deli. I just love it. Smoking things is so pleasurable and relaxing.

Was This Helpful?

good smoker for the money

I bought this grill/smoker a month ago, it has been a great grill and an excellent smoker. My only complaint is that even though a got a good seasoning on the inside the paint has started to bubble and peel on the inside. Besides that I it has been flawless, decent gauge steel (13 gauge I believe) which is thicker than your 200 dollar smokers but not as heavy as the 2,000 dollar smokers

Was This Helpful?

The Missing Link of the off-set world

In the world of off-sets you either have to get the 100.00 home improvement special or order a 600 lb 2000 dollar beast from Texas......until now. Broil King has created an off-set that is affordable yet well thought out. Stainless Steel in all the right places. The fit and finish is excellent. This off-set holds temps well and works as advertised. I would have given it 5 stars but it is suggested to use lump charcoal and I would have like to have used oak splits. That's OK, I still love my Broil King Smoke Offset Smoker.

Was This Helpful?

Needs New Design

I'm very happy with this smoker. Just a few issues I have found. 1) Needs a thicker gauge steel does not hold heat well. 2) The fuel consumption is very high do to there not being enough draft. 3) need to add a collector type smoke stack on the left. (which I'm modifying as I review) 4) Smoke stack should be higher as stated in a previous review. 5) would be nice to add a quality built charcoal box as an accessory. 6) the air intake vents should be at the bottom of the firebox door Not in the middle. 7) those dial type vents are not very good for air flow. You want the air to come in from bottom of firebox. No sense in blowing air across the top of charcoal. 8) Tuning plates and baffle plates should be an added accessory. I will do another review and add pictures after my modifications are done.

Staff Response:

Thanks for your review. We appreciate your feedback in regards to the design of the Broil King Smoke Offset Xl. We stand behind the superior quality of all OMC smokers, and would like to discuss these thoughts with you further. Please email us at info@omcbbq.com.

Was This Helpful?

Paint Issues

Good and solid for the price but have had paint issues from the first year using the unit. Interior paint in cooking chamber has completely blistered and the paint on the outer firebox has come off in places. Just cosmetic so no huge deal. Still love using it even though the learning curve for fire management has been steep !!

Was This Helpful?

Feature suggestions

Feature suggestions: 1. Make the chimney taller. The current one does not provide much of a draw. 2. Firebox screws -- need thicker screws. These will rust over time due to extreme heat and outdoor use. The whole firebox rests on 6 screws. 3. baffle -- one of the smoke diffusers should bend upward to act as a baffle plate. 4. cleanout -- the firebox and cookbox side door should be cut to the bottom with no ledge to aid sweeping of ashes. The provided ash tray won't catch everything. Ash accelerates rusting and needs to be cleaned out regularly.

Was This Helpful?
Question:
Is this unit available as more of a built in unit? I'm building a outdoor kitchen. I have 8' of space available and would like to have 24" gas grill, sink, this smoker, under sink storage, garbage, and under grill storage. The area that the outdoor kitchen will be located is a covered porch, so ventilated hoods I think will be required. Three walls of the porch are solid, only one wall is screen. I do not want a pellet smoker, I want this style of smoker and accept what ever restrictions it may bring.
Was This Helpful?
Answer:
Hi Jeffrey, this grill is not designed to be built-in so it will not have the proper ventilation required from the bottom nor will it have any area to support itself in the cut out. We do recommend that you speak with a licensed professional who has knowledge and experience with outdoor kitchens for further advice on this subject, though.
View Product Comparisons

Current Item

Broil King Smoke XL 32-Inch Offset Charcoal Smoker - Black

The Good-One Heritage Oven Gen III 32-Inch Freestanding Charcoal Smoker - 21300AOH

The Good-One Marshall Gen III 38-Inch Freestanding Charcoal Smoker - 09300AOH

The Good-One Open Range Gen III 36-Inch Freestanding Charcoal Smoker - 06300AOH

Price & Shipping Information

$100.00 (10%)

Free Shipping

Leaves Warehouse:

1-3 Business Days

Free Shipping

Leaves Warehouse:

5-7 Business Days

View Item

Free Shipping

Leaves Warehouse:

5-7 Business Days

View Item

Free Shipping

Leaves Warehouse:

4-6 Weeks

View Item
ID
#2957019
#3059699
#3059705
#3059693
Model
958050
21300AOH
09300AOH
06300AOH
Smoker Type
Offset
Offset
Offset
Offset
Smoker And Grill
Yes
Yes
Yes
Yes
Class
Practical
Premium
Premium
Premium
Fuel Type
Charcoal
Charcoal
Charcoal
Charcoal
Best Use
Residential
Residential
Competition
Residential
Collection
Smoke
Heritage
Marshall
Open Range
Configuration
Freestanding
Freestanding
Freestanding
Freestanding
Number Of Racks
2
3
4
2
Exterior Material
Painted Steel
Powder Coated Steel
Powder Coated Steel
Powder Coated Steel
Primary Color
Black
Black
Black
Black
Water Smoker
No
No
No
No
Cooking Grate Material
Cast Iron
Expanded Steel
Expanded Steel
Expanded Steel
Cooking Grid Dimensions
32 X 19 1/4"
27 1/2 X 11 1/4"
29 1/2 X 16"
30 X 11"
Nsf Certification
No
No
No
No
Main Grilling Area
625 Sq. Inches
332 Sq. Inches
471 Sq. Inches
332 Sq. Inches
Secondary Grilling Area
330 Sq. Inches
928 Sq. Inches
2378 Sq. Inches
664 Sq. Inches
Total Grilling Area
955 Sq. Inches
1199 Sq. Inches
2849 Sq. Inches
996 Sq. Inches
Burger Count
28
—
—
—
WiFi/Bluetooth Enabled
None
None
None
None
Grill Lights
None
No
No
No
Spring Assisted Hood
No
No
No
No
Thermometer
Analog
Analog
Analog
Analog
Side Shelves
Yes
No
No
No
Side Burner
None
None
None
None
Made In USA
Made In The USA With Globally Sourced Parts
No
No
No
Cart Assembly
Some Assembly Required
Some Assembly Required
Some Assembly Required
Some Assembly Required
Commercial-Grade Multi-User
No
—
—
—
Size
Medium (27 - 33")
Medium (27 - 33")
Medium (27 - 33")
Medium (27 - 33")
Marine Grade
No
No
No
No
Combustion (burning) of charcoal, like other cooking methods, produces carbon monoxide and other substances known by the State of California to cause cancer and birth defects or other reproductive harm. For more information go to www.P65Warnings.ca.gov/product.
Free Shipping on orders over $49
Ship your entire order to your home for free, especially the big stuff! *Continental US only
When will my item arrive?
Once shipped, items usually arrive within 3-5 business days. While UPS and FedEx are our carriers for smaller items, be aware that larger items and orders are shipped via freight. The freight process is a bit more complicated than what we've all come to expect for small parcels, so it's important that you're prepared and understand what's required of you well before delivery day.
Most freight products ship on a pallet
Some carriers will call to schedule a delivery window, while others will deliver the shipment to a reasonably accessible location closest to your residence (their goal is to deliver as near a garage door as they can).
We'll specify which process you can expect in your shipping confirmation email.
For carriers that schedule delivery appointments:
Carriers that schedule delivery appointments require you to be home for delivery and provide your signature. The delivery is made with a semi-truck with lift gate services, and the shipment is dropped off at the curb. If you authorize the shipping company to leave the delivery without a signature, BBQGuys can't be held responsible for damages that occur during delivery. As complicated as this process may seem, we've only scratched the surface here — please review our detailed guide to freight delivery so there are no surprises when a freight shipment heads your way.
For carriers that deliver without an appointment:
Carriers that deliver without an appointment don't require you to be home or set up a delivery window, and you aren't required to sign for the pallet(s). Instead of scheduling an appointment, arranging your schedule to be home for the delivery, and signing to confirm receipt, you can sit back and let your items come to you. If you're home at the time of the drop-off, you can request the driver place your delivery in the garage; if you're out of the house, the driver will leave it near the garage or doorstep.
This item leaves our warehouse within
1-3 Business Days
$6.95 Flat-Rate Shipping
Anything under $49 ships at one low price. If your order increases, your shipping stays the same!
30-Day Returns
Return all new, unused, and unassembled items in their original packaging, and we'll give you a full refund minus the cost of the original AND return shipping.
No Restocking Fee
Most companies charge a restocking fee. We just don't do business that way.
Your Shopping History. Pick up where you left off.