Victory 35-Inch Wood Pellet Grill with Front Shelf, 29-Lb Hopper & 16 Gauge Steel Barrel & Cart - BBQPG
Free Gift
Free BBQGuys Signature Ash Cleanup Set with Victory Pellet Grill.
was

$879.99

20% off ($180.00)
Free Shipping
As low as $62 /mo with
*
Professional Grill Assembly for $99
Book a professional to help assemble this grill for only $99. All bookings and inquiries are handled by Handy.
Frequently Bought Together
+
+
Choose items to buy together
Key Features
16-gauge steel grill body is crafted for lasting durability and winning performance
Smoke, grill, roast or bake with a versatile temperature range spanning 180-500 F
Included side and front folding shelves add precious space for grilling tools and/or food prep
Easy-to-use digital controller has a pair of temperature probes for monitoring 2 cuts of meat at once
29-lb.-capacity pellet hopper is by far the largest in class and can handle long cookouts with no refills
BBQGuys Exclusive!
Get ready to Taste Victory! The Victory pellet grill is designed to beat the competition at their own game, from delicious wood-fired flavor to helpful features every griller needs for a winning BBQ.
Full-Featured Pellet Grill at an Affordable Price
This is a grill you can always count on thanks to the tough, 16-gauge, powder-coated steel body, not to mention the included front and side shelves that the competition often sells separately. Victory secures another win with its 936 square inches of total cooking area, the most in its class. With 691 square inches of primary grilling space and another 245 from the upper warming rack, you can comfortably cook for the whole family and celebrate victories big and small.
Victory Scores with Low-and-Slow and High-Temp Grilling
The grill wins in a variety of ways, whether cruising as low as 180F for low-and-slow smoking or roaring to 500F for perfect wood-fired grilling. Regardless of your setting, the Digital PID Controller will maintain steady temperatures for the duration of the cook with no effort on your part.
Easy to Use with Plenty of Pellet Capacity
Startup is equally hassle-free; just turn the grill on, set the control knob to Smoke, and leave the lid open. While on this setting, the heavy-duty auger continuously feeds pellets into the fire pot for 6 minutes to get the grill going. The control panel also features 2 ports for a pair of included stainless steel meat probes, vital tools for removing the guesswork from grilling. The next triumph to tally is the extra-large pellet hopper that can hold 29 lbs. of fuel, easily the biggest capacity in this pellet-grill class. That means you can let the grill run all day without the need to babysit or add more pellets.
Flavor Flexibility and a Functional Cart
Should you choose to change fuel flavors, the back of the hopper includes a pellet-release feature for easy swapping. The Victory pellet grill features 3 stainless steel tool hooks for your convenience. Its sturdy steel cart, meanwhile, has 2 heavy-duty polyurethane wheels along with 2 locking caster wheels for smooth rolling around the patio or backyard. Add it all together, and the Victory pellet grill is the clear winner among its peers and the top choice for those who want to Taste Victory.
Legal disclaimers and warnings
Product packaging, owners' manuals, installation instructions, and/or operating instructions may include more information than what is shown on our website. The content on our site is intended to be used for reference purposes only. Please fully read all included manuals and documentation before installing or using this product. WARNING for California residents: this product may contain chemical(s) known to the state of California to cause birth defects, cancer, or other reproductive harm.
Product Information
UPC

814706026758

Model Number

BBQ-PG
Ask an Expert
Buy with confidence.
Contact our experts today.
Specifications
| | |
| --- | --- |
| Class | Entry-Level |
| Fuel Type | Pellets |
| Configuration | Freestanding |
| Exterior Material | Powder Coated Steel |
| Primary Color | Black |
| Cooking Grate Material | Porcelain Coated Steel |
| Cooking Grid Dimensions | 35 X 19 3/4" |
| Main Grilling Area | 691 Sq. Inches |
| Secondary Grilling Area | 245 Sq. Inches |
| Total Grilling Area | 936 Sq. Inches |
| Burger Count | 28 |
| WiFi/Bluetooth Enabled | None |
| Grill Lights | None |
| Spring Assisted Hood | No |
| Thermometer | Digital |
| Side Shelves | Yes |
| Side Burner | None |
| Made In USA | No |
| Cart Assembly | Some Assembly Required |
| Commercial-Grade Multi-User | No |
| Size | Large (34 - 42") |
| Marine Grade | No |
| Hopper Capacity | 29 Pounds |
| Max Temperature | 500 F |
Dimensions
| | |
| --- | --- |
| Width | 62.46" |
| Depth | 30.45" |
| Height | 50.95" |
| Weight | 153 lbs |
Victory warranties this pellet grill to be free from defects in manufacturing and workmanship under normal residential use and conditions for a period of three (3) years from the date of original purchase. Labor not included.

Refer to manufacturers manual for full warranty details.
90% of reviews recommend this product
Customer images featuring this product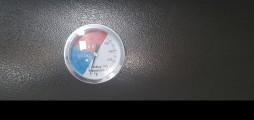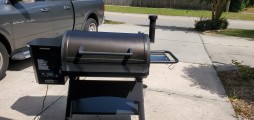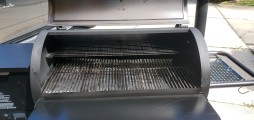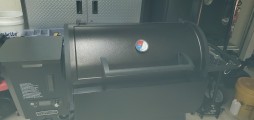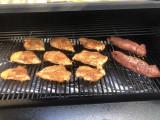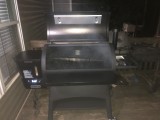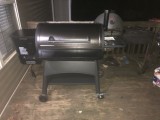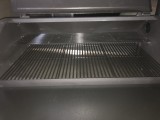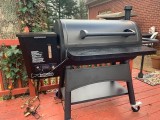 Very Happy!

I am very pleased with my new Victory Pellet Hopper. I've cooked 3 loads of food on it so far and it performed flawlessly every time. It assembled very easy with easy to follow instructions. It took about an hour and a half. I was in no hurry. I researched it before I bought and I like the fact that I can cover the drip pan with foil, change out pellets and it holds temp very well. It does put out a lot of smoke on start up. The only thing I wish for is a 225 degree setting. It goes from 200-250. 200 you still get smoke. 250 not as much. But I have learned how to work around that. I just cook the 1st 6 hours on 200 and then crank up to 250 after the meat has absorbed all the smoke it can. I'm using CookinPellets Hickory 75% and Camp Chef Charcoal 25% mixed and using a smoke tube full of Charcoal pellets for my flavor. That mixture is a game changer for me. Great wheels on this cooker. The cover fits good but the Velcro straps won't reach. It's almost like they were sewn on wrong. It covers it good though and it stays in the garage when not in use. I'd buy it again and recommend it to anyone with 100% confidence.

Was This Helpful?

I recommend this grill to all interested in this smoker.

I like this grill and the service I have received from BBQ Guys has been excellent. Great product!!

Was This Helpful?

Love this pellet grill

For ten years, I have sworn by The Big Green Egg and was skeptical of a pellet grill. I finally gave in, did some research, read the reviews and contacted BBQ Guys about the Victory Grill. The purchase process was seamless. The grill arrived when they said it would and it was easy to assemble. I had a question about the set up, called BBQ guys, got a live person (I know, unbelievable) who answered my questions and even offered some tips on specific smokes! I've had the Victory grill for two months and it has not disappointed. I get much more grill area, better temperature control and get an excellent smoke on everything from a Boston Butt to chicken wings. It's easy to operate and I appreciate the simplicity of filling the the hopper and letting go. I highly recommend this grill and BBQ Guys.

Was This Helpful?

I LOVE this smoker!

I cannot say enough about the amazing quality and features of the Victory Pellet grill. I was impressed by the large cooking surface and a hopper that holds 29lbs of pellets! You won't find a better pellet grill of this quality anywhere especially in this price range!

Was This Helpful?

I would buy again

Love it but love your service more.

Was This Helpful?

I would purchase again, my only concern is if I need parts.

Works great! Everything I've cooked has been great! Should've bought one sooner! Plenty of room and temperature stays consistent!

Was This Helpful?

Great Pellet Grill!

So far this grill has performed flawlessly! I have both grilled and smoked on this unit! The steaks and the ribs both came out perfect! The only small complaint is the empty the pellet hopper doesn't work as shown. You will nee a stick or a broom handle to keep the pellets moving. The unit held temp while being used in 25 degree weather. I am glad I purchased it! The price point is also very reasonable for the size of the unit!

Was This Helpful?

Outstanding Pellet Smoker/ Grill

I've meaning to buy me a smoker grill since for quite sometime but I thought they were somewhat out of range for me figuring in due time the prices and other smokers would come out. Well, my patience was well worth it when I came across the Victory 35" and it caught my attention having ordered it that minute before my flight to Texas to be delivered in So. Cal. On my return, I put it together and WOW was it made of great quality in and out! Since then I have used it four times in three months, It's a Monster of Smoking with results above my expectations. Thank You BBQ Guys Staff.

Was This Helpful?

Great pellet for the price

I have been using the Victory pellet grill for a few months now and it's been a great product. I have owned/used just about every pellet grill currently available on the market and this grill cooks consistent with just about all of them without the Wi-Fi technology. It's been my experience that the Wi-Fi technology does not change the taste of the food but delivers a slightly different cooking experience. The Victory pellet grill cooks great at low smoking temperatures (275 degree and below) and just as good at the high temperature (450 degrees). I have baked, braised, and smoked using the the Victory pellet grill and it's handled everything I have thrown at it. The pellet hopper is extra large and contains and small clear window, which, is convenient. The area I seen that could be approved on is the pellet hopper clean out. I have found the opening to be small and difficult to completely empty the hopper. In all this is a GRTEAT pellet grill for the price and I would recommend it to anyone in the market for a pellet grill.

Was This Helpful?

First pellet grill. Made great choice!

Received a week ago and have fired up twice. Wings to start and then Prime Rib. Wings and Steak were tremendous. Got a great sear by kicking grill up to hi. Really enjoying it.

Was This Helpful?
The Skinny:
Incredible 936 square inches of cooking space, the most in class
Everything here is meant to generate — and utilize — flavorful smoke
Huge hopper holds 29 lbs (you read that right) of pellets
Built to crush all-day smoking and swap flavors at your every whim
Survived stress tests that literally included hurricanes and gravel in the auger
Reviewing the Victory pellet grill feels a lot like listening to a favorite classic album on its original vinyl release: everything about it is just better. This is what pellet smoking is supposed to feel like. Every note lands exactly where we want them. Everything about the composition screams quality. Get it going, and you'll have a timeless experience rife for years of enjoying the moments that matter with loved ones. If you're in the market for a pellet smoker beneath the $700 price tag, let's cut right to the point — this is it.
To get all the proof we needed, we asked Chef Tony to perform a thorough and objective review of the Victory pellet grill as if it was from any other manufacturer. That included his usual repertoire of numerical and real-world tests to evaluate the grill's quality, performance, and features, which combine to give us an overall picture of a product's value. It's the same treatment he'd give any other pellet grill, so buckle up and read on to see what our resident grill tester discovered.
Quality:
Victory features robust construction backed by a solid warranty and astounding survival testing — especially for the Entry-Level class.
Grab your nearest clipboard and prepare to mark off a lot of checkboxes, because this pellet smoker was designed to meet or chew up the expected industry standards for this price point. 16-gauge, powder-coated steel body and cart with a 14-gauge hood? Check. Standard 3-year warranty on the grill body and 3 months on the electronic components? Check. Rock-solid, 7mm porcelain-enameled steel cooking grates? Check. Both the Full-Coverage Diverter Plate and fire pot protector are built using 12-gauge, cold-rolled steel for durability. "It's one of the sturdiest I've seen in the class, for sure," Chef Tony says of the fire pot protector. "Which is a good idea, considering that this is the grill's component that will take the most abuse by far." Meanwhile, the removable side tray and tool hooks located on the right side of the grill are made from stainless steel. So far? Impressive.
And yet, Victory earns an early, notable win against its main competition — the Traeger Pro 34 — with a generous cooking space: under this hood, you'll find best-in-class 936 square inches of total grilling area. Victory's engineers have provided grillers with 691 square inches of primary cooking space (and an additional 245 square inches from the secondary warming rack). Add in some serious mobility to swing that heft around: the 2 heavy-duty polyurethane wheels have a metal interior for handling heavy loads on tough terrain, while the 2 locking casters keep the grill in place once positioned. The knurled hood handle is slightly ridged for a superior grip, which makes opening the grill that much easier. Additionally, it lends a tough, rugged look that's worthy of the Victory name.

Now, onto the testing! Here in Louisiana, we get a handful of environmental stress tests every year that the textbooks call "hurricanes." We couldn't — nor would we want to — recreate these conditions during our filmed review, but our R&D department left this Victory model outside and running through two strong storms. Judging by how it shrugged off the churning wind and water, you'd have thought we hadn't bothered. Even more direct testing — like repeatedly soaking the digital controller, sending gravel through the hopper, and trying to choke the auger with pellets — couldn't stop Victory. Find a more reliable pellet grill at this price point. We dare you.
Performance:
Victory rapidly pumps voluminous smoke, spreads even heat, minimizes cleanup pains, and powers an auger that just won't quit.
First and foremost, the Victory pellet grill smokes quickly, and it smokes in huge amounts. "Initially, you may think you've done something wrong," Chef Tony quips. "That's how much smoke this grill produces at times." The flavorful smoke output should be celebrated, but we wanted to know just how evenly the smoke and heat are distributed across Victory's cooking surface. To find out, Chef Tony placed thermocouples throughout the grill to measure average temperatures. On Smoke Mode (180°F), the average came in at 174°F, with the furthest individual readout just 19°F lower than that — "great" for an Entry-Level pellet grill. The high-heat test at 500°F produced similarly consistent results: an average temperature of 469°F after 15 minutes of preheating, 490°F at 20 minutes, and a maximum variance of 31°F from the average. Any thoughts, Chef Tony? "This is good for a pellet grill, or even probably as good — if not better — than most home ovens."
Key to performance here is the Full-Coverage Diverter Plate. It serves two important roles: first, it functionally operates as a giant diffuser to evenly spread heat from end to end, and it channels errant food drippings to the hanging grease pail outside the grill. Aside from the simple cleanup, Chef Tony is impressed with how the Diverter Plate results in "few to none of the flare-ups that can happen, or spotty cooking zones. Overall, for an Entry-Level pellet grill, (the Victory has) excellent performance."

Most other aspects of performance are directly tied to the grill's features (more on those in a second), but what we can tell you is that the grill's heavy-duty auger is the unquestioned champion in this class, where serious jams are common. Our aggressive R&D testers fed this machine rocks, glass, wood chips, insulation — just about any unfriendly substance you could imagine to be found in a warehouse — and yet Victory's auger kept on pumping. We can't kill this thing, short of burying it in concrete for a later civilization to find. Even then, we're not certain future archaeologists won't excavate this beast and turn it straight back on.
Features:
Expect included shelves, intelligent and razor-sharp PID control, and the biggest pellet hopper in the game — at a whopping 29 pounds.
But the feature list is where Victory claims the biggest win against its main competitor, the equally-priced Traeger Pro 34. While Traeger's front shelf is available separately as a not-insignificant upsell, Victory's shelves (yes, plural) arrive right there in that first big package. The fold-down front shelf and removable, stainless steel side tray provide valuable work space; look forward to the bottom storage shelf (perfect for pellet bags) and those 3 removable, washable tool hooks. Neither of these latter two are available on the Traeger Pro 34. Chalk that up as another win for the Victory pellet grill.
While we're tallying triumphs, Victory's 29-lb pellet hopper is easily the largest in this price range; this guarantees ample reward for the "set-and-forget," all-day or overnight pellet griller. (Comparatively, the Traeger Pro 34 and Camp Chef SmokePro DLX offer just 18-lb capacities. If you know your math, we're talking over 50% deeper above either choice.) The rear of Victory's hopper also has a pellet release that dumps fuel from the bottom, allowing you to swap flavors in about 10 seconds flat.

Setting aside brawn for now, let's talk brains: boasting pre-programmed temperature settings between 180°F and 500°F, Victory's Digital PID Controller intelligently monitors the fan and auger speeds — and constantly maintains heat targets with little deviation, as noted in the prior section. For good measure, Victory's controller includes a pair of ports for meat probes for hands-on internal temperature monitoring without opening the lid, which would release all that precious heat and smoke. But our favorite controller function might be Smoke Mode, which downshifts fan speed to keep those pellets smoldering while cycling for temperature maintenance at 180°F. This creates a — you guessed it — thick but flavorful tide of smoke within the grill to bathe and blanket your meats.
The Victory pellet grill's power cord is rated for 120 volts/15 amps, meaning it can be plugged into standard outlets. No hardwiring or special circuit necessary — which is certainly a boon to the pellet veteran. An adjustable exhaust cap screws into the chimney to prevent rain from entering the cooking chamber, while protecting the fire pot from baleful wind interference that might cause random temperature swings during long cooks. Finally, Chef Tony found that the flanged hood indeed traps large portions of valuable heat and smoke inside the grill, leading to more flavorful results in his many food tests.
Value:
From solid construction and mighty operation to its feature count, Victory delivers the best overall experience for the money among Entry-Level pellet grills.
Tally it up all together, and what do you get? A pellet grill that will drink (and efficiently use) every pellet in sight, provide jaw-droppingly long smoking sessions, babysit its own temperatures, bathe everything inside in a thick layer of flavorful smoke, and has successfully laughed at two out of two hurricanes.
Slam all of this together in a hefty design that's nimble on its wheels with industry-leading features… and then slap an Entry-level price tag on the box. We're not trying to be in the business of calling a clear victor in this class of the pellet grill market, but let's not kid ourselves — it's even in the name. Why don't you put a bow on this review, Chef Tony? "If you've been considering adding a pellet grill to your collection of grilling gear, then you should definitely consider the Victory pellet grill."
Question:
How many pork butts will it cook at a time?
Was This Helpful?
Answer:
Hi, Greg. Depending on the size of the pork butts, the Victory Pellet Grill should easily handle 2.
Question:
Is there an ash clean out, or does the ash need to be vacuumed out? I don't see that info in the specifications.
Was This Helpful?
Answer:
Hello Dan! The ash in this grill will need to be vacuumed out when the grill is totally cooled.
Question:
Thinking of going from a dedicated smoker to a pellet grill. Sounds like the Victory is best in class for good heavy smoke. Have you found this to be the case?
Was This Helpful?
Answer:
I bought the Victory grill and it was my first pellet grill. I did a lot of research as I was concerned there would not be enough smoke. I have used it several times cooking a beef tenderloin, Cornish hens and pork chops so far. I have not been disappointed. All had good smoke flavor and were moist and tender. I will be trying a brisket soon.
Answer:
I am very pleased so far, I'm going to sell my old smoker now.
Answer:
If heavy smoke is your desire, this is exactly the grill you are looking for. My Son -in - law has a Pit Boss at his home . He came to my cabin and used the Victory Grill . He is absolutely won over to the Victory Grill in all respects . I am a BBQ Guy customer for life !
Answer:
Absolutely ! I just made the change to a pellet smoker.I did a great deal of comparison shopping prior to selecting the Victory 35" Grill. Simply put, it is all I could have hoped for.A great selection for both novice and advanced griller. Simple instructions for assembly, with detailed layout of fasteners…cannot go wrong details even by the beginner. Lots of smoke. Lean on use of pellets. Uncomplicated and simple to monitor during grilling process. I've had friends come over and use this grill. They now prefer it over their own grills produced and manufactured by competitors. I would have no other.
Question:
Is an insulated blanket available as an accessory for cold weather grilling?
Was This Helpful?
Answer:
Hi Z-Man. An insulated blanket is not available for this grill at this time.
Question:
Is it WIFI enabled ?
Was This Helpful?
Answer:
Hi Tim. No, the Victory Pellet grill does not have Wi-Fi functionality at this time.
Question:
Is this a PID controller?
Was This Helpful?
Answer:
Hi Leeroy. Yes, the controller is a PID controller.
Question:
Where is the grease bucket located?
Was This Helpful?
Answer:
Hi Zonie. The grease bucket is on the right side, hanging beneath the main body.
Question:
How does this grill compare to the Traeger Pro 34?
Was This Helpful?
Answer:
Hi Gia. The Victory BBQ-PG pellet grill delivers more bang for your buck, most notably with the trio of convenient shelves and set of tool hooks that aren't included upfront on the Traeger Pro 34. Additionally, Victory's 29-lb. hopper provides a much longer uninterrupted cook than the Traeger Pro 34's 18-lb. hopper.
Question:
Are the shelves shown included on the grill or is that a separate purchase?
Was This Helpful?
Answer:
Hi Jake! Yes, the removable stainless steel side shelf, the front fold-down shelf, and the bottom storage shelf are all included in the price of the grill.
Question:
How many pounds of pellets can the hopper hold?
Was This Helpful?
Answer:
Hello Noah! The hopper holds a whopping 29 lbs. of pellets at once, by far the largest in class. This huge capacity is enough for all-day cooks and then some!
Product

Current Item

Victory 35-Inch Wood Pellet Grill with Front Shelf, 29-Lb Hopper & 16 Gauge Steel Barrel & Cart - BBQPG

Traeger Pro Series 34-Inch Wood Pellet Grill - Bronze - TFB88PZB

Traeger Pro Series 34-Inch Wood Pellet Grill W/ MEATER+ Smart Meat Thermometer

Weber SmokeFire EX6 Gen 2 36-Inch Wi-Fi Enabled Wood Fired Pellet Grill - 23510201

Price & Shipping Information

You Save: $180.00 (20%)

Free Shipping

Leaves Warehouse: 24 Hours

Free Shipping

Leaves Warehouse: 24 Hours

View Item

Free Shipping

Leaves Warehouse: 24 Hours

View Item

You Save: $200.00 (13%)

Free Shipping

Leaves Warehouse: 24 Hours

View Item
ID

3071917

2929855

3080408

3072922

Model Number
BBQ-PG
TFB88PZB
TFB88PZB + meater+
23510201
Class
Entry-Level
Entry-Level
Entry-Level
Practical
Fuel Type
Pellets
Pellets
Pellets
Pellets
Configuration
Freestanding
Freestanding
Freestanding
Freestanding
Exterior Material
Powder Coated Steel
Powder Coated Steel
Powder Coated Steel
Porcelain Coated Steel
Primary Color
Black
Bronze
Bronze
Black
Cooking Grate Material
Porcelain Coated Steel
Porcelain Coated Steel
Porcelain Coated Steel
Plated Steel
Cooking Grid Dimensions
35 X 19 3/4"
34 X 19"
34 X 19"
35 1/4 X 17 1/4"
Main Grilling Area
691 Sq. Inches
646 Sq. Inches
646 Sq. Inches
648 Sq. Inches
Secondary Grilling Area
245 Sq. Inches
238 Sq. Inches
238 Sq. Inches
360 Sq. Inches
Total Grilling Area
936 Sq. Inches
884 Sq. Inches
884 Sq. Inches
1008 Sq. Inches
Burger Count
28
28
28
21
WiFi/Bluetooth Enabled
None
None
None
WiFi & Bluetooth
Grill Lights
None
None
None
None
Spring Assisted Hood
No
No
No
No
Thermometer
Digital
Digital
Digital
SmartPhone App
Side Shelves
Yes
Available
Available
Yes
Side Burner
None
None
None
None
Made In USA
No
No
No
No
Cart Assembly
Some Assembly Required
Some Assembly Required
Some Assembly Required
Some Assembly Required
Commercial-Grade Multi-User
No
No
No
No
Size
Large (34 - 42")
Large (34 - 42")
Large (34 - 42")
Large (34 - 42")
Marine Grade
No
No
No
No
Hopper Capacity
29 Pounds
18 Pounds
18 Pounds
22 Pounds
Max Temperature
500 F
450 F
450 F
600 F
Free Shipping on orders over $49
Ship your entire order to your home for free, especially the big stuff! *Continental US only
When will my item arrive?
Once shipped, items usually arrive within 3-5 business days. While UPS and FedEx are our carriers for smaller items, be aware that larger items and orders are shipped via freight. The freight process is a bit more complicated than what we've all come to expect for small parcels, so it's important that you're prepared and understand what's required of you well before delivery day.
Most freight products ship on a pallet
Some carriers will call to schedule a delivery window, while others will deliver the shipment to a reasonably accessible location closest to your residence (their goal is to deliver as near a garage door as they can).
We'll specify which process you can expect in your shipping confirmation email.
For carriers that schedule delivery appointments:
Carriers that schedule delivery appointments require you to be home for delivery and provide your signature. The delivery is made with a semi-truck with lift gate services, and the shipment is dropped off at the curb. If you authorize the shipping company to leave the delivery without a signature, BBQGuys can't be held responsible for damages that occur during delivery. As complicated as this process may seem, we've only scratched the surface here — please review our detailed guide to freight delivery so there are no surprises when a freight shipment heads your way.
For carriers that deliver without an appointment:
Carriers that deliver without an appointment don't require you to be home or set up a delivery window, and you aren't required to sign for the pallet(s). Instead of scheduling an appointment, arranging your schedule to be home for the delivery, and signing to confirm receipt, you can sit back and let your items come to you. If you're home at the time of the drop-off, you can request the driver place your delivery in the garage; if you're out of the house, the driver will leave it near the garage or doorstep.
This item leaves our warehouse within 24 Hours
$6.95 Flat-Rate Shipping
Anything under $49 ships at one low price. If your order increases, your shipping stays the same!
30-Day Returns
Return all new, unused, and unassembled items in their original packaging, and we'll give you a full refund minus the cost of the original AND return shipping.
No Restocking Fee
Most companies charge a restocking fee. We just don't do business that way.
Message to our customers: Like all retailers and manufacturers, we're currently experiencing well-publicized supply-chain issues and steel shortages that have caused some orders to be delayed. We sincerely apologize for any inconveniences arising from this situation, and we assure you we're making every effort to solve these problems with our vendors and logistical partners.

So, why are some orders being affected? Major ports around the world are still operating at reduced capacity because of COVID-19 restrictions — on average, container boats sit at port for about 3 weeks before being unloaded. Combine these shipping inefficiencies with a scarcity of natural resources, and virtually every industry has been crippled to some degree. Yet we acknowledge that it's our duty to meet these challenges head-on and work toward solutions so you can enjoy more time outdoors with the people you love. We appreciate your patience as we strive to smooth out our supply chain, and we thank you for choosing us for your grilling and outdoor living needs.
Your Shopping History. Pick up where you left off.