Traeger All-New Timberline XL Wi-Fi Controlled Wood Pellet Grill W/ WiFire - TBB01RLG
Free Shipping
As low as $123 /mo with
*
Frequently Bought Together
Key Features
Smart Combustion ensures ultra-consistent burn for perfect results, every time
WiFIRE technology lets you control grill from anywhere
Fully insulated construction for reliable results and maximum efficiency
EZ-Clean Grease+Ash Keg collects grease and ash in one convenient place
Super Smoke Mode cranks up the wood-fired flavor
Discover what outdoor cooking perfected looks like with the all-new Traeger Timberline XL Wood Pellet Grill. The most capable, customizable, and versatile cooking tool ever, the Timberline XL produces perfect results every time and is fully loaded with features that will open your eyes to a whole new world of wood-fired flavor and outdoor cooking possibilities. Fire up a feast, along with drinks and dessert, all on one grill that allows grilling, smoking, baking, roasting, braising, & BBQing - and now sauteing, simmering, and scorching-hot searing, thanks to the new Traeger Induction cooktop. Whether it is slow-smoked meats, gourmet feasts, or wood-fired pizza, the Timberline XL helps you make every meal memorable. WiFIRE technology makes it easy to control your grill from anywhere, whether you are inside watching the game or out on the hiking trail, and ultra-easy cleanup means post-cook cleaning is as convenient as the main event. Fueled by premium all-natural hardwood pellets that infuse your food with amazing flavor, the Timberline XL boasts incredible precision and consistency unrivaled by any other grill and features premium craftsmanship that leaves no detail overlooked.
Legal disclaimers and warnings
Product packaging, owners' manuals, installation instructions, and/or operating instructions may include more information than what is shown on our website. The content on our site is intended to be used for reference purposes only. Please fully read all included manuals and documentation before installing or using this product. WARNING for California residents: this product may contain chemical(s) known to the state of California to cause birth defects, cancer, or other reproductive harm.
Product Information
UPC

634868935374

Model Number

TBB01RLG
Ask an Expert
Buy with confidence.
Contact our experts today.
Specifications
| | |
| --- | --- |
| Class | Premium |
| Fuel Type | Pellets |
| Collection | Timberline |
| Configuration | Freestanding |
| Exterior Material | Powder Coated Steel |
| Primary Color | Black |
| Cooking Grate Material | Stainless Steel |
| Cooking Grid Dimensions | 33 X 18" |
| Main Grilling Area | 594 Sq. Inches |
| Secondary Grilling Area | 363 Sq. Inches |
| Total Grilling Area | 1320 Sq. Inches |
| Burger Count | 26 |
| WiFi/Bluetooth Enabled | WiFi & Bluetooth |
| Grill Lights | Internal / External |
| Spring Assisted Hood | No |
| Thermometer | SmartPhone App |
| Side Shelves | Yes |
| Side Burner | Side Burner |
| Made In USA | No |
| Cart Assembly | Some Assembly Required |
| Commercial-Grade Multi-User | No |
| Size | Medium (27 - 33") |
| Marine Grade | No |
| Hopper Capacity | 22 Pounds |
| Max Temperature | 500 F |
Dimensions
| | |
| --- | --- |
| Width | 71" |
| Depth | 25" |
| Height | 51" |
| Weight | 289 lbs |
Traeger warranties this barbecue grill against rusting through under normal use and maintenance on the body, legs, cabinet doors, bottom shelf, painted shelf/hopper cover for a period of ten (10) years from the date of original purchase. The controller, auger motor, auger, and fan are covered for three (3) years againsts defects in material and manufacturing under normal use and maintenance. The enameled cast iron and stainless steel grates are covered for three (3) years againsts rusting through under normal use and maintenance. The hot rod, pellet sensor, cord, RTD, flame sensor, door sensor, thermocouple, lid gasket, induction knob, and lighting are covered for one (1) year against defects in material and manufacturing under normal use and maintenance. The meat probe and wireless meat probes are covers for one (1) year against rusting through under normal use and maintenance. Labor is not included.

Refer to manufacturers manual for full warranty details.
74% of reviews recommend this product
Customer images featuring this product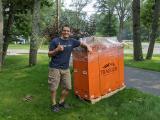 Top of the line

Traeger has taken the new Timberline above and beyond regular smokers. With its versatility and ease of use, it will become your new outdoor kitchen. Smoking, grilling, searing, low and slow, it does it all!

Was This Helpful?

Easy to use

I bought it just before Father's Day and last night I cooked my first brisket which it should be done in about an hour. It stayed at temperature with some fluctuations and the wireless probe connected without a problem. This is an expensive smoker/grill and the real test will be this winter.

Was This Helpful?

It's just awesome

Moving from my first generation to this is like moving from a 72 'vette to a 2022 - they might have the same name, but they are not the same machine. Smoke is better, design is better, the overall functionality is better, and cleanup is so much easier. Brisket, pork butt, burgers, sausage, and more so far. While I am pleased with the performance, it does seem to take more time to get to temperature, but I will gladly take the improved smoke over time to temp.

Was This Helpful?

Best Traeger ever.

This is my 4th Traeger and by far the best. It is so well made, high end parts for sure. Maintains the temperature perfectly.

Was This Helpful?

AMAZING IN SO CAL

THIS SMOKER HAS LIVED UP TO EVERYTHING PROMISED AND THEN SOME! THE APP IS AMAZING! I HAVE DONE RIBS, PORK BUTT, RIB EYES, AND PORK BELLY / CHUCK ROAST BURT ENDS AS OF TO DATE...ONLY 4 WEEKS IN!!! THIS IS A TOTAL OUTDOOR KITCHEN. FOLLOW THE TRAEGER VIDEOS AND YOU WILL GET AMAZING REULTS. I DID NOT USE THE SEASONINGS SOLD BUT DID USE TRAEGER PLELLETS. I WAITED FOR A LONG TIME TO PULL THE TRIGGER ON A TOP OF THE LINE SMOKER AND COULD NOT BE MORE SATISFIED!

Was This Helpful?

Very easy to use : follow the directions

Timberline XL came boxed very well. Instructions via APP were extremely easy to follow. I've done three cooks so far and i can't wait to do more. This grill is so easy to use and the included wireless thermometers make things even easier. You can't mess food up. The grill cover is probably the most heavy duty cover I've seen. I am positive that this grill will last me for a very long time. If you're unsure between the XL and regular, opt for the XL. You'll find things to cook you didn't think you would. A few people have stated that the grill gets above the set temp and i have experienced that but it goes down to what it's preset to in a matter of minutes. One of the PAL rails was missing and through Traeger, they shipped me the piece with no hassle. So far I'm very pleased with the cooking experience and their customer support.

Was This Helpful?

Next level smoking

The Timberline XL is next level when it comes to pellet grills. I went from an ironwood 885 to the timberline xl and it's been a great addition. This thing rolls smoke like no other pellet grill I've seen. Consistent temperature at all ranges and so much room on the grill to cook anything you would like. I can't wait to get more cooks on this thing. I've had it for a little over a week and have used it almost very day. I highly recommend adding the Timberline XL to your outdoor kitchen!

Was This Helpful?

Love it

Have Only been able to use it a few times but I do love it

Was This Helpful?

Amazing!

This machine is expensive. But if you want the best they offer your gonna spend coin. Easy to use. Love the touch screen. Wish MEATER probes were integrated the same way they are in the MEATER app but maybe an update will change that. Love the cabinets under cook area. I will say it doesn't seem like all the ash goes into keg clean out. But def less ash getting in and around food. I would recommend. Fingers crossed have not had any issues with mine.

Was This Helpful?

Wow what an experience

I love this smoker. I've avoided getting one for several years because I thought it would be too much work. I was wrong. It was easy to assemble and even easier to use. I smoked a brisket first thing and loved the flavor of the meat. I'm getting ready to smoke a variety of meats this weekend to share with my family.

Was This Helpful?
By: Chef Tony Matassa
The Skinny:
Unprecedented package of features resets the standard for what a pellet grill can be
Superior insulation and 304-grade stainless steel maximize durability and heat retention
Industry-first induction side cooktop pushes Traeger's cooking versatility to new levels
New EZ-Clean™ components and locking accessory rail system prioritize convenience
Available with a trim kit that lets you seamlessly build the grill into a BBQ island
At this point, Traeger is a brand whose name speaks for itself. It's the company that created the concept of pellet grilling, continued innovating even as it held the patent from 1986 to 2006, and didn't miss a beat as the leader in that space once the competition started heating up. I honestly wasn't sure how much more Traeger could do to impress me, but then I got my hands on the all-new Timberline XL pellet grill. It's an absolute beast that blew me away with thoughtful engineering and never-before-seen features that represent a new era for the industry — proof that the Traeger legacy is alive and well.
I spent a lot of time putting the new Timberline pellet grill through its paces with a mix of data-gathering and real-world grilling tests. Every experiment was geared toward better understanding the grill's quality, performance, and features, which are thoroughly detailed in this all-new Traeger Timberline XL pellet grill review.
Before we begin, I want to point out a few things you should keep in mind while reading. First is that I reviewed the grill in its freestanding configuration, but it can be built into an outdoor kitchen island by simply adding a Timberline trim kit. (Built-in pellet grills are rare and typically come at higher price points, so count this as another major step forward for Traeger.) Additionally, this review covers the Timberline XL TBB01RLG; the revamped line also includes a non-XL model (TBB86RLG) that's identical in everything except size. Also remember that we're talking about the new Traeger Timberline, not the original 1300 and 850 models. If you want details on those grills, take a few minutes to read our original Traeger Timberline pellet grill review.
Quality:
Double-walled insulation, 304-grade stainless steel components, and a fully gasketed hood redefine durability for Traeger.
Benefits
304-grade stainless steel provides top-tier corrosion resistance for all internal parts
Completely double-walled interior is extra-durable and excellent at maintaining heat
10-year warranty on external components is a huge upgrade from past coverage
Though I was eager to get cooking on the new Timberline, I started with a close look at the grill's materials using an XRF analyzer gun that checks for chemical composition. The exterior unsurprisingly registered as 18-gauge, powder-coated steel, the established standard for both Traeger and the pellet-grill industry in general. What's under the hood, however, exceeded my expectations. Every stainless steel component turned out to be 304-grade — a premium, commercial-quality alloy with corrosion resistance that makes it the gold standard among outdoor materials. While Traeger used 304-grade stainless steel for the interior of the original Timberline series, seeing it throughout the new model signals a serious jump in quality.
The thickness of materials (as measured with calipers) is no joke, either: there's an 18-gauge heat shield and EZ-Clean drip tray, 20-gauge interior hood liner, 8mm solid main cooking rods, and 5mm solid secondary cooking grates. For good measure, the entire interior is double-walled to increase longevity and improve heat stability. Even the bottom storage doors are double-walled, a key benchmark for quality grill design. And I'd be remiss if I didn't mention the soft-close hinges, a feature I'm glad is finally taking off in the grilling industry. Finally, the new Timberline has well-designed gaskets completely around the hood, and I appreciate Traeger for going the extra mile with a gasket for the EZ-Clean Grease+Ash Keg.
Now for the warranty. Traeger traditionally offered a flat, 3-year warranty for its pellet grills, but the all-new Timberline series carries a beefed-up 10 years of protection against rust-through on the grill body, legs, cabinet doors, bottom shelf, and painted shelf/hopper cover. Meanwhile, the grates, controller, and auger system are backed by Traeger's usual 3 years of coverage. Traeger extends 1 year of protection for the remaining components and included probes, creating a comprehensive warranty that reflects the Timberline's upper-Premium-class quality.
Performance:
After acing consistency tests at various temperatures, the new Traeger Timberline — induction side burner included — produced wood-fired deliciousness at every turn.
Benefits
Extreme end-to-end evenness at low temperatures, a huge advantage for BBQ smoking
Easily handles all cooking tasks, from an all-day brisket smoke to a grill full of burgers
Side-mounted induction cooktop preheats quickly and performs well at both high and low temps
Considering the first-rate insulation present throughout the grill, I was excited to hook up my thermocouples and see just how evenly it heats the smoking chamber. I conducted tests at 3 different temperatures, using probes spaced across the grates to determine the average heat level at specific settings.
My low-temp test saw the grill set to 250°F for 30 minutes, at which point I observed a grill-wide average of 238°F — pretty dang amazing, and exactly the type of consistency I want for a low-and-slow cook. For the medium-temp test, I left the grill on 350° for 30 minutes as well, conditions that yielded an average of 320°F. That's not as jaw-dropping as the low-temp consistency, but still very good and on par with my commercial oven at home. Lastly, the high-temp test at 500°F produced an average of 443°F after 45 minutes; I'll definitely take that from a pellet grill.
Then we finally got to the good stuff: real-world grilling tests that just so happened to result in dinner for me and our video crew. (Tough job, I know!) To gauge performance on medium-high, I loaded down the Timberline XL's spacious main grilling rack with 28 burger patties and got to work. Predictably, the 30°F average variation I recorded at medium heat during the thermocouple tests didn't affect the cook in any noticeable way. They all came out juicy with decent grill marks, and the lack of hot or cold spots meant I didn't have to do any juggling or shuffling to get them there.
Next was my surf 'n' turf/reverse-sear test, designed to get the induction side burner involved and assess the entire cooking package. I started the beef tenderloins at moderate temperature on the grill alongside some lobster tails, bell peppers, and red onions, letting the thick beef cuts come to temp internally as I preheated Traeger's cast iron skillet on the induction cooktop. The preheat was lightning-fast (more on how it works in the next section), and it helped the cast iron form a beautiful crust on the tenderloins. While the beef rested, I turned the induction burner to low for a quick beurre blanc sauce, and I'm proud to report it performed just as well at delicate temps. Adding such a quick and versatile cooking appliance to an already multi-functional pellet grill really puts the new Traeger Timberline over the top.
Of course, we couldn't test a Traeger pellet grill without a BBQ smoking trial on low settings. What better than an all-day brisket smoke to get the job done? It cruised on remarkably steady temperatures — just like I observed in the low-temp thermocouple test — so at about the 14-hour mark, I added a couple whole chickens, some pork sausage, halved butternut squash, and green apples to see just how much the new Timberline XL could handle at once. The chicken and sausage smoked nicely, with great color and taste; the butternut squash and apples were equally excellent, carrying tons of wood-fired flavor even after I pureed them for a soup; and the brisket? Well, I had to take a moment of silence out of respect for its perfection. All in all, there are few things the Traeger Timberline XL TBB01RLG can't do at the highest level.
Features:
One of the most feature-heavy grills I've ever encountered, the new Traeger Timberline masterfully mixes industry-firsts with proven conveniences for a flawless experience.
Benefits
New EZ-Clean and P.A.L. accessory systems simplify the way you clean and cook
Easy-to-use WiFIRE® controller provides precision, customization, and much more
Large pellet hopper has integrated lights, sensors, and a magnetized top cutting board
You might want to find a comfortable position — this section will probably take a while. Let's start by checking out the new features, beginning with one of my favorites: the Pop-And-Lock ® (or P.A.L.) system. Heavy-duty rails surround the front and sides of the grill, almost like a trim, giving you a place to attach optional Traeger accessories. It not only looks great and has a sturdy build, but also creates a customizable cooking setup. Not to be outdone, the back of the grill has a less-apparent but still-helpful feature: 2 newly added kickstands that fold out to level the unit when necessary.
The grease management system, meanwhile, received a complete redesign that ups the convenience factor. Fanned air around the fire pot moves ash up and onto the EZ-Clean drip pan above the heat shield, allowing you to simply scrape everything off the drip pan, through the left-hand grease tube, and into the EZ-Clean Grease+Ash Keg below. For one final touch of engineering brilliance, the keg locks into place on a flange to ensure the mess always ends up in the disposable keg liner and nowhere else.
Despite touching on the induction side burner in the "Performance" section, it deserves some more shine here. It's the first outdoor-rated induction cooktop I've seen on a grill, and it comes with a metal cover that serves as a backsplash and windbreak when in use, as well as an extra workspace when not. So, why induction heating? In simplest terms, this type of heat transfer uses magnetism and polarity to heat your cooking vessel, making tasks like boiling a pot of water so fast and efficient that you'll start to wonder if there's a tiny magician inside. (There isn't. I checked!)
The 22-lb. capacity on the new Traeger Timberline's pellet hopper is up there with the original models, but the design has been mostly overhauled for greater convenience. For starters, the grill-facing side of the hopper is outfitted with a pair of lights that illuminate the cooking area at night. This is a smart location for lights because they won't get dirty — and therefore less effective — like lighting placed inside the grill hood tends to do. The lights also function as a sensor that notifies the controller when the hood is open, signaling that the system needs to compensate for heat loss. (Generally speaking, the new Timberline XL has the most sensors of any Traeger yet.) Oh, and the top of the hopper houses a magnetic cutting board that pops off for easy cleaning, while the bottom features a release door for dumping pellets into the included container.
That brings me to the brains behind the operation: Traeger's WiFIRE controller. It's extremely user-friendly, with a full-color touch screen and selection knob for programming settings. The display helpfully tracks actual vs. set temperatures, current pellet levels in 5% increments, timers, induction burner controls, and info for paired probes and accessories — all of which can be customized and pinned to the home screen. Additionally, the Wi-Fi controller provides access to probe calibrations and diagnostics for various parts of the grill, a huge advantage for upkeep. Those familiar with Traeger will also be happy to see Super Smoke Mode and Keep Warm Mode, a pair of vital functions for boosting flavor and preserving post-cook quality, respectively. Throw in 2 wired temperature probes along with another pair of MEATER Bluetooth thermometers, and Traeger puts you in total command from the jump.
We're nearing the end, so let's quickly talk about the cooking surface. There are 3 grates in total, offering 1,320 square inches of space for the Traeger Timberline XL and 880 square inches for the non-XL model (both are slightly larger than the original Timberline grills). The top 2 auxiliary racks can be set in any of 5 positions for customized cooking, and I was especially impressed by the slick design that makes them easy to adjust, even when they're loaded with food.
And while this last point doesn't have any bearing on the cooking experience, I've got to mention it: the instructions and packaging are awesome. Traeger includes a thank-you letter, an offer for a free hat, an extremely thorough manual with QR codes that link to how-to videos, and a playfully designed box that the kids can use as a fort once everything's unpacked. None of that may seem like much, but that little-details mentality carries over to every aspect of the Traeger Timberline XL pellet grill — one of the best grills I've had the pleasure of reviewing.
About Chef Tony
How does "trained-chef-meets-mad-scientist" sound? We can think of no better way to describe Chef Tony Matassa, our resident grill expert who literally grew up in the restaurant business — first in his family's New Orleans eatery, then one of his own. With such a strong background in food and commercial-grade cooking, Chef Tony is perfectly suited to judge every grill in our selection.
Question:
Does this grill require a water bin to help create smoke as with most pellet smokers?
Was This Helpful?
Answer:
Hi, Ray. Pellet grills do not require water pans, and most manufacturers would warn against using them in pellet grills because of the electronics.
Question:
The specifications list wood pellets as the fuel, but they are clearly not powering the induction plate or electronics on the grill. Does this grill have a power cord that needs to plug in, and--if so--does it require a specialized outlet or just a normal one?
Was This Helpful?
Answer:
Hello there! This grill does have a power cord, and runs off a standard 120V GFCI outlet.
View Product Comparisons

Current Item

Traeger All-New Timberline XL Wi-Fi Controlled Wood Pellet Grill W/ WiFire - TBB01RLG

Coyote 36-Inch Pellet Grill - C1P36-FS

Traeger Ironwood 885 Wi-Fi Controlled Wood Pellet Grill W/ WiFIRE & Pellet Sensor - TFB89BLF

Traeger Ironwood XL Wood Pellet Grill W/ Pop-And-Lock Accessory Rail - TFB93RLG

Price & Shipping Information

Free Shipping

Leaves Warehouse: 3-4 Weeks

$220.00 (5%)

Free Shipping

Leaves Warehouse: 1-3 Business Days

View Item

$0.04 (0%)

Free Shipping

Leaves Warehouse: 24 Hours

View Item

Free Shipping

Leaves Warehouse: 24 Hours

View Item
ID
#3084095
#3070021
#3065495
#3103832
Model
TBB01RLG
C1P36-FS
TFB89BLF
TFB93RLG
Class
Premium
Luxury
Premium
Practical
Fuel Type
Pellets
Pellets
Pellets
Pellets
Collection
Timberline
—
Ironwood
Ironwood
Configuration
Freestanding
Freestanding
Freestanding
Freestanding
Exterior Material
Powder Coated Steel
Stainless Steel
Powder Coated Steel
Porcelain Coated Steel
Primary Color
Black
Stainless Steel
Black
Black
Cooking Grate Material
Stainless Steel
Stainless Steel
Porcelain Coated Steel
Stainless Steel
Cooking Grid Dimensions
33 X 18"
33 X 18"
30 X 19"
33 X 18"
Main Grilling Area
594 Sq. Inches
594 Sq. Inches
570 Sq. Inches
594 Sq. Inches
Secondary Grilling Area
363 Sq. Inches
214 Sq. Inches
315 Sq. Inches
330 Sq. Inches
Total Grilling Area
1320 Sq. Inches
808 Sq. Inches
885 Sq. Inches
924 Sq. Inches
Burger Count
26
21
24
26
WiFi/Bluetooth Enabled
WiFi & Bluetooth
None
WiFi Only
WiFi & Bluetooth
Grill Lights
Internal / External
Internal / External
None
Internal / External
Spring Assisted Hood
No
Yes
No
No
Thermometer
SmartPhone App
Digital
SmartPhone App
SmartPhone App
Side Shelves
Yes
Yes
Yes
Yes
Side Burner
Side Burner
None
None
None
Made In USA
No
No
No
No
Cart Assembly
Some Assembly Required
Some Assembly Required
Some Assembly Required
Some Assembly Required
Commercial-Grade Multi-User
No
No
No
No
Size
Medium (27 - 33")
Medium (27 - 33")
Medium (27 - 33")
Medium (27 - 33")
Marine Grade
No
No
No
No
Hopper Capacity
22 Pounds
15 Pounds
20 Pounds
22 Pounds
Max Temperature
500 F
700 F
500 F
500 F
Free Shipping on orders over $49
Ship your entire order to your home for free, especially the big stuff! *Continental US only
When will my item arrive?
Once shipped, items usually arrive within 3-5 business days. While UPS and FedEx are our carriers for smaller items, be aware that larger items and orders are shipped via freight. The freight process is a bit more complicated than what we've all come to expect for small parcels, so it's important that you're prepared and understand what's required of you well before delivery day.
Most freight products ship on a pallet
Some carriers will call to schedule a delivery window, while others will deliver the shipment to a reasonably accessible location closest to your residence (their goal is to deliver as near a garage door as they can).
We'll specify which process you can expect in your shipping confirmation email.
For carriers that schedule delivery appointments:
Carriers that schedule delivery appointments require you to be home for delivery and provide your signature. The delivery is made with a semi-truck with lift gate services, and the shipment is dropped off at the curb. If you authorize the shipping company to leave the delivery without a signature, BBQGuys can't be held responsible for damages that occur during delivery. As complicated as this process may seem, we've only scratched the surface here — please review our detailed guide to freight delivery so there are no surprises when a freight shipment heads your way.
For carriers that deliver without an appointment:
Carriers that deliver without an appointment don't require you to be home or set up a delivery window, and you aren't required to sign for the pallet(s). Instead of scheduling an appointment, arranging your schedule to be home for the delivery, and signing to confirm receipt, you can sit back and let your items come to you. If you're home at the time of the drop-off, you can request the driver place your delivery in the garage; if you're out of the house, the driver will leave it near the garage or doorstep.
This item leaves our warehouse within 3-4 Weeks
$6.95 Flat-Rate Shipping
Anything under $49 ships at one low price. If your order increases, your shipping stays the same!
30-Day Returns
Return all new, unused, and unassembled items in their original packaging, and we'll give you a full refund minus the cost of the original AND return shipping.
No Restocking Fee
Most companies charge a restocking fee. We just don't do business that way.
Message to our customers: Like all retailers and manufacturers, we're currently experiencing well-publicized supply-chain issues and steel shortages that have caused some orders to be delayed. We sincerely apologize for any inconveniences arising from this situation, and we assure you we're making every effort to solve these problems with our vendors and logistical partners.

So, why are some orders being affected? Major ports around the world are still operating at reduced capacity because of COVID-19 restrictions — on average, container boats sit at port for about 3 weeks before being unloaded. Combine these shipping inefficiencies with a scarcity of natural resources, and virtually every industry has been crippled to some degree. Yet we acknowledge that it's our duty to meet these challenges head-on and work toward solutions so you can enjoy more time outdoors with the people you love. We appreciate your patience as we strive to smooth out our supply chain, and we thank you for choosing us for your grilling and outdoor living needs.
Your Shopping History. Pick up where you left off.