Traeger Pro Series 34-Inch Wood Pellet Grill - Bronze - TFB88PZB
was

$699.95

14% off ($100.00)
Free Shipping
As low as $53 /mo with
*
Professional Grill Assembly for $99
Book a professional to help assemble this grill for only $99. All bookings and inquiries are handled by Handy.
Frequently Bought Together
Key Features
New sawhorse cart style for stability and large side lift bar for even weight distribution when moving
Versatile grill allows you to smoke, grill, bake, roast or braise for multiple cooking options
Digital Pro controller keeps the preset temperature within +/- 15 degrees Fahrenheit for precision cooking
Dual probe meat thermometers allow you to grill different cuts of meat to different temperatures
Large capacity hopper (18 pounds) features a clean out for quickly changing smoke flavors
Take your wood-fired skills to the next level with the Traeger Pro 34
Big Enough to Take On Any Grilling or Smoking Challenge
With more precise temperature control, rugged all-terrain wheels, and a stronger body, The Pro Series 34 gets it done. the Pro series 34 pellet grill is constructed with a stamped bronze lid, and powder-coated steel, and boasts 36,000 BTUs of cooking power. The main grilling rack is 34 X 19 inches of porcelain coated grilling surface accompanied by a 34 X 7-inch extra grill rack for a total cooking area of 884 square inches, letting you cook a full meal all at one time.
Low and Slow or Searing Hot
The versatility of this pellet grill allows you to smoke at temperatures as low as 180 degrees and then crank it up to 450 degrees to sear to perfection. The natural airflow inside of the grill allows for convection cooking, so you can bake a pizza right on your grill and do not have to turn your meat, unless cooking at high temperatures or if you want even grill marks.
Digital Pro Controller with Dual Meat Probes
The Digital Pro controller displays the temperature inside the grill on the bright blue LED panel and is monitored by a resistance temperature detector (RTD) probe which takes 60 readings per minute to maintain the preset temperatures within 15 degrees. Dual meat probes give you perfect temperature readings on two items at once.
Easily Start the Grill, Easily Change Pellet Flavors
The Pro series also adds a clean-out to the hopper, allowing you to change the smoke flavor of the pellets while grilling quickly. Traeger grills feature an auto-start system that is simple and safe to use. When you turn on the grill, the auger begins to feed pellets into the firepot while the draft induction fan feeds air into it. The igniter rod is activated and glows red hot for the first four minutes to ignite the pellets in the firepot.
Pellets Burn Efficiently in a Grill Designed for Versatility
These cost-effective pellets burn at a rate of only 2 lbs per hour on high heat, 1 lb per hour on medium heat, and only 1/2 lb per hour when smoking. This energy-efficient grill runs off of a standard 110-volt outlet. The Pro series also features a sawhorse chassis and a lift bar on the side of the barrel, allowing you to easily move the grill around on the patio. The proprietary design and thick legs make the grill more maneuverable while the large, all-terrain wheels help the grill roll quietly.
Traeger Pro 34 FAQ
Can you smoke on a Traeger Pro 34?
You can smoke on the Pro 34 like a...well, like a pro! Able to hold temperatures as low as 180, and with 884 square inches of cooking surface, the Pro 34 has what it takes to smoke almost anything, and it's so easy to use!
Does the Traeger Pro 34 have wifi?
The Pro 34 is not a WiFi-enabled grill. However, it does include Traeger's Digital Pro controller that displays your temperatures on a bright blue LED, and maintains the preset temperatures within 15 degrees.
Can you sear on a Traeger Pro 34?
The Pro 34 can generate temps as high as 450 degrees, which is in the recommended range for grilling steaks. The Pro 34 gives you a good sear, though it probably isn't hot enough to give you a black and blue Pittsburgh-style steak.
How much can you fit on a Traeger Pro 34?
With 884 square inches of cooking surface (34 x 19), you can grill about 28 burgers at one time. That's also enough room for a good-sized brisket or quite a few ribs.
Legal disclaimers and warnings
Product packaging, owners' manuals, installation instructions, and/or operating instructions may include more information than what is shown on our website. The content on our site is intended to be used for reference purposes only. Please fully read all included manuals and documentation before installing or using this product. WARNING for California residents: this product may contain chemical(s) known to the state of California to cause birth defects, cancer, or other reproductive harm.
Product Information
UPC

634868920387

Model Number

TFB88PZB
Specifications
| | |
| --- | --- |
| Class | Entry-Level |
| Fuel Type | Pellets |
| Collection | Pro |
| Configuration | Freestanding |
| Exterior Material | Powder Coated Steel |
| Primary Color | Bronze |
| Cooking Grate Material | Porcelain Coated Steel |
| Cooking Grid Dimensions | 34 X 19" |
| Main Grilling Area | 646 Sq. Inches |
| Secondary Grilling Area | 238 Sq. Inches |
| Total Grilling Area | 884 Sq. Inches |
| Burger Count | 28 |
| WiFi/Bluetooth Enabled | None |
| Grill Lights | None |
| Spring Assisted Hood | No |
| Thermometer | Digital |
| Side Shelves | Available |
| Side Burner | None |
| Made In USA | No |
| Cart Assembly | Some Assembly Required |
| Commercial-Grade Multi-User | No |
| Size | Large (34 - 42") |
| Marine Grade | No |
| Hopper Capacity | 18 Pounds |
| Max Temperature | 450 F |
Dimensions
| | |
| --- | --- |
| Width | 53" |
| Depth | 27" |
| Height | 49" |
| Weight | 136 lbs |
Traeger warrants their pellet grills to be free from defects in materials and workmanship for a period of three years from the date of purchase.

Refer to manufacturers manual for full warranty details.
87% of reviews recommend this product
Customer images featuring this product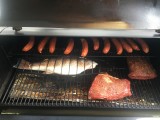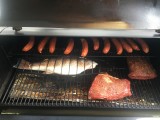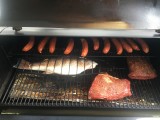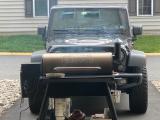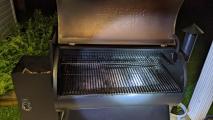 Best Grill Ever

I bought my Pro 22 4 to 5 yrs ago and LOVE it. If it brought down anytime soon, I would another one immediately. Food is great

Was This Helpful?

Worth every penny

Wife bought me the Pro Series 34 and never looked back. It's so easy to use it's not even funny. It actually makes cooking enjoyable. First time I smoked some chicken breasts and turned out great. Next up was the brisket and for the first time smoking a brisket it turned out pretty darn good. You have to do your homework to make sure you cook these items. Steak, burgers and just did a pork tenderloin and it's one of those grills where I can't wait to cook again doing something new.

Was This Helpful?

pro series 34 awesome smoker

My wife and I brought out Smoker 10yrs ago We use it all year round. we had people here for holiday's and they love the taste of the food they keep coming back. Can't say enough of our smoker. But I as in me, did something wrong, and it caught on fire. I can't believe it all the years we kept up on it cleaned it cover it and kept it out of the weather. So, keep up on your smoker don't say I'll get to it the next time. Or you can do what I did and watch 10yrs of a great smoker go up in smoke. What a bummer. It takes less than a half hour to maintain your smoker Now to buy a new Traeger.

Was This Helpful?

Love it! Everything you need

I totally love this pellet grill. Best burgers, ribs & brisket.

Was This Helpful?

Another fantastic buy

This is my third Traeger and every one of them is fantastic. Different uses for each smoker, this time I can fit 4 brisket in at 1 time. They smoke evenly each and every time. You can't find a better smoker, that does a better job.

Was This Helpful?

Excellent Smoker/Grill (but not a reverse searer)

Purchased a Pro Seires 34 in June 2020 and have had no issue with it's performance and am still amazed at the cooking capability. It is an excellent smoker and smoker oven. I've not been able to do a true reverse sear on steaks but slow cooking anything on this is a snap. Yes, you may have temp fluctuations (it's not like your inside oven keeping an exact even temperature throughout the entire cooking cycle) but cooking low and slow is the way to go anyway. I've found on some cooking receipes I just need to plan on a longer cooking time. And you may want to complete your grilling reverse sear on another cooking devise. Cooked meat, potatoes, scalloped potatoes, mac & cheese, more meat and then some meat on this machine and have NOT been disappointed any over the nearly 2 years I've had it. I start everything on "Smoke" for a good smoke flavor then adjust up to the temp I want to finish cooking at without ever having that heavy smoke flavor. Clean it every so often and put foil over the stainless cooking grate for easier grease cleanup (it's still a mess but easier). It did take me a few times to become familiar with the unit but now I feel like a seasoned smoking guru!

Was This Helpful?

Works great

I bought this about 2 years ago. I've cooked approximately 30 brisket. Never any problem. I read people complain about high end temp not hot enough. This is a smoker. Not sure why anyone would buy to try to sear a steak with it. Temp control is plus or minus 12 degrees which is good enough for me. I use my traeger most every weekend. Cook times are 6 hours to 16 hours each time. Not a single problem. I would buy another in a second. P.S. I use a charcoal grill to sear a steak. I reverse sear steaks.

Was This Helpful?

Absolutely the best model 34

Great pellet grill love this so easy to use have cooked several different meats including 4 Boston butts with great success love it

Was This Helpful?

Ten years old!

I've had my Traeger first generation for over ten years. Still works but it went with the restaurant when I recently sold. Needed a part or two (mailed for me to install at no cost). I used it once a week for ten years. Just keep it clean and vacuumed out. I really don't understand the one star comments. Traeger has always been responsive when I call for troubleshooting. Anyway it has moving parts...try a little harder to get your problems resolved.

Was This Helpful?

I love it

I have had mine for a year or so and I am constantly using it, mostly with great results. But I will go along with gina h. if mine didn't have the small casters I wouldn't be able to use it. I am only 62 but a few years ago I was in a bad auto accident. now i have 2 bad knees and a bad hip. If i have to replace this smoker I'll go to one that I can move, you may loose a customer. Think of your customers and put the casters back on if you haven't already. But seriously for my experience this is a great grill

Was This Helpful?
The Skinny:
The original wood-fired pellet grill brand
Excellent value for the price
Design gives you more grilling space
Dual probe meat thermometers
Convenient grease management system
Things We Love:
Designed after traditional offset wood smokers, Traeger Pro Series pellet grills and smokers feature a barrel design, side hopper and smoke stack that gives this grill a classic look amd maximizes cooking space, giving you the ability to cook large amounts of food at once. Traeger's first generation Pro Series grills are available in 2 models: the Pro 22 and the Pro 34. For more information on Traeger's newest generation of Pro Series grills, check out our expert review on the Pro 575 and Pro 780.
The Pro Series adds a removable warming rack and easy, clean-out hopper, allowing you to change pellet flavors while cooking. The Pro Series 22 and 34 give you built-in, dual-probe thermometers, allowing you to monitor the temperature of two different meats at once on the grill. Inside the grill, the temperature is constantly monitored by the controller, keeping the set cooking temperature within +/- 15 degrees at all times.
Traeger Pro is offered in blue or bronze colors, and features a great looking logo-stamped lid. The grill has an easy-to-use thermostat with auto-start, that allows you to simply power up the grill, set the dial to your desired temperature and walk away. The blue LED display allows you to easily read and monitor the temperature while cooking. The grills' saw-horse design and all terrain wheels add durability and toughness to grill.
Traeger offers several great grill accessories that will allow you to customize your pellet grill for added versatility. Some of their most popular accessories are the folding front shelves and bottom cart shelves. Traeger also offers some pretty cool grilling tools like digital thermometers, chicken thrones, and grill racks.
Things To Consider:
While Traeger will definitely get the job done when it comes to cooking, the Pro Series maximum temperature is 450 degrees, while other pellet grill brands can get as high as 700 degrees.
Question:
What is the thickness of the metal?
Was This Helpful?
Answer:
Hi Dale. The steel in the body of the Traeger Pro Series 34" pellet grill is approximately 1.5mm thick.
Question:
What is the cooking height on these grills?
Was This Helpful?
Answer:
32" for the main grate and 35" for the upper/rear vegetable grate.
Question:
How long does it take to heat up to grilling temperatures (350/400 degrees)? Curious how it compares to a gas grill.
Was This Helpful?
Answer:
About10 - 15 minutes About the same
Question:
Can you fit a full hog on the grill? Also is this model the same as the century 34 ?
Was This Helpful?
Answer:
Hello. It depends on the size. The surface area of the main grate is 34" X 19", but the entire height of the barrel is not available for space, as about half of it is taken up by the equipment in the bottom.
Question:
what are the main differences between a pellet grill and a pellet smoker
Was This Helpful?
Answer:
Hi Tom. Typically a smoker will specialize in lower temperature, longer cooks rather than the higher temperatures and more varied cooking spaces you would find in a grill. However most pellet grills can perform the functions of a smoker. They may not have as good of insulation or sealing as a smoker.
Question:
Can you char, & sear steaks with this grill?
Was This Helpful?
Answer:
Hi Donna, thanks for asking. Yes, this grill reaches up to 450 Degrees F, great for getting the perfect sear marks on your meats.
Question:
Do I have to put the grill together?
Was This Helpful?
Answer:
Hi Joni! Yes, there is some assembly required, but it does come with detailed instructions and illustrations.
Question:
Can a pro 34 be wifi enabled?
Was This Helpful?
Question:
gave pro 34 as a gift and my son was cooking steaks as the first meal and the temp is only 450. any way to get the temp hotter
Was This Helpful?
Answer:
Hi J - 450 F is the maximum temperature.
Question:
Can you use an extention cord? If so what gage.
Was This Helpful?
Answer:
Hi Lisa! Yes, you can use an extension cord. The manufacturer recommends at least a 16 gauge extension cord. Should you need it for longer distances, you should use a 12 gauge cord. The grill comes with a 6 foot cord.
Product

Current Item

Traeger Pro Series 34-Inch Wood Pellet Grill - Bronze - TFB88PZB

Victory 35-Inch Wood Pellet Grill with Front Shelf, 29-Lb Hopper & 16 Gauge Steel Barrel & Cart - BBQPG

Weber SmokeFire EX6 Gen 2 36-Inch Wi-Fi Enabled Wood Fired Pellet Grill - 23510201

Green Mountain Grills Peak Prime Plus WiFi Pellet Grill

Price & Shipping Information

Free Shipping

Leaves Warehouse: 24 Hours

Free Shipping

Leaves Warehouse: 24 Hours

View Item

Free Shipping

Leaves Warehouse: 24 Hours

View Item

Free Shipping

Leaves Warehouse: 3-5 Business Days

View Item
ID

2929855

3071917

3072922

3084194

Model Number
TFB88PZB
BBQ-PG
23510201
Peak
Class
Entry-Level
Entry-Level
Practical
Practical
Fuel Type
Pellets
Pellets
Pellets
Pellets
Collection
Pro
—
SmokeFire
Prime
Configuration
Freestanding
Freestanding
Freestanding
Freestanding
Exterior Material
Powder Coated Steel
Powder Coated Steel
Porcelain Coated Steel
Powder Coated Steel
Primary Color
Bronze
Black
Black
Black
Cooking Grate Material
Porcelain Coated Steel
Porcelain Coated Steel
Plated Steel
Stainless Steel
Cooking Grid Dimensions
34 X 19"
35 X 19 3/4"
35 1/4 X 17 1/4"
37 7/8 X 16 1/2"
Main Grilling Area
646 Sq. Inches
691 Sq. Inches
648 Sq. Inches
—
Secondary Grilling Area
238 Sq. Inches
245 Sq. Inches
360 Sq. Inches
—
Total Grilling Area
884 Sq. Inches
936 Sq. Inches
1008 Sq. Inches
625 Sq. Inches
Burger Count
28
28
21
24
WiFi/Bluetooth Enabled
None
None
WiFi & Bluetooth
WiFi & Bluetooth
Grill Lights
None
None
None
Internal
Spring Assisted Hood
No
No
No
No
Thermometer
Digital
Digital
SmartPhone App
SmartPhone App
Side Shelves
Available
Yes
Yes
Yes
Side Burner
None
None
None
None
Made In USA
No
No
No
No
Cart Assembly
Some Assembly Required
Some Assembly Required
Some Assembly Required
Some Assembly Required
Commercial-Grade Multi-User
No
No
No
No
Size
Large (34 - 42")
Large (34 - 42")
Large (34 - 42")
Large (34 - 42")
Marine Grade
No
No
No
No
Hopper Capacity
18 Pounds
29 Pounds
22 Pounds
18 Pounds
Max Temperature
450 F
500 F
600 F
550 F
This product can expose you to chemicals including, diisononyl phthalate which is known to the State of California to cause cancer, and carbon monoxide, a by-product of combustion from this product, which is known to the State of California to cause birth defects or other reproductive harm. For more information go to www.P65Warnings.ca.gov.
Free Shipping on orders over $49
Ship your entire order to your home for free, especially the big stuff! *Continental US only
When will my item arrive?
Once shipped, items usually arrive within 3-5 business days. While UPS and FedEx are our carriers for smaller items, be aware that larger items and orders are shipped via freight. The freight process is a bit more complicated than what we've all come to expect for small parcels, so it's important that you're prepared and understand what's required of you well before delivery day.
Most freight products ship on a pallet
Some carriers will call to schedule a delivery window, while others will deliver the shipment to a reasonably accessible location closest to your residence (their goal is to deliver as near a garage door as they can).
We'll specify which process you can expect in your shipping confirmation email.
For carriers that schedule delivery appointments:
Carriers that schedule delivery appointments require you to be home for delivery and provide your signature. The delivery is made with a semi-truck with lift gate services, and the shipment is dropped off at the curb. If you authorize the shipping company to leave the delivery without a signature, BBQGuys can't be held responsible for damages that occur during delivery. As complicated as this process may seem, we've only scratched the surface here — please review our detailed guide to freight delivery so there are no surprises when a freight shipment heads your way.
For carriers that deliver without an appointment:
Carriers that deliver without an appointment don't require you to be home or set up a delivery window, and you aren't required to sign for the pallet(s). Instead of scheduling an appointment, arranging your schedule to be home for the delivery, and signing to confirm receipt, you can sit back and let your items come to you. If you're home at the time of the drop-off, you can request the driver place your delivery in the garage; if you're out of the house, the driver will leave it near the garage or doorstep.
This item leaves our warehouse within 24 Hours
$6.95 Flat-Rate Shipping
Anything under $49 ships at one low price. If your order increases, your shipping stays the same!
30-Day Returns
Return all new, unused, and unassembled items in their original packaging, and we'll give you a full refund minus the cost of the original AND return shipping.
No Restocking Fee
Most companies charge a restocking fee. We just don't do business that way.
Message to our customers: Like all retailers and manufacturers, we're currently experiencing well-publicized supply-chain issues and steel shortages that have caused some orders to be delayed. We sincerely apologize for any inconveniences arising from this situation, and we assure you we're making every effort to solve these problems with our vendors and logistical partners.

So, why are some orders being affected? Major ports around the world are still operating at reduced capacity because of COVID-19 restrictions — on average, container boats sit at port for about 3 weeks before being unloaded. Combine these shipping inefficiencies with a scarcity of natural resources, and virtually every industry has been crippled to some degree. Yet we acknowledge that it's our duty to meet these challenges head-on and work toward solutions so you can enjoy more time outdoors with the people you love. We appreciate your patience as we strive to smooth out our supply chain, and we thank you for choosing us for your grilling and outdoor living needs.
Your Shopping History. Pick up where you left off.