Traeger Ironwood 885 Wi-Fi Controlled Wood Pellet Grill W/ WiFIRE, Pellet Sensor, Front Shelf & Grill Cover - TFB89BLF + BAC442 + BAC513
was

$1,679.89

0% off ($0.04)
Free Shipping
As low as $78 /mo with
*
Professional Grill Assembly for $99
Book a professional to help assemble this grill for only $99. All bookings and inquiries are handled by Handy.
Frequently Bought Together
Key Features
Downdraft exhaust system keeps more smoke in the grill and helps maintain an even temperature efficiently
Extra large capacity hopper holds up to 20 lbs of Traeger hardwood pellets at once for extended cooking time
D2 direct drive features the first built-to-last, brushless motor in the industry, as well as a variable speed fan
Monitor your Traeger wirelessly using the Traeger smart phone app
Includes a pellet sensor, folding front shelf, and custom cover designed to fit the Traeger Ironwood 885 for a complete grill set
Elevate your craft with the Traeger Ironwood 885. Grill more food and enjoy more versatility with 885 square inches of cooking area. The bottom cooking grate can be lowered for searing juicy steaks, or raised for grilling. TRU Convection system and Traeger Downdraft Exhaust system, fully circulate fresh blue smoke keeping smoke in the chamber longer, as well as maintaining an even heat and increasing the efficiency of the grill. The D2 Direct Drive drivetrain technology makes the Ironwoods more durable, with the DC brushless motor, and also increases the efficiency of the grill with Turbo Temp fast start-up, and the variable speed fan. The Keep Warm mode lets you decide when you are ready to eat, not when the food is ready. The Ironwood also features double side walled insulation for better temperature control. An easy to use control panel & digital display gives you full control with a navigation dial and dedicated buttons for creating custom cook cycles and quick access to handy functions like keep warm mode and Super Smoke Mode, amping up the flavor with the push of a button. Tired of babysitting your grill? Try out the WiFIRE controller to change the temperature, set timers, and access thousands of Traeger recipes using the Traeger app and your smart phone (available for iOS & Android devices). Comes with a built-in Traeger Pellet Sensor, which monitors the level of pellets in your hopper and alerts you with app notifications when it is time to refuel. The included meat probe stores above the control panel for quick access, easily connecting to a dedicated control panel port for precise monitoring. There's no shortage of food prep convenience with a stainless steel side shelf with BBQ tool hooks and a full-length folding front-shelf. Keep the fire burning with a large capacity pellet hopper, holding up to 20 pounds of Traeger hardwood pellets. A hopper clean-out door lets you quickly empty contents for cleaning and swapping out flavors. Tucked away out of sight, is a concealed grease pan that slides out for easy cleanup. The Ironwood is built to outlast the competition from the ground up with a rock-solid sawhorse-style chassis, all-terrain wheels, heavy-duty locking casters and black powder coat finish. The Traeger Ironwood 885 has a temperature range of 165-500 degrees Fahrenheit.
Grill Dimensions: 54 Inches W x 27 Inches D x 48 Inches H
Legal disclaimers and warnings
Product packaging, owners' manuals, installation instructions, and/or operating instructions may include more information than what is shown on our website. The content on our site is intended to be used for reference purposes only. Please fully read all included manuals and documentation before installing or using this product. WARNING for California residents: this product may contain chemical(s) known to the state of California to cause birth defects, cancer, or other reproductive harm.
Product Information
Model Number

TFB89BLF + BAC442 + BAC513
Ask an Expert
Buy with confidence.
Contact our experts today.
| | |
| --- | --- |
| Class | Premium |
| Fuel Type | Pellets |
| Collection | Ironwood |
| Configuration | Freestanding |
| Exterior Material | Powder Coated Steel |
| Primary Color | Black |
| Cooking Grate Material | Porcelain Coated Steel |
| Cooking Grid Dimensions | 30 X 19" |
| Main Grilling Area | 570 Sq. Inches |
| Secondary Grilling Area | 315 Sq. Inches |
| Total Grilling Area | 885 Sq. Inches |
| Burger Count | 24 |
| WiFi/Bluetooth Enabled | WiFi Only |
| Grill Lights | None |
| Spring Assisted Hood | No |
| Thermometer | SmartPhone App |
| Side Shelves | Yes |
| Side Burner | None |
| Made In USA | No |
| Cart Assembly | Some Assembly Required |
| Commercial-Grade Multi-User | No |
| Size | Medium (27 - 33") |
| Marine Grade | No |
| Hopper Capacity | 20 Pounds |
| Max Temperature | 500 F |
Traeger warrants their pellet grills to be free from defects in materials and workmanship for a period of three (3) years from the date of purchase.

Refer to manufacturers manual for full warranty details.
88% of reviews recommend this product
Customer images featuring this product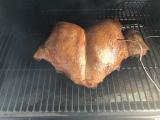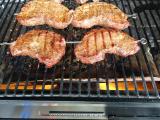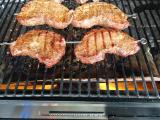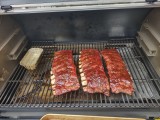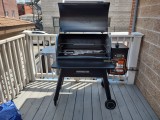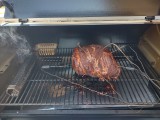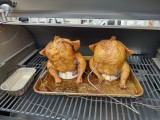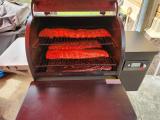 Outstanding Supporting/Customer Service

I had an issue with my grill and the customer service was just phenomenal. They addressed my needs and totally do the right thing! Would recommend Traeger to all my family and friends.

Was This Helpful?

Superb and easy to use

Bought the treater 650 and it's been the best purchase of the year! Easy to use with the best tasting meat I have ever had

Was This Helpful?

Great all around grill and smoker!

Have had my Ironwood 650 for about a year. Have had no problems with it. Works great and food comes out good every time. Love the super smoke feature. This is my second Traeger. Upgraded from a smaller one and plan to be in the Traeger family for a long time. My Traeger rep is great! We love it!

Was This Helpful?

Service is above and beyond!!

I purchased a BBQ075 more than 13 years ago and every time I have a problem Traeger stands behind it. My control unit broke a month ago and Treager sent me a control unit that is compatible for the 075, but the opening on the 075 is just a little too small to receive the new unit. Traeger is sending me a new hopper that will be able to mount the new controller, free of charge. They always go above and beyond. Adrian Huff

Was This Helpful?

Finally!

If you are on the fence about getting a Traeger, just do it. You wont regret it! This grill is super easy to use and the results are delicious!

Was This Helpful?

Excellent buy I'm a fan for life!!!

I've had my 650 for 3 years no rust no problems I have replaced the probes only it still works great!! Well worth the money and more than enough room for a lot of meat. Even the cover is still going strong faded a bit but still solid 👍🏼

Was This Helpful?

Get a Traeger!!

What a great machine! Well built, easy to put together, rock solid performance and ease of use. I have recommended Traeger so many people in the short time since starting my journey with my Ironwood. I only wish I had bought the larger model as I'm so anxious to expand the volume I am doing. I've never wanted to smoke due to the monitoring of the process..... Traeger takes the need to babysit your cook away. The phone app is exceptional!

Was This Helpful?

My newest smoker

Like the upgrades...improved liner, new fan is much quieter, pellet sensor is a plus, already used it to avoid an early shutdown on a brisket. Already purchased and added a front folding shelf, and cover. Love it!

Was This Helpful?

Worth the extra price!

More expensive than the competition but worth it. The quality and ease of use is worth the extra money.

Was This Helpful?

Perfect and easy to set up and use!

Awesome smoker/ grill. Perfect packaging and easy to set up right out of the box.

Was This Helpful?
The Skinny:
D2 Direct Drive technology powers one of the most efficient pellet grills around
Remarkably consistent temperatures across both high and low heat settings
WiFIRE controller integrates with the Traeger App for wireless monitoring
Double-lined interior insulates heat to keep temperatures on target
Built-in pellet sensor alerts you well before running out of fuel
The world's first wood-fired pellet grill brand has once again redefined itself with a feature-friendly series that's as convenient as it is consistent.
More than 30 years passed between the debut of Traeger's original pellet grill and the unveiling of the Traeger Ironwood series. After getting our hands on them, we think these pellet grills were well worth the wait. Traeger's entry into Premium-class grilling lives up to its billing across the board, from even heat and on-target temperature to the high degree of quality we've come to expect from the original pellet grill brand. The standout feature, though, is Traeger's innovative D2 Direct Drive system that serves as the brains behind the entire operation: super-fast startup, incredible efficiency, and convenient cooking modes that stretch the definition of "fine-tuning."
We set Chef Tony loose on a Traeger Ironwood 885 (named for the square inches of cooking space within) to collect the findings detailed in this review. As with every product we inspect, Chef Tony quantified its quality, performance, and features through a series of tests designed to push the grill to its limits. He came away impressed on every front, a telling sign that Traeger Ironwood pellet grills are worthy heirs of the Traeger name.
Quality:
The materials used in construction are exactly what we're used to seeing from an industry leader like Traeger.
Traeger set the standard for quality in the pellet grill industry, so Chef Tony wasn't surprised to discover the Ironwood is a well-built machine. The exterior is constructed from 13-gauge, powder-coated steel, which is appropriately thick for a Premium pellet grill. Both the 5mm main cooking grates and 4mm secondary cooking grates are made of solid steel that's been coated in porcelain, a material that protects the metal underneath while also making it easier to clean.
Several internal components are forged from cold-rolled steel, lending them enhanced strength and a smooth finish. Traeger gave this treatment to the 24-gauge interior double lining, the 20-gauge flame diffuser above the fire pot, and the 18-gauge drip tray. Chef Tony was also pleased to see 304-grade stainless steel, the top material in terms of outdoor longevity, used for the side shelf. Despite building the Ironwood series with various types of steel, all parts are covered by a 3-year warranty.
Performance:
Strikingly accurate temperatures, even heat distribution, and quick startup make the Traeger Ironwood a force to be reckoned with.
When it comes to pellet grills, performance is all about how close the temperature is to your desired setting, as well as the evenness of that temperature across the cooking surface. This just so happens to be where Traeger Ironwood pellet grills truly shine. Whether cruising on the low end or pushing the max temperature of 500°F, our grill expert found temperatures to be stable and on-target.
To gauge performance, Chef Tony placed thermocouples in various spots within the grill and averaged their readouts at different temperature settings. (Remember, pellet grills are basically ovens that cook with wood fire, so ambient temperature is a more relevant data point than heat in specific spots.) For tests conducted at both high and low heat, Chef Tony found that the average temperature was never more than 12°F off from the set temperature on the control panel. That's the kind of worry-free consistency we look for in pellet grills. Preheat times from the highly touted Turbo Temp fast startup function were equally impressive: the grill reached smoking temperatures in about 8–9 minutes, and sprinted to high heat in only 12–15 minutes.
Chef Tony then conducted cooking tests aimed at getting more tangible (and, in his case, tasty) results. First up were short ribs smoked at low temperatures via a pre-loaded recipe in the Traeger App (more on this in the "Features" section). The Ironwood executed the recipe to perfection, but that's the kind of stuff pellet grills are made for. Next came a batch of burgers, each of which turned out identical in a testament to the grill's even heat. One final hurdle remained: a reverse-seared steak using both grates. Though pellet grills are primarily designed for slow-cooking on lower heat, the results of the reverse-sear were about as excellent as Chef Tony would expect from a traditional high-heat grill. Our expert summed up the Traeger Ironwood's performance as follows: "Not only were there no hiccups, but I had plenty of even heat."
Features:
Traeger's sophisticated D2 drivetrain, wireless compatibility, and pellet sensor make operation seamless — even by pellet grill standards.
The premium features are all there, but we'd be doing Traeger Ironwood grills a disservice if we didn't lead off with the D2 Direct Drive system. This next-level drivetrain includes a variable-speed fan and industry-first brushless motor, which combine to deliver several of the "slick" features that caught Chef Tony's eye. In addition to powering the Turbo Temp startup covered in the previous section, the D2 drivetrain brings with it a throttle-down function that senses when the lid is up. Why does that matter? Most pellet grills interpret an open lid as rapid temperature loss and respond by feeding more fuel into the fire pot. Next thing you know, you've closed the lid and temperatures are as much as 200° above what you intended. Not so with the Traeger Ironwood. Rounding out the D2 Direct Drive's impressive capabilities are Super Smoke Mode and Keep Warm Mode, the latter of which is a traditionally commercial feature that drops temperatures to 165°F until you're ready to eat.
That's a lot of work behind the scenes, though there are a few features that make themselves known with helpful alerts. The first is the WiFIRE controller that connects to the Traeger App to keep you updated on your cook without babysitting the grill. Thanks to this wireless technology, you can access thousands of recipes, choose from standard cook modes, control temperatures, and monitor pellet volume straight from your smartphone. Chef Tony was particularly pleased with the notifications from the in-hopper pellet sensor — he knew he was low on pellets roughly an hour before running out, which gave him more than enough time to refuel without losing steam on his short ribs cook. The hopper itself has a 20-pound capacity for extended sessions, along with a quick-change trapdoor that lets you swap wood pellets flavors in a flash.
With the tech side taken care of, Traeger made sure to include a handful of practical features that enhance grilling experience. The pair of grill grates, for instance, can be set at different levels for different cooking styles; Chef Tony used the higher position for roasting burgers, and the lower position for the final portion of his reverse-sear. When not in use, the secondary grate slips out of sight onto brackets on the rear of the grill. Similarly, the stainless steel side shelf includes tool hooks to keep your grilling utensils nearby. And Chef Tony will be the first to admit he nearly overlooked the all-terrain wheels — until he had to move the grill a few hundred yards over mud and rocks, that is. But at that point, he knew Traeger had already thought of everything.
WARNING: This product can expose you to chemicals including diisononylphthalate, which is known to the State of California to cause cancer, and carbon monoxide, a byproduct of combustion from this product, which is known to the State of California to cause birth defects or other reproductive harm. For more information, go to www.P65Warnings.ca.gov.
Free Shipping on orders over $49
Ship your entire order to your home for free, especially the big stuff! *Continental US only
When will my item arrive?
Once shipped, items usually arrive within 3-5 business days. While UPS and FedEx are our carriers for smaller items, be aware that larger items and orders are shipped via freight. The freight process is a bit more complicated than what we've all come to expect for small parcels, so it's important that you're prepared and understand what's required of you well before delivery day.
Most freight products ship on a pallet
Some carriers will call to schedule a delivery window, while others will deliver the shipment to a reasonably accessible location closest to your residence (their goal is to deliver as near a garage door as they can).
We'll specify which process you can expect in your shipping confirmation email.
For carriers that schedule delivery appointments:
Carriers that schedule delivery appointments require you to be home for delivery and provide your signature. The delivery is made with a semi-truck with lift gate services, and the shipment is dropped off at the curb. If you authorize the shipping company to leave the delivery without a signature, BBQGuys can't be held responsible for damages that occur during delivery. As complicated as this process may seem, we've only scratched the surface here — please review our detailed guide to freight delivery so there are no surprises when a freight shipment heads your way.
For carriers that deliver without an appointment:
Carriers that deliver without an appointment don't require you to be home or set up a delivery window, and you aren't required to sign for the pallet(s). Instead of scheduling an appointment, arranging your schedule to be home for the delivery, and signing to confirm receipt, you can sit back and let your items come to you. If you're home at the time of the drop-off, you can request the driver place your delivery in the garage; if you're out of the house, the driver will leave it near the garage or doorstep.
This item leaves our warehouse within
3-4 Weeks
$6.95 Flat-Rate Shipping
Anything under $49 ships at one low price. If your order increases, your shipping stays the same!
30-Day Returns
Return all new, unused, and unassembled items in their original packaging, and we'll give you a full refund minus the cost of the original AND return shipping.
No Restocking Fee
Most companies charge a restocking fee. We just don't do business that way.
Your Shopping History. Pick up where you left off.