Masterbuilt Gravity Series 1050 Digital Charcoal Grill + Smoker - MB20041220
Free Shipping
As low as $79 /mo with
*
Frequently Bought Together
Key Features
Gravity Series combines the flavor & versatility of charcoal with the convenience of pellet grills
Cook from anywhere over Bluetooth or Wi-Fi using the Masterbuilt App
GravityFed hopper ensures that fresh charcoal feeds the fire and ash drops into the bin below
Hopper holds 10 lbs lump charocoal or 16 lbs charcoal briquettes for 8 hours of cooking time
Reach 225 degrees in just 10 minutes for smoking or 700 degrees in just 15 minutes for searing
The Masterbuilt Gravity Series is revolutionizing charcoal grilling. This digital charcoal grill + smoker takes the flavor and versatility of cooking with charcoal and pairs it with the convenience of a pellet grill. Using gravity to continuously feed fuel to the fire, variable speed DigitalFan technology stokes the flame to the precise temperature you set on the easy to use PID controller - or your smart phone. Within 10 minutes you can reach low and slow smoking temperatures of 225 degrees, or let it heat up to 700 degrees in a few minutes more for a perfectly seared steak. The vertical charcoal hopper can hold 10 lbs of lump charcoal or 16 lbs of charcoal briquettes, providing up to 8 hours of cooking time. Gravity ensures fresh charcoal is always pushed towards the fire and spent ash drops into the bin below. For shorter cooks, save the rest of that charcoal for next time by using the included slides that cut off airflow and snuff out the fire. Mix in some wood chunks, either in the charcoal hopper or the smoldering ash bin, to add flavorful smoke to your cook. Heat and smoke are sent into the cooking chamber via the carefully designed manifold, which features graduated ports that allow heat to spread evenly throughout the body. The main cooking surface consists of double sided cast iron cooking grates, with a wide side perfect for searing and a narrow side which permits more smoke to reach your food. Above are two porcelain coated FoldAway warming racks perfect for indirect cooking, which can be folded out of the way for extra space on the main cooking surface. These combine for a total of 1050 square inches of cooking space for whatever you can think of. Smoke in the chamber circulates and then exits through the rear vent, ensuring that it envelops your food no matter which level it sits on. The innovation does not stop there, however, as you have the ability to control your grill + smoker using the Masterbuilt App on your smart phone. Simply pair your device to the grill and then set a temperature, set a timer, and receive notifications when your cook is done - all over Bluetooth or Wi-Fi. This grill comes with a meat probe, and has ports for 3 more, all which can be monitored wirelessly. For added prep space, this grill comes equipped with a stainless steel folding front shelf. The side shelf features tool hooks and a small drawer for storing the power supply, and a full length bottom shelf provides extra storage. Four wheels, including two locking casters, are included for portability. With the ability to smoke, sear, bake, and roast effortlessly, the Masterbuilt Gravity Series 1050 Digital Charcoal Grill + Smoker lets you master the art of charcoal grilling.
Legal disclaimers and warnings
Product packaging, owners' manuals, installation instructions, and/or operating instructions may include more information than what is shown on our website. The content on our site is intended to be used for reference purposes only. Please fully read all included manuals and documentation before installing or using this product. WARNING for California residents: this product may contain chemical(s) known to the state of California to cause birth defects, cancer, or other reproductive harm.
Product Information
UPC

094428276581

Model Number

MB20041220
Ask an Expert
Buy with confidence.
Contact our experts today.
Specifications
| | |
| --- | --- |
| Class | Practical |
| Fuel Type | Charcoal |
| Collection | Gravity Series |
| Configuration | Freestanding |
| Exterior Material | Painted Steel |
| Primary Color | Black |
| Cooking Grate Material | Cast Iron |
| Cooking Grid Dimensions | 30 X 17 3/4" |
| Main Grilling Area | 534 Sq. Inches |
| Secondary Grilling Area | 516 Sq. Inches |
| Total Grilling Area | 1050 Sq. Inches |
| Burger Count | 18 |
| WiFi/Bluetooth Enabled | None |
| Grill Lights | None |
| Spring Assisted Hood | No |
| Thermometer | Analog |
| Side Shelves | Yes |
| Side Burner | None |
| Made In USA | No |
| Cart Assembly | Some Assembly Required |
| Commercial-Grade Multi-User | No |
| Size | Medium (27 - 33") |
| Marine Grade | No |
Dimensions
| | |
| --- | --- |
| Width | 61.024" |
| Depth | 33.071" |
| Height | 52.165" |
| Weight | 231 lbs |
Masterbuilt warrants all of its products to be free from defects in material and workmanship under proper assembly, normal use and recommended care for one (1) year from the date of original retail purchase. Labor not included.

Refer to manufacturers manual for full warranty details.
88% of reviews recommend this product
Customer images featuring this product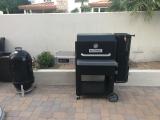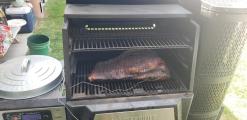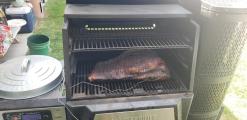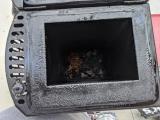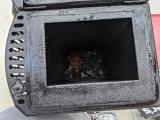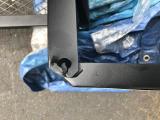 1 year review - AMAZING!!!

I was in the market for a pellet smoker for over a year. I finally came down to wanting a Yoder but I stumbled over a review for the Gravity. I'm not sure how to word this but this is the Swiss Army knife of grills. I wanted the ease of maintaining temp as a pellet grill but I also wanted the ability of being able to sear at high heat. What I love about the 800 is you can do all that but get the taste of cooking over an old school charcoal which if done right, hard to beat the flavor. Then you add the fact that it can be converted to a griddle for smash burgers and cheesesteaks!! I think the most underrated feature of the Gravity is maintenance. You don't need to empty the charcoal and vacuum out dust every use like you would with pellet grills. Most wonder how is the smoking since using charcoals, it's easy and produces great smoke with wood chunks. I have grilled/smoked/griddled everything you can think of and my wife would not let me replace this grill if I wanted to. That is saying a lot as she originally didn't think I should buy it. If you are in the market, definitely look at all the reviews on here and check out the Facebook page for gravity. You will see a trend of all pellet users trading their pellet grill in for a Gravity. It also doesn't hurt the $$ is where it is for all it does. I would pay double!! If I were to give any suggestion I would look into the 1050 and see how to modify that for a griddle.

Was This Helpful?

Beast of a grill!!

Absolutely love this grill!! Holds consistent temps, and super quick to come up to temp!

Was This Helpful?

800 Series

Easy to use and accommodates many different methods of cooking.

Was This Helpful?

And one to rule them all

Just got the grill. I did upgrade with few mids - bigger front shelf, firebox, etc. But what a grill! Did reverse sear on 2 inch Ribeyes and came out perfect. The grill stays within 3 degrees of setting, and the included temp probe was dead on. Recommend a manifold cover. App was nice especially reminder notifications

Was This Helpful?

Magnificent construction

Wonderful grill and smoker. Roasted fabulous chicken, grilled magnificent burgers. Ribs came out perfectly.

Was This Helpful?

2 in 1

The flat iron cook top is a huge bonus for cooking other types of food

Was This Helpful?

You love the outcome

Outstanding temperature control and easy of use. The quality of taste from this grill is incredible.

Was This Helpful?

Great smoker/grill/griddle

Lives up to all of its claims. Easy to assemblen and easy to use

Was This Helpful?

Great combo grill

Great to have a smoker, grill, and griddle all in one!

Was This Helpful?

Masterbuilt

The amazing and powerful 1050 Digital grill has been one of the best grill I have ever seen. Love it

Was This Helpful?
The Skinny:
Pairs the flavor of charcoal with the convenience of pellet grilling
Digital controls and wireless compatibility make operation effortless
Quick preheat time whether you're smoking, searing, or anything in between
Removable ash bin and drip pan allow unusually easy cleanup for a charcoal grill
Reversible grill grates and adjustable overhead racks provide customized cooking
Masterbuilt Gravity smokers combine the best of both charcoal grills and pellet grills to give you a worry-free yet versatile cooking experience.
What if there was a charcoal grill that functioned like a pellet grill? It's a bold thought, but Masterbuilt more than delivered on that concept with a grill that defies conventional wisdom. Indeed, Masterbuilt Gravity Series models burn charcoal but have many of the conveniences commonly found only on pellet grills: a self-feeding fuel hopper, an internal fan to maintain the fire, a digital control panel, and even Wi-Fi/Bluetooth capabilities. The result is a grill that's unmatched in ease of use among charcoal cookers. Just for good measure, Masterbuilt Gravity smokers also have no problem holding higher temperatures than the average pellet smoker, all while providing the classic charcoal flavor you know and love.
It's easy to be dazzled by the innovation at work here — our experts certainly were — but our reviews don't rest on first impressions alone. As with all products, we closely examined the quality, performance, and features of Masterbuilt Gravity Series charcoal grills to give you a complete picture of how they stack up against other models of their kind. Let's take a look at the findings from each key area we studied.
Quality:
Painted steel construction is about what we'd expect from a Practical grill, but we're more impressed with the overall design.
Masterbuilt manufactures the Gravity Series using painted steel as the exterior material, a cost-effective option that helps keep down the price of these grills. While painted steel doesn't necessarily promise decades of outdoor use, it's par for the course among charcoal grills and smokers in the Practical class. The main cooking surface, meanwhile, consists of double-sided cast iron cooking grates — a wide side that channels maximum heat for searing, and a narrow side that gives more room for smoke to circulate when cooking low and slow. It's a thoughtful touch that reinforces Masterbuilt Gravity smokers as some of the most versatile charcoal grills around.

Though most of the grill is made from painted steel, there are a few other materials included in certain components. The secondary cooking racks, for instance, have a porcelain coating for extra rust resistance, while the side shelf is made of stainless steel (as is the folding front shelf on 1050 models). Masterbuilt Gravity Series grills and smokers carry a 1-year warranty, which is notably slim for Practical charcoal grills.
We also have to spotlight Masterbuilt's design — after all, developing a charcoal grill that works like a pellet grill takes some serious engineering. The main body looks like a traditional gas grill, just with a vertical charcoal hopper attached to the side. Heat and smoke travel from the charcoal grate at the bottom of the hopper to a manifold below the cooking surface, similar to the transfer setup you'd find on an offset smoker. To ensure smoke and heat disperse evenly within the grill, Masterbuilt designed the manifold with graduated ports along each side. From there, smoke circulates through the cooking chamber before escaping via a rear vent, coating food on every grate level. It's one thing to have a groundbreaking idea, but we're glad to see Masterbuilt follow through with careful innovation.
Performance:
Hands-off operation, quick preheats, and a wide temperature range are the crowning achievements of this grill.
A charcoal grill that claims to run like a pellet grill will always be judged on its performance, and we're pleased to say Masterbuilt Gravity smokers passed our tests with flying colors. Let's start with the key word in the product name: "gravity."
While pellet smokers mechanically feed fuel from the hopper to the fire pot, these Masterbuilt models rely solely on gravity to keep the flames going. How? Charcoal inside the hopper sits on a grate, which permits ash and burned-out bits to fall into a removable ash bin (quite handy for cleanup, by the way). As spent coals exit the hopper, unlit fuel from above drops into the fire and ignites as well. That means you avoid the hassle of adjusting coals mid-cook — at most, you'd just have to add more fuel to the hopper, which can hold 10 pounds of lump charcoal or 16 pounds of briquettes. That's good for about 8 hours of cooking of 1050 models, and 12–15 hours on 560 models (more on them in a minute).
You might have also noticed Masterbuilt refers to these cookers as "grills" and "smokers." That's not just hollow marketing; the Gravity Series can smoke at 225 degrees Fahrenheit just as easily as it can sear at 700 degrees. As if sheer versatility isn't enough, Masterbuilt Gravity grills and smokers have astonishingly quick preheat times: the 1050 edition takes just 10 minutes to reach 225 degrees and only 15 minutes for 700 degrees, with shorter times for the 560 model. The differences in time come down to the difference in size — each model is named for its total cooking area, which combines the main grilling surface with the pair of porcelain-coated warming racks. We like how the racks can be set at two different levels, placed at the same height for a larger indirect surface, or removed altogether to accommodate larger items.
Our lone issue with the performance of Masterbuilt Gravity smokers is the ignition system. To get the fire going, you have to insert a fire starter into the built-in slot on the charcoal grate inside the hopper, then manually light it. It's the only part of the entire process that isn't like true pellet smokers, which have automatic ignition in addition to the built-in fans and PID controllers that oversee temperature maintenance.
Features:
Masterbuilt made a charcoal grill with digital controls and connectivity. What more could you ask for?
By charcoal smoker standards, the Masterbuilt Gravity Series is as technologically advanced and featured-packed as they come. The digital components obviously steal the show, starting with the easy-to-set, pellet grill-style PID controller that runs nonstop calculations to keep temperatures stable. It's simple and intuitive, with just 5 buttons and a temperature dial that link to Masterbuilt's trademarked DigitalFan technology. Masterbuilt doubled down on the convenience factor by making Gravity Series smokers compatible with both Wi-Fi and Bluetooth, which can be used to access the Masterbuilt App. Once you've paired your device with the grill, you can control temperatures, set timers, and receive notifications when food is ready. The app also puts you in command of the included meat probe and thermometer, resulting in hassle-free cooking we weren't sure would ever be possible on a charcoal smoker.
The Masterbuilt Gravity smoker and grill also include some of the more standard features we expect on charcoal models. A set of locking casters improves portability, side and bottom shelves offer more storage and prep room, and a grill cover and rotisserie kit are available as included accessories (we'd recommend getting at least the grill cover to protect the electrical components).
A removable drip tray is a nice touch to smooth along cleanup, as is the ash bin below the charcoal hopper. Speaking of the hopper, the grill comes with a pair of slides that can be inserted into the fuel area to cut off airflow, shut down the fire, and save fuel for future cooks. It's that kind of thoughtful design — along with fearless innovation — that makes the Masterbuilt Gravity Series a worthwhile purchase for charcoal enthusiasts looking for a new twist on their favorite pastime.
Question:
Can you use ONLY real wood chunks instead of charcoal?
Was This Helpful?
Answer:
Hey Kyle! You can use charcoal briquettes or lump charcoal! It is important to never use fast light charcoal or lighting fluid.
Question:
When you are done cooking does the grill continue to burn until all the coals in the hopper are gone, or does it have a means of stopping the burn?
Was This Helpful?
Answer:
When the metal slides are inserted after cooking is over, it shuts off the air flow and the fire goes out. I usually get 3-4 burns out of a load of charcoal
Question:
What are the Min/Max temperature settings? For example, can it hold at 150°F?
Was This Helpful?
Answer:
Hi TK. The lowest temperature setting is 150 degrees, and the high is 700.
Question:
If the power goes out, or the electronics are defective, can this still be used with traditional fire management skills? Of if the power goes out this thing is a paperweight? This is my hesitation with Pellet grills in that I will get ready to have an amazing cookout only to find that the darn thing is on the fritz and I can't use it. I'm leaning toward a traditional Charcoal grill or stick burner since I know that system well, but the convience of this grill is appealing. Thank you for your time.
Was This Helpful?
Answer:
Hi Joe. Electricity is required for the fan to run which controls the temperature. Pellet grills are reliable and convenient, but they come with the stipulation that you must be near a working outlet (or have a power inverter for portable use in some cases).
Question:
Do you need power to operate the fan?
Was This Helpful?
Answer:
Hi Joel. Yes, a standard grounded 120VAC plug.
Question:
Can you use wood chips with this grill for extra smoke flavor?
Was This Helpful?
Answer:
Hi Mark. Absolutely!
Free Shipping on orders over $49
Ship your entire order to your home for free, especially the big stuff! *Continental US only
When will my item arrive?
Once shipped, items usually arrive within 3-5 business days. While UPS and FedEx are our carriers for smaller items, be aware that larger items and orders are shipped via freight. The freight process is a bit more complicated than what we've all come to expect for small parcels, so it's important that you're prepared and understand what's required of you well before delivery day.
Most freight products ship on a pallet
Some carriers will call to schedule a delivery window, while others will deliver the shipment to a reasonably accessible location closest to your residence (their goal is to deliver as near a garage door as they can).
We'll specify which process you can expect in your shipping confirmation email.
For carriers that schedule delivery appointments:
Carriers that schedule delivery appointments require you to be home for delivery and provide your signature. The delivery is made with a semi-truck with lift gate services, and the shipment is dropped off at the curb. If you authorize the shipping company to leave the delivery without a signature, BBQGuys can't be held responsible for damages that occur during delivery. As complicated as this process may seem, we've only scratched the surface here — please review our detailed guide to freight delivery so there are no surprises when a freight shipment heads your way.
For carriers that deliver without an appointment:
Carriers that deliver without an appointment don't require you to be home or set up a delivery window, and you aren't required to sign for the pallet(s). Instead of scheduling an appointment, arranging your schedule to be home for the delivery, and signing to confirm receipt, you can sit back and let your items come to you. If you're home at the time of the drop-off, you can request the driver place your delivery in the garage; if you're out of the house, the driver will leave it near the garage or doorstep.
This item leaves our warehouse within 4-6 Weeks
$6.95 Flat-Rate Shipping
Anything under $49 ships at one low price. If your order increases, your shipping stays the same!
30-Day Returns
Return all new, unused, and unassembled items in their original packaging, and we'll give you a full refund minus the cost of the original AND return shipping.
No Restocking Fee
Most companies charge a restocking fee. We just don't do business that way.
Message to our customers: Like all retailers and manufacturers, we're currently experiencing well-publicized supply-chain issues and steel shortages that have caused some orders to be delayed. We sincerely apologize for any inconveniences arising from this situation, and we assure you we're making every effort to solve these problems with our vendors and logistical partners.

So, why are some orders being affected? Major ports around the world are still operating at reduced capacity because of COVID-19 restrictions — on average, container boats sit at port for about 3 weeks before being unloaded. Combine these shipping inefficiencies with a scarcity of natural resources, and virtually every industry has been crippled to some degree. Yet we acknowledge that it's our duty to meet these challenges head-on and work toward solutions so you can enjoy more time outdoors with the people you love. We appreciate your patience as we strive to smooth out our supply chain, and we thank you for choosing us for your grilling and outdoor living needs.
Your Shopping History. Pick up where you left off.