Coyote S-Series 36-Inch 4-Burner Propane Gas Grill With RapidSear Infrared Burner & Rotisserie - C2SL36LP + C1S36CT
List: $3,863.00
Free Shipping
You Save: $185.00 (5%)
Payments as low as $118.68 per month.*
Free Gift
FREE Cover and Griddle with Coyote S-Series Grill.
For a limited time, get a FREE cover and griddle with the purchase of any Coyote S-Series gas grill. This is up to a $465.00 value!
Similar Options To Consider
Frequently Bought Together
Cast stainless steel Infinity burners deliver high heat and lasting durability
Infrared RapidSear burner provides extra high heat, allowing you to sear steaks and chops
Ceramic briquette trays distribute heat evenly across grilling surface
Backlit LED control knobs and internal halogen lights for grilling at night
Rotisserie system with rear infrared burner allows you to slow roast foods
The Coyote S-Series combines all the power and function of a luxury grill with the durability of a Coyote grill. This 36-inch freestanding gas grill features 18 gauge 304 grade stainless steel construction with a double-walled canopy and continuously hand-welded grill box with seamless edges. This gas grill offers performance enhancing ceramic briquette trays that minimize flare-ups and distribute heat evenly across the 640 square inch cooking area. This natural gas grill is powered by three, durable cast stainless steel Infinity burners and one RapidSear infrared burner which deliver up to 75,000 BTUs of cooking power. Enjoy expanded grilling options using the 15,000 BTU infrared rear rotisserie burner to create succulent, slow-roasted meals. Use the included smoker box to infuse your grilled food with delicious smoke flavor. The burners are lit by an easy to use, push and turn ignition system while the internal halogen grill lights will keep you grilling into the night. This Coyote grill also sports stylish, orange LED illuminated control knobs. Use the removable warming rack to keep food heated until serving time and easily monitor the temperature inside your grill using the integrated thermometer. The grill cart includes two, self closing doors for easy closures and fold down shelving which adds workspace to your grilling area. The double doors provide ample storage space for BBQ tools and grilling accessories. The cart also features industrial-style, locking wheel casters for portability and comes fully assembled so you can start cooking right away. Choose Coyote and create the outdoor kitchen of your dreams with a grill made to last and give remarkable performance.
Legal disclaimers and warnings
Product packaging, owners' manuals, installation instructions, and/or operating instructions may include more information than what is shown on our website. The content on our site is intended to be used for reference purposes only. Please fully read all included manuals and documentation before installing or using this product. WARNING for California residents: this product may contain chemical(s) known to the state of California to cause birth defects, cancer, or other reproductive harm.
Product Information
Model Number

C2SL36LP + C1S36CT
Specifications
| | |
| --- | --- |
| Class | Premium |
| Fuel Type | Propane |
| Collection | S-Series |
| Configuration | Freestanding |
| Exterior Material | Stainless Steel |
| Exterior Stainless Grade | 304 Stainless Steel |
| Primary Color | Stainless Steel |
| Number Of Main Burners | 4 Burners |
| Grilling Surface BTUs | 75000 |
| Infrared Main Burner | One Infrared |
| Main Burner Material | 304 Cast Stainless Steel + Ceramic Infrared |
| Flame Tamer Material | Ceramic |
| Cooking Grate Material | Stainless Steel |
| Cooking Grid Dimensions | 33 1/4 X 17 1/4" |
| Main Grilling Area | 640 Sq. Inches |
| Secondary Grilling Area | 235 Sq. Inches |
| Total Grilling Area | 875 Sq. Inches |
| Burger Count | 26 |
| WiFi/Bluetooth Enabled | None |
| Rotisserie Burner BTUs | 15000 |
| Rotisserie Kit | Yes |
| Heat Zone Separators | No |
| Ignition Type | Flame Thrower |
| Flash Tubes | No |
| Grill Lights | Internal / External |
| Spring Assisted Hood | No |
| Thermometer | Analog |
| Includes Smoker Box | Yes |
| Side Shelves | Yes |
| Hose Included | Yes |
| Side Burner | None |
| Made In USA | No |
| Cart Assembly | Some Assembly Required |
| Commercial-Grade Multi-User | No |
| Size | Medium (27 - 33") |
Dimensions
| | |
| --- | --- |
| Width | 64" |
| Depth | 25.5" |
| Height | 48.75" |
Coyote Outdoor warrants that each product will be free from defects in workmanship and materials on the stainless steel frame/housing and stainless steel burners for the lifetime of the original purchaser. They also warrant the cooking grids for five (5) years, the flavorizer bars and electric/plastic components for two (2) years, and the ignition systems/valves for one (1) year. Labor not included.

Refer to manufacturers manual for full warranty details.
100% of reviews recommend this product
Customer images featuring this product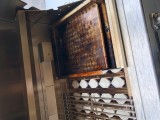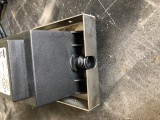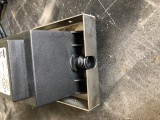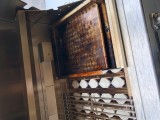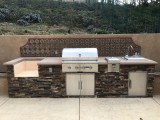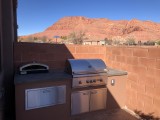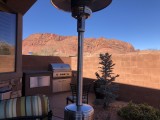 | | | |
| --- | --- | --- |
| Saint George | Great grill, very high quality product. Highly recommend | Was This Helpful? |
| Undisclosed | Definitely a top end grill | Was This Helpful? |
| Undisclosed | Great Product | Was This Helpful? |
| Ventura, Ca | Cooks as good as it looks! | Was This Helpful? |
| New Haven, CT | Superb post-sales support from COYOTE | Was This Helpful? |
| Ann Arbor Michigan | So far Loving this Grill! | Was This Helpful? |
The Skinny:
304-grade stainless steel construction utilized throughout the grill
Effortless, robust ignition and overall solid cooking performance
Excellent heat production, but low settings run a little too warm
Admirable grilling results when cooking in windier conditions
Full rotisserie kit and quality of life extras included
Coyote S-Series gas grill packs an unexpectedly superior build into a sensible Premium grill.
We've come to expect great things out of Coyote Outdoor Living, and they didn't disappoint with their S-Series line. From its outstanding use of excellent steel to its thick components and surprisingly formidable burners, what we saw here was a grill that's built like a heavyweight — and it hits like one, too. This BBQ grill packs a lot of what we expect from high-end, Luxury class grills into a package one level down. In layman's terms? That buck gets you a whole lot of bang.
For this review, Chef Tony went hands-on with the Coyote S-Series Freestanding grill, putting it through a gauntlet of tests: XRF metal analysis, thermocouple heat inspection, and grill enough burgers to make you sick of them (well, maybe for a day or two). Though he clocked a couple of minor quibbles, he happily gave this grill his seal of approval based on its substantial quality, overall solid performance, and great features.
Quality:
Coyote S packs class-leading construction quality and great workmanship into a trustworthy design.
For a Premium class grill, the Coyote S-Series gas grill came out swinging on build quality. We weren't necessarily surprised to see 304-grade stainless steel utilized throughout the design; after all, that's the cream of the crop. But as Chef Tony quickly realized… Coyote meant business. From the double-walled canopy and cooking grids down to even the control panel, every single major component upheld that golden standard. Sure, that's one of our baseline expectations for a higher-end Luxury grill, but it's uncommon for this class. That was a welcome surprise here.

Speaking of the cooking grids, a very pleased Chef Tony measured them at 8mm thick with — you might want to hold your breath for this one — 304-grade stainless steel. Of similar quality were the flame tamers: 19-gauge, 304-grade, and packed nice and tight with ceramic briquettes. Naturally, these briquettes are an excellent choice for absorbing, retaining, and slowly dispersing heat across the entire cooking area; even before fingertips touched a burner, we were excited to see how this machine performed.
Our charismatic cook didn't expect any further surprises, but by now he should've known better. Out of nowhere, Coyote S punched high above its weight class with its H-style, cast stainless steel Coyote Infinity Burners™ (for those of you who guessed "304-grade" again, now's a great time to collect your winnings). Measuring the walls of the cast itself, he noticed a thickness of 3mm. Color him impressed.
Performance:
Coyote S reaches 460–670 degrees Fahrenheit, offering great heat retention with few reasonable compromises.
With the lid closed, running all conventional burners on high for 20 minutes produced results at 660–670 degrees Fahrenheit. That's rock-solid for the Premium class. However, the shallow end of the spectrum ran a little warmer than he hoped — with all conventional burners at their lowest for 30 minutes, he couldn't get it to budge below 460–475 degrees. In our eyes, that's simply a consideration, not a deal-breaker.

However, something else that caught his attention was the overall temperature evenness. During the thermocouple testing, the front-right quarter of the total cooking surface consistently ran about 15 degrees cooler than the under-the-hood average. For grills of this caliber, we've come to expect higher consistency. But we call that a lick, not a ring-out.
With that said, only real-world cooking can deliver the full picture. To prepare, Chef Tony left those conventional Coyote Infinity Burners™ running on low and closed the lid for a 15-minute preheat. What better exercise than a burger test? Coyote S made a strong showing here. With the grilling grates loaded heavy from mouthwatering beef patties, the grill performed admirably — though, as suspected, the front-right corner lagged just a little behind. Was that a hurdle? Absolutely not. In fact, to some it might be an opportunity; we definitely think accounting for the lower cooking zone could be a boon to grilling multitaskers.
Features:
Coyote S offers bonuses including reliable ignition, a formidable ceramic infrared burner, and a full rotisserie kit.
Our surprise heavyweight here had a few more tricks up its sleeve. Coyote S boasts push and turn flamethrower-style ignition, which is a perk to us — they make up for the dependability shortcomings of piezo spark ignition, and replacing parts is gentler on the wallet. Lighting up this way is typically a first-try process; that means less aggravation and faster grilling.
Standard in the box are the H-style stainless steel Coyote Infinity Burners™, RapidSear™ infrared burner, ceramic rear infrared burner, stainless steel smoker box, grid lifting tool, and a full rotisserie kit complete with rod, spit, and forks (that was a nice touch, as we've grown used to providers supplying rotisserie kits a la carte). Furthermore, a handy build-in rack on the back of the grill stores rotisserie parts when out of use. Backlit LED bezels attractively illuminate the front knobs, while 2 interior halogen grill lights bathe the left and right sides for night grilling. If we gave our man a clipboard, he'd break a pencil checking boxes all the way down.
Ultimately, the features bring this all home into a solid cooking experience. After some deliberation, Chef Tony appointed Coyote S with a category rating of "Better" — it's a solid design that fires up on a dime, operates smoother than expected in brisk, breezy conditions, and works very well overall. With a little forethought to the single lagging temperature zone, we find that a grill of this pedigree and superior construction makes for quite a strong Premium-class contender. Simply put, leave the Coyote S-Series grill in the hands of a capable grill master, and they'll make any cookout a knockout.
Question:
To confirm, this grill needs to be plugged into an electrical outlet in order to have the knobs backlit feature work?
Was This Helpful?
Answer:
Hi Karen. Yes, you will need to plug the grill's transformer into a standard 110V power supply in order for the internal halogen lights and the LED knob lights to work.
Question:
How much does the 36" with stand weigh?
Was This Helpful?
Answer:
Hi Mike, the grill itself weighs 160 lbs, and the stand weighs 115 lbs.
Question:
Hi I was looking at a US made one Is this domestic made Also My budget was $2500 How is the performance of this grill And does it have a searing burner What is the best fot grill for me in this budget US made What are the free bee's with this grill
Was This Helpful?
Answer:
Hi Deen. This grill is not made in the USA, it is made in China. Coyote makes great grills and you can't go wrong with any of their models. Their searing burner is quite nice for getting a good quality sear on your food. If you are looking for a grill made in the USA, I would recommend checking out this page, you are sure to find a good grill in your budget.
www.bbqguys.com/brands/made-in-the-usa
Current Item

Coyote S-Series 36-Inch 4-Burner Propane Gas Grill...

American Outdoor Grill L-Series 30-Inch 3-Burner Propane...

RCS Cutlass Pro 30-Inch Propane Gas Grill - RON30A...

Weber Summit Grill Center Propane Gas Grill With Rotisserie,...

Price & Shipping Information

List: $3,863.00

You Save: $185.00 (5%)

Free Shipping

Leaves Warehouse: 6-8 Weeks

List: $4,276.00

You Save: $427.60 (10%)

Free Shipping

Leaves Warehouse: 1-3 Business Days

View Item

List: $4,978.00

You Save: $740.00 (15%)

Free Shipping

Leaves Warehouse: 1-3 Business Days

View Item

List: $4,099.00

You Save: $300.00 (7%)

Free Shipping

Leaves Warehouse: 24 Hours

View Item
ID

3010398

2894438

2603112

2987601

Model Number
C2SL36LP + C1S36CT
30PCL
RON30A-LP + RONMC
291101
Class
Premium
Premium
Premium
Practical
Fuel Type
Propane
Propane
Propane
Propane
Collection
S-Series
L Series
Cutlass Pro
Summit
Configuration
Freestanding
Freestanding
Freestanding
Freestanding
Exterior Material
Stainless Steel
Stainless Steel
Stainless Steel
Porcelain Coated Steel
Exterior Stainless Grade
304 Stainless Steel
304 Stainless Steel
304 Stainless Steel
—
Primary Color
Stainless Steel
Stainless Steel
Stainless Steel
Black
Number Of Main Burners
4 Burners
3 Burners
3 Burners
6 Burners
Grilling Surface BTUs
75000
45000
45000
60000
Infrared Main Burner
One Infrared
Available
Available
Not Available
Main Burner Material
304 Cast Stainless Steel + Ceramic Infrared
304 Stainless Steel
304 Cast Stainless Steel
Stainless Steel
Flame Tamer Material
Ceramic
Stainless Steel
Stainless Steel
Stainless Steel
Cooking Grate Material
Stainless Steel
Stainless Steel
Stainless Steel
Stainless Steel
Cooking Grid Dimensions
33 1/4 X 17 1/4"
30 X 18"
30 X 20"
31 1/2 X 19 1/2"
Main Grilling Area
640 Sq. Inches
540 Sq. Inches
600 Sq. Inches
624 Sq. Inches
Secondary Grilling Area
235 Sq. Inches
151 Sq. Inches
240 Sq. Inches
145 Sq. Inches
Total Grilling Area
875 Sq. Inches
691 Sq. Inches
840 Sq. Inches
769 Sq. Inches
Burger Count
26
24
24
24
WiFi/Bluetooth Enabled
None
None
None
None
Rotisserie Burner BTUs
15000
10000
12500
10600
Rotisserie Kit
Yes
Yes
Yes
Yes
Heat Zone Separators
No
No
Yes
No
Ignition Type
Flame Thrower
Continuous Spark
Flame Thrower
Flame Thrower
Flash Tubes
No
No
No
No
Grill Lights
Internal / External
Internal
Internal / External
External
Spring Assisted Hood
No
No
No
No
Thermometer
Analog
Analog
Analog
Analog
Includes Smoker Box
Yes
No
No
Yes
Side Shelves
Yes
Yes
Yes
Yes
Hose Included
Yes
Yes
No
Yes
Side Burner
None
Side Burner
None
Side Burner
Made In USA
No
Yes
No
No
Cart Assembly
Some Assembly Required
Some Assembly Required
Some Assembly Required
Some Assembly Required
Commercial-Grade Multi-User
No
Yes
No
No
Size
Medium (27 - 33")
Medium (27 - 33")
Medium (27 - 33")
Medium (27 - 33")
This product can expose you to Carbon Monoxide, which is on the list of substances known by the state of California to cause cancer, birth defects or reproductive harm. For more information go to: www.p65warnings.ca.gov.
Free Shipping on orders over $49
Ship your entire order to your home for free, especially the big stuff! *Continental US only
When Will My Item Arrive?
Once shipped, items usually arrive within 3–5 business days. If your item or order is large, it may ship via one of our third-party freight carriers, which deliver from semi trucks with lift gates. Freight delivery is much more complicated than standard parcel shipping — you must schedule a drop-off time, be present for the delivery, and move items from the curb to your residence, among other differences. Sound stressful? If you prepare in advance with our guide to freight delivery, it doesn't have to be.
We strongly encourage reading the entire freight delivery guide, but here's a quick snapshot of what you need to be ready for when you order a large package:
Your freight carrier will call you to schedule a delivery window of about 4–8 hours
You're required to be physically present at the specified delivery location during the scheduled window
Freight shipments are carried in semi trucks, which have lift gates to assist with unloading
Freight deliveries are dropped off at the curb and no further — not up the driveway, not the porch, not the garage, and most definitely not the backyard — so it's on you to transport packages to their intended location
For an easier time hauling items to your home or backyard, arrange for at least 2 helpers to be on standby during your delivery window
You must sign for the shipment to indicate that you've accepted the delivery
Again, we recommend reading our entire breakdown of freight delivery so you can become familiar with the process. Trust us when we say that getting caught off guard with the strict requirements of freight delivery can lead to a whole lot of headaches.
This item leaves our warehouse within 6-8 Weeks
$6.95 Flat-Rate Shipping
Anything under $49 ships at one low price. If your order increases, your shipping stays the same!
30-Day Returns
Return all new, unused, and unassembled items in their original packaging, and we'll give you a full refund minus the cost of the original AND return shipping.
No Restocking Fee
Most companies charge a restocking fee. We just don't do business that way.
Message to our customers: Like all retailers and manufacturers, we're currently experiencing well-publicized supply-chain issues and steel shortages that have caused some orders to be delayed. We sincerely apologize for any inconveniences arising from this situation, and we assure you we're making every effort to solve these problems with our vendors and logistical partners.

So, why are some orders being affected? Major ports around the world are still operating at reduced capacity because of COVID-19 restrictions — on average, container boats sit at port for about 3 weeks before being unloaded. Combine these shipping inefficiencies with a scarcity of natural resources, and virtually every industry has been crippled to some degree. Yet we acknowledge that it's our duty to meet these challenges head-on and work toward solutions so you can enjoy more time outdoors with the people you love. We appreciate your patience as we strive to smooth out our supply chain, and we thank you for choosing us for your grilling and outdoor living needs.
Your Shopping History.
Pick up where you left off.