Camp Chef SmokePro DLX Pellet Grill On Cart - Stainless - PG24S
Free Shipping
As low as $40 /mo with
*
Professional Grill Assembly for $99
Book a professional to help assemble this grill for only $99. All bookings and inquiries are handled by Handy.
Key Features
Firebox and lid is constructed from stainless steel for durability
Patented simple ash cleanout system makes cleaning easy
Digital temperature display can be toggled between cooking temperature and internal food temperature
Smart Smoke technology keeps cooking temperature within +/- 15 degrees Fahrenheit of selected temperature
Large capacity hopper (18 pounds) features a pellet drain for easily changing flavors
Take on your next grilling or smoking session with ease with the Camp Chef SmokePro DLX Pellet Grill. With the digital temperature display, simple temperature settings, and an exclusive ash cleanout system, this grill will have you spending less time needing to monitor your grill and more time enjoying the outdoors and a delicious meal. This SmokePro DLX is constructed of durable powder coated steel with a stainless steel lid and a stainless steel fire box, and it features a 429 square inch primary cooking area and a 141 square inch upper warming rack. This gives you a total of 570 square inches of cooking space, all heated by 25,000 BTUs of cooking power. With the simple temperature selection system, the grill can be set to temperatures as low as 160 degrees for smoking and up to 500 degrees for the perfect sear. Once you have chosen your desired temperature, the digital display can be toggled between showing the grill temperature and internal food temperature, which is monitored by the included stainless steel meat probes. Smart Smoke technology keeps your Camp Chef pellet grill with 15 degrees of your selected temperature. The automatic auger dispenses pellets as needed from the high capacity hopper, which holds up to 18 pound of pellets at once. A continuous fan insures that your grill stays evenly heated and smoky, so every bit of food is perfectly cooked. When you are done cooking, clean up is easy, thanks to the exclusive Camp Chef ash cleanout system. Simply pull open the trap door with the side knob and empty the ash cup underneath the grill. This grill also features a pair of large, heavy-duty wheels for easy rolling, a pellet clean out door so you can keep your unused pellets protected and dry between uses, and a powder coated steel side shelf.
Legal disclaimers and warnings
Product packaging, owners' manuals, installation instructions, and/or operating instructions may include more information than what is shown on our website. The content on our site is intended to be used for reference purposes only. Please fully read all included manuals and documentation before installing or using this product. WARNING for California residents: this product may contain chemical(s) known to the state of California to cause birth defects, cancer, or other reproductive harm.
Product Information
UPC

33246212937

Model Number

PG24S
Ask an Expert
Buy with confidence.
Contact our experts today.
Specifications
| | |
| --- | --- |
| Fuel Type | Pellets |
| Collection | SmokePro |
| Configuration | Freestanding |
| Exterior Material | Painted Steel |
| Primary Color | Stainless Steel |
| Cooking Grate Material | Porcelain Coated Steel |
| Cooking Grid Dimensions | 22 X 19 1/2" |
| Main Grilling Area | 429 Sq. Inches |
| Secondary Grilling Area | 141 Sq. Inches |
| Total Grilling Area | 570 Sq. Inches |
| Burger Count | 20 |
| Grill Lights | None |
| Spring Assisted Hood | No |
| Thermometer | Digital |
| Side Shelves | Yes |
| Made In USA | No |
| Cart Assembly | Some Assembly Required |
| Commercial-Grade Multi-User | No |
| Size | Small (0 - 26") |
| Marine Grade | No |
| Hopper Capacity | 18 Pounds |
| Max Temperature | 500 F |
Camp Chef warrants this grill to be free from defects in materials and workmanship for a period of three (3) years from the date of purchase (excluding finish).
89% of reviews recommend this product
Customer images featuring this product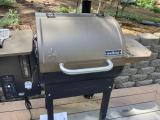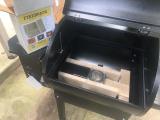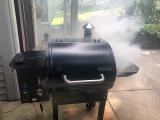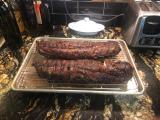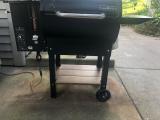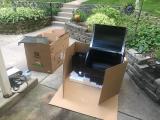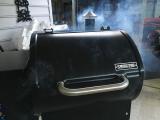 Not perfect, but close

This is my first pellet grill. I came over from an old barrel type grill. This thing is everything I could have asked for. Easy to use. Convenient. I was originally planning on purchasing the WW24, but didn't want to commit that much money to something I may not love. The DLX is perfect for a guy like me who likes to eat and not spend all day watching/managing a fire. While I'm really happy with my DLX24, it's not perfect. There is the dreaded "funnel of death" where the pellets create a funnel and after a bit they stop feeding into the auger. I'm also used to a more pronounced smoke flavor. The pellets provide a less intense, more nuanced smoke flavor. I've added a smoke tube to my arsenal for a stronger smoke. I've only used it once, but it seems to have done the job. Overall, super happy with my purchase and would recommend to someone looking for a pellet grill.

Was This Helpful?

Best intro to BBQ

This is my first pellet grill and brother I hit it out of the park!!! I get a great smoke ring with a low slow smoke and if I want a ribeye quick like I crank it up to 500 and flip that bad boy one time in short order. Get my belly full and nighty night time so I get rested for work the next day. I have had propane grills all my life and a propane grill burned up my home and everything I ever owned in 48 years of my life. My pellet grill when cleaned and cared for I can let it smoke all night and sleep well. I wake up to amazing BBQ. It's not a high end smoker and don't expect the same results. But you can satisfy your BbQ cravings with this unit with little effort. Buy good pellets and get great BBQ

Was This Helpful?

Easy Assembly - Works Great even in Cold Weather

Quick and easy assembly. Works perfect even in extreme cold weather. Startup process is a breeze and easy to monitor your meat temperature with the probes. Would recommend to anyone looking for a pellet grill.

Was This Helpful?

Great pellet smoker

awesome smoker!!!! perfect smoke rings and cooks great.

Was This Helpful?

I would recommend

Assembly was easy. Quite well made grill. Works like it should. I'm 4 cooks into it looking for my sweet spot.

Was This Helpful?

Great product

We have had this grill for 3 years and it still works great! One of the best purchases we have ever made!! We have never had any issues

Was This Helpful?

Stainless steel looks great

I have one of these, my son is always questioning me on how I smoke my meats. So I bought him one, he loves it! Gives us a lot more fun talks together! And share recipes.

Was This Helpful?

AWESOME SMOKER AND GRILL

MY SON-IN LAWMPURCHASED THE DLX24ABOUT TWO YEARS AGO. HE IS GREAT FOR HIS DETAIL IN RESEARCH. BECAUSE OF THE DISTANCE BETWEEN OUR HOMES WE ONLY VISIT DURING HOLIDAYS. BEING SAID, I USE A GAS GRILL AND A GAS SMOKER. THE SMOKER HAS WORKED GREAT FOR MANY YEARS, BUT KEEPING THE TEMPATURES REGULATED ISA TRICK. AFTER MANY MEALS ON HIS DLX 24 I DECIDED TO UP GRADE. I PURCHASED THE DLX 24 WHILE UP AT THEIR HOUSE, LOADED IT IN AN ALREADY PACKED SUV. BY THE WAY THE SMOKER TO PRESIDENCE. AFTER BURNING IT IN YESTERDAY I COOKED SOME OF THE BEST HAMBURGERS..... IT'S NOW TIME TO RAMP IT UP TO SMOKING A BRIQUET. BY THE WAY, THE OLD GRILL AND SMOKER WILL BE HITTING THE CURB!

Was This Helpful?

Fantastic smoker grill

This smoker grill arrived at my house and at first I thought - oh gee, now to put it together. I've put together a ton of things, including grills, that arrived at my house - and most were a huge project, many times very frustrating. Well - this smoker grill was packed well, and despite the shipping company bouncing it around - everything unpacked in perfect condition. I read the easy-to-read directions, and this project was the easiest I ever had. All the parts and pieces well marked, all was there, and in fact, some of the screws were already lightly screwed in place where they go - imagine that! No special tools were needed. It went together like a dream. Piece of cake. So afterwards, I did the break in and learned how to use this thing. Very nice. I experimented with a chicken. And that was the bomb. I look forwarded to more cooking on this grill. It's well made and I think I made a great selection - especially compared to the "T" brand. My hat is off to the Camp Chef crew. Good job!

Was This Helpful?

Don't look any further, this is the one you want!

Love, love, love this pellet Grill! Smoked ribs for the first time just after I completed the burn in the day before and the food came out amazing! Love all the features this has to offer and I can't wait to get the sidekick to go with it. Great job Camp Chef!

Was This Helpful?
Question:
does the camp chef smokepro dlx pg24s listed at $449 have the new gen 2 digital controller?
Was This Helpful?
Answer:
HI, Mike. Yes, the Camp Chef SmokePro DLX does have the newest digital controller.
Question:
Does the DLX have temperature probes? Can it accept the Side Kick?
Was This Helpful?
Answer:
Hi, Dave. Yes, the Camp Chef SmokePro includes 2 temperature probes. The Side Kick will mount to it as well.
Question:
Does the PG24S have PID temperature control?
Was This Helpful?
Answer:
Yes, the Camp Chef SmokePro DLX PG24S does have a PID controller
Question:
Does it require propane?
Was This Helpful?
Answer:
Hi, Bob. The Camp Chef SmokePro DLX does not require propane. It only uses wood pellets and electricity.
Question:
What are the overall length and width dimensions of the Camp Chef SmokePro DLX Pellet Grill On Cart - Stainless - PG24S?
Was This Helpful?
Answer:
The SmokePro DLX is 40 inches wide by 25 inches deep.
Question:
Is there a low level FAQ regarding specification differences between the Woodwind and DLX controller covering things like temp increment settings etc.
Was This Helpful?
Answer:
Hi, James. Both have PID controllers, The Woodwind controller also has WiFi and Bluetooth connectivity.
Product

Current Item

Camp Chef SmokePro DLX Pellet Grill On Cart - Stainless - PG24S

Traeger Pro Series 22-Inch Wood Pellet Grill - Bronze - TFB57PZB

Camp Chef Woodwind WiFi 24-Inch Pellet Grill - PG24CL

Camp Chef Woodwind WiFi 24-Inch Pellet Grill With Propane Sidekick Burner - PG24CL

Price & Shipping Information

Free Shipping

Leaves Warehouse: 7-10 Business Days

Free Shipping

Leaves Warehouse: 24 Hours

View Item

Free Shipping

Leaves Warehouse: 24 Hours

View Item

Free Shipping

Leaves Warehouse: 24 Hours

View Item
ID

3000726

2929846

3062776

3062779

Model Number
PG24S
TFB57PZBO
PG24CL
PG24CL + PG14
Fuel Type
Pellets
Pellets
Pellets
Pellets
Collection
SmokePro
Pro
Woodwind
Woodwind
Configuration
Freestanding
Freestanding
Freestanding
Freestanding
Exterior Material
Painted Steel
Powder Coated Steel
Painted Steel
Painted Steel
Primary Color
Stainless Steel
Bronze
Stainless Steel
Stainless Steel
Cooking Grate Material
Porcelain Coated Steel
Porcelain Coated Steel
Porcelain Coated Steel
Porcelain Coated Steel
Cooking Grid Dimensions
22 X 19 1/2"
22 X 19"
22 X 19 1/2"
22 X 19 1/2"
Main Grilling Area
429 Sq. Inches
418 Sq. Inches
429 Sq. Inches
429 Sq. Inches
Secondary Grilling Area
141 Sq. Inches
154 Sq. Inches
368 Sq. Inches
368 Sq. Inches
Total Grilling Area
570 Sq. Inches
572 Sq. Inches
797 Sq. Inches
797 Sq. Inches
Burger Count
20
16
32
32
Grill Lights
None
None
None
None
Spring Assisted Hood
No
No
No
No
Thermometer
Digital
Digital
SmartPhone App
SmartPhone App
Side Shelves
Yes
Available
Yes
Yes
Made In USA
No
No
No
No
Cart Assembly
Some Assembly Required
Some Assembly Required
Some Assembly Required
Some Assembly Required
Commercial-Grade Multi-User
No
No
No
No
Size
Small (0 - 26")
Small (0 - 26")
Small (0 - 26")
Small (0 - 26")
Marine Grade
No
No
No
No
Hopper Capacity
18 Pounds
18 Pounds
22 Pounds
22 Pounds
Max Temperature
500 F
450 F
500 F
500 F
Free Shipping on orders over $49
Ship your entire order to your home for free, especially the big stuff! *Continental US only
When will my item arrive?
Once shipped, items usually arrive within 3-5 business days. While UPS and FedEx are our carriers for smaller items, be aware that larger items and orders are shipped via freight. The freight process is a bit more complicated than what we've all come to expect for small parcels, so it's important that you're prepared and understand what's required of you well before delivery day.
Most freight products ship on a pallet
Some carriers will call to schedule a delivery window, while others will deliver the shipment to a reasonably accessible location closest to your residence (their goal is to deliver as near a garage door as they can).
We'll specify which process you can expect in your shipping confirmation email.
For carriers that schedule delivery appointments:
Carriers that schedule delivery appointments require you to be home for delivery and provide your signature. The delivery is made with a semi-truck with lift gate services, and the shipment is dropped off at the curb. If you authorize the shipping company to leave the delivery without a signature, BBQGuys can't be held responsible for damages that occur during delivery. As complicated as this process may seem, we've only scratched the surface here — please review our detailed guide to freight delivery so there are no surprises when a freight shipment heads your way.
For carriers that deliver without an appointment:
Carriers that deliver without an appointment don't require you to be home or set up a delivery window, and you aren't required to sign for the pallet(s). Instead of scheduling an appointment, arranging your schedule to be home for the delivery, and signing to confirm receipt, you can sit back and let your items come to you. If you're home at the time of the drop-off, you can request the driver place your delivery in the garage; if you're out of the house, the driver will leave it near the garage or doorstep.
This item leaves our warehouse within 7-10 Business Days
$6.95 Flat-Rate Shipping
Anything under $49 ships at one low price. If your order increases, your shipping stays the same!
30-Day Returns
Return all new, unused, and unassembled items in their original packaging, and we'll give you a full refund minus the cost of the original AND return shipping.
No Restocking Fee
Most companies charge a restocking fee. We just don't do business that way.
Message to our customers: Like all retailers and manufacturers, we're currently experiencing well-publicized supply-chain issues and steel shortages that have caused some orders to be delayed. We sincerely apologize for any inconveniences arising from this situation, and we assure you we're making every effort to solve these problems with our vendors and logistical partners.

So, why are some orders being affected? Major ports around the world are still operating at reduced capacity because of COVID-19 restrictions — on average, container boats sit at port for about 3 weeks before being unloaded. Combine these shipping inefficiencies with a scarcity of natural resources, and virtually every industry has been crippled to some degree. Yet we acknowledge that it's our duty to meet these challenges head-on and work toward solutions so you can enjoy more time outdoors with the people you love. We appreciate your patience as we strive to smooth out our supply chain, and we thank you for choosing us for your grilling and outdoor living needs.
Your Shopping History. Pick up where you left off.