TEC Sterling Patio FR 44-Inch Infrared Natural Gas Grill On Stainless Cabinet - STPFR2NTCAB
Free Gift
FREE Infrared Smoker/Roaster with select TEC Grills.
was

$7,999.00

9% off ($749.00)
Free Shipping
As low as $234 /mo with
*
Professional Grill Assembly for $159
Book a professional to help assemble this grill for only $159. All bookings and inquiries are handled by Handy.
Frequently Bought Together
Key Features
TEC grills are proudly made in the USA
Two fuel-efficient burners boast an incredible 300-900 F temperature range (200 F with smoker accessory)
Patented radiant glass panels virtually eliminate hot/cold spots and flare-ups
Grill in style with contoured hood, fluid rotation handle, and luxury knobs
Self-cleaning cooking surface and no messy drip pan make cleanup a breeze
Newly improved from TEC, the Sterling Patio FR series of grills is better than ever! Featuring an innovative grilling system capable of cooking from a searing hot 900 degrees Fahrenheit, down to a low 200 degrees, great for low-heat smoking, searing, and everything in between. The TEC Sterling Patio FR 44-inch natural gas grill cooks with 100 percent infrared energy with no hot or cold spots, eliminating hot air and reducing moisture loss in food by up to 35 percent. Two fuel efficient 30,000 BTU burners use less fuel than other grills, saving you money on gas. Convenient electronic ignition supplies a reliable spark to ignite the burners safely. TEC uses a patented flare-proof stainless steel infrared burner system combined with a radiant glass emitter panel, resulting in tender, juicy, charbroil flavored food. The position of the stainless steel cooking grates, radiant glass panels, and infrared burners creates even heat distribution across the cooking surface and virtually eliminates flare-ups. The 592 square inch cooking surface is covered by unique, U-shaped cooking grates which heat very quickly, delivering restaurant-style sear marks on your food. A stainless steel heat zone separator sits between the burners, which allows you to cook food simultaneously using different temperatures. The separator prevents heat from spilling over to the other side, allowing you to cook using indirect heat. TEC Sterling Patio grills are capable of heating up to 900 degrees in 10 minutes with the hood closed, making long preheating times are a thing of the past. The need for a side burner is also eliminated because you can place your pots or pans on the cooking grids or radiant panels to heat and cook like on an indoor cooktop. Enjoy quick and easy cleanup, with a self-cleaning cooking surface that incinerates food and debris in 10-15 minutes while the grill is on high. Handcrafted in America, this 44-inch built-in grill features a sleek, contoured double-lined hood and thick gauge, 304 grade stainless steel with chrome control knobs on a stainless steel pedestal base. All TEC grills are CSA certified.
Legal disclaimers and warnings
Product packaging, owners' manuals, installation instructions, and/or operating instructions may include more information than what is shown on our website. The content on our site is intended to be used for reference purposes only. Please fully read all included manuals and documentation before installing or using this product. WARNING for California residents: this product may contain chemical(s) known to the state of California to cause birth defects, cancer, or other reproductive harm.
Product Information
Model Number

STPFR2NTCAB
Ask an Expert
Buy with confidence.
Contact our experts today.
| | |
| --- | --- |
| Class | Premium |
| Fuel Type | Natural Gas |
| Collection | Sterling Patio FR |
| Configuration | Freestanding |
| Exterior Material | Stainless Steel |
| Exterior Stainless Grade | 304 Stainless Steel |
| Primary Color | Stainless Steel |
| Number Of Main Burners | 2 Burners |
| Grilling Surface BTUs | 60000 |
| Infrared Main Burner | All Infrared |
| Main Burner Material | Stainless Infrared |
| Flame Tamer Material | Radiant Glass |
| Cooking Grate Material | Stainless Steel |
| Cooking Grid Dimensions | 41 X 14 3/8" |
| Main Grilling Area | 592 Sq. Inches |
| Burger Count | 27 |
| WiFi/Bluetooth Enabled | None |
| Rotisserie Burner BTUs | No Rear Burner |
| Rotisserie Kit | No |
| Heat Zone Separators | Yes |
| Ignition Type | Continuous Spark |
| Flash Tubes | No |
| Grill Lights | None |
| Spring Assisted Hood | No |
| Thermometer | None |
| Includes Smoker Box | No |
| Side Shelves | Yes |
| Hose Included | Yes |
| Side Burner | None |
| Made In USA | Yes |
| Cart Assembly | Some Assembly Required |
| Commercial-Grade Multi-User | No |
| Size | Large (34 - 42") |
| Marine Grade | No |
| | |
| --- | --- |
| Width | 44.25" |
| Depth | 26.5" |
| Height | 49.5" |
| Weight | 362 lbs |
TEC warrants the stainless steel housing to be free of defects in material and workmanship for the lifetime of the product when subject to normal residential use. The stainless steel burners and cooking grates are warrantied to be free of defects in material and workmanship for ten (10) years. All other grill components, including the ignition system and radiant glass panels, are of defects in material and workmanship for one (1) year. Labor not included.

Refer to manufacturers manual for full warranty details.
83% of reviews recommend this product
Customer images featuring this product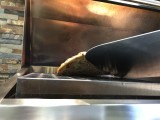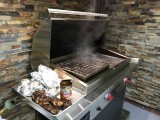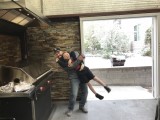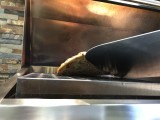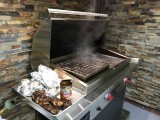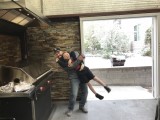 Works amazingly well. Great build quality.

I was a bit skeptical if infrared would result in the same grilled over fire taste. It does and them some! Amazingly versatile, super easy to clean (a big plus), and consumes far less propane even though it will easily and quickly get as hot as 1000 degrees. Build looks and feels commercial quality and looks premium. The TEC lacks some bells and whistles of some other grills but we think it does what it does as good or better than any grill we've used.

Was This Helpful?

The only grill for me.

This is my third TEC grill and they just keep getting better. There is no comparison to any other grill I've seen. Yes, they are expensive, but worth every penny. The improvements on this model will eliminate the reason I needed a new one. Anything that needs replacing is easy to get to for repair/replacement and that's only two things--the burners and the glass plates. I don't know what else to say except that if you ever buy one, you won't be satisfied with anything else..

Was This Helpful?

Best grill on the market!!

This grill offers so much versatility with such great quality! I have the pizza rack accessory as well as the smoker roaster accessory and I can do anything and everything with this one grill. I almost never cook inside now! The infrared method of cooking keeps the food juicer than ever! By far the best grill on the market and worth every dime.

Was This Helpful?

Unique Grill

I have had this grill now since May of 2018 and have purchased other accessories that TEC offers through the year. This Grill can almost do it all. It takes some time to get accustomed to with this IR technology with the glass tops but it is quite versatile. It cleans very easily if you turn the burners on high for 10 to 12 minutes and close the lid after you are done grilling. Turn it off and the next day scrape with wire brush, small hand held vacuum or shop vac like Milwaukee picks it right up. Stainless edge under lid will get some grease spots but cleans up easy with very fine grit scotch pad with stainless cleaner solution. Only use scotch pad on burn box. Now to the grilling. You can grill burgers very quick on this grill. If you preheat the grill for 10 to 15 minutes you can sear steaks with crosshatching very well. Depending on thickness of the steak and your liking will decide the time it will be in direct contact with the stainless grates. I like to sear them on high about 4 minutes each side and place them on the pizza rack TEC offers for another 5 to 10 minutes with other burner on low. Pizza is very good. Not as good as my BIG GREEN EGG but still impressed. French frys and hot wings are kick *** with the deep fryer attachment. If you like to cook slow, get the gator rack accessory. Can't go wrong. You can grill slow with out it but you want to make sure the juices are being vaporized on the glass. If you have the burner turned down too low the juices can accumulate and seep down into the burner box. This is where I believe the grill is a little hard to get use to at first. But if you love to Grill, you will figure it out. It smokes Ribs pretty identical to my Barrel I have. Foil foods like mushrooms, corn, potatoes ect... does an amazing job. Cooks poppers quick. I bought this grill to speed up the process when I get home from work instead of the green egg and it does just that. I Recommend it for people who grill all the time. I am very happy with it.

Was This Helpful?

i would recommend this grill .... very versatile

you need to provide a slide to move gas bottle into cabinet..... its heavy and scratches the lovely stainless

Was This Helpful?

This grill is worthless

I am very dissatisfied with this grill. Poor choice! It takes forever (25 min) to grill a thick ribeye and will barely make grill marks on it. My Alfressco will grill same steak in 9 min. I have had the gas company check the gas pressure and inspect the grill, they opened up the gas jets but made very little difference. They said that. It's as good as it's going to get. The grill has been used 4 times and I will sell it for half price if anyone wants it so I can get another Alfressco. Grill is in Highlands, NC

Was This Helpful?
The Skinny:
Truly the best infrared gas grill
100% infrared cooking means juicier foods
Incredible 200-900° temp range
Virtually no flare-ups
No hot/cold spots
Super quick pre-heat
Things We Love:
The TEC Patio FR gas grill is my favorite infrared gas grill I've ever cooked on. There are so many things to love about this grill. Its versatility makes it great for seasoned cooks like me and its temp range, virtually no flare-ups, even heat distribution and easy clean-up make it great for the beginner. TEC also makes the Sterling Patio FR which gives you the same cooking performance as the Patio FR, but with a sleeker, more curved lid. TEC has hit a home run with the Patio FR!
First, I love how fast this grill heats up. I reached high temp in less than 10 minutes. This surely comes in handy for grilling meals during the week after a long day at work. Also, TEC's 100% infrared system is more efficient than other gas grills too. It uses less gas, produces juicier food, and actually cooks food quicker. This quicker cooking is a plus for weeknight grilling as well.
TEC's Patio FR system is powered by super heavy duty, 304 stainless steel burners that are backed by a lifetime warranty. Right above the burner sits a tough radiant glass panel, set within a stainless steel bracket. The cooking grids sit directly atop the radiant panels. This system is phenomenal! I love the patented design of the cooking grids and how it allows for rapid recovery time, which produce the same great sear marks each time you turn your food. The glass panels are so tough, I actually removed the cooking grid on one side and put a pot directly on the glass and used it like a stove-top burner. Being able to do that while grilling over the other burner is a nice plus for the 2 burner models. Another benefit of the 2 burner models is the heat zone separator which truly allows your cooking zones of each burner to be controlled independently of the other.
Staying on the topic of this cooking system, it produces amazingly even heat distribution which means no hot and cold spots to get used to. Also, the radiant glass panels completely shield the burner flame from the food drippings which means virtually no flare up. Now don't confuse this with no flavor! The food you cook on a Patio FR is filled with amazing flavor due to the continuous smoke infusion into your food from the radiant glass panels vaporizing your food drippings.
A great practical benefit I noticed with the Patio FR is how easy it is to clean. Unlike every other gas grill out there, there is no grease drip pan to mess with. When finished grilling, turn the burners on high like a self-cleaning oven and all of the drippings on the cooking grids and radiant glass panels turn to ash and rest on the radiant panel. Simply wipe the ash off the glass panels and that's it!
Finally, what makes the Patio FR so special is the true cooking versatility it provides for any cook, no matter their experience level. I baked cinnamon rolls on the warming rack on a whim and they turned out excellent. I seared some high-end steakhouse quality steaks with the grill turned on high. High heat is roughly 900 degrees at the grid surface! I also cooked some mouthwatering chicken leg quarters with the grill turned on low! Low heat on the Patio FR is roughly 250 degrees. Finally, I used TEC's smoker/roaster accessory, which I believe is a must-have accessory, and slow smoked some incredible baby back ribs! Imagine that - smoking ribs on an infrared grill - incredible! You can actually get down to 200 degrees on low when using this smoker roaster accessory.
Things To Consider:
While I don't consider the TEC Patio FR to be an ugly grill, it is a bit more commercial looking and does lack some stylish features found on other high-end grills like polished edges and control panel LED lighting. The Sterling Patio FR is a bit more stylish, with its sleeker, more curved lid. Also, TEC grills produce an extreme amount of clean, white smoke. While this is not harmful, it's important to install it in a well-ventilated area or consider adding a vent hood to help ventilate.
You'll Like This Grill If:
You want the best and most versatile infrared grill on the market!
Question:
Can bbqguys get replacement parts for the TEC Patio 1 grill
Was This Helpful?
Answer:
Hi John! Yes, we can help you out with that! Please Live Chat or give us a call at 877-743-2269 and let us know what part you are looking for!
Question:
Can the wing shelves on the 44" be folded down when not in use? If not, are they removable?
Was This Helpful?
Answer:
Hi Chuck! The side shelves on this grill cannot be folded down. However, you do not have to install them during assembly. Hope this helps!
View Product Comparisons

Current Item

TEC Sterling Patio FR 44-Inch Infrared Natural Gas Grill On Stainless Cabinet - STPFR2NTCAB

PGS T-Series Commercial 39-Inch Natural Gas Grill With Timer - S36TNG

TEC Patio FR 44-Inch Infrared Natural Gas Grill On Stainless Cabinet - PFR2NTCABS

TEC Sterling Patio FR 44-Inch Infrared Natural Gas Grill On Stainless Cabinet W/ Red Knobs

Price & Shipping Information

$749.00 (9%)

Free Shipping

Leaves Warehouse:

1-3 Business Days

Free Shipping

Leaves Warehouse:

1-3 Business Days

View Item

$724.00 (10%)

Free Shipping

Leaves Warehouse:

1-3 Business Days

View Item

$751.00 (9%)

Free Shipping

Leaves Warehouse:

1-3 Business Days

View Item
ID
#2936218
#2936251
#2931532
#2936221
Model
STPFR2NTCAB
S36TNG + S36CART
PFR2NTCABS
STPFR2NTCAB + HW0841 (2)
Class
Premium
Premium
Premium
Premium
Fuel Type
Natural Gas
Natural Gas
Natural Gas
Natural Gas
Collection
Sterling Patio FR
T-Series
Patio FR
Sterling Patio FR
Configuration
Freestanding
Freestanding
Freestanding
Freestanding
Exterior Material
Stainless Steel
Stainless Steel
Stainless Steel
Stainless Steel
Exterior Stainless Grade
304 Stainless Steel
304 Stainless Steel
304 Stainless Steel
304 Stainless Steel
Primary Color
Stainless Steel
Stainless Steel
Stainless Steel
Stainless Steel
Number Of Main Burners
2 Burners
3 Burners
2 Burners
2 Burners
Grilling Surface BTUs
60000
67000
60000
60000
Infrared Main Burner
All Infrared
Available
All Infrared
All Infrared
Main Burner Material
Stainless Infrared
304 Stainless Steel
Stainless Infrared
Stainless Infrared
Flame Tamer Material
Radiant Glass
Ceramic
Radiant Glass
Radiant Glass
Cooking Grate Material
Stainless Steel
Stainless Steel
Stainless Steel
Stainless Steel
Cooking Grid Dimensions
41 X 14 3/8"
36 X 20"
41 X 14 3/8"
41 X 14 3/8"
Main Grilling Area
592 Sq. Inches
720 Sq. Inches
592 Sq. Inches
592 Sq. Inches
Burger Count
27
28
27
27
WiFi/Bluetooth Enabled
None
None
None
None
Rotisserie Burner BTUs
No Rear Burner
No Rear Burner
No Rear Burner
No Rear Burner
Rotisserie Kit
No
Available
No
No
Heat Zone Separators
Yes
No
Yes
Yes
Ignition Type
Continuous Spark
Continuous Spark
Continuous Spark
Continuous Spark
Flash Tubes
No
Yes
No
No
Grill Lights
None
None
None
None
Spring Assisted Hood
No
No
No
No
Thermometer
None
Analog
None
None
Includes Smoker Box
No
No
No
No
Side Shelves
Yes
Yes
Yes
Yes
Hose Included
Yes
No
Yes
Yes
Side Burner
None
None
None
None
Made In USA
Yes
No
Yes
Yes
Cart Assembly
Some Assembly Required
Some Assembly Required
Some Assembly Required
Some Assembly Required
Commercial-Grade Multi-User
No
Yes
No
No
Size
Large (34 - 42")
Large (34 - 42")
Large (34 - 42")
Large (34 - 42")
Marine Grade
No
No
No
No
Per the manufacturer, this product does not require a California Proposition 65 Warning.
For more information, go to www.p65warnings.ca.gov.
Free Shipping on orders over $49
Ship your entire order to your home for free, especially the big stuff! *Continental US only
When will my item arrive?
Once shipped, items usually arrive within 3-5 business days. While UPS and FedEx are our carriers for smaller items, be aware that larger items and orders are shipped via freight. The freight process is a bit more complicated than what we've all come to expect for small parcels, so it's important that you're prepared and understand what's required of you well before delivery day.
Most freight products ship on a pallet
Some carriers will call to schedule a delivery window, while others will deliver the shipment to a reasonably accessible location closest to your residence (their goal is to deliver as near a garage door as they can).
We'll specify which process you can expect in your shipping confirmation email.
For carriers that schedule delivery appointments:
Carriers that schedule delivery appointments require you to be home for delivery and provide your signature. The delivery is made with a semi-truck with lift gate services, and the shipment is dropped off at the curb. If you authorize the shipping company to leave the delivery without a signature, BBQGuys can't be held responsible for damages that occur during delivery. As complicated as this process may seem, we've only scratched the surface here — please review our detailed guide to freight delivery so there are no surprises when a freight shipment heads your way.
For carriers that deliver without an appointment:
Carriers that deliver without an appointment don't require you to be home or set up a delivery window, and you aren't required to sign for the pallet(s). Instead of scheduling an appointment, arranging your schedule to be home for the delivery, and signing to confirm receipt, you can sit back and let your items come to you. If you're home at the time of the drop-off, you can request the driver place your delivery in the garage; if you're out of the house, the driver will leave it near the garage or doorstep.
This item leaves our warehouse within
1-3 Business Days
$6.95 Flat-Rate Shipping
Anything under $49 ships at one low price. If your order increases, your shipping stays the same!
30-Day Returns
Return all new, unused, and unassembled items in their original packaging, and we'll give you a full refund minus the cost of the original AND return shipping.
No Restocking Fee
Most companies charge a restocking fee. We just don't do business that way.
Your Shopping History. Pick up where you left off.