Lion L90000 40-Inch Stainless Steel Built-In Natural Gas Grill
Included Accessories
Included Gourmet Grilling Package.
was

$2,899.00

24% off ($700.00)
Free Shipping
As low as $71 /mo with
*
Frequently Bought Together
Frequently Bought Together
Total price:
Free Shipping
As low as $108 /mo with
*
Key Features
Commercial grade 304 stainless steel construction for lasting durability
Five rugged cast stainless steel burners deliver excellent cooking control
Temperature gauge allows you to monitor grilling conditions
Superior quality and professional grilling results
Interior lighting enhances visibility for evening grilling
Lion demonstrates their gourmet grilling expertise with the L90000 natural gas grill. This stainless steel 40-inch BBQ grill has all the features and flare required to get your backyard barbecuing experience started. Six Lion Quick Lite valves ensure a fast, steady flame for grilling startup, and push-to-turn knob design simplifies operation. Commercial grade 304 stainless steel construction promises an unbreakable grill in your backyard. The double layer, seamless welded, stainless steel grill head with polished edges delivers durability to your grilling area. Five cast stainless steel burners push 75,000 BTUs of cooking power on the grilling surface, and a 15,000 BTU infrared rotisserie back burner adds fuel to the fire! An XL commercial temperature gauge makes monitoring your meal simple, and the two interior lights illuminate the grilling area so you can enjoy your Lion grill late into the evening. Premium solid stainless steel cooking grates resist wear and tear, and provide 802 square inches of grilling space. Experience the benefits of a grilling gourmet package with the included rotisserie, cover, smoker box, griddle and griddle remover.
Legal disclaimers and warnings
Product packaging, owners' manuals, installation instructions, and/or operating instructions may include more information than what is shown on our website. The content on our site is intended to be used for reference purposes only. Please fully read all included manuals and documentation before installing or using this product. WARNING for California residents: this product may contain chemical(s) known to the state of California to cause birth defects, cancer, or other reproductive harm.
Product Information
UPC

855874003035

Model Number

90823
Ask an Expert
Buy with confidence.
Contact our experts today.
Specifications
| | |
| --- | --- |
| Class | Premium |
| Fuel Type | Natural Gas |
| Collection | L90000 |
| Configuration | Built-In |
| Exterior Material | Stainless Steel |
| Exterior Stainless Grade | 304 Stainless Steel |
| Primary Color | Stainless Steel |
| Number Of Main Burners | 5 Burners |
| Grilling Surface BTUs | 75000 |
| Infrared Main Burner | Available |
| Main Burner Material | 304 Cast Stainless Steel |
| Flame Tamer Material | Stainless Steel |
| Cooking Grate Material | Stainless Steel |
| Cooking Grid Dimensions | 37 1/2 X 19 1/4" |
| Main Grilling Area | 802 Sq. Inches |
| Secondary Grilling Area | 228 Sq. Inches |
| Total Grilling Area | 1030 Sq. Inches |
| Burger Count | 32 |
| WiFi/Bluetooth Enabled | None |
| Rotisserie Burner BTUs | 15000 |
| Rotisserie Kit | Yes |
| Heat Zone Separators | No |
| Ignition Type | Flame Thrower |
| Flash Tubes | No |
| Grill Lights | Internal |
| Spring Assisted Hood | No |
| Thermometer | Analog |
| Includes Smoker Box | Yes |
| Side Shelves | No |
| Hose Included | No |
| Made In USA | No |
| Commercial-Grade Multi-User | No |
| Size | Large (34 - 42") |
| Marine Grade | No |
Dimensions
| | |
| --- | --- |
| Width | 40" |
| Depth | 24.25" |
| Height | 21.5" |
| Weight | 200 lbs |
| Cutout Width | 38 1/2" |
| Cutout Depth | 21 1/2" |
| Cutout Height | 9 5/8" |
Lion offers a lifetime warranty on all cast stainless burners, stainless steel framing and housing, and stainless steel cooking grids. Lion also offers a 3 year warranty on stainless steel flame tamers, and a 1 year warranty on all gas valves and other parts and components. Labor not included.

Refer to manufacturers manual for full warranty details.
76% of reviews recommend this product
Customer images featuring this product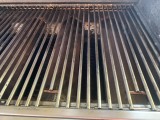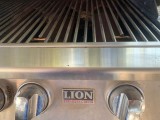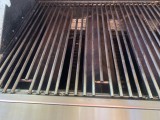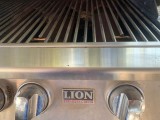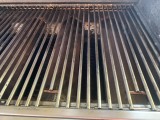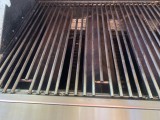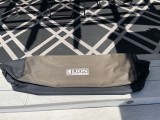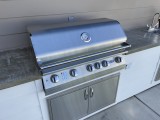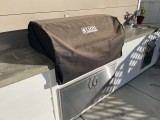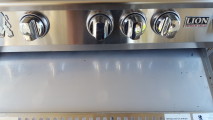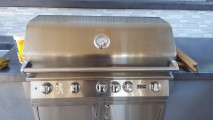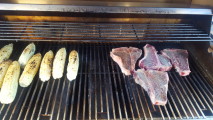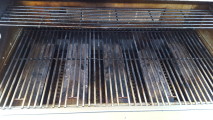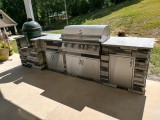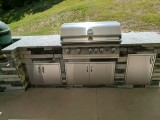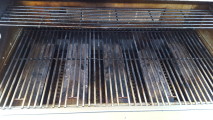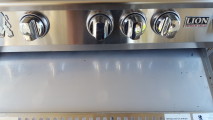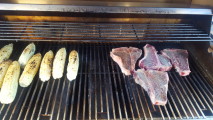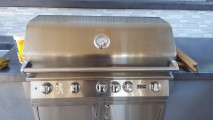 Great value, great grill

I installed this grill 1.5 years ago and have had nominal issues, despite it being placed at a vacation rental home (i.e., it isn't always treated as if it were my own, and receives infrequent maintenance since the house is booked >300 nights/year). Very heavy/sturdy, and thus far no exterior corrosion despite being across the street from the beach, which was one of my primary concerns. I did upgrade to the ceramic tamers to minimize flare ups/distribute heat more evenly, as well as greater resistance to corrosion vs. the traditional stainless tamer - money well spent and recommended. The lone disadvantage is the flame isn't readily visible with the ceramic tamers and it's slightly more challenging to access and light the burners with a stick lighter when the igniter fails. This is irrelevant if the grill is at your home, only a potential issue if you have different guests each week and you're 350 miles away from the property, as I am.... And I can't say enough about BBQGuys. I've purchased over $10,000 in grill from these guys and they're awesome. They know their stuff and they know customer service, which increasingly is a rarity.

Was This Helpful?

Great Grill and the price is right.

Really sharp looking, the lights work great, designed very well. This thing is a beast, 40 inches is alot bigger in person, but worth it.

Was This Helpful?

I would work with the BBQ guys again

Really enjoyed dealing with the BBQ guys. Felt they were truly interested in my needs. Happy with the grill

Was This Helpful?

Came back for another

I love this grill. This is the 2nd one I have had. The first I loved but we sold our house and I had to leave it behind. I researched again to make sure there wasn't anything I thought might be better, but couldn't find anything that compared with all the options. I grilling on it now as I write.

Was This Helpful?

Love my grill

Love my grill!!!

Was This Helpful?

Yes

Great grill, gets hot quick!

Was This Helpful?

Awesome product!

Lion Grill's customer service is the best in any question you have. Called them many times and always answered my questions.

Was This Helpful?

Perfect grill will all the accessories you need

This is a great grill at a great price, hence this is my second one exact same model

Was This Helpful?

Love my Lion 40" grill, absolutely the best!

I use my new Lion grill a minimum of 5 times weekly. I really love having the flat top grill. Great for stir fry veggies, fish. Hash brown potatoes, shrimps come off Juliet!

Was This Helpful?

Great product!

It is an awesome grill. Well made and heavy duty. When ordering the help I received on-line was great. They answered all my questions and when the grill arrived I knew exactly what to expect.

Was This Helpful?
The Skinny:
Built solid
Easy to use with a low learning curve
Affordably priced; great lifetime warranty
Things We Love:
If you're looking for an affordably priced premium grill, then Lion Premium Grills should definitely be considered. Lion grills are solidly built using 304 stainless steel and the hood is double-lined for extra durability. The grill comes with cast stainless burners that radiate heat well and tend to last longer than other burners.
One thing I like about Lion is that it's simple to use and has a lower learning curve than many other premium grills. The control panel is uncluttered and easy to operate, and the grill heats up quickly to get you grilling in no time.
Love the wonderful, smoky flavor of cooking with charcoal? As an upgrade option, you can add a charcoal tray to your Lion, giving you cooking versatility. The tray sits above the burners and the charcoal is lit by the burners, with no lighter fluid needed.
Lion also gives you the option to upgrade the included steel flame tamers to a ceramic rod flame taming system, which I highly recommend. The ceramic rods cover more grilling area and help to better distribute the heat across the entire grilling surface.
As a final upgrade option, you can purchase the interchangeable searing burner which can replace any of the standard burners. This gives you the option to customize your grills burner configuration any time you grill by simply swapping out the burners.
Lion stands behind their grills with a great lifetime warranty, which covers the burners, cooking grids, and stainless steel frame and housing.
To top it off, Lion is currently including a grilling gourmet package when you buy their grill. The package gives you cool extras like a rotisserie kit, grill cover, smoker box, griddle, and griddle plate remover with bottle opener. Who doesn't love lagniappe (a little something extra)?
Things to Consider:
While Lion offers a lot of upgrade options to consider, they are not included with the grill, which will add to the final price tag.
One upgrade I highly think you should consider is the grills flame tamers. By upgrading to the ceramic flame tamers, you will see a huge difference in the grills performance with a more evenly heated grill surface and minimal flare ups while cooking.
You'll Like This Grill If:
You're seeking an affordably priced premium grill with accessories and options that will thrill any griller.
Question:
Can you recommend an insulated jacket unit for the Lion 75000 and the Lion 90000?
Was This Helpful?
Answer:
Hi, Don. Insulated jackets are engineered for their specific grills. There are none that can be recommended for any Lion grills.
Question:
Are the handle end caps made of 304 stainless steel too or some other material plated in chrome?
Was This Helpful?
Answer:
Hi, Jason. The Lion Grill end caps are 304-grade stainless steel
Question:
Is the griddle insert bigger on the 40" model than the 32" model? Can an extra insert be utilized for larger cooking area?
Was This Helpful?
Answer:
Hi, Sam. They are the same size. Lion only recommends one griddle be used at a time.
Question:
I just bought the 40" lion grill propane, and i am having a hard time removing the burners. How do you remove them. The video shows that they should just pull out but that is not the case. Please advise
Was This Helpful?
Answer:
Hi, Linda. Lion uses cotter pins to hold the burners in place for shipping. They can easily be removed, usually from the back of the grill head, using a pair of needle-nosed pliers.
Question:
What size gas hose 3/8 or 1/2inch
Was This Helpful?
Answer:
Hello! You'll want to attach an outdoor flex line of 1/2 inch for the main burner supply or a 3/8 inch for the side burner to the regulator. I hope this helps!
Question:
Can the propane tank be installed under the grill
Was This Helpful?
Answer:
Yes, I have my tank under the grill, no issues
Question:
Are grates supplied to replace griddle?
Was This Helpful?
Answer:
Yes and you have to remove the grates and replace with the griddle.
Answer:
Yes. Ours came with the griddle and enough grated to cover the entire cooking surface when the griddle is removed.
Answer:
Yes Your Lion Grill will have a full set of grates as well with the Griddle.
Question:
Will this grill be able to cook at a low temperature of around 200 degrees?
Was This Helpful?
Answer:
Hi Joey. You should be able to maintain a temperature around there without too much issue depending on environmental factors.
Question:
Where is the lion grill made?
Was This Helpful?
Answer:
Hi Stan! Lion grills are manufactured in China.
Question:
Does this grill need a regular 15 amp gfci receptacle installed right by it for the grill lights
Was This Helpful?
Answer:
Hi Justin! Yes, this grill does need to be plugged in to use the lights. However, you can use an approved extension cord if needed. Make sure the extension cord is one with a 3 prong grounding, rated for the power of the equipment, and approved for outdoor use with a W-A marking. See page 4 of the instruction manual on the item page for more information.
Question:
Does this grill require an insulated jacket for bbq island installation?
Was This Helpful?
Answer:
Hi Abe! All built-in grills require an insulated jacket if building with combustible materials. You can find more information on the requirements in the owner's manual provided with this grill, and if you have more questions please send us a message on the live chat or call 877-743-2269
Question:
Is the electrical source only for the light? If you are installing and do not plan on using the light, do you have to install the electrical component?
Was This Helpful?
Answer:
Hi AJ, this grill only requires an electrical source for the grill lighting, it can be installed and operated without electricity if you don't intend to use the lights.
Question:
Did I read correctly that the hose and regulator are NOT included? Why would that be?
Was This Helpful?
Answer:
Hi Joe, the hose and regulator ARE included with this unit
Question:
I purchased from BBQGuys.com a Lion L90000 5 burner built-in natural gas grill and now the middle burner has a flame coming out the front of the grill. This flame has created so much heat that it has discolored the top edge of the SS control panel assembly, melted the electrode/ignitor, and the knob gets so hot you will be burned if you touch it. How do you get access to the cotter pin to remove the burner and how do you access the valve/orifice? Do I have to remove it from the built in and access the cotter from underneath? Are there any available instruction videos for this and replacing the ignitor?
Was This Helpful?
Answer:
Hi, Mike. I'm sorry to see you're getting flash-back with your Lion grill. There's more than likely an obstruction in the burner, like food debris or a spider web. Obstructions aren't the only cause of flash-back, but they're the most common. To remove the burner, you'll need to access and remove the cotter pin from the bottom rear of the grill. Lion has a guide on replacing the valves and igniters on their grills, and you can always Chat or call us at 877-743-2269 for further assistance. Here's a link to the guide:
lionbbq.com/how-to-guides
Question:
The Lion manual states: "The grill should not be placed under or on top of any surface that will burn." We plan to install this in a covered outdoor patio, and we don't want any trouble getting building inspectors to approve this. Is there any documentation clarifying the manufacturer's recommendation when installing under a ceiling? eg- some other manuals I've seen mention use of a hood or non-flammable material extending 3" beyond cooking surface.
Was This Helpful?
Answer:
Hi, Daniel. You'll need to speak to your contractor about the proper ventilation and clearances to combustibles you'll need to install this grill. If you need any further assistance, give us a call, and we'll be happy to help any way we can.
Question:
I only have propane available at my house. Is this model available in propane or is there a conversion kit?
Was This Helpful?
Answer:
Absolutely, Matt! You can change the gas type in the top right corner of the page along with the size and configuration. Give us a call if you have any trouble.
Question:
I live in the Phoenix area and while I do plan to leave a cover on my grill, our summers are obviously very brutal and I'm wondering how this grill held up for people that have it awhile? Is the grill still visually pleasing after a few years, or does the outside of it look old and weathered?
Was This Helpful?
Answer:
Hey, Barret! The Lion grill's exterior is made of 304 grade stainless steel, which is made for outdoors and is designed to withstand the elements. The most important thing to remember is that grills and other outdoor components will need routine cleaning to ensure that lasting durability and visual appeal. Using a cover is definitely going to help extend the life as well. Generally speaking, if you care for the grill appropriately, it will last!
View Product Comparisons

Current Item

Lion L90000 40-Inch Stainless Steel Built-In Natural Gas Grill

Blaze Premium LTE 40-Inch 5-Burner Built-In Natural Gas Grill With Rear Infrared Burner & Grill Lights - BLZ-5LTE2-NG

Napoleon Built-In 700 Series 38-Inch Natural Gas Grill w/ Infrared Rear Burner & Rotisserie Kit - BIG38RBNSS

Coyote C-Series 42-Inch 5-Burner Built-In Natural Gas Grill - C2C42NG

Price & Shipping Information

$700.00 (24%)

Free Shipping

Leaves Warehouse: 1-3 Business Days

$937.50 (27%)

Free Shipping

Leaves Warehouse: 24 Hours

View Item

Free Shipping

Leaves Warehouse: 24 Hours

View Item

$178.00 (7%)

Free Shipping

Leaves Warehouse: 1-3 Business Days

View Item
ID
#2852566
#2973492
#3076918
#3010365
Model
90823
BLZ-5LTE2-NG
BIG38RBNSS
C2C42NG
Class
Premium
Premium
Practical
Premium
Fuel Type
Natural Gas
Natural Gas
Natural Gas
Natural Gas
Collection
L90000
Blaze Premium LTE
—
C-Series
Cutout Width
38 1/2"
38 3/8"
36"
39 1/2"
Cutout Depth
21 1/2"
21 1/4"
19 2/5"
20 1/2"
Cutout Height
9 5/8"
8 1/2"
10 1/4"
10 1/4"
Configuration
Built-In
Built-In
Built-In
Built-In
Exterior Material
Stainless Steel
Stainless Steel
Stainless Steel
Stainless Steel
Exterior Stainless Grade
304 Stainless Steel
304 Stainless Steel
304 Stainless Steel
304 Stainless Steel
Primary Color
Stainless Steel
Stainless Steel
Stainless Steel
Stainless Steel
Number Of Main Burners
5 Burners
5 Burners
5 Burners
5 Burners
Grilling Surface BTUs
75000
70000
60000
100000
Infrared Main Burner
Available
Available
Not Available
Not Available
Main Burner Material
304 Cast Stainless Steel
304 Cast Stainless Steel
Stainless Steel
304 Cast Stainless Steel
Flame Tamer Material
Stainless Steel
Stainless Steel
Stainless Steel
Stainless Steel
Cooking Grate Material
Stainless Steel
Stainless Steel
Stainless Steel
Stainless Steel
Cooking Grid Dimensions
37 1/2 X 19 1/4"
37 1/4 X 18"
35 1/2 X 18"
39 7/8 X 17 1/4"
Main Grilling Area
802 Sq. Inches
670 Sq. Inches
639 Sq. Inches
990 Sq. Inches
Secondary Grilling Area
228 Sq. Inches
227 Sq. Inches
315 Sq. Inches
257 Sq. Inches
Total Grilling Area
1030 Sq. Inches
897 Sq. Inches
945 Sq. Inches
945 Sq. Inches
Burger Count
32
24
28
32
WiFi/Bluetooth Enabled
None
None
None
None
Rotisserie Burner BTUs
15000
10000
18000
No Rear Burner
Rotisserie Kit
Yes
Available
Yes
Available
Heat Zone Separators
No
Yes
No
No
Ignition Type
Flame Thrower
Flame Thrower
Flame Thrower
Flame Thrower
Flash Tubes
No
Yes
No
No
Grill Lights
Internal
Internal / External
External
Internal
Spring Assisted Hood
No
No
No
No
Thermometer
Analog
Analog
Analog
Analog
Includes Smoker Box
Yes
No
No
No
Side Shelves
No
No
—
—
Hose Included
No
No
No
No
Made In USA
No
No
No
No
Commercial-Grade Multi-User
No
No
No
No
Size
Large (34 - 42")
Large (34 - 42")
Large (34 - 42")
Large (34 - 42")
Marine Grade
No
No
No
No
Free Shipping on orders over $49
Ship your entire order to your home for free, especially the big stuff! *Continental US only
When will my item arrive?
Once shipped, items usually arrive within 3-5 business days. While UPS and FedEx are our carriers for smaller items, be aware that larger items and orders are shipped via freight. The freight process is a bit more complicated than what we've all come to expect for small parcels, so it's important that you're prepared and understand what's required of you well before delivery day.
Most freight products ship on a pallet
Some carriers will call to schedule a delivery window, while others will deliver the shipment to a reasonably accessible location closest to your residence (their goal is to deliver as near a garage door as they can).
We'll specify which process you can expect in your shipping confirmation email.
For carriers that schedule delivery appointments:
Carriers that schedule delivery appointments require you to be home for delivery and provide your signature. The delivery is made with a semi-truck with lift gate services, and the shipment is dropped off at the curb. If you authorize the shipping company to leave the delivery without a signature, BBQGuys can't be held responsible for damages that occur during delivery. As complicated as this process may seem, we've only scratched the surface here — please review our detailed guide to freight delivery so there are no surprises when a freight shipment heads your way.
For carriers that deliver without an appointment:
Carriers that deliver without an appointment don't require you to be home or set up a delivery window, and you aren't required to sign for the pallet(s). Instead of scheduling an appointment, arranging your schedule to be home for the delivery, and signing to confirm receipt, you can sit back and let your items come to you. If you're home at the time of the drop-off, you can request the driver place your delivery in the garage; if you're out of the house, the driver will leave it near the garage or doorstep.
This item leaves our warehouse within 1-3 Business Days
$6.95 Flat-Rate Shipping
Anything under $49 ships at one low price. If your order increases, your shipping stays the same!
30-Day Returns
Return all new, unused, and unassembled items in their original packaging, and we'll give you a full refund minus the cost of the original AND return shipping.
No Restocking Fee
Most companies charge a restocking fee. We just don't do business that way.
Message to our customers: Like all retailers and manufacturers, we're currently experiencing well-publicized supply-chain issues and steel shortages that have caused some orders to be delayed. We sincerely apologize for any inconveniences arising from this situation, and we assure you we're making every effort to solve these problems with our vendors and logistical partners.

So, why are some orders being affected? Major ports around the world are still operating at reduced capacity because of COVID-19 restrictions — on average, container boats sit at port for about 3 weeks before being unloaded. Combine these shipping inefficiencies with a scarcity of natural resources, and virtually every industry has been crippled to some degree. Yet we acknowledge that it's our duty to meet these challenges head-on and work toward solutions so you can enjoy more time outdoors with the people you love. We appreciate your patience as we strive to smooth out our supply chain, and we thank you for choosing us for your grilling and outdoor living needs.
Your Shopping History. Pick up where you left off.