This product is sold out. May we recommend...
Key Features
Five 10,000 BTU burners are constructed of 304 stainless steel for durability
18,000 BTU infrared searing burner gives you extra high heat for searing steaks to perfection
13,000 BTU ceramic rear infrared burner is perfect for roasting chicken and rotisserie style cooking
Durable and fully welded stainless steel lid
Electronic individual burner push button ignition for easy startup
Created for cooks who love to create meals for friends and family, KitchenAid offers long lasting grills that anyone can use and enjoy. This powerful KitchenAid propane gas built-in grill features five 304 stainless steel burners that produce 10,000 BTUs each and has 670 square inches of main cooking area and 214 square inches of secondary cooking area for a total of 884 square inches. The 13,000 BTU ceramic rear infrared burner is great for roasting chicken for rotisserie style cooking while the 18,000 BTU infrared searing burner sears meat to perfection for a restaurant quality steak. Starting the grill is simple with the easy-to-use continuous electronic ignition powered by two AA batteries. This grill features an Even-Heat System, which consists of stainless steel burners, angled flame tamers, and enhanced grates, which work together to distribute consistent heat across the entire grill surface and reduce flare-ups. This grill features a fully welded stainless steel, dual wall main lid with an oversized temperature gauge. KitchenAid features dual energy valves on all of their grills and include natural gas orifices, making it possible to switch between natural gas and propane fuel types.
Legal disclaimers and warnings
Product packaging, owners' manuals, installation instructions, and/or operating instructions may include more information than what is shown on our website. The content on our site is intended to be used for reference purposes only. Please fully read all included manuals and documentation before installing or using this product. WARNING for California residents: this product may contain chemical(s) known to the state of California to cause birth defects, cancer, or other reproductive harm.
Product Information
UPC

44376283407

Model Number

740-0781LP
Ask an Expert
Buy with confidence.
Contact our experts today.
Specifications
| | |
| --- | --- |
| Class | Practical |
| Fuel Type | Propane |
| Configuration | Built-In |
| Exterior Material | Stainless Steel |
| Primary Color | Stainless Steel |
| Number Of Main Burners | 5 Burners |
| Grilling Surface BTUs | 58000 |
| Infrared Main Burner | One Infrared |
| Main Burner Material | 304 Stainless Steel + Ceramic Infrared |
| Flame Tamer Material | Stainless Steel |
| Cooking Grate Material | Stainless Steel Wrapped |
| Cooking Grid Dimensions | 35 1/2 X 19 1/2" |
| Main Grilling Area | 670 Sq. Inches |
| Secondary Grilling Area | 214 Sq. Inches |
| Total Grilling Area | 884 Sq. Inches |
| Burger Count | 28 |
| WiFi/Bluetooth Enabled | None |
| Rotisserie Burner BTUs | 13000 |
| Rotisserie Kit | Available |
| Heat Zone Separators | No |
| Ignition Type | Continuous Spark |
| Flash Tubes | No |
| Grill Lights | None |
| Spring Assisted Hood | No |
| Thermometer | Analog |
| Includes Smoker Box | No |
| Hose Included | Yes |
| Made In USA | No |
| Commercial-Grade Multi-User | No |
| Size | Large (34 - 42") |
| Marine Grade | No |
Dimensions
| | |
| --- | --- |
| Width | 40" |
| Depth | 25.5" |
| Height | 22.25" |
| Weight | 114 lbs |
| Cutout Width | 36 1/2" |
| Cutout Depth | 20 1/2" |
| Cutout Height | 10 1/2" |
The stainless steel tube burners are warrantied for ten (10) years, cooking grids and stainless steel parts for three (3) years and all other parts including searing and rotisserie burners for one (1) year. Labor not included.

Refer to manufacturers manual for full warranty details.
22% of reviews recommend this product
Customer images featuring this product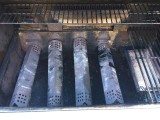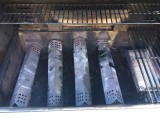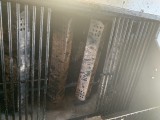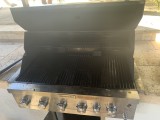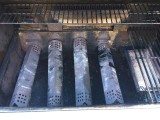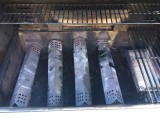 Quality Grill at a reasonable price

I originally purchased this grill 8 years ago for our lake house in Alabama. I never covered the grill and it was in an area constantly exposed to the elements specifically the sun and rain. I'm just now having to replace it so my annual cost of ownership was roughly $150/year - that simply can't be beat for a built in grill. This grill is an extremely great value. We moved to the Houston area a few years ago and I also built an outdoor kitchen were I purchased this same grill again. I"m also an avid user of Green Egg products. However, if properly maintained the searing unit cooks a steak equivalent to a Green Egg. However, this grill is much easier to use especially when cooking/grilling on short notice. Excellent for steaks, seafood and burgers/dogs. Are there better grills out there? Yes, but you will definitely pay for it. I couldn't be more happy with this product.

Was This Helpful?

Great Looking Grill, Quality is Great for the Price

I have owed this product for over 2 years and I have to say that it gets a bad wrap. Negative reviews are not fair because this grill is 1/2 the price (or less) than that of its competitors. At my previous house I owned one of its competitors and you run into the same issues with all grills. If you use it a lot, general maintenance will be required, ie. deep cleaning, parts replacement, etc. The good news is that the replacement parts for this grill are reasonably priced. When I needed to replace a searing burner on a competitor, it was over $200 for just the burner. For this grill, I just did an overhaul and it cost me about $180 for new grates, new burner covers and a new searing burner. The installation of the replacement parts was simple. The exterior of the grill still looks brand new because I wipe it down with a stainless cleaner 1-2 times a month and I clean it with Bar Keepers stainless cleaner every 6-8 months to remove discolorations, water marks, etc. At this rate, if I do an overhaul every 2 years, you still spend less on this grill after 10-15 years than the competitors. Buying a grill is like buying a car, you need to look at the performance and compare it to the price. This grill is like a Lincoln or Cadillac, it gives you some premium features and looks luxurious and the maintenance won't kill you. You can spend $2000-$5000 on a grill, and the quality may be better, however, the maintenance will be expensive and it will still be necessary. In regard to the grilling, the searing burner cooks delicious steaks and the grill is large enough to cook at least 10-12 burgers at a time. The ignitors are still functioning great and the burners produce an even heat. I have never used the rotisserie. I wish you could add a second searing burner because it its pretty small and you can only fit 2-3 steaks on it at a time, however, the ignitors are different and there is a resting plate on the rear side of the fire box to support the weight of the searing burner

Was This Helpful?

Low Quality

Perhaps the worst product we've ever bought. I should've just paid for the quality option the first time. It lasted 2 years. Complete junk.

Was This Helpful?

Not good quality

Bought this grill because we had purchased all Kitchen Aid for the inside....dishwasher, cook top, frig, oven-micro combo, and that it was cheaper than other grills. Big mistake! The sear burner has melted after a couple years and the bbqing grates are now falling apart as they cannot take the heat. So, I guess it time to purchase a REAL grill that costs 3 times what this one did. Guess you get what you pay for?

Was This Helpful?

I would not buy this kitchen aid again.

You can not buy replacement parts for this grill.

Was This Helpful?

I bought this product when it sold under the "JENNAIR" tag.

It's a great grill for about 3 years, 6 years later its literally falling apart. Only two of the original burners still work. The infrared burner is totally deteriorated, even the grill is where you put the meat is falling apart.

Was This Helpful?

Read the real reviews this grill is junk!

This grill has a major flaw with the valve assembly. If the grill gets hot (grills get hit) they fail and cause it to leak gas into the manifold where it burns up all the other valves and wiring. Then just try to get parts to fix it ..... spend more once or buy a new kitchen aid yearly!

Was This Helpful?

Spend a little more

I purchased this grill after using a Jenn Aire for over 12 years. This grill did not make it for three years. Buyer Beware...... I called the warranty/support. They indicated they were aware of the metal expanding and the burners & grates not fitting after using. In addition, they requested photos. I never heard back......

Was This Helpful?

Not a quality grill

Bought a built in Kitchenaid Grill for the searing feature. The high heat destroyed two of the stainless steel cooking grates within one season of use. The problem? Kitchenaid does not include nor do they offer solid stainless steel rod grates for their grills that will withstand the heat of the searing burner. The extreme sear heat bakes and cracks the stainless steel coating off of the grates provided. No satisfaction when contacting them for replacements or upgrades. I'm left with only two usable of the four grates that came with the grill and searching for replacements from another manufacturer just so I can use my grill. In the meantime, no sear cooking for me. Very disappointed in lack of Kitchenaid product quality and support

Was This Helpful?
The Skinny:
Great price point
Well-known brand name
Easy to use ignition system
Things We Love:
KitchenAid Gas Grills combines an attractive price point with some of the specs and features often found on premium-priced grills. It is made of almost all 304 stainless steel which is great. KitchenAid grills are made by NexGrill who licenses the KitchenAid name from the Whirlpool Corporation.
The 30-inch grills have four 12,000 BTU burners and the 36-inch grills have four 10,000 BTU burners. The burners on both models are constructed of high-grade 304 stainless steel, which is a plus. Both built-in grill models include a rear rotisserie burner though the rotisserie kit is sold separately. The KitchenAid 36-inch Gas Grill includes an 18,000 BTU infrared searing burner for steakhouse quality searing, which is not typically found on grills in this price range.
The Even-Heat System consists of the stainless steel burners, angled flame tamers as well as enhanced grates. These all work together, to distribute consistent heat across the entire surface of the grill. It also aids in reducing flare-ups.
Another plus is the easy-to-use electronic ignition. The nicely designed, built-in hood thermometer is easy to read and helps you gauge the amount of heat inside the grill.
Things To Consider:
The cooking grids are stainless wrapped steel, not solid stainless steel. Once the wrap wears off, the raw steel underneath can rust. The natural gas (NG) grills need to be converted using the included conversion kit. This should be done by a licensed plumber. This takes some time, and may create an added cost for more of your plumber's time. While it's nice that the burners are warrantied for 10 years, the other stainless components are only warrantied for 3 years, and all other parts only 1 year.
KitchenAid doesn't offer a full line of outdoor kitchen accessories, so you'll need some universal-style accessories to round out your outdoor kitchen.
You'll Like This Grill If:
You want an affordable, entry level, built-in grill for your outdoor kitchen.
View Product Comparisons

Current Item

KitchenAid 36-Inch Built-In Propane Gas Grill With Searing Burner & Rear Burner - 740-0781

Blaze Premium LTE 40-Inch 5-Burner Built-In Propane Gas Grill With Rear Infrared Burner & Grill Lights - BLZ-5LTE2-LP

Blaze Professional LUX 44-Inch 4-Burner Built-In Propane Gas Grill With Rear Infrared Burner - BLZ-4PRO-LP

Napoleon Prestige PRO 665 Built-in Propane Gas Grill with Infrared Rear Burner and Rotisserie Kit - BIPRO665RBPSS-3

Price & Shipping Information

$100.99 (8%)

$937.50 (27%)

Free Shipping

Leaves Warehouse: 24 Hours

View Item

$1,825.00 (28%)

Free Shipping

Leaves Warehouse: 24 Hours

View Item

Free Shipping

Leaves Warehouse: 24 Hours

View Item
ID
#2874688
#2973513
#2961696
#3049476
Model
740-0781LP
BLZ-5LTE2-LP
BLZ-4PRO-LP
BIPRO665RBPSS-3
Class
Practical
Premium
Luxury
Practical
Fuel Type
Propane
Propane
Propane
Propane
Cutout Width
36 1/2"
38 3/8"
42 1/2"
38"
Cutout Depth
20 1/2"
21 1/4"
23 5/8"
20 5/8"
Cutout Height
10 1/2"
8 1/2"
10 1/2"
8 7/8"
Configuration
Built-In
Built-In
Built-In
Built-In
Exterior Material
Stainless Steel
Stainless Steel
Stainless Steel
Stainless Steel
Primary Color
Stainless Steel
Stainless Steel
Stainless Steel
Stainless Steel
Number Of Main Burners
5 Burners
5 Burners
4 Burners
5 Burners
Grilling Surface BTUs
58000
70000
72000
68000
Infrared Main Burner
One Infrared
Available
Available
Available
Main Burner Material
304 Stainless Steel + Ceramic Infrared
304 Cast Stainless Steel
304 Cast Stainless Steel
Stainless Steel
Flame Tamer Material
Stainless Steel
Stainless Steel
Stainless Steel
Stainless Steel
Cooking Grate Material
Stainless Steel Wrapped
Stainless Steel
Stainless Steel
Stainless Steel
Cooking Grid Dimensions
35 1/2 X 19 1/2"
37 1/4 X 18"
40 X 19 15/16"
37 X 18"
Main Grilling Area
670 Sq. Inches
670 Sq. Inches
797 Sq. Inches
665 Sq. Inches
Secondary Grilling Area
214 Sq. Inches
227 Sq. Inches
253 Sq. Inches
335 Sq. Inches
Total Grilling Area
884 Sq. Inches
897 Sq. Inches
1050 Sq. Inches
1000 Sq. Inches
Burger Count
28
24
32
30
WiFi/Bluetooth Enabled
None
None
None
None
Rotisserie Burner BTUs
13000
10000
10000
18000
Rotisserie Kit
Available
Available
Yes
Yes
Heat Zone Separators
No
Yes
Yes
No
Ignition Type
Continuous Spark
Flame Thrower
Flame Thrower
Flame Thrower
Flash Tubes
No
Yes
Yes
No
Grill Lights
None
Internal / External
Internal / External
Internal / External
Spring Assisted Hood
No
No
No
No
Thermometer
Analog
Analog
Analog
Analog
Includes Smoker Box
No
No
No
Yes
Hose Included
Yes
Yes
Yes
No
Made In USA
No
No
No
No
Commercial-Grade Multi-User
No
No
No
No
Size
Large (34 - 42")
Large (34 - 42")
Large (34 - 42")
Large (34 - 42")
Marine Grade
No
No
No
No
This product and the fuels used to operate this product (Liquid Propane), and the products of combustion of such fuels, can expose you to chemicals including benzene, which is known to the State of California to cause cancer and reproductive harm. For more information, go to www.p65Warnings.ca.gov.
Free Shipping on orders over $49
Ship your entire order to your home for free, especially the big stuff! *Continental US only
When will my item arrive?
Once shipped, items usually arrive within 3-5 business days. While UPS and FedEx are our carriers for smaller items, be aware that larger items and orders are shipped via freight. The freight process is a bit more complicated than what we've all come to expect for small parcels, so it's important that you're prepared and understand what's required of you well before delivery day.
Most freight products ship on a pallet
Some carriers will call to schedule a delivery window, while others will deliver the shipment to a reasonably accessible location closest to your residence (their goal is to deliver as near a garage door as they can).
We'll specify which process you can expect in your shipping confirmation email.
For carriers that schedule delivery appointments:
Carriers that schedule delivery appointments require you to be home for delivery and provide your signature. The delivery is made with a semi-truck with lift gate services, and the shipment is dropped off at the curb. If you authorize the shipping company to leave the delivery without a signature, BBQGuys can't be held responsible for damages that occur during delivery. As complicated as this process may seem, we've only scratched the surface here — please review our detailed guide to freight delivery so there are no surprises when a freight shipment heads your way.
For carriers that deliver without an appointment:
Carriers that deliver without an appointment don't require you to be home or set up a delivery window, and you aren't required to sign for the pallet(s). Instead of scheduling an appointment, arranging your schedule to be home for the delivery, and signing to confirm receipt, you can sit back and let your items come to you. If you're home at the time of the drop-off, you can request the driver place your delivery in the garage; if you're out of the house, the driver will leave it near the garage or doorstep.
This item leaves our warehouse within
$6.95 Flat-Rate Shipping
Anything under $49 ships at one low price. If your order increases, your shipping stays the same!
30-Day Returns
Return all new, unused, and unassembled items in their original packaging, and we'll give you a full refund minus the cost of the original AND return shipping.
No Restocking Fee
Most companies charge a restocking fee. We just don't do business that way.
Message to our customers: Like all retailers and manufacturers, we're currently experiencing well-publicized supply-chain issues and steel shortages that have caused some orders to be delayed. We sincerely apologize for any inconveniences arising from this situation, and we assure you we're making every effort to solve these problems with our vendors and logistical partners.

So, why are some orders being affected? Major ports around the world are still operating at reduced capacity because of COVID-19 restrictions — on average, container boats sit at port for about 3 weeks before being unloaded. Combine these shipping inefficiencies with a scarcity of natural resources, and virtually every industry has been crippled to some degree. Yet we acknowledge that it's our duty to meet these challenges head-on and work toward solutions so you can enjoy more time outdoors with the people you love. We appreciate your patience as we strive to smooth out our supply chain, and we thank you for choosing us for your grilling and outdoor living needs.
Your Shopping History. Pick up where you left off.