Forno Venetzia Torino 200 40-Inch Countertop Outdoor Wood-Fired Pizza Oven - Copper
was

$2,799.99

11% off ($300.00)
Free Shipping
As low as $81 /mo with
*
Key Features
32 x 24-inch cooking surface fits up to four pizzas at a time
A glass oven door window lets you watch food as it cooks
Fire brick hearth with double-layered ceramic insulation for improved heat retention
Authentic Italian engineering & design featuring the signature Forno Venetzia chimney cap & oak door handle
Durable & UV-resistant powder-coated oven dome finish
The Torino series by Forno Venetzia offers an authentic Italian wood-fired pizza experience and robust features to meet the demands of entertaining larger gatherings of friends and family. The Italian-designed and engineered Torino 200 countertop wood-fired pizza oven has a generous 32 x 24-inch cooking surface capable of handling up to 4 pizzas or multiple dishes at once. The fire brick hearth is lined with double-layered ceramic insulation for excellent heat-retention and superior cooking performance. The oven dome features a durable, UV-resistant powder coat finish to help prevent color fading year-round and is complemented by a signature Forno Venetzia chimney cap and oak oven door handle. A thermometer built into the oven face lets you keep track of internal oven temperatures, making it easier to learn how to adjust cooking temperatures using the oven door. A glass oven door window allows you to view food while cooking. This Torino 200 pizza oven has a copper dome finish and is shipped fully assembled & ready to use, no curing required!
Legal disclaimers and warnings
Product packaging, owners' manuals, installation instructions, and/or operating instructions may include more information than what is shown on our website. The content on our site is intended to be used for reference purposes only. Please fully read all included manuals and documentation before installing or using this product. WARNING for California residents: this product may contain chemical(s) known to the state of California to cause birth defects, cancer, or other reproductive harm.
Product Information
UPC

841308000000

Model Number

FVTOR200C
Specifications
| | |
| --- | --- |
| Country Of Origin | Italy |
| Class | Premium |
| Fuel Type | Wood |
| Collection | Torino |
| Pizza Count | 4 |
| Configuration | Countertop |
| Max Temperature | 850 F |
| Exterior Material | Porcelain Coated Steel |
| Exterior Stainless Grade | 304 Stainless Steel |
| Primary Color | Copper |
| Cooking Grate Material | Refractory Ceramic |
| Cooking Grid Dimensions | 32 X 24" |
| Opening Width | 25" |
| Main Grilling Area | 768 Sq. Inches |
| Total Grilling Area | 768 Sq. Inches |
| WiFi/Bluetooth Enabled | None |
| Grill Lights | None |
| Thermometer | Yes |
| Side Shelves | No |
| Made In USA | No |
| Commercial-Grade Multi-User | No |
| Lights | No |
| Size | XL (43" And Up) |
| Marine Grade | No |
| Insulation | Ceramic Fiber |
| Door Material | Stainless Steel |
| Interior Material | Stainless Steel |
| Chimney Material | Stainless Steel |
| Chimney Height | 26 3/4" |
| Front Shelf | No |
Dimensions
| | |
| --- | --- |
| Width | 40.25" |
| Depth | 35.75" |
| Height | 48.75" |
| Weight | 326 lbs |
Forno Venetzia outdoor pizza ovens carry a 2-year warranty against manufacturers defects. Chips & cracks are considered normal and do not affect the performance of the oven and are not covered under warranty. Labor not included.

Refer to manufacturers manual for full warranty details.
100% of reviews recommend this product
Customer images featuring this product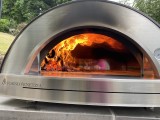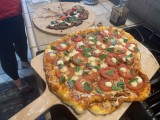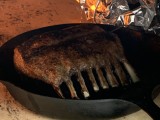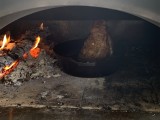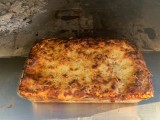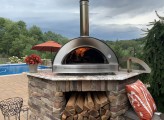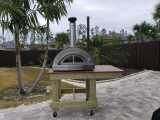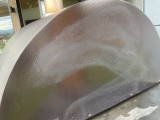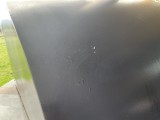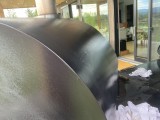 Absolutely Amazing

Fast shipping, packaging was perfect, after removing the fire bricks oven was pretty easy to manage with just a couple people. Absolutely love it!

Was This Helpful?

Previously made my own, but love this oven!

The process getting this oven was much easier than I expected given its size and weight. BBQ guys communicate very well, shipping company was great, was delivered in about two weeks. Built my own stand so setup was a cinch. Fired it up and held heat extremely well. I love that this oven can move with us if we move. Would definitely buy again

Was This Helpful?

Wowza

This pizza oven is the real deal. Quality woodfired pizza oven that well justifies the price. Very easy to use. There are eight large bricks (totaling roughly 30lbs) that are removable to make the unit more manageable to transport from the pallet to your location. You definitely will need three strong adults. If you are considering... do it! My family has been loving the process of making fresh pizza, and the taste, devine!

Was This Helpful?

I absolutely love this oven.

Iv'e always wanted a Wood Fired oven but the expense and time involved in building one always prevented me from following through. When I found this unit my wife said we don't eat enough pizza to justify buying this, she didn't believe me when I said I can cook anything in it. Well she's very happy now that we have this oven. It takes a little time to learn to use it but once you dial it in your going to love it. It's been the best addition to our out door living space.

Was This Helpful?

Love it!

Love it! We're making pizza like we're in Italy. And the BBQ Guys have been great to work with. Our over door arrived with broken glass and they took care of the cost of getting it replaced. Appreciate the great customer service!

Was This Helpful?

I would recommend this oven.

Well-constructed and heated well for pizza cooking. Nice to have the extra room in this oven. Looking forward to many more uses.

Was This Helpful?

Fabulous Pizza Oven

This is my first high end pizza oven. Very easy to use in order to get professional results. Had been using the UNNi pizza oven which is very finicky and hard to keep constant temp. The oven is extremely well made but be sure to have at least 3 people to help move into position. I made my own cart to save money.

Was This Helpful?

Works great, finish is sub par

Be forewarned, I have used my oven about 25 times and the brown/rust colored finish of the oven is already failing. Paint chipping and bubbling. This is unacceptable for an oven at tis price.

Was This Helpful?
The Skinny:
Italian design and engineering
Uses in-chamber fire for authentic wood-smoked taste
No installation or curing required
Things We Love:
Forno Venetzia pizza ovens can bring a hassle-free slice of Italy to your outdoor kitchen. The units in each series are available fully assembly and ready to use with no installation or curing required, and they consume less fuel than other pizza ovens. Forno Venetzia cart models conveniently come with a storage cabinet, spacious shelves for your wood, and four caster wheels for portability. To top it all off, these pizza ovens are capable of reaching temperatures of up to 800 degrees Fahrenheit.
Versatility to Suit Your Needs
Not every outdoor space is the same, so Forno Venetzia created three different series to meet a variety of demands. The smallest is the Pronto Series, which can fit two personal pizzas on its 24-inch-by-20-inch cooking surface. These compact and portable pizza ovens are great for smaller outdoor areas, and their name says it all — "Pronto" is the Italian word for "ready," so you know they're ready to cook!
Named after an Italian city famous for its architecture and food, the Torino Series lives up to its high expectations. The 32-inch-by-24-inch cooking area holds up to four pizzas at once, so these ovens can be your best friend when entertaining for a small crowd. You can even wow your guests by trying out other dishes in your pizza oven.
Bellagio Series pizza oven get their names from a village in Italy that's known as the "Pearl of Lake Como," so why not make them the pearl of your outdoor space? With a 36-inch-by-32-inch cooking floor, you can grill, bake, and broil in these ovens that pack the power of a complete outdoor kitchen into one versatile appliance. It's also big enough to fit multiple dishes, including as many as five 12-inch pizzas, at the same time.
Professional Quality at Home
You don't have to worry about quality when it comes to Forno Venetzia pizza ovens. The professionally engineered brick hearth infuses your pizza with a true brick-oven taste, and the ovens themselves are excellent at retaining heat thanks to their double-layered ceramic insulation. Only high-quality materials were used when building these pizza ovens — the cart and shelves were crafted with 304 stainless steel, while the oven interior is all 430 stainless steel.
Authentic Wood-fired Oven Gives Old-World Taste
Forno Venetzia units are equipped with outstanding materials and features, but how does their food taste? Because of their Italian construction, that's something you don't have to worry about! These ovens take advantage of an in-chamber fire, a common trait of authentic brick ovens. When you place food right next to the fire, the wood smoke immerses it with huge flavors to give you an outstanding pizza oven experience. Cooking pizzas in this way with the oven door open is normal, but you should try leaving the door closed when baking or roasting.
Superior Style
In additional to performing well, Forno Venetzia pizza ovens will serve as an attractive element in your outdoor kitchen. They're available in red or copper powder-coated paint that's as durable as it is sleek, and the oak handle on the glass front door pairs sturdiness with style. As a finishing touch, Forno Venetzia topped the chimney of its pizza ovens with a signature designer cap that ties the whole look together.
Things To Consider:
These pizza ovens are generally smaller than other models on the market. Depending on which one you choose, it may not be the best for large families or big parties. If you order a cart unit, keep in mind that the cart will require some assembly. You have to preheat your pizza oven before use, but it takes less than an hour to reach optimal temperatures. To find out if a Forno Venetzia pizza oven is right for your outdoor space, call one of our experts at 1-877-743-2269 today!
Question:
What accommodations should be made (mentioned in an answer to another question) for installing on a wood stand?
Was This Helpful?
Answer:
HI, John. Forno Venetzia specifies this pizza oven be placed on a stone or concrete surface, and well away from combustibles.
Question:
Any recommended steel frame for this oven?
Was This Helpful?
Answer:
Hi. As long as the frame can accommodate the weight of about 330 pounds, anything will work.
Question:
I'm considering purchasing this product and I'm looking for a little more info on placing this on a granite counter. The one I'm looking to replace actually cracked the granite due to the heat. I installed a base of fire brick under it, gapped to allow for air flow. Is it best to install a "pad" under the oven?
Was This Helpful?
Answer:
Hi Kris, a pad shouldn't be necessary with the precautions you've taken. But if you're still worried about the heat, it definitely won't hurt. And it's always better to be safe than sorry.
Question:
What type of countertops do you recommend when building an outdoor kitchen that has a pizza oven?
Was This Helpful?
Answer:
Hi Justin. Ideally, you would want to build your countertop or island out of noncumbistible materials, but accomidations can be made if there are combustible materials in place.
Question:
Can this be placed on an a granite surface on an outdoor kitchen?
Was This Helpful?
Answer:
Hi Maz! While granite is heat resistant and can handle the heat. The sealant on your granite may be affected by the heat and leave a mark where the oven is.
Question:
How long does this oven take to preheat? I have used a few other ovens one took as long as 3 hours to heat and another 30 min. How long does this one take? And does the exterior get hot to the touch? Looking to put this on an outdoor bar area
Was This Helpful?
Answer:
Thanks for asking, Mel! The time it takes to heat is entirely dependent on the heating method. According to the manual, it takes as long as it does for the oven to be completely preheated from the fire, with the fire completely pushed to the side, and then you maintain the fire for 15 minutes. If it's not within the correct range, you would have to continue heating the oven for another 5-10 minutes or till it reaches the correct heat range. Refer to the Owner's Manual linked under Manufacturer's Downloads for more information.
Question:
Where does this product manufactured?
Was This Helpful?
Answer:
Hi Dmitriy - The Forno Venetzia pizza ovens are designed, engineered, and tested just north of Venice, Italy. They are manufactured just outside of Shanghai, with Forno's own team of engineers overseeing production and quality assurance.
Question:
What does this need to be mounted on? Cinder block? Other surfaces?
Was This Helpful?
Answer:
The owner's manual advises placing this oven on a flat even surface away from combustible materials. Stone or concrete is ideal.
Question:
Is the surface of this oven cold to the touch when it is in use or does it heat it. If so how much. Apparently the more expensive version with the same dimensions does not heat up on the surface. Also can you compare and contrast the $3000 version with this one? What di I get in the more expensive version that this doesn't provide? Thanks.
Was This Helpful?
Answer:
Hi, Gary. It seems like you're looking at the Forno Venetzia Torino 200 and the Forno Venetzia Torino 500 pizza ovens. If so, both pizza ovens are insulated, but can still get hot on the outside surface, and it's recommended to use to wood handle when handling the oven to avoid burns. Functionally, these pizza ovens work in the same way, but the Torino 500 pizza oven includes a cart with shelves, which gives it a higher price.
Product

Current Item

Forno Venetzia Torino 200 40-Inch Countertop Outdoor Wood-Fired Pizza Oven - Copper

Forno Venetzia Bellagio 200 44-Inch Countertop Outdoor Wood-Fired Pizza Oven - Copper

Price & Shipping Information

Free Shipping

Leaves Warehouse: 3-5 Business Days

Free Shipping

Leaves Warehouse: 3-5 Business Days

View Item
ID

3000321

3000330

Model Number
FVTOR200C
FVBEL200C
Country Of Origin
Italy
Italy
Class
Premium
Luxury
Fuel Type
Wood
Wood
Collection
Torino
Bellagio
Pizza Count
4
5
Configuration
Countertop
Countertop
Max Temperature
850 F
850 F
Exterior Material
Porcelain Coated Steel
Porcelain Coated Steel
Exterior Stainless Grade
304 Stainless Steel
304 Stainless Steel
Primary Color
Copper
Copper
Cooking Grate Material
Refractory Ceramic
Refractory Ceramic
Cooking Grid Dimensions
32 X 24"
36 X 32"
Opening Width
25"
24"
Main Grilling Area
768 Sq. Inches
1152 Sq. Inches
Total Grilling Area
768 Sq. Inches
1152 Sq. Inches
WiFi/Bluetooth Enabled
None
None
Grill Lights
None
None
Thermometer
Yes
Yes
Side Shelves
No
No
Made In USA
No
No
Commercial-Grade Multi-User
No
No
Lights
No
No
Size
XL (43" And Up)
XL (43" And Up)
Marine Grade
No
No
Insulation
Ceramic Fiber
Ceramic Fiber
Door Material
Stainless Steel
Stainless Steel
Interior Material
Stainless Steel
Stainless Steel
Chimney Material
Stainless Steel
Stainless Steel
Chimney Height
26 3/4"
33"
Front Shelf
No
No
This product can expose you to chemicals including formaldehyde, benzene, soot and carbon monoxide which are known to the State of California to cause cancer or birth defects or other reproductive harm. For more information, visit www.p65Warnings.ca.gov.
Free Shipping on orders over $49
Ship your entire order to your home for free, especially the big stuff! *Continental US only
When will my item arrive?
Once shipped, items usually arrive within 3-5 business days. While UPS and FedEx are our carriers for smaller items, be aware that larger items and orders are shipped via freight. The freight process is a bit more complicated than what we've all come to expect for small parcels, so it's important that you're prepared and understand what's required of you well before delivery day.
Most freight products ship on a pallet
Some carriers will call to schedule a delivery window, while others will deliver the shipment to a reasonably accessible location closest to your residence (their goal is to deliver as near a garage door as they can).
We'll specify which process you can expect in your shipping confirmation email.
For carriers that schedule delivery appointments:
Carriers that schedule delivery appointments require you to be home for delivery and provide your signature. The delivery is made with a semi-truck with lift gate services, and the shipment is dropped off at the curb. If you authorize the shipping company to leave the delivery without a signature, BBQGuys can't be held responsible for damages that occur during delivery. As complicated as this process may seem, we've only scratched the surface here — please review our detailed guide to freight delivery so there are no surprises when a freight shipment heads your way.
For carriers that deliver without an appointment:
Carriers that deliver without an appointment don't require you to be home or set up a delivery window, and you aren't required to sign for the pallet(s). Instead of scheduling an appointment, arranging your schedule to be home for the delivery, and signing to confirm receipt, you can sit back and let your items come to you. If you're home at the time of the drop-off, you can request the driver place your delivery in the garage; if you're out of the house, the driver will leave it near the garage or doorstep.
This item leaves our warehouse within 3-5 Business Days
$6.95 Flat-Rate Shipping
Anything under $49 ships at one low price. If your order increases, your shipping stays the same!
30-Day Returns
Return all new, unused, and unassembled items in their original packaging, and we'll give you a full refund minus the cost of the original AND return shipping.
No Restocking Fee
Most companies charge a restocking fee. We just don't do business that way.
Message to our customers: Like all retailers and manufacturers, we're currently experiencing well-publicized supply-chain issues and steel shortages that have caused some orders to be delayed. We sincerely apologize for any inconveniences arising from this situation, and we assure you we're making every effort to solve these problems with our vendors and logistical partners.

So, why are some orders being affected? Major ports around the world are still operating at reduced capacity because of COVID-19 restrictions — on average, container boats sit at port for about 3 weeks before being unloaded. Combine these shipping inefficiencies with a scarcity of natural resources, and virtually every industry has been crippled to some degree. Yet we acknowledge that it's our duty to meet these challenges head-on and work toward solutions so you can enjoy more time outdoors with the people you love. We appreciate your patience as we strive to smooth out our supply chain, and we thank you for choosing us for your grilling and outdoor living needs.
Your Shopping History. Pick up where you left off.