Blaze Professional LUX 34-Inch 3-Burner Built-In Natural Gas Grill With Rear Infrared Burner - BLZ-3PRO-NG
List: $4,812.49
18% off ($872.50)
Free Shipping
Payments as low as $127.13 per month.*
Frequently Bought Together
Blaze Grills offers a best-in-class Lifetime warranty
12mm Hexagon-shaped stainless steel Searing Rods are extra thick for steakhouse-level searing
Heat zone separators allow you to cook multiple types of food at the same time using different temperatures like an expert chef
Professional-quality, cast stainless steel H-burners deliver unbeatable cooking power
Heavy-duty, 12-gauge flame tamers cover the entire grill to minimize flare-ups for a luxury grilling experience
The finest in luxury outdoor cooking just got even better thanks to the high performance, industry-leading heavy-gauge materials, and quality craftsmanship of the Blaze Professional. The 34-inch Professional LUX cooking system includes three cast 304 stainless steel H-burners, which provide 18,000 BTUs each for a total of 54,000 BTUs on the cooking surface. The heavy-duty, 12mm, stainless steel Searing Rods have a hexagonal shape to help you achieve even heat distribution, maximize durability, and provide 615 square inches of main grilling area. Slow-roast delicious meat or fruit using the 10,000 BTU infrared rear burner and included rotisserie kit with waterproof motor for grilling versatility, and when you are done, you can store the rotisserie rod behind the grill on the storage hooks. The removable 201 square inch warming rack is an ideal place to keep bread and other food heated while you grill. The Push & Turn Flame-Thrower w/ Backup Flashtube & Crossover Channels for each burner ensure a steady, reliable flame with every start. The stainless steel heat zone separators allow for different cooking zones across the grilling surface and help eliminate wasting heat and fuel, which no grill master should ever tolerate. This also adds to your grilling experience, creating separate zones that can be used for different styles of cooking. The Professional LUX flame tamers uses 12-gauge, stainless steel perforated grids that practically eliminate flare-ups no matter what is on the menu. The grill rounds out with its Grease Control system, a luxury touch that should not be overlooked. The full-width, roll-out drip tray and removable Lower Heat Baffles make cleaning a breeze. Interior grill lights along with the signature red LED Illuminated Control System let you grill and wow your guests all night. The double-lined, 304 stainless steel grill hood is designed to retain heat, protect the outer layer from heat discoloration, and look downright good. Please note that a 110V power source is required. This product is ETL-certified with an ANSI Z21.58-2018/CSA 1.6 rating.
Legal disclaimers and warnings
Product packaging, owners' manuals, installation instructions, and/or operating instructions may include more information than what is shown on our website. The content on our site is intended to be used for reference purposes only. Please fully read all included manuals and documentation before installing or using this product. WARNING for California residents: this product may contain chemical(s) known to the state of California to cause birth defects, cancer, or other reproductive harm.
Product Information
UPC

818718010903

Model Number

BLZ-3PRO-NG
Ask an Expert
Buy with confidence.
Contact our experts today.
Specifications
| | |
| --- | --- |
| Class | Luxury |
| Fuel Type | Natural Gas |
| Collection | Blaze Professional LUX |
| Configuration | Built-In |
| Exterior Material | Stainless Steel |
| Exterior Stainless Grade | 304 Stainless Steel |
| Primary Color | Stainless Steel |
| Number Of Main Burners | 3 Burners |
| Grilling Surface BTUs | 54000 |
| Infrared Main Burner | Available |
| Main Burner Material | 304 Cast Stainless Steel |
| Flame Tamer Material | Stainless Steel |
| Cooking Grate Material | Stainless Steel |
| Cooking Grid Dimensions | 30 13/16 X 19 15/16" |
| Main Grilling Area | 615 Sq. Inches |
| Secondary Grilling Area | 201 Sq. Inches |
| Total Grilling Area | 816 Sq. Inches |
| Burger Count | 24 |
| WiFi/Bluetooth Enabled | None |
| Rotisserie Burner BTUs | 10000 |
| Rotisserie Kit | Yes |
| Heat Zone Separators | Yes |
| Ignition Type | Flame Thrower |
| Flash Tubes | Yes |
| Grill Lights | Internal / External |
| Spring Assisted Hood | No |
| Thermometer | Analog |
| Includes Smoker Box | No |
| Side Shelves | No |
| Made In USA | No |
| Commercial-Grade Multi-User | No |
| Size | Medium (27 - 33") |
Dimensions
| | |
| --- | --- |
| Width | 34" |
| Depth | 28.38" |
| Height | 24.25" |
| Weight | 196 lbs |
| Cutout Width | 32 1/4" |
| Cutout Depth | 23 5/8" |
| Cutout Height | 10 1/2" |
Blaze gas grills have a lifetime warranty that warrants against any defects in the manufacturing and workmanship on the control valves, cooking grids, stainless steel housing, stainless steel burners, flame tamers, heat zone separators, and all other stainless steel components. All electrical and ignition components are covered for one (1) year after the date of purchase. Grills must be registered within thirty days for the warranty to apply. Labor not included.

Refer to manufacturer's manual for full warranty details.
84% of reviews recommend this product
Customer images featuring this product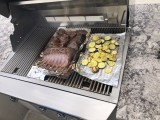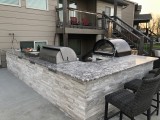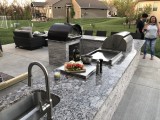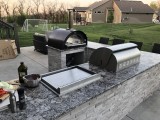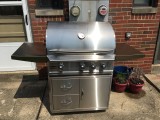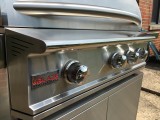 | | | |
| --- | --- | --- |
| Undisclosed | Should last forever | Was This Helpful? |
| Undisclosed | Yes I would buy this again! | Was This Helpful? |
| Undisclosed | A whole new grilling experience!! | Was This Helpful? |
| Dallas, TX | I absolutely love this grill! | Was This Helpful? |
| Louisiana | Excellent high heat and well built | Was This Helpful? |
| Baton Rouge, LA | Highly Recommend | Was This Helpful? |
| Louisiana | Beautiful Grill, Amazing Quality and Cooking Performance | Was This Helpful? |
| Undisclosed | Awesome! | Was This Helpful? |
| Undisclosed | I would definitely buy again. | Was This Helpful? |
| Undisclosed | I love this grill | Was This Helpful? |
The Skinny:
Superior 304 stainless steel utilized in virtually every aspect of grill construction
Extra thick 12mm hexagonal Searing Rod grids deliver restaurant-quality sear lines
Fully feature-packed with included rotisserie kit, full-width grease tray, and more
Grease Control System and Lower Heat Baffle Design funnels away pesky runoff
LED Illuminated Control System beams sophisticated red lights and halogens
With a gas grill so clearly designed to impress, where do you even begin?
At the start, of course. When building the Blaze Professional, its makers set out to produce the best-valued Luxury grill in the industry. Personally, we're inclined to agree — and that's straight from Chef Tony, who got his hands on the 34-inch model for some serious grill testing. Superior construction supports the grill from hood to heel. Heavy-duty, H-style burners roar with might or delicately simmer at a whisper. Every drop of juice that sneaks beneath the cooking surface is volcanically vaporized and recycled into even more flavorful power. Want to flip two dozen standard 4-inch burgers? Here, have 25. Ready to roast a whole turkey to roast? So is the included waterproof rotisserie kit and its best friend, a 10,000 BTU rear infrared burner.
Professional's in the name, but it's not all work — it's also play. With no more than a fingertip, a striking veneer of red opulence glows over the burner knobs. Move an inch away, and bright halogen lights beam on to surround your sizzling entrees with superstar ambience. The show doesn't stop once the grill runs cold; a cooking surface comprised of unique hexagonal rods sear some of the most impressive marks into a steak we've ever seen.
Quality:
Blaze Professional boasts 304 stainless steel throughout with mature, compelling design choices.
Firstly, we wanted to fact-check claims that the Blaze Professional is built with 304 stainless steel inside and out, so we put an XRF gun in Chef Tony's hand and put him to work. After a thorough examination of the grill components, he returned impressed — the firebox, burners, Flame Stabilization System, Searing Rods, control panel, drip pan, and both the inner and outer walls of the hood are all, in fact, 304 stainless steel. Forged entirely out of such top-tier, outdoor-rated materials, we can confidently say that Blaze Professional heartily embodies superior construction and durability.
Speaking to the components themselves, everywhere we looked screams competence and confidence. Let's talk flame tamers: every great grill's got them, but not like these. At first glance, the Flame Stabilizing System does what you'd expect; it distributes even heat along the entire cooking surface, protects burners from wayward drippings, and instantly vaporizes them for added flavor infusion. But what separates them from contemporary tamers is that each of the three panels weighs in at 4 1/2 pounds of 12-gauge thick 304 grade stainless steel.

By now, you've noticed we haven't mentioned the cooking surface yet. We saved the best for last: on the 3-burner model, expect these 12mm thick hexagonal Searing Rods to stretch out 30 3/4 inches wide by 20 inches deep for an abundant 614 sq inches of grilling room. But the real value is their heft: divided between 3 burners, these pieces weigh in together at 11 1/2 lbs, making them stand among the heaviest-duty cooking grids in a gas grill. The unique shape enforces more meat to metal contact — look forward to searing bigger, meaner marks and enjoying faster heat recovery when flipping food.
Performance:
Blaze Professional provides incredible burner quality, guaranteed ignition, and fine-tuned temperature control.
Blaze Professional isn't just about the looks and feel. Under the hood, you'll find 18,000 BTUs of cooking prowess apiece — that's 54,000 BTUs total in this configuration — in formidable H-style, cast stainless steel burners. Though it sounds tongue-in-cheek, we'd be remiss to ignore that we frequently receive feedback stating these burners really are exceedingly powerful. Used to cooking on grills in the Practical or Entry-Level class? Buckle in. These burners get white-hot, and they don't apologize about it. If you're willing to be flexible in your grilling style as you settle in with those premium knobs, they'll show you that all your results before were a compromise — and the time for "good enough" is over.
Guaranteeing a sure start every time is Blaze's powerful ignition system, involving their proprietary Push & Turn Flame-Thrower w/ Backup Flashtube & Crossover Channels. It's a mouthful, but as an elegant, simple system that works like a charm every time, it certainly earns the real estate. Should summers of sizzling steaks whittle away at the reliability, each individual burner is backed up with dedicated flash tubes as a secondary ignition source.

Sure, the burners are powerful and their operation is supported with bulletproof ignition, but they're only part of the picture. Blaze Professional ships with Heat Zone Dividers — solid slide-in panels between each burner that enforce a wide range of temperature flexibility. You can do more with this than stagger dishes across the surface at once. Stage a white-hot searing zone on one end while the opposite one simmers into a perfect finishing spot. Effectively speaking, this equips you to carry a tuna steak through a commercial-quality grilling experience.
Features:
Blaze Grills clearly put in the elbow grease to craft a truly Luxury-class grilling encounter.
Protecting this Luxury grill is a best-in-class limited lifetime warranty on all stainless steel components, including burners, housing, flame tamers, cooking grids and more. Beyond the immaculate construction, excellent peace of mind, and luxurious grilling experience, Blaze saw fit to pack their heavyweight grill with more capability than a Swiss Army knife. For starters, Professional arrives with a premium rotisserie kit — no need to pay extra for this one — with a fully-enclosed, waterproof motor. When you're not adding steakhouse-level crust with the 10,000 BTUs out of that back infrared burner, simply store the spit rod on the hanging hooks in the rear.

Keep your side dishes toasty and squeeze more out of your hood volume with the removable warming rack, adding 201 sq. inches of cooking space (for a new total of 816 sq. inches). Further beneath the grill, a full-width drip pan on smooth glide rollers makes clean-up a snap. Equally smooth on the roll are the 4 heavy-duty locking wheels; easy to maneuver around whenever you want, and rooted to the spot when you don't. Speaking of cart configuration features, Blaze packed in every inch of space that physics would allow them: 2 spacious, folding side shelves up top, 2 deep drawers to the left, and a large access storage door to the right.
Then there's that sleek, contoured control panel. Not only is each burner sculpted to look fantastic and feel outstanding in the hand, but a few tasteful bonus buttons the combined LED Illuminated Control System — this is functionality we've grown to really love. The upper button switches on the internal halogen lights to keep the party going into the night, whereas the lower one bathes the control knobs in Blaze's trademark sophisticated red light.
Question:
Why are there no customer reviews on this grill? I am most concerned about even-ness of heating across the grill, ability to maintain a temperature, and ability to avoid flare ups. Seems like many expensive and promising grills have issues with these areas. It would really stink to custom build an island around an expensive grill and not be happy with the performance.
Was This Helpful?
Answer:
Scott, I purchased this grill over a year ago and am quite happy with the quality of construction and the performance. I don't have any issues with evenness, although it can run hot if you leave it on a high-flame setting. It easily maintains temperature, and my grill is in a custom island along the side of my house. I live on a ridge, overlooking agriculture and the ocean in the distance, so it can be windy as the sun goes down. This can impact lower temperature cooking, but I believe that would happen with any gas grill. I don't have flare-up issues, but high fat or oil content in any grilled item can cause additional burn if you are not careful. If it does happen, I feel good about the health of the grill with the heavy stainless grill parts. We like our grill 😃👍
Answer:
We purchased this grill last fall and have had nothing but good luck with an outdoor custom kitchen designed by Walpole Woodworkers up here in the Boston area. My wife does most of the grilling and say this is head & shoulders above any other grill we've ever owned. We've had no issue with any of the potential problems you've mentioned below over the last 6 months. Thanks
Answer:
I bought this grill after extensive research. I was doing a large outdoor project and wanted to be sure of the same things. I will say this grill is as advertised. It works very well, BBQguys were very helpful and shipping was very quick. I'm in Texas they are in Louisiana so not too far anyway. I have had this grill since September 2020, I love it. It can get super hot and holds very well. The ignitors are pretty cool but unfortunately one wouldn't work out of the box, I had to call BBQguys for help with it. They will stand behind your purchase too.I love the thick octagon grates that's one of the big features I was excited about also as far as flare-ups I haven't had anything that I would consider out of the ordinary. I'm really proud to show it off and it looks as good as it works. I also bought the Blaze Griddle too and I will say that thing is something else! I absolutely love it too. It's hard to decide which one I like better! They are both so nice and fun to use! I've never used a grill this powerful and this nice before but I couldn't imagine any of the other more expensive grills being any better. I wouldn't hesitate to buy it again or recommend it. 
Question:
How many amps does grill and infrared heat use? Does it have to be on dedicated circuit if so what size (15amp)? Where should power supply be located at?
Was This Helpful?
Answer:
Blaze Pro 34" grills doesn't use 120v A/C for the infrared burner, it would be either Propane or Natural Gas. The only thing that uses AC current would be the Rotisserie, 2 interior BBQ lights or red LED knob lights. So no need for a dedicated 15 AMP circuit it doesn't draw much power to be concerned with any standard wall out let close to the BBQ will suffice. I can't remember the length of the A/C cord but it was long enough to reach the outlet behind my grill location. Because it's a built-in you should plan for the A/C outlet for most grills, they will most likely require it if you want to run with any powered options. We love our Blaze 34" Pro! Great purchase and very satisfied with its performance Cheers, Nigel
Answer:
I have the grill mentioned here. The IR burner is powered by propane as well. The only amp draw comes from the lights. Standard 15 amp outlet is more than enough.
Answer:
Very low amperage, probably less than 3. Does not need to be dedicated circuit. Power connection is under the grill on right side.Sent via the Samsung Galaxy S8 Active, an AT&T 5G Evolution capable smartphone
Question:
I would like to put this grill under my porch next to my pool but is rust a big concern? I know Blaze has a option of a model that is 316 stainless but it is much smaller than this grill
Was This Helpful?
Answer:
Hi Steven. Blaze has a marine grade grill that is 32 inches in width, not much smaller than this grill. Unless your pool is salt water, I wouldn't worry too much. If you anticipate water getting onto it, I would make sure you regularly and thoroughly wipe it down and dry it.
Question:
Would this work for a 38" cutout? We are trying to replace an old 36" Kitchenaid grill. We would love to transition over to a Blaze product if possible. Is there a way we could make this fit?
Was This Helpful?
Answer:
Hi, thanks for asking. This grill requires a cutout width of 32 1/4-Inches, so the 38-Inch cutout is too large for it to fit. We recommend speaking with a licensed professional for advice on handling this item with your outdoor kitchen.
Question:
Does the thermostat gauge say low, medium, high? If so, can it be replaced with a thermostat gauge that provides actual temperature readings?
Was This Helpful?
Answer:
Thanks for asking, Victor. The thermostat that comes installed is a full Analog thermostat that will give you accurate temperature readings. If you have any other questions please message us on Live Chat or call 877-743-2269 and we'll be happy to help.
Question:
Does this come with a grill liner (or not need one) for being placed in a combustible island? For instance, my island is 2x6 pressure treated wood with cement board and stone veneer. If not, how much is it for the liner on the 34" and 40" models?
Was This Helpful?
Question:
Can you roast 2 chickens at the same time using the rotisserie? If so, could you provide a picture?
Was This Helpful?
Answer:
Hey Mark! Unfortunately, it is not possible and i could not find any images for you. The only possible way would maybe being able to fit two small hens on the rotisserie. Hope this information helps!
Question:
With the 3 burner professional grill does adding an infrared section add a significant amount of heat to sear compared to the 3 "routine " burners? Can it be added at a later time if not happy with the regular burners in this regard? Thanks John LaRossa
Was This Helpful?
Answer:
Hi John, the Blaze Professional infrared sear burner is much more effective for searing than the traditional burners. Rather than heating the air, then heating food, the ceramic part of the burner diffuses the flame and outputs more concentrated and uniform infrared heat; this direct heating method cooks meats more quickly and is ideal for locking in juices before overcooking. If you decide to go with just traditional gas burners, we do offer the Blaze Professional infrared searing burner as an optional accessory that you can install any time!
Question:
Do the burners go left to right, or front to back?
Was This Helpful?
Answer:
This grill uses H-burners that are arranged from left to right through the grill.
Question:
How hot will the grill get with the standard pro burners? Is it hot enough to really sear without over cooking a steak? How hot will the pizza stone get on the pro burners- is it over 800F that you need for a pizza oven?
Was This Helpful?
Answer:
Hi, Ron. The temperature range can vary depending on outside temperatures and how much you're cooking at one time, but this grill will get hot enough to sear steak without overcooking or bake pizza. Just preheat the grill at high for the steak or medium for the pizza, and you'll be good to go.
Current Item

Blaze Professional LUX 34-Inch 3-Burner Built-In Natural...

DCS Series 7 Traditional 36-Inch Built-In Natural Gas...

PGS T-Series Commercial 30-Inch Built-In Natural Gas...

Alfresco ALXE 30-Inch Built-In Natural Gas Grill With...

Price & Shipping Information

List: $4,812.49

You Save: $872.50 (18%)

Free Shipping

Leaves Warehouse: 24 Hours

List: $4,723.95

You Save: $224.95 (5%)

Free Shipping

Leaves Warehouse: 24 Hours

View Item

Free Shipping

Leaves Warehouse: 1-3 Business Days

View Item

Free Shipping

Leaves Warehouse: 1-3 Business Days

View Item
ID

2881134

3074707

2936242

2911852

Model Number
BLZ-3PRO-NG
BH1-36R-N
S27TNG
ALXE-30SZ-NG
Class
Luxury
Premium
Premium
Luxury
Fuel Type
Natural Gas
Natural Gas
Natural Gas
Natural Gas
Collection
Blaze Professional LUX
Series 7 Traditional
T-Series
ALXE
Cutout Width
32 1/4"
34 1/2"
28"
28 1/2"
Cutout Depth
23 5/8"
22 3/4"
23"
23"
Cutout Height
10 1/2"
10 1/8"
9 1/2"
10 1/4"
Configuration
Built-In
Built-In
Built-In
Built-In
Exterior Material
Stainless Steel
Stainless Steel
Stainless Steel
Stainless Steel
Exterior Stainless Grade
304 Stainless Steel
304 Stainless Steel
304 Stainless Steel
304 Stainless Steel
Primary Color
Stainless Steel
Stainless Steel
Stainless Steel
Stainless Steel
Number Of Main Burners
3 Burners
3 Burners
2 Burners
2 Burners
Grilling Surface BTUs
54000
75000
45000
55000
Infrared Main Burner
Available
Available
Available
One Infrared
Main Burner Material
304 Cast Stainless Steel
304 Stainless Steel
304 Stainless Steel
18-SR Stainless Steel + Ceramic Infrared
Flame Tamer Material
Stainless Steel
Ceramic
Ceramic
Ceramic
Cooking Grate Material
Stainless Steel
Cast Stainless Steel
Stainless Steel
Stainless Steel
Cooking Grid Dimensions
30 13/16 X 19 15/16"
32 1/4 X 20 1/4"
27 X 20"
27 1/4 X 19"
Main Grilling Area
615 Sq. Inches
638 Sq. Inches
540 Sq. Inches
542 Sq. Inches
Secondary Grilling Area
201 Sq. Inches
241 Sq. Inches
—
—
Total Grilling Area
816 Sq. Inches
879 Sq. Inches
—
—
Burger Count
24
33
20
20
WiFi/Bluetooth Enabled
None
None
None
None
Rotisserie Burner BTUs
10000
14000
No Rear Burner
15000
Rotisserie Kit
Yes
Yes
Available
Yes
Heat Zone Separators
Yes
No
No
No
Ignition Type
Flame Thrower
Continuous Spark
Continuous Spark
Continuous Spark
Flash Tubes
Yes
Yes
Yes
No
Grill Lights
Internal / External
External
None
Internal / External
Spring Assisted Hood
No
No
No
Yes
Thermometer
Analog
Analog
Analog
Analog
Includes Smoker Box
No
Yes
No
Yes
Side Shelves
No
No
—
No
Made In USA
No
No
No
Yes
Commercial-Grade Multi-User
No
No
Yes
No
Size
Medium (27 - 33")
Medium (27 - 33")
Medium (27 - 33")
Medium (27 - 33")
This product can expose you to chemicals including Chromium (hexavalaent compounds), which are known to the State of California to cause cancer and birth defects or other reproductive harm. For more information go to: www.p65Warnings.ca.gov
Free Shipping on orders over $49
Ship your entire order to your home for free, especially the big stuff! *Continental US only
When Will My Item Arrive?
Once shipped, items usually arrive within 3–5 business days. If your item or order is large, it may ship via one of our third-party freight carriers, which deliver from semi trucks with lift gates. Freight delivery is much more complicated than standard parcel shipping — you must schedule a drop-off time, be present for the delivery, and move items from the curb to your residence, among other differences. Sound stressful? If you prepare in advance with our guide to freight delivery, it doesn't have to be.
We strongly encourage reading the entire freight delivery guide, but here's a quick snapshot of what you need to be ready for when you order a large package:
Your freight carrier will call you to schedule a delivery window of about 4–8 hours
You're required to be physically present at the specified delivery location during the scheduled window
Freight shipments are carried in semi trucks, which have lift gates to assist with unloading
Freight deliveries are dropped off at the curb and no further — not up the driveway, not the porch, not the garage, and most definitely not the backyard — so it's on you to transport packages to their intended location
For an easier time hauling items to your home or backyard, arrange for at least 2 helpers to be on standby during your delivery window
You must sign for the shipment to indicate that you've accepted the delivery
Again, we recommend reading our entire breakdown of freight delivery so you can become familiar with the process. Trust us when we say that getting caught off guard with the strict requirements of freight delivery can lead to a whole lot of headaches.
This item leaves our warehouse within 24 Hours
$6.95 Flat-Rate Shipping
Anything under $49 ships at one low price. If your order increases, your shipping stays the same!
30-Day Returns
Return all new, unused, and unassembled items in their original packaging, and we'll give you a full refund minus the cost of the original AND return shipping.
No Restocking Fee
Most companies charge a restocking fee. We just don't do business that way.
Message to our customers: Like all retailers and manufacturers, we're currently experiencing well-publicized supply-chain issues and steel shortages that have caused some orders to be delayed. We sincerely apologize for any inconveniences arising from this situation, and we assure you we're making every effort to solve these problems with our vendors and logistical partners.

So, why are some orders being affected? Major ports around the world are still operating at reduced capacity because of COVID-19 restrictions — on average, container boats sit at port for about 3 weeks before being unloaded. Combine these shipping inefficiencies with a scarcity of natural resources, and virtually every industry has been crippled to some degree. Yet we acknowledge that it's our duty to meet these challenges head-on and work toward solutions so you can enjoy more time outdoors with the people you love. We appreciate your patience as we strive to smooth out our supply chain, and we thank you for choosing us for your grilling and outdoor living needs.
Your Shopping History.
Pick up where you left off.