Blaze Premium LTE 30-Inch Built-In Propane Gas Griddle With Lights - BLZ-GRIDDLE-LTE-LP
was

$2,874.99

20% off ($575.00)
Free Shipping
As low as $74 /mo with
*
Frequently Bought Together
Key Features
Blaze Grills offers a best-in-class Lifetime warranty
Stainless steel U-shaped burners provide exceptional even heat across the griddle surface
Push and turn flame-thrower ignition delivers a reliable start every time
Stainless steel lid protects the griddle when not in use
Heavy-duty 304 stainless steel construction for durability and longevity
Expand your outdoor cooking into new realms with the Blaze Premium LTE built-in gas griddle, featuring signature SRL LED control knob illumination exclusive to Blaze Premium LTE Series grills. The amazing versatility of the Blaze griddle allows you to cook up bacon and eggs, juicy hamburgers or sizzling fajitas with rice and veggies for the whole family. This Blaze built-in propane gas griddle is equipped with two commercial quality, 304 stainless steel U-shaped burners that each deliver 18,000 BTUs of cooking power for a total of 36,000 BTUs across the 495 square inch stainless steel cooking surface. Push and turn flame-thrower primary ignition, backup flash tube secondary ignition and cross tubes ensure a steady, reliable flame with every start. A large capacity grease tray with a hole in the center directs grease down to the drip tray below for easy cleaning. This gas griddle is constructed entirely with heavy-duty, 304 grade stainless steel and includes a stainless steel lid to cover the griddle plate when not in use.
CSA Certified to the following Standard:
CSA/AM ANSI Z21.58-2018/CSA 1.6-2018 (Fifth Edition) - Outdoor cooking gas appliances
Legal disclaimers and warnings
Product packaging, owners' manuals, installation instructions, and/or operating instructions may include more information than what is shown on our website. The content on our site is intended to be used for reference purposes only. Please fully read all included manuals and documentation before installing or using this product. WARNING for California residents: this product may contain chemical(s) known to the state of California to cause birth defects, cancer, or other reproductive harm.
Product Information
UPC

818718012136

Model Number

BLZ-GRIDDLE-LTE-LP
Ask an Expert
Buy with confidence.
Contact our experts today.
| | |
| --- | --- |
| Class | Premium |
| Fuel Type | Propane |
| Collection | Blaze Premium LTE |
| Configuration | Built-In |
| Exterior Material | Stainless Steel |
| Exterior Stainless Grade | 304 Stainless Steel |
| Primary Color | Stainless Steel |
| Number Of Main Burners | 2 Burners |
| Grilling Surface BTUs | 36000 |
| Infrared Main Burner | Not Available |
| Main Burner Material | 304 Stainless Steel |
| Cooking Grate Material | Stainless Steel |
| Cooking Grid Dimensions | 27 1/2 X 18" |
| Main Grilling Area | 495 Sq. Inches |
| Total Grilling Area | 495 Sq. Inches |
| Burger Count | 22 |
| WiFi/Bluetooth Enabled | None |
| Rotisserie Kit | No |
| Heat Zone Separators | No |
| Ignition Type | Flame Thrower |
| Flash Tubes | Yes |
| Grill Lights | External |
| Spring Assisted Hood | No |
| Thermometer | None |
| Includes Smoker Box | No |
| Side Shelves | No |
| Hose Included | Yes |
| Made In USA | No |
| Commercial-Grade Multi-User | No |
| Size | Medium (27 - 33") |
| Marine Grade | No |
| | |
| --- | --- |
| Width | 30" |
| Depth | 28.37" |
| Height | 12.37" |
| Weight | 121 lbs |
| Cutout Width | 28 1/8" |
| Cutout Depth | 24 3/8" |
| Cutout Height | 12" |
Blaze griddles have a lifetime warranty that warrants against any defects in the manufacturing and workmanship of the control valves, cooking surface, stainless steel housing, stainless steel burners, cart and all other stainless steel components. All electrical and ignition components are covered for one (1) year after the date of purchase. Griddles must be registered within thirty days for the warranty to apply. Labor not included.

Refer to manufacturer's manual for full warranty details.
78% of reviews recommend this product
Customer images featuring this product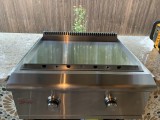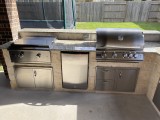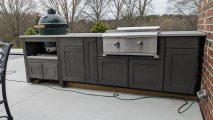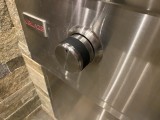 Nice griddle! But... you'll need to replace the rubber grips

I love the griddle, but the rubber grips on the knobs dry rotted and fell off after a month or so. Here is what I used to replace the rubber grip... a perfect fit! It's silicone and should last forever. Grifiti Band Joes 3 x 0.75 inch silicone rubber bands wrists boxes cards wallet Black Item # 375115

Was This Helpful?

The Perfect Accessory for My Outdoor Kitchen

This griddle gets more use than my grill. I was used to my Blackstone Griddle, but needed something for my new outdoor kitchen that could be built-in. Built-in increases the price tremendously, but other than that no complaints. Well...it could be a little bit bigger.

Was This Helpful?

I would buy again

Love the grill, wish it would have come with a gas line.

Was This Helpful?

I would buy this Griddle again.

NIce and clean look.

Was This Helpful?

Wonderful

Love this griddle! Heats up fast and easy to clean!

Was This Helpful?

Great quality griddle.

Great quality. Just installed it, but have not used it. By the was Dawn our sales rep went above and beyond. Amazing customer service.

Was This Helpful?

i would definitely buy this again!

this griddle is GREAT! he is cooking almost every meal on the weekend on it. I really love it! :)

Was This Helpful?

I WOULD RECOMMEND THIS PRODUCT

I LOVE THIS GRIDDLE!!! BEEN USING IT EVERY NIGHT FROM HAMBURGERS TO CHICKEN FRIED RICE. SUNDAY BREAKFAST HAS NEVER BEEN BETTER! GET ONE OF THESE AND YOU WILL NOT BE DISAPPOINTED!!!!

Was This Helpful?

Yes

One of the Excellent focal point of my outdoor Kitchen. The griddle is made of quality Material, it cooks very Evenly across to grill. I took the advice of one the other reviewer about Rain water getting in the Grease pan and made it part of my bar that's under my Pavilion. I haven experience any rain water getting in it. I would highly recommend this unit.

Was This Helpful?

Best value for the $$$$

Works great! I cooked on a flat-top in college. Always wanted to have one. Does everything I need. We use it for breakfast/lunch/dinner.

Was This Helpful?
Question:
Since no hose is included what size quick connect hose is needed for this?
Was This Helpful?
Answer:
Hi Gordon. We do not recommend using quick disconnect hoses for permanently installed appliances. Your installer will have the supply line needed.
Question:
Does this require electricity?
Was This Helpful?
Answer:
Hi SilverBack. Electricity is only required for the lights on Blaze LTE appliances and nothing else.
Answer:
Yes for the electric ignition
Question:
What is best method to season this griddle?
Was This Helpful?
Answer:
Hi, Guzza. Best thing to do when seasoning a stainless-steel griddle plate on the Blaze is simply to wipe it down with a thin coat of an oil with a high smoke point before cooking or after cleaning.
Question:
My counter is level but my griddle wants to pool grease etc. in the back left corner of the griddle top instead of running to the front drip hole. Are there any adjustments available to adjust this? My wife absolutely loves this in our outdoor kitchen but this one thing is really irritating.
Was This Helpful?
Answer:
Hi, Masseb1. We are glad to hear you and your wife love the griddle. You might consider shimming up the back of the griddle. If that doesn't help, please give our Support team a call at 877-743-2269, and they will be happy to help
Question:
Sorry if this has already been asked but does anyone have issues with the grease trap filling with water after it rains?
Was This Helpful?
Answer:
Hello Annie! You should use the included lid to protect the griddle and grease trap from getting dirty or rained on while you're not using it. You can also get the water-resistant vinyl cover to help protect your griddle from the elements.
www.bbqguys.com/blaze/griddle-built-in-cover-grdbicv
Question:
Just installed the 30" Blaze Griddle. When it heats up, the middle of the cooking surface bends down slightly about 1/4". You can see this in the back near the flue cover which is straight. Is this normal operation?
Was This Helpful?
Answer:
Hi Fagundo. Slight warping is a normal effect that can occur when the stainless steel griddle surface is heated and cooled. Warping is caused by the metal expanding and contracting when exposed to extreme temperatures.
Question:
Can I put a pot or pan on the griddle to cook a sauce or beans?
Was This Helpful?
Answer:
I would not. This is why you should have a side-burner. A flat top should be for cooking only. Just my thoughts.
Answer:
I have, but I prefer the pot on the grill. Clay
Question:
How does this product hold up outdoors?
Was This Helpful?
Answer:
We have had great luck! We cover it in the winter time but leave it exposed during the summer.
Answer:
I have been using this griddle outside for a year. It is holding up very well and cooks perfectly without any uneven spots. Even through many storms, it fires up every time and I haven't had any issues lighting it. Highly recommend this one! Joe
Answer:
I Have had mine for about 1-1/2 years it is under a covered patio but when it rains it gets wet when the wind blows it into the patio, the cover helps. I use it about 4 times a week so it's well used. Clean it after each use let it cool and cover it when not used, heat it up wipe lightly with oil and your ready..
Answer:
My griddle is covered under a pavilion but the quality of this product is amazing. Cleans up well and withstands the elements fairly easily. 
Question:
I do not see a steel jacket for this 30" griddle nor a hard cover to protect the griddle when not in use. Please advise.
Was This Helpful?
Question:
Hi! I just recieved my grill and have it set up but was wondering the best way to season the grill. We have tried a few ways using oil but the food is getting stuck on the grill still. Just looking for any advice on this grill since it may require a different seasoning process being stainless steel.
Was This Helpful?
Answer:
Hi Billy, I just purchased this grill last year and love it. There really is no set seasoning process it's all a learning curve with your heat setting and cleaning. In my opinion the seasoning process is cleaning it properly. The best way to keep food from sticking is start out with the grill at low heat, when you let your friends take over and they don't keep the heat down or turn the food with a heavy duty spatula, food tends tends to get stuck and burn. Remember these are not Teflon surfaces. Knowing how to clean the grill will make it better each time you use it. How I clean my grill after a bad day of cooking I fall back on how we cleaned them at the fire department as we have the stainless steel Wolf oven grills. You need to get a grill block a heavy duty spatula and a scrubble which is a stainless steel premium heavy duty pot scrubber, these tend to work good in the corners. To start, i turn the grill on low heat and make sure all the food is removed. Use an old kitchen towel and pour a cup or so of warm water into the grill and use the towel to clean the surface. When the grill is cleaned up in the corners, you use the grill block with vegetable oil and scrape forward to back on the grill, that will remove all of the particles. Vegetable oil works best when cleaning the grill olive oil tends to be a little thicker and makes things stick and gum up . Continue until the grill is back to original status. Clean up after several passes. When all clean I use a cheap lemon juice to bring back to original color. Lightly cover with vegetable oil when finished. Each time you use the grill it needs to be cleaned thoroughly or food will always stick. My way may not be the easiest try to look on youtube. Don't be alarmed with the fine scratches the grill block makes it does not hurt the surface. Cheers! Shirley
Answer:
I've actually not used mine yet but in the past with Restruarnt work you use a high temperature cooking oil after you wipe down the griddle. Do not use soap. Bring temp up to 375 to 400 degrees with a lite coat of cooking oil covering it. Let set for 5-10 minutes then turn off. After cooling wipe down. You may have to do this as you see food sticking. It is not a once and done event. Thanks Mike James
Answer:
Hi there, First off, I always get the best non-stick results after a good cleaning with a grill pad and mesh and I find the more we use our flattop, the fewer issues we have with sticking. Not sure if I'm understanding it's nuances better or if it's getting more seasoned with time and use, probably a little of both. It did take some practice to get the ratio of flame (heat) to oil correct based on what we're cooking. A good example of this was omelettes; I found it was critically important to lay a liberal amount of cooking oil down before spreading the egg across a bed of low heat. Even then, sometimes I lose the first one if I don't get the ratio just right as it can stick something fierce, especially if the heat (or preheat) is too high. And one tip, I've learned not to preheat on high, then turn down to cook. It makes it far too unpredictable in terms of actual cooking temp. This is when I've had some of the more frustrating cooking experiences including excess sticking, of course. These days I strive to set the flame where we want it, let it heat to that point, and just leave it there until cooking. Much more predictable results. You can always raise the temp if needed once you see how the food reacts to the heat and the griddle top. Hope this helps a little and I hope you enjoy your griddle. We love ours! Thanks, Scott
Question:
Hi there and thanks for your time. Curious to see if this needs to be covered from above (ex. awning, canopy, etc.) to protect against elements (ex. rain, snow) or if it's ok to keep out in the open as a part of a built-in kitchen in a deck which gets full sun?
Was This Helpful?
Question:
Hi, Would you be able to install a blaze trash bin under neath the griddle. Don't have a ton of space in the kitchen i am designing, but would love one of these!
Was This Helpful?
Answer:
Hi Kenny! It would not be recommended to install a trash bin underneath the grill.
Question:
Hello, I have the blaze gas griddle and was wondering about using a grill brick on the surface. In most of my research it shows that these bricks are made for stainless flat tops and work well on them. I just wanted to make sure this was a proper way to clean them after use without causing damage to the cooking surface? thanks,
Was This Helpful?
Answer:
Hi Matt! A grill brick will work well for cleaning any flat top grill. If you look at page 28 in the owner's manual listed on this page in the Manufacturer's Downloads section, you'll see that it explains how to clean the grill. This manual will also come with every purchase of this grill.
Question:
What is the thickness of the cook top?
Was This Helpful?
Answer:
Hi Ronnie! The cook top is 1/2 Inch thick plus the cross bracing below.
Question:
I was just wondering about cleaning the flat top using a flat top cleaning brick? After much research, they seem to be a very useful way to clean them using water on the hot surface and the brick. I just wanted to make sure that was a good way to do it and that they would not damage the cooking surface? thanks,
Was This Helpful?
Answer:
Hi Matt! A flat top cleaning brick is a great way for cleaning off your flat top surface, with no damage caused from the cleaning.
Question:
Does this griddle not come with the insulated jacket?
Was This Helpful?
Question:
Hi, does the Blaze Propane Griddle come with a conversion kit in order to use it with natural gas? If so, is this conversion kit the same as the Blaze conversion kit for grills? Lastly, is the conversion kit easy to install? Thanks~
Was This Helpful?
Answer:
Hi omari! The Blaze Propane Griddle will come with the conversion kit for natural gas. Please contact a licensed contractor or installer to convert your appliance to the different gas type.
Question:
What powers the lights on front panel and the ignition. Is it battery?
Was This Helpful?
Answer:
Hi Collier! The griddle does not use batteries. The lights are powered by a transformer and the Flame Thrower ignition requires no external electrical source.
Question:
How do you warm the top up in the outdoors on a cool night? Do you leave the top on until it gets hot?
Was This Helpful?
Answer:
Hi, Scott. The griddle is heated the same way, no matter what the temperature is outside. To preheat the griddle, ignite the burners and set them to high for five minutes. Never use the stainless steel lid when lighting and using the griddle.
View Product Comparisons

Current Item

Blaze Premium LTE 30-Inch Built-In Propane Gas Griddle With Lights - BLZ-GRIDDLE-LTE-LP

Summerset 30-Inch Built-In Stainless Steel Griddle - Propane - GRID30-LP

Wildfire Ranch PRO 30-Inch Black 304 SS Propane Griddle -WF-PROGRD-RH-LP

Turbo Grills 32-Inch Built-In Propane Gas Teppanyaki - TEPANLP

Price & Shipping Information

$575.00 (20%)

Free Shipping

Leaves Warehouse:

24 Hours

Free Shipping

Leaves Warehouse:

1-3 Business Days

View Item

Free Shipping

Leaves Warehouse:

24-48 Hours

View Item

$150.00 (8%)

Free Shipping

Leaves Warehouse:

1-3 Business Days

View Item
ID
#2988885
#3111282
#3105218
#3059660
Model
BLZ-GRIDDLE-LTE-LP
GRID30-LP
WF-PRO30GRD-RH-LP
TEPANLP
Class
Premium
Premium
Premium
Premium
Fuel Type
Propane
Propane
Propane
Propane
Collection
Blaze Premium LTE
Summerset
Ranch
Turbo
Cutout Width
28 1/8"
28 1/4"
29"
30 1/2"
Cutout Depth
24 3/8"
21 7/8"
21 7/8"
20"
Cutout Height
12"
10 3/4"
10 1/2"
9 1/2"
Configuration
Built-In
Built-In
Built-In
Built-In
Exterior Material
Stainless Steel
Stainless Steel
Stainless Steel
Stainless Steel
Exterior Stainless Grade
304 Stainless Steel
304 Stainless Steel
304 Stainless Steel
304 Stainless Steel
Primary Color
Stainless Steel
Stainless Steel
Stainless Steel
Stainless Steel
Number Of Main Burners
2 Burners
2 Burners
—
2 Burners
Grilling Surface BTUs
36000
36000
—
40000
Infrared Main Burner
Not Available
Not Available
—
Not Available
Main Burner Material
304 Stainless Steel
304 Stainless Steel
—
Stainless Steel
Cooking Grate Material
Stainless Steel
—
Stainless Steel
Stainless Steel
Cooking Grid Dimensions
27 1/2 X 18"
—
27 7/8 X 18 7/8"
29 1/2 X 15 1/2"
Main Grilling Area
495 Sq. Inches
495 Sq In
526 Sq. Inches
457 Sq. Inches
Total Grilling Area
495 Sq. Inches
495 Sq. Inches
526 Sq. Inches
457 Sq. Inches
Burger Count
22
—
24
—
WiFi/Bluetooth Enabled
None
None
None
None
Rotisserie Kit
No
No
—
No
Heat Zone Separators
No
No
—
No
Ignition Type
Flame Thrower
Flame Thrower
—
Single Spark
Flash Tubes
Yes
No
—
No
Grill Lights
External
External
External
External
Spring Assisted Hood
No
No
No
No
Thermometer
None
None
None
None
Includes Smoker Box
No
No
—
No
Side Shelves
No
—
—
—
Hose Included
Yes
Yes
—
Yes
Made In USA
No
No
No
No
Commercial-Grade Multi-User
No
No
No
No
Size
Medium (27 - 33")
Medium (27 - 33")
Medium (27 - 33")
Medium (27 - 33")
Marine Grade
No
No
No
No
This product can expose you to chemicals including Chromium (hexavalaent compounds), which are known to the State of California to cause cancer and birth defects or other reproductive harm. For more information go to: www.p65Warnings.ca.gov
Free Shipping on orders over $49
Ship your entire order to your home for free, especially the big stuff! *Continental US only
When will my item arrive?
Once shipped, items usually arrive within 3-5 business days. While UPS and FedEx are our carriers for smaller items, be aware that larger items and orders are shipped via freight. The freight process is a bit more complicated than what we've all come to expect for small parcels, so it's important that you're prepared and understand what's required of you well before delivery day.
Most freight products ship on a pallet
Some carriers will call to schedule a delivery window, while others will deliver the shipment to a reasonably accessible location closest to your residence (their goal is to deliver as near a garage door as they can).
We'll specify which process you can expect in your shipping confirmation email.
For carriers that schedule delivery appointments:
Carriers that schedule delivery appointments require you to be home for delivery and provide your signature. The delivery is made with a semi-truck with lift gate services, and the shipment is dropped off at the curb. If you authorize the shipping company to leave the delivery without a signature, BBQGuys can't be held responsible for damages that occur during delivery. As complicated as this process may seem, we've only scratched the surface here — please review our detailed guide to freight delivery so there are no surprises when a freight shipment heads your way.
For carriers that deliver without an appointment:
Carriers that deliver without an appointment don't require you to be home or set up a delivery window, and you aren't required to sign for the pallet(s). Instead of scheduling an appointment, arranging your schedule to be home for the delivery, and signing to confirm receipt, you can sit back and let your items come to you. If you're home at the time of the drop-off, you can request the driver place your delivery in the garage; if you're out of the house, the driver will leave it near the garage or doorstep.
This item leaves our warehouse within
24 Hours
$6.95 Flat-Rate Shipping
Anything under $49 ships at one low price. If your order increases, your shipping stays the same!
30-Day Returns
Return all new, unused, and unassembled items in their original packaging, and we'll give you a full refund minus the cost of the original AND return shipping.
No Restocking Fee
Most companies charge a restocking fee. We just don't do business that way.
Your Shopping History. Pick up where you left off.