Blaze 20-Inch Cast Aluminum Kamado Grill - BLZ-20-KAMADO
List: $2,124.99
16% off ($335.00)
Free Shipping
Payments as low as $57.76 per month.*
Frequently Bought Together
Blaze offers a best in class Lifetime warranty
Solid cast aluminum construction offers superior durability and outstanding temperature control
Unique tongue and groove design provides an exceptional seal with no heat loss
12mm thick stainless steel cooking grate retains heat and helps you achieve an excellent sear
Heavy-duty 304 stainless steel hinge with lid assist for easy opening
Reintroducing a tough kamado grill designed to provide a lifetime of performance and memories. Made from one inch thick solid cast aluminum, the Blaze Kamado offers superior durability and outstanding temperature control. The non-porous grill body allows you to use any type of charcoal or wood, as well as any material for lighting the charcoal without worry of it damaging or being absorbed into the grill body. The heavy-duty, 12mm thick 304 stainless steel cooking grate retains heat and helps you achieve an excellent sear. The 20-inch diameter cooking grate is hinged on both sides so you can easily add wood or charcoal without needing to remove it. A mid-level 18-inch cooking grate is also included which allows you to cook closer to the fire. Add a drip pan or a heat deflector for indirect cooking. The lid hinge is made from 304 grade stainless steel and features a convenient lift assist for easy opening and closing. The Blaze Kamado grill also boasts an innovative lid seal that is superior to ceramic kamado-style grills. Instead of using a felt gasket, the cast aluminum Blaze Kamado utilizes a tongue and groove seal. This design eliminates the need to replace a damaged gasket and also provides an exceptional seal that prevents heat from escaping. The top exhaust vent is made from molded cast aluminum for precise heat control and will not slip out of position. The bottom of the firebox holds a removable stainless steel ash pan with handles for easy cleanup. A large temperature gauge with markings for smoking, roasting and searing temperatures is mounted in the lid, allowing you to easily monitor cooking temperatures. The grill also includes cast aluminum feet so you can safely stabilize it in your outdoor kitchen island. High heat cooking gloves are included for safe handling.
Legal disclaimers and warnings
Product packaging, owners' manuals, installation instructions, and/or operating instructions may include more information than what is shown on our website. The content on our site is intended to be used for reference purposes only. Please fully read all included manuals and documentation before installing or using this product. WARNING for California residents: this product may contain chemical(s) known to the state of California to cause birth defects, cancer, or other reproductive harm.
Product Information
UPC

818718011313

Model Number

BLZ-20-KAMADO
Ask an Expert
Buy with confidence.
Contact our experts today.
Specifications
| | |
| --- | --- |
| Class | Luxury |
| Fuel Type | Charcoal |
| Collection | Blaze Kamado |
| Configuration | Built-In |
| Exterior Material | Cast Aluminum |
| Primary Color | Silver |
| Kamado Thickness | 1 Inch |
| Cooking Grate Material | Stainless Steel |
| Cooking Grid Dimensions | 20 Inch Diameter |
| Total Grilling Area | 400 Sq. Inches |
| Burger Count | 14 |
| WiFi/Bluetooth Enabled | None |
| Grill Lights | None |
| Spring Assisted Hood | No |
| Cooking Grid Type | Hinged |
| Thermometer | Analog |
| Side Shelves | Available |
| Made In USA | No |
| Commercial-Grade Multi-User | No |
| Marine Grade | No |
| Fire Grate Material | Stainless Steel |
| Band Material | Cast Aluminum |
| Hinge Material | Stainless Steel |
Dimensions
| | |
| --- | --- |
| Width | 21.87" |
| Depth | 27.87" |
| Height | 33.87" |
| Weight | 161 lbs |
Blaze kamado grills have a lifetime warranty that warrants against any defects in the manufacturing and workmanship on the cast aluminum body, stainless steel cooking grids, hinge and all other parts. Grills must be registered within thirty (30) days for the warranty to apply. Labor not included.

Refer to manufacturer's manual for full warranty details.
100% of reviews recommend this product
Customer images featuring this product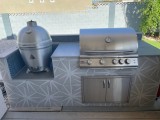 | | | |
| --- | --- | --- |
| Undisclosed | Highly recommend buying this kamado | Was This Helpful? |
| Tulsa | Best grill ever! | Was This Helpful? |
| Undisclosed | Ohhh. Yeah 😎 just what I was hoping for | Was This Helpful? |
| Mattawan, MI | Love my Kamado, been using for 4 years | Was This Helpful? |
| Morgantown WV | Last grill you'll ever need to buy | Was This Helpful? |
| Texas | 3 years on; not one problem; stunning performance | Was This Helpful? |
| NJ | I have mine for 3 years and no regrets... great purchase | Was This Helpful? |
| Lolo Montana | I would buy this grill again without hesitation. | Was This Helpful? |
| Las Vegas, NV | Great Looking and Consistent Smoker | Was This Helpful? |
| Knoxville, TN | Had mine for a year now... | Was This Helpful? |
The Skinny:
Industry first, solid cast aluminum kamado grill
Best in class lifetime warranty inside and out
Incredible cooking performance
Virtually indestructible
Beautifully blends with your stainless outdoor kitchen equipment
Things We Love:
If you've always wanted a ceramic kamado, but have been concerned about their potential for cracking or breaking, you can absolutely put away your fears with this Blaze Kamado! This grill is virtually indestructible and could literally last forever. It's made of an industry first, solid cast aluminum, and their slogan could not be more appropriate - this kamado is "just that tough"! You can even take it camping or tailgating without fear and cringing over every bump in the road. I also just love the way this grill looks! With it's beautiful silver finish and 304 stainless accents, it will seamlessly blend with the rest of your stainless steel equipment in your outdoor kitchen.
If you've read my other reviews or watched any of my videos, you know how much I love kamado cooking. As far as cooking performance, this Blaze Kamado is right up there with the best of them! Heat retention is one of the most important features of a kamado grill, which are known for holding their temperature during long cooks, and the Blaze kamado is no exception. I found the thick cast aluminum walls to hold heat just as well as the ceramic kamados I've cooked on for years. I also like the unique tongue-and-groove design, which seals the grill lid tight to the base, allowing very little to no heat escape. Ceramic kamados utilize a gasket to achieve their seal but those gaskets need replacing from time to time. Along with the solid heat retention, the heat control is top notch. The lower air intake features a multi-function door with a dial for precise control and the built-in, cast aluminum top air vent, allows you to easily set the vent opening, and it stays put even when lifting the lid.
Speaking of lifting the lid, 304 series stainless steel lift-assist hinges allow for very easy opening. You can really feel the difference if you've lifted other kamado lids, which tend be be bulky and kinda heavy.
Under the hood, you'll find a 20-inch stainless steel hex grill grate. The grate is made of 12mm 304-grade stainless steel, providing amazing heat retention and a large surface area for beautiful sear marks. The grates also feature two hinged sections, which makes adding charcoal or wood chunks a breeze. Underneath this main cooking grid is an 18 inch, equally thick, 304 stainless steel, multi-purpose grate. You can actually cook food on this grate and the top grate at the same time, which almost doubles your cooking space, or you can set a pan of liquid or a heat deflector on it when indirect cooking. Under the multi-purpose grate is an equally thick, 304 stainless steel charcoal grate. When it's time to clean out the ashes, I love the full width, lift out ash pan. That pan is certainly more convenient and effective than scraping out the ashes on a regular ceramic kamado.
Another neat benefit of the Blaze Kamado's cast aluminum construction, is that it can handle any fuel source, even regular charcoal briquettes and lighter fluid, unlike ceramic kamados with their porous nature. Personally, I would always recommend cooking with lump charcoal but it is nice to know you can use briquettes and lighter fluid in a pinch.
As for accessories, the rotisserie accessory with separate charcoal basket is an awesome add-on and I like how the 304 stainless steel side shelves are so sturdy.
Finally, I love this grill's warranty. The Blaze Kamado is backed by a best in class lifetime warranty on all of the grill's components - that's all components inside and out. I'm not sure how it's possible to break anything on this grill, but you can have confidence in knowing that Blaze will stand behind your grill for a lifetime.
Things To Consider:
While the full width ash pan is a nice and effective feature, you have to remove all three grates in order to lift it out for clean up.
You'll Like This Grill If:
If you want the toughest kamado grill on the market, backed by a best in class lifetime warranty, that looks and cooks great too.
Question:
I am curious as to where your new manufacturing partner is located. Part of my interest in your product is because you are an American company and I assumed all your components were American made.
Was This Helpful?
Answer:
Hi Glenn. The Blaze Kamado is made in China.
Answer:
As far as I understand all parts of the smoker are American made. I have enjoyed it very much since I purchased. Do,m
Question:
Unlike the ceramic grills that have seals at the junction of lid and bottom, the aluminum is cast with a lipped junction in order to seal in smoke and heat. But I am wondering how that works when using a wired thermometer. Unlike ceramic where a wire is simply sandwiched flat between soft seals of lid and bottom, this appears to have no room for a wire, and if it does, it would appear to require the wire to fold and contour to meet the shape of the lid and bottom when joined. This seems like it would quickly ruin a wired thermometer. Any first hand experience on this?
Was This Helpful?
Answer:
I have great news for you - this grill has an even better method for using a wired/wireless thermometer. One of the reasons I selected this grill was because it comes with access for the use of a rotisserie. When you look at the grill on the left side as you are looking at it you will notice that there is a small cap screwed into the grill. That is for connecting the rod to the motor. That access hole will allow you to slip the wire into the grill and into the meat - there is no need for the "wire to fold and contour to meet the shape of the lid and bottom when joined". We have smoked a lot of meat and the only problem I encountered was that I realized that I knew nothing about smoking meat and had to learn. Afterwards it has been great. Love this Komoto grill - the best and highly recommend it By the way, it does weigh about 180 pounds. Dom
Answer:
It does exactly what you are describing. I started dropping mine through the top vent. Getting ready to go wirelessSent via the Samsung Galaxy S21 5G, an AT&T 5G smartphone
Answer:
You are correct on the lid. However, this model has a whole (Capped) that the rotisserie goes through that provides direct access to the inside. This hole can be used for a wired thermometer as well. I've even used both simultaneously. Plenty of room to pass either end of the wired thermometer without having to pass through the lid. 
Answer:
There is a tiny hole drilled into the Blaze kamado which allows you run a thermometer in if you like. The grill temp thermometer is built in.
Answer:
Hi Karl The Blaze unit has a screw plug on the left side to allow wires to enter the grill just below the top grate. I use the Flame Boss device to control temperature all the time with no issue. Hope this helps, reach out if you need more info. Jim
Answer:
4 years on the beach in Mexico. No problems
Question:
Hi there! I spoke with a Blaze rep about a week ago and she indicated a new shipment of the Blaze Kamado was en route to the US from a new manufacturing partner overseas. I was just wondering if BBQGuys expects to restock this item, and if so, if there is any expected date when that might happen? Thanks!
Was This Helpful?
Answer:
Hi Bryce, we are expecting to receive stock of the Blaze kamados this year, unfortunately, we don't have an ETA for shipments as of yet.
Question:
Putting this in an outdoor kitchen. What is the dimension from bottom of stand to bottom of hinge so that I can get the correct height on the countertop
Was This Helpful?
Question:
Is the outside hot to the touch when in use or like a ceramic Kamado that you could touch without being burned? Also is there any reason the grill cannot be installed into an island with a granite cut out like in the third picture in your website?
Was This Helpful?
Answer:
Hi Bill! The outside of the grill will be hot when in use, please use high heat gloves. The grill can be installed using non-combustible materials only, so a granite cut out would be fine.
Question:
Can I fit a 15 - 18 lb turkey in this? How about a full bone in prime rib?
Was This Helpful?
Answer:
Hey! It is large enough to cover that size turkey, people have claimed to have fit two turkeys. I would just say for the prime rib, you would not want it to be too long, so it may need to be split in half. Hope this information helps!
Question:
Does the mid-level 18-inch cooking grate have an hinged option like the 20-inch top grate? Reason is it's a little tough sometimes to get the grate seated correctly as well as getting it back out. If it doesn't, I encourage Blaze to consider this a great option to offer.
Was This Helpful?
Answer:
Hi Robert. No, only the 20-inch top grate is hinged.
Question:
Hello, I recently purchased this item and will be installing it in an outdoor kitchen. My question / concern is the amount of heat that will be generated below the counter top as I plan to have the bottom of the unit completely inside of the island to avoid a kiddo from touching while hot (with a door to adjust lower damper). I see this installed using this method but want to ensure a long slow cook will not damage the kitchen or cause any other unsafe conditions. Thanks!
Was This Helpful?
Answer:
Hi Brett, the Kamado cannot be installed into combustible materials or it will start a fire. It can be safely installed into non combustible materials as long as there is a gap between the kamado and the counter/counter top.
Question:
In the Q&A comments, it is recommended that a minimum of 31" of depth is needed against a wall in order to open lid. Does this mean that the grill will stick out 6" in front from a standard 25" countertop depth?
Was This Helpful?
Answer:
Hi, Amy. If the grill is centered in its cabinet, the lid will open about 6" past the edge of 25" deep countertops.
Question:
Can a whole packer brisket fit in this grill?
Was This Helpful?
Answer:
Hi, Joshua. You can fit a whole packer brisket, however, you may need to bend the ends of especially large briskets to make them fit.
Current Item

Blaze 20-Inch Cast Aluminum Kamado Grill - BLZ-20-...

Blaze 23.5-Inch 5.1 Cu. Ft. Outdoor Rated Stainless...

Blaze 36-Inch Stainless Steel Outdoor Vent Hood - 1000...

Blaze 42-Inch Stainless Steel Outdoor Vent Hood - 2000...

Price & Shipping Information

List: $2,124.99

You Save: $335.00 (16%)

Free Shipping

Leaves Warehouse: 24 Hours

List: $2,612.49

You Save: $522.50 (20%)

Free Shipping

Leaves Warehouse: 24 Hours

View Item

List: $2,062.49

You Save: $322.50 (16%)

Free Shipping

Leaves Warehouse: 24 Hours

View Item

List: $2,681.24

You Save: $446.25 (17%)

Free Shipping

Leaves Warehouse: 24 Hours

View Item
ID

2939802

3065504

3071458

3066167

Model Number
BLZ-20-KAMADO
BLZ-SSRF-DBDR5.1
BLZ-36-VHOOD
BLZ-42-VHOOD
Class
Luxury
—
—
—
Fuel Type
Charcoal
—
—
—
Collection
Blaze Kamado
—
—
—
Configuration
Built-In
—
—
—
Exterior Material
Cast Aluminum
Painted Metal
—
—
Primary Color
Silver
—
—
—
Kamado Thickness
1 Inch
—
—
—
Cooking Grate Material
Stainless Steel
—
—
—
Cooking Grid Dimensions
20 Inch Diameter
—
—
—
Total Grilling Area
400 Sq. Inches
—
—
—
Burger Count
14
—
—
—
WiFi/Bluetooth Enabled
None
—
—
—
Grill Lights
None
—
—
—
Spring Assisted Hood
No
—
—
—
Cooking Grid Type
Hinged
—
—
—
Thermometer
Analog
—
—
—
Side Shelves
Available
—
—
—
Made In USA
No
—
—
—
Commercial-Grade Multi-User
No
—
—
—
Marine Grade
No
—
—
—
Fire Grate Material
Stainless Steel
—
—
—
Band Material
Cast Aluminum
—
—
—
Hinge Material
Stainless Steel
—
—
—
This product can expose you to chemicals including Chromium (hexavalaent compounds), which are known to the State of California to cause cancer and birth defects or other reproductive harm. For more information go to: www.p65Warnings.ca.gov
Free Shipping on orders over $49
Ship your entire order to your home for free, especially the big stuff! *Continental US only
When Will My Item Arrive?
Once shipped, items usually arrive within 3–5 business days. If your item or order is large, it may ship via one of our third-party freight carriers, which deliver from semi trucks with lift gates. Freight delivery is much more complicated than standard parcel shipping — you must schedule a drop-off time, be present for the delivery, and move items from the curb to your residence, among other differences. Sound stressful? If you prepare in advance with our guide to freight delivery, it doesn't have to be.
We strongly encourage reading the entire freight delivery guide, but here's a quick snapshot of what you need to be ready for when you order a large package:
Your freight carrier will call you to schedule a delivery window of about 4–8 hours
You're required to be physically present at the specified delivery location during the scheduled window
Freight shipments are carried in semi trucks, which have lift gates to assist with unloading
Freight deliveries are dropped off at the curb and no further — not up the driveway, not the porch, not the garage, and most definitely not the backyard — so it's on you to transport packages to their intended location
For an easier time hauling items to your home or backyard, arrange for at least 2 helpers to be on standby during your delivery window
You must sign for the shipment to indicate that you've accepted the delivery
Again, we recommend reading our entire breakdown of freight delivery so you can become familiar with the process. Trust us when we say that getting caught off guard with the strict requirements of freight delivery can lead to a whole lot of headaches.
This item leaves our warehouse within 24 Hours
$6.95 Flat-Rate Shipping
Anything under $49 ships at one low price. If your order increases, your shipping stays the same!
30-Day Returns
Return all new, unused, and unassembled items in their original packaging, and we'll give you a full refund minus the cost of the original AND return shipping.
No Restocking Fee
Most companies charge a restocking fee. We just don't do business that way.
Message to our customers: Like all retailers and manufacturers, we're currently experiencing well-publicized supply-chain issues and steel shortages that have caused some orders to be delayed. We sincerely apologize for any inconveniences arising from this situation, and we assure you we're making every effort to solve these problems with our vendors and logistical partners.

So, why are some orders being affected? Major ports around the world are still operating at reduced capacity because of COVID-19 restrictions — on average, container boats sit at port for about 3 weeks before being unloaded. Combine these shipping inefficiencies with a scarcity of natural resources, and virtually every industry has been crippled to some degree. Yet we acknowledge that it's our duty to meet these challenges head-on and work toward solutions so you can enjoy more time outdoors with the people you love. We appreciate your patience as we strive to smooth out our supply chain, and we thank you for choosing us for your grilling and outdoor living needs.
Your Shopping History.
Pick up where you left off.