Nuke Delta 40-Inch Argentinian-Style Gaucho Grill - DELTA02
Free Shipping
As low as $80 /mo with
*
Key Features
Experience Argentinian-style grilling right in your backyard
Separate firebox allows distributing the heat where and when you need it
Adjustable height cooking grid allows for easy heat control
Refractory bricks help maintain and evenly distribute heat
Includes a full-length cover, poker, & shovel
This Argentinian-style gaucho grill will elevate your grilling experience to a new level. Inspired by the centuries-long tradition of Gauchos grilling on the South American prairies. South American artisans handcraft this grill giving the unique design and features. The Delta by Nuke will create an experience unlike any other right in your backyard.

This grill has 547 square inches of main cooking area and lined with refractory bricks for even heat performance. Adjust the removable grill grate with the handle and lock system to sear or slow cook when you need. Use the separate firebox to start or refuel your fire without affecting your cooking area. Distribute coals along the base when and where you need them, to give ultimate heat control of your grill. Close the attached lid on those windy days or when you want to create an oven or smoker effect. Use the front fold-down door for storing accessories or a warming shelf while you grill.

Saute vegetables or other delicate foods with the included grill pan. Add it to the top of the firebox for an extra 188 square inches of cooking space. Add your own outdoor skillet or wok for endless cooking possibilities. The steel cart has a wood base that is perfect for storing charcoal or other grill accessories. This cart has two swivel casters that roll on any patio surface and lock in place when you are ready to grill. This grill comes with a full-length vinyl cover, 30-inch fire poker, and a 30-inch shovel.
Legal disclaimers and warnings
Product packaging, owners' manuals, installation instructions, and/or operating instructions may include more information than what is shown on our website. The content on our site is intended to be used for reference purposes only. Please fully read all included manuals and documentation before installing or using this product. WARNING for California residents: this product may contain chemical(s) known to the state of California to cause birth defects, cancer, or other reproductive harm.
Product Information
UPC

51497070526

Model Number

DELTA02
Ask an Expert
Buy with confidence.
Contact our experts today.
Specifications
| | |
| --- | --- |
| Class | Practical |
| Fuel Type | Charcoal |
| Collection | Delta |
| Configuration | Freestanding |
| Exterior Material | Painted Steel |
| Primary Color | Black |
| Cooking Grate Material | Porcelain Coated Steel |
| Cooking Grid Dimensions | 25 3/4 X 21 1/4" |
| Main Grilling Area | 547 Sq. Inches |
| Secondary Grilling Area | 188 Sq. Inches |
| Total Grilling Area | 735 Sq. Inches |
| Burger Count | 25 |
| WiFi/Bluetooth Enabled | None |
| Grill Lights | None |
| Side Shelves | No |
| Made In USA | No |
| Cart Assembly | Some Assembly Required |
| Commercial-Grade Multi-User | No |
| Size | Large (34 - 42") |
| Marine Grade | No |
Dimensions
| | |
| --- | --- |
| Width | 47" |
| Depth | 30" |
| Height | 47" |
| Weight | 265 lbs |
Nuke warrants against any defects in the manufacturing and workmanship to the original purchaser for a period of one (1) year from date of purchase bearing sales receipt. Labor not included.

Refer to manufacturers manual for full warranty details.
88% of reviews recommend this product
Customer images featuring this product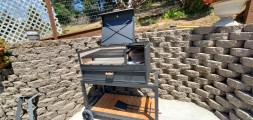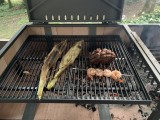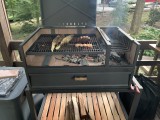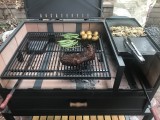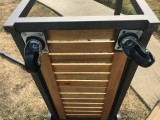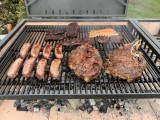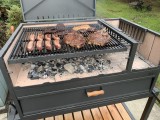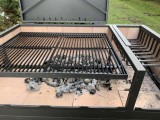 | | | |
| --- | --- | --- |
| | Best grill i've ever bought | Was This Helpful? |
| | Earth Wood & Fire | Was This Helpful? |
| | Awesome grill for the experienced griller! | Was This Helpful? |
| | Purest only.lol | Was This Helpful? |
| | Don't buy from anyone else! | Was This Helpful? |
| | Love the grill, and love BBQ GUYS even more! | Was This Helpful? |
| | Just like the picture. I would recommend to a friend. | Was This Helpful? |
| | Fantastic product! | Was This Helpful? |
| | The Best Choice 👌 i made so far. | Was This Helpful? |
| | Well built, great to use, fantastic customer service! | Was This Helpful? |
The Skinny:
Abundant 547 square inches of height-adjustable cooking space
Argentinian cooking style: move around the embers, not the food
Excellent heat retention and dispersal through refractory bricks
Perfect for the hands-on griller eager to feel completely in control
Includes rain cover, fire poker, and coal shovel
Do you love playing with fire? Then the Ñuke Delta is the perfect grill for you.
Necessity is so often the mother of invention, and the parilla ("pah-REE-ja") is no exception. Think back to the 18th century, to the downward tip of South America. Famous throughout Uruguay, Paraguay, Brazil, and their Argentinian homelands were the gauchos — horse-mounted cattlemen not unlike American cowboys. Rustling cattle across South America is hungry work; the gauchos avoided eating too much of the merchandise by using every cut of their beef. To make the tough cuts tender, did they have large pots and endless water? No. But they had wood, and plenty of open space. Thus, the parilla was born: a simple, versatile cooking surface little more than a metal grill grate over a heat source of embers.
That's exactly what makes this grill shine. Since Argentinian cuisine and grill designs are all about wood-fire cooking, the Ñuke Delta focuses on that experience with excellent results. From fuel stash to powered ash, you build a bed of embers — and this grill hands you the literal lever to the fire. Vent control and wireless apps are for other BBQ experiences; this one is about merging rustic satisfaction with modern sensibility. If a traditional parilla was simply an iron grate over a few bricks, why not raise or lower that grate to switch heat intensities? So long as the flames wind up under the grate, why not simply load your fuel in a firebox at the side and reposition the embers with an ash tool? With the Delta, you get direct coal access and maneuverability and a whole lot of fun.
Quality:
The Delta hits high marks for solid construction and convenient design choices.
Built with 265 lbs of medium-gauge painted steel, the Ñuke Delta stands 37 inches tall (or, a little higher than counter-height) on heavy-duty casters made for maneuverability. Refractory bricks measuring 8 ¾ inches by 4 ½ inches (⅝ inches thick) line the entire cooking chamber, which is partly occupied by an 8-inch by 15-inch ribbed firebox. The ribbed firebox holds enough wood splits to create a full cook's worth of embers or detaches easily if you prefer to use charcoal.

Of course, the real star here is the height adjustment lever. Parked on the left-hand side, the lever shifts between 5 locked positions; starting at roughly 3 ¾ inches above the firepit floor, the grill grates peak at 7 inches. While it's easy to underestimate that range, this is a grill designed to excel at everything heat. In such a refractory environment, even a single inch can make a tide of difference.
Performance:
The Ñuke Delta loves building powerful, controllable fire — and then handing you the keys.
Cooking on the Ñuke Delta almost flips the script on typical grilling. Instead of rearranging and repurposing the cooking environment, you're adjusting the coal bed beneath. In fact, that's one of the top things we hear from customers: how easy it is to get spectacular results when you can adjust the height or shift the heat source with a single hand. Not that you'll have to, of course, unless you feel like really piloting this grill. With an interior lined with refractory brick and complete control over where those embers sit, the Ñuke Delta boasts great heat dispersal and control — and it never asks you to touch a cooking grate.
That's what this grill is really all about: producing great heat, knowing what to do with it, and equipping you to steer the process however you see fit. (Hey, just like a gaucho!) If you've ever burned wood splits before, you're already familiar with how the Ñuke Delta works. Every log-stacking method we threw at this grill gave us reasonable results, so it's effectively your choice. Getting fully preheated might take between 30–45 minutes and half a dozen splits, but the real joy here is in the spectacle.

Speaking of, this grill loves attention. While it can take a while to start grill-worthy embers, it can do a remarkable impersonation of a fire pit. All the while, those refractory bricks will soak up heat and prepare to get to work. However, bear in mind that ambient temperature is a factor here; this grill will certainly cook in cold climates, but it'll chew through wood to get there. Gaucho-style grills can only do so much against physics. But once you get that wood crackling, those grill grates will power through whatever you throw on them — we found it delicate enough to brown spiral sausage nicely without cracking the casing, and a tomahawk steak 3 inches thick cooked like a dream.
Features:
Forget jack-of-all-trades grills; the Delta picks a few key features and really shines.
This grill forgoes complications to excel at its intended target. While the grill might be lighter on features, they're really not the point. But it does come packed with a few surprises.

Underneath the main cooking area, the Delta supplies a convenient warming drawer. No longer will your breads and side dishes shiver while the steaks sizzle. When you need to work the embers, which will be often, the included 30-inch fire poker and 30-inch ash shovel are ample tools that are satisfying to wield.
At the end of the day, our favorite perk is Ñuke's commitment to customer satisfaction. The warranty comes standard — that receipt protects you for one year from purchase for manufacturing defects — but what about that hefty transit from South America? Starting with the well-packed box, they slip in several spare bricks as a precaution; if the grill arrives damaged, they'll outright replace components at no cost. We've even heard of some customers getting paint shipped for small scratches. That's a level of support we don't often see, and we're pleased they stand so strongly behind their product.
Question:
Hi, wondering how hot the grill gets??? Would it work as a pizza oven??? Thank you
Was This Helpful?
Answer:
The NUKE definitely gets hot enough, but not sure it would make the best choice for a pizza oven.
Answer:
Yes it can do a pizza easily. This will not work to do a very thin crust that requires like 800-900 but it'll do a standard mom and pop 400-450 which comes out great
Answer:
You can if you put a pizza stone.  But it will not be a great oven since it's not a completely closed system and coals are not really that hot.  This is an Argentine style grill.  We cook slow not super hot.  
Question:
Is this safe to use on a trex deck? We have a fire mat under our regular grill but not sure if this is too hot.
Was This Helpful?
Answer:
Hi Jennifer. Trex is not heat resistant, and so it could possibly pose a safety risk. We highly recommend not using this on wooden or Trex deck, but if you have no choice, we recommend you purchase a heat resistant grill mat.
Answer:
No problem at all.
Question:
Is there an option to purchase the grill without the cart for installation in an outdoor kitchen?
Was This Helpful?
Answer:
Hi Austin. No, but it can be removed from the cart.
Question:
I thought the bottom drawer was to collect the ashes after cooking. How do you recommend cleaning the ashes after they've cooled down?
Was This Helpful?
Answer:
Hi Jparri, the bottom drawer is intended for storage use. The Nuke Delta includes a shovel for removing ash, we recommend using a container made of noncombustible material (aluminum, for example) to dispose of the ash once it's cooled.
Question:
What is the recommended way to get the wood started?
Was This Helpful?
Answer:
I like to start a small fire in the charcoal chimney, just a couple handfuls, then use that as starter for the wood. Works every time and with small amount of charcoal doesn't take long.
Answer:
I just use any kind of fire starters from the store and some old newspaper under the firewood. Just make sure the wood is really dry. On lazy days I just use charcoal with a charcoal chimney starter. Hope it helps
Answer:
We use fire starters and lump charcoal to get it going fast
Question:
Hello, What is the max distance between the cooking area when lifted to the highest and the charcoal? Thank you
Was This Helpful?
Answer:
Hi Rodrigo. The highest setting is about 7-8 inches above the charcoal bed floor.
Question:
How does this work as a smoker butts, ribs, etc.?
Was This Helpful?
Answer:
Hi Greg. It works great! You can control the amount of heat that reaches your food, and add wood chunks to the coal for flavor.
Question:
I see the grates are made of porcelain coated steel. Is there an option for cast iron grates? Thanks, Tommy
Was This Helpful?
Answer:
Hey Tommy! Upon further investigating Nukes website, there is no option for iron grates on this grill. Hope this information helps!
Question:
Is it possible to get v-grate grills with drip pan to fit more to the Argentinian style?
Was This Helpful?
Answer:
Hi - Unfortunately, we do not sell a v-groove grate for this grill.
Product

Current Item

Nuke Delta 40-Inch Argentinian-Style Gaucho Grill - DELTA02

Weber Ranch Kettle 37-Inch Charcoal BBQ Grill - 60020

Tagwood BBQ Beast Argentine Wood Fire & Charcoal Grill - BBQ02SI

Tagwood BBQ Fully Assembled Argentine Santa Maria Wood Fire & Charcoal Grill - All Stainless Steel - BBQ03SSF

Price & Shipping Information

Free Shipping

Leaves Warehouse: 1-3 Business Days

You Save: $250.00 (12%)

Free Shipping

Leaves Warehouse: 24 Hours

View Item

Free Shipping

Leaves Warehouse: 1-3 Business Days

View Item

Free Shipping

Leaves Warehouse: 1-3 Business Days

View Item
ID

3058557

427

3088706

3088715

Model Number
DELTA02
60020
BBQ02SI
BBQ03SSF
Class
Practical
Practical
Luxury
Luxury
Fuel Type
Charcoal
Charcoal
Charcoal
Charcoal
Collection
Delta
Ranch
Argentine
Argentine
Configuration
Freestanding
Freestanding
Freestanding
Freestanding
Exterior Material
Painted Steel
Porcelain Coated Steel
Painted Steel
Stainless Steel
Primary Color
Black
Black
Black
Stainless Steel
Cooking Grate Material
Porcelain Coated Steel
Stainless Steel
Stainless Steel
Stainless Steel
Cooking Grid Dimensions
25 3/4 X 21 1/4"
37 1/2 X 37 1/2"
36 X 17"
34 X 16 1/2"
Main Grilling Area
547 Sq. Inches
1104 Sq. Inches
612 Sq. Inches
561 Sq. Inches
Secondary Grilling Area
188 Sq. Inches
—
1088 Sq. Inches
153 Sq. Inches
Total Grilling Area
735 Sq. Inches
—
1700 Sq. Inches
714 Sq. Inches
Burger Count
25
68
—
—
WiFi/Bluetooth Enabled
None
None
None
None
Grill Lights
None
None
None
None
Side Shelves
No
No
Yes
Yes
Made In USA
No
No
No
No
Cart Assembly
Some Assembly Required
Some Assembly Required
Some Assembly Required
Pre-Assembled
Commercial-Grade Multi-User
No
No
No
No
Size
Large (34 - 42")
Large (34 - 42")
Large (34 - 42")
Large (34 - 42")
Marine Grade
No
No
No
No
Per the manufacturer, this product does not require a California Proposition 65 Warning.
For more information, go to www.p65warnings.ca.gov.
Free Shipping on orders over $49
Ship your entire order to your home for free, especially the big stuff! *Continental US only
When will my item arrive?
Once shipped, items usually arrive within 3-5 business days. While UPS and FedEx are our carriers for smaller items, be aware that larger items and orders are shipped via freight. The freight process is a bit more complicated than what we've all come to expect for small parcels, so it's important that you're prepared and understand what's required of you well before delivery day.
Most freight products ship on a pallet
Some carriers will call to schedule a delivery window, while others will deliver the shipment to a reasonably accessible location closest to your residence (their goal is to deliver as near a garage door as they can).
We'll specify which process you can expect in your shipping confirmation email.
For carriers that schedule delivery appointments:
Carriers that schedule delivery appointments require you to be home for delivery and provide your signature. The delivery is made with a semi-truck with lift gate services, and the shipment is dropped off at the curb. If you authorize the shipping company to leave the delivery without a signature, BBQGuys can't be held responsible for damages that occur during delivery. As complicated as this process may seem, we've only scratched the surface here — please review our detailed guide to freight delivery so there are no surprises when a freight shipment heads your way.
For carriers that deliver without an appointment:
Carriers that deliver without an appointment don't require you to be home or set up a delivery window, and you aren't required to sign for the pallet(s). Instead of scheduling an appointment, arranging your schedule to be home for the delivery, and signing to confirm receipt, you can sit back and let your items come to you. If you're home at the time of the drop-off, you can request the driver place your delivery in the garage; if you're out of the house, the driver will leave it near the garage or doorstep.
This item leaves our warehouse within 1-3 Business Days
$6.95 Flat-Rate Shipping
Anything under $49 ships at one low price. If your order increases, your shipping stays the same!
30-Day Returns
Return all new, unused, and unassembled items in their original packaging, and we'll give you a full refund minus the cost of the original AND return shipping.
No Restocking Fee
Most companies charge a restocking fee. We just don't do business that way.
Message to our customers: Like all retailers and manufacturers, we're currently experiencing well-publicized supply-chain issues and steel shortages that have caused some orders to be delayed. We sincerely apologize for any inconveniences arising from this situation, and we assure you we're making every effort to solve these problems with our vendors and logistical partners.

So, why are some orders being affected? Major ports around the world are still operating at reduced capacity because of COVID-19 restrictions — on average, container boats sit at port for about 3 weeks before being unloaded. Combine these shipping inefficiencies with a scarcity of natural resources, and virtually every industry has been crippled to some degree. Yet we acknowledge that it's our duty to meet these challenges head-on and work toward solutions so you can enjoy more time outdoors with the people you love. We appreciate your patience as we strive to smooth out our supply chain, and we thank you for choosing us for your grilling and outdoor living needs.
Your Shopping History. Pick up where you left off.