Blaze Professional LUX 34-Inch 3-Burner Propane Gas Grill With Rear Infrared Burner - BLZ-3PRO-LP
Sale
Save up to $800 + Free Cover with Blaze Professional Grills.
was

$6,999.98

27% off ($1,900.00)
Free Shipping
As low as $165 /mo with
*
Professional Grill Assembly for $159
Book a professional to help assemble this grill for only $159. All bookings and inquiries are handled by Handy.
Frequently Bought Together
Key Features
Blaze Grills offers a best-in-class Lifetime warranty
12mm Hexagon-shaped stainless steel Searing Rods are extra thick for steakhouse-level searing
Heat zone separators allow you to cook multiple types of food at the same time using different temperatures like an expert chef
Professional-quality, cast stainless steel H-burners deliver unbeatable cooking power
Heavy-duty, 12-gauge flame tamer grids cover the entire grill to minimize flare-ups for a luxury grilling experience
Superior Performance from Start to Dinner Time!
Ensure a steady and reliable flame with every start thanks to the Push & Turn Flame-Thrower with Backup Flashtube & Crossover Channels for each burner. Then grill like an expert on the 3 signature, H-style cast 304 stainless steel burners that are heavy-duty, durable, and divided by heat zone separators so you can cook more at once. Each burner provides 18,000 BTUs for a total of 54,000 BTUs across the cooking surface. The 12mm-thick stainless steel Searing Rods, meanwhile, are hexagonal in shape for maximum heat retention and greater surface contact with food - which means more caramelization and flawless sear marks. They cover 615 square feet of grilling area, easily enough for a crowd when you are entertaining.
Yes, Luxury Grilling Is an Actual Thing
Need proof? The double-lined stainless steel hood resists heat discoloration from wear over time, keeping your workhorse grill looking brand new. The Blaze Professional LUX 3-burner grill hood also has a contoured edge that completes the sleek design, plus a pair of internal LED lights for evening grilling and a touch of sophistication. Cleanup is also effortlessly smooth with the full-width drip pan that glides out on rollers. Even better, Blaze offers a waterproof rotisserie kit that works beautifully with the built-in infrared burner for added versatility and slow-cooked deliciousness, not to mention the built-in hanging hooks for convenient storage when not in use. The greatest luxury of all? A best-in-class, lifetime warranty for years of superior grilling.
Loaded Grill Cart for Convenient Cooking
A grill this awesome simply cannot be contained... sometimes literally. To help you spread your wings as a grill master, Blaze designed a decked-out grill cart on 4 heavy-duty, locking wheels that make relocating the grill as easy as searing on the extra-thick cooking grates. The cart is built from high-quality stainless steel for years of outdoor use and features 2 side shelves that allow you to prep everything without leaving the backyard, then fold down when not in use to save valuable storage space. And speaking of storage, the freestanding Blaze Professional LUX 3-burner propane grill comes with 2 drawers and a large door (all with rounded handles for a luxury feel) to stash your BBQ tools, propane tank, and anything else you need for an enjoyable afternoon of grilling.
CSA Certified to the following Standard:
CSA/AM ANSI Z21.58-2018/CSA 1.6-2018 (Fifth Edition) - Outdoor cooking gas appliances
Legal disclaimers and warnings
Product packaging, owners' manuals, installation instructions, and/or operating instructions may include more information than what is shown on our website. The content on our site is intended to be used for reference purposes only. Please fully read all included manuals and documentation before installing or using this product. WARNING for California residents: this product may contain chemical(s) known to the state of California to cause birth defects, cancer, or other reproductive harm.
Product Information
Model Number

BLZ-3PRO-LP + BLZ-3PRO-CART
Ask an Expert
Buy with confidence.
Contact our experts today.
| | |
| --- | --- |
| Class | Luxury |
| Fuel Type | Propane |
| Collection | Blaze Professional LUX |
| Configuration | Freestanding |
| Exterior Material | Stainless Steel |
| Exterior Stainless Grade | 304 Stainless Steel |
| Primary Color | Stainless Steel |
| Number Of Main Burners | 3 Burners |
| Grilling Surface BTUs | 54000 |
| Infrared Main Burner | Available |
| Main Burner Material | 304 Cast Stainless Steel |
| Flame Tamer Material | Stainless Steel |
| Cooking Grate Material | Stainless Steel |
| Cooking Grid Dimensions | 30 13/16 X 19 15/16" |
| Main Grilling Area | 615 Sq. Inches |
| Secondary Grilling Area | 201 Sq. Inches |
| Total Grilling Area | 816 Sq. Inches |
| Burger Count | 24 |
| WiFi/Bluetooth Enabled | None |
| Rotisserie Burner BTUs | 10000 |
| Rotisserie Kit | Yes |
| Heat Zone Separators | Yes |
| Ignition Type | Flame Thrower |
| Flash Tubes | Yes |
| Grill Lights | Internal / External |
| Spring Assisted Hood | No |
| Thermometer | Analog |
| Includes Smoker Box | No |
| Side Shelves | Yes |
| Hose Included | Yes |
| Side Burner | None |
| Made In USA | No |
| Cart Assembly | Some Assembly Required |
| Commercial-Grade Multi-User | No |
| Size | Medium (27 - 33") |
| Marine Grade | No |
| | |
| --- | --- |
| Width | 65.5" |
| Depth | 28.12" |
| Height | 50.25" |
| Weight | 315 lbs |
Blaze gas grills have a lifetime warranty that warrants against any defects in the manufacturing and workmanship on the control valves, cooking grids, stainless steel housing, stainless steel burners, flame tamers, heat zone separators, and all other stainless steel components. All electrical and ignition components are covered for one (1) year after the date of purchase. Grills must be registered within thirty days for the warranty to apply. Labor not included.

Refer to manufacturer's manual for full warranty details.
81% of reviews recommend this product
Customer images featuring this product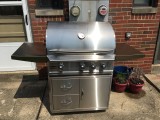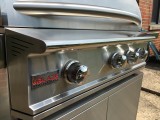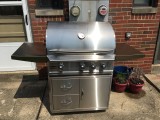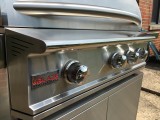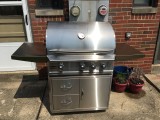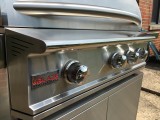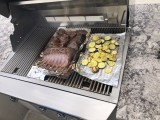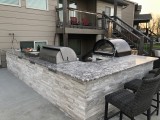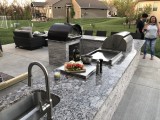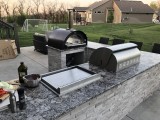 Wow... this is a real grill

Top notch! This grill is the real deal. Industrial construction, even heat, great range of temperatures, and a cool look... who could ask for more? You'll love your purchase!

Was This Helpful?

I am buying the Blaze Professional 34 inch 3 burner again

This is the best built grill that I have purchased. After several new home builds and premium grills installed I bought the Blaze after doing my research and was amazed in the quality of the product. Everything about this grill is well built, easy to clean and made to last for years. I am ordering another grill with access doors for my new home that I will hopefully retire in. Thanks for offering this product.

Was This Helpful?

Product has held up over time and they honor their warranty.

I bought this grill from BBQ guys about 6 years ago. I've loved cooking on the grill. It has an even heat stainless grates are very solid. There has been no wear on the cooking grates at all. I had some issues with the burners beginning to rust and some holes forming in the flame tamers. I sent pictures to Blaze and explained the issue. No questions asked the mailed me 3 new burners and 3 new flame tamers. Had them in hand within a few days. It was about $1K in parts and they replaced them without flinching. A good product with a great warranty that they honor. Definitely recommend.

Was This Helpful?

Should last forever

Bought the Blaze pro 3 burner grill - Excellent product. Heavy duty SS parts should last.

Was This Helpful?

Yes I would buy this again!

I looked around for a long time and wanted something that was well built and that it is. This grill is more heavy-duty than anything I have seen. Due to the heavy construction it does take longer to heat up. Lighting is another plus as most of my grilling is in the evening. This is a nice addition to my outdoor cooking area. I have two other grills a green egg and an infrared grill. I plan to do rack of lamb tonight on the blaze for the first time. I will braze the lamb on the infrared grill and set the Blaze to low heat. Everything I have tried has turned out well. The only problem I encountered is only two screws hold the grill to the cart in the front. Nothing in the back so when moving the grill around the back end will shift to the left or right and if you don't have the cart shelves set just right it will interfere closing the shelf.

Was This Helpful?

A whole new grilling experience!!

What a terrific grill. Solid, well-built, and great looking. More importantly, it cooks very evenly across the entire cooking area. The burners and grates and SOLID!!! (Take them out before you try to lift this puppy - they are incredibly heavy, which bodes quite well for their durability). Just tried the rotisserie and it works like a charm.

Was This Helpful?

I absolutely love this grill!

I got the grill installed and up and running in September of 2020. I love it I use it weekly! I like everything about this grill, but the things I really like are the heavy grates, the heavy flame tamers work very well, the lights on the inside are bright and very helpful too. It looks amazing and can get super hot or run consistently for extended periods of baking. I haven't used the Rotisserie burner yet so no review of it but I'm sure it'll be great. It seems very well built as well. I wouldn't think there is much better at this price point. I researched for months and made the call on this one and think it worked out great very happy.

Was This Helpful?

Highly Recommend

This is a fantastic grill! Very easy to use, ignites the first time every time. The cooking grids make great sear marks and I find there are no hot spots on this grill. If you want no flare ups, the flame tamer upgrade is well worth it. I find this grill also has a better look than most others. Also, the warranty is best in class.

Was This Helpful?

Excellent high heat and well built

Just getting started with my Blaze Professional, and I love it so far. I have cooked filets, wings and sausage. Every meal has been delicious. My steaks had a good smoky hint to them and it was almost like they'd been cooked on my old charcoal grill. The cooking grates are seriously thick and make nice grill marks. I like turning on the lights whenever I have company over to show off the grill.

Was This Helpful?

Beautiful Grill, Amazing Quality and Cooking Performance

Cooked for the first time on the Blaze Professional and was highly impressed. First the grill looks amazing, and love the red lights. The quality appears to be outstanding and solid. Cooking wise, this grill reaches extreme heat and cooks great with no cold spots. Very even heat! My steaks and burgers came out perfect with beautiful sear marks, which made me look like a pro, lol. I highly recommend this grill for the money.

Was This Helpful?
The Skinny:
Superior 304 stainless steel utilized in virtually every aspect of grill construction
Extra thick 12mm hexagonal Searing Rod grids deliver restaurant-quality sear lines
Fully feature-packed with included rotisserie kit, full-width grease tray, and more
Grease Control System and Lower Heat Baffle Design funnels away pesky runoff
LED Illuminated Control System beams sophisticated red lights and halogens
With a gas grill so clearly designed to impress, where do you even begin?
At the start, of course. When building the Blaze Professional, its makers set out to produce the best-valued Luxury grill in the industry. Personally, we're inclined to agree — and that's straight from Chef Tony, who got his hands on the 34-inch model for some serious grill testing. Superior construction supports the grill from hood to heel. Heavy-duty, H-style burners roar with might or delicately simmer at a whisper. Every drop of juice that sneaks beneath the cooking surface is volcanically vaporized and recycled into even more flavorful power. Want to flip two dozen standard 4-inch burgers? Here, have 25. Ready to roast a whole turkey to roast? So is the included waterproof rotisserie kit and its best friend, a 10,000 BTU rear infrared burner.
Professional's in the name, but it's not all work — it's also play. With no more than a fingertip, a striking veneer of red opulence glows over the burner knobs. Move an inch away, and bright halogen lights beam on to surround your sizzling entrees with superstar ambience. The show doesn't stop once the grill runs cold; a cooking surface comprised of unique hexagonal rods sear some of the most impressive marks into a steak we've ever seen.
Quality
Blaze Professional boasts 304 stainless steel throughout with mature, compelling design choices.
Firstly, we wanted to fact-check claims that the Blaze Professional is built with 304 stainless steel inside and out, so we put an XRF gun in Chef Tony's hand and put him to work. After a thorough examination of the grill components, he returned impressed — the firebox, burners, Flame Stabilization System, Searing Rods, control panel, drip pan, and both the inner and outer walls of the hood are all, in fact, 304 stainless steel. Forged entirely out of such top-tier, outdoor-rated materials, we can confidently say that Blaze Professional heartily embodies superior construction and durability.
Speaking to the components themselves, everywhere we looked screams competence and confidence. Let's talk flame tamers: every great grill's got them, but not like these. At first glance, the Flame Stabilizing System does what you'd expect; it distributes even heat along the entire cooking surface, protects burners from wayward drippings, and instantly vaporizes them for added flavor infusion. But what separates them from contemporary tamers is that each of the three panels weighs in at 4 1/2 pounds of 12-gauge thick 304 grade stainless steel.

By now, you've noticed we haven't mentioned the cooking surface yet. We saved the best for last: on the 3-burner model, expect these 12mm thick hexagonal Searing Rods to stretch out 30 3/4 inches wide by 20 inches deep for an abundant 614 sq inches of grilling room. But the real value is their heft: divided between 3 burners, these pieces weigh in together at 11 1/2 lbs, making them stand among the heaviest-duty cooking grids in a gas grill. The unique shape enforces more meat to metal contact — look forward to searing bigger, meaner marks and enjoying faster heat recovery when flipping food.
Performance
Blaze Professional provides incredible burner quality, guaranteed ignition, and fine-tuned temperature control.
Blaze Professional isn't just about the looks and feel. Under the hood, you'll find 18,000 BTUs of cooking prowess apiece — that's 54,000 BTUs total in this configuration — in formidable H-style, cast stainless steel burners. Though it sounds tongue-in-cheek, we'd be remiss to ignore that we frequently receive feedback stating these burners really are exceedingly powerful. Used to cooking on grills in the Practical or Entry-Level class? Buckle in. These burners get white-hot, and they don't apologize about it. If you're willing to be flexible in your grilling style as you settle in with those premium knobs, they'll show you that all your results before were a compromise — and the time for "good enough" is over.
Guaranteeing a sure start every time is Blaze's powerful ignition system, involving their proprietary Push & Turn Flame-Thrower w/ Backup Flashtube & Crossover Channels. It's a mouthful, but as an elegant, simple system that works like a charm every time, it certainly earns the real estate. Should summers of sizzling steaks whittle away at the reliability, each individual burner is backed up with dedicated flash tubes as a secondary ignition source.

Sure, the burners are powerful and their operation is supported with bulletproof ignition, but they're only part of the picture. Blaze Professional ships with Heat Zone Dividers — solid slide-in panels between each burner that enforce a wide range of temperature flexibility. You can do more with this than stagger dishes across the surface at once. Stage a white-hot searing zone on one end while the opposite one simmers into a perfect finishing spot. Effectively speaking, this equips you to carry a tuna steak through a commercial-quality grilling experience.
Features
Blaze Grills clearly put in the elbow grease to craft a truly Luxury-class grilling encounter.
Protecting this Luxury grill is a best-in-class limited lifetime warranty on all stainless steel components, including burners, housing, flame tamers, cooking grids and more. Beyond the immaculate construction, excellent peace of mind, and luxurious grilling experience, Blaze saw fit to pack their heavyweight grill with more capability than a Swiss Army knife. For starters, Professional arrives with a premium rotisserie kit — no need to pay extra for this one — with a fully-enclosed, waterproof motor. When you're not adding steakhouse-level crust with the 10,000 BTUs out of that back infrared burner, simply store the spit rod on the hanging hooks in the rear.

Keep your side dishes toasty and squeeze more out of your hood volume with the removable warming rack, adding 201 sq. inches of cooking space (for a new total of 816 sq. inches). Further beneath the grill, a full-width drip pan on smooth glide rollers makes clean-up a snap. Equally smooth on the roll are the 4 heavy-duty locking wheels; easy to maneuver around whenever you want, and rooted to the spot when you don't. Speaking of cart configuration features, Blaze packed in every inch of space that physics would allow them: 2 spacious, folding side shelves up top, 2 deep drawers to the left, and a large access storage door to the right.
Then there's that sleek, contoured control panel. Not only is each burner sculpted to look fantastic and feel outstanding in the hand, but a few tasteful bonus buttons the combined LED Illuminated Control System — this is functionality we've grown to really love. The upper button switches on the internal halogen lights to keep the party going into the night, whereas the lower one bathes the control knobs in Blaze's trademark sophisticated red light.
Question:
Are there videos showing the assembly of the Blaze Professional 34-Inch 3-Burner Propane Gas Grill With Rear Infrared Burner - BLZ-3PRO-LP? Also do you have a link to a digital copy of the assembly instructions for this model. Our grill will be delivered shortly and I noticed that it weighs 400 lbs so I want to have a plan of action when it arrives. Thank You, Art
Was This Helpful?
Answer:
Hi Art, thanks for asking. We do not have any videos for assembling this grill, but the good news is that you can look under the Manufacturer's Downloads section on this page where we have the Use & Care Guide and Assembly Instructions links available.
Question:
Blaze Professional 34-Inch 3-Burner Propane Gas Grill With Rear Infrared Burner - BLZ-3PRO-LP. Is this grill able to use propane now and then later (say a year or two down the road) switch to natural gas. If yes is a kit supplied with the grill? Or is there a special kit to purchase?
Was This Helpful?
Question:
My wife and I are in the process of needing a new grill but we want a professional grill aka not one from Home Depot, and only want to buy one for our situation, but in the future we will be wanting a built in grill and only want to buy one grill now free standing and then once we achieve the funds to to build the outdoor kitchen place said professional grill into the built in. So my question... if I buy the free standing grill with cart can the cart be removed and place in a built in location once out door kitchen is built?
Was This Helpful?
Answer:
Great question, Ken! Yes, this Blaze Professional Grill is able to be converted from a freestanding to a built-in model. Depending on your built-in install application, you may require to have an insulated jacket for the grill. Be sure to review the owners installation guide as well as your local codes and regulations with your contractor prior to your build.
Answer:
Hi Ken! You absolutely can remove the grill head from the cart when you're ready for your outdoor kitchen.
Question:
Can the side shelves be removed?
Was This Helpful?
Answer:
Hi, Bec. The side shelves would need to be unscrewed to remove them from the cart.
Question:
Can the Blaze Wind Guard For Professional 3-Burner Gas Grills - BLZ-PROWG-34 be used with the Blaze professional 3 burner gas grill. I live in a windy location and love the Blaze grills, but the back opening will cause problems. I don't have any way to making a wind block to assist in resolving this problem. then I saw this accessary and want to know if it will help for the Blaze Profession grill - I know it sounds like it should but want to make sure.
Was This Helpful?
Answer:
Excellent question! It will absolutely work with the built-in model but not the freestanding.
View Product Comparisons

Current Item

Blaze Professional LUX 34-Inch 3-Burner Propane Gas Grill With Rear Infrared Burner - BLZ-3PRO-LP

Blaze Professional LUX 34-Inch 3-Burner Propane Grill w/ Rear Infrared Burner

RCS Cutlass Pro 30-Inch Propane Gas Grill - RON30ALPCK

ProFire Professional Series 36-Inch Propane Gas Grill

Price & Shipping Information

$1,900.00 (27%)

Free Shipping

Leaves Warehouse:

24 Hours

$1,900.00 (27%)

Free Shipping

Leaves Warehouse:

24 Hours

View Item

$860.00 (15%)

Free Shipping

Leaves Warehouse:

1-3 Business Days

View Item

$1,070.00 (15%)

Free Shipping

Leaves Warehouse:

1-3 Business Days

View Item
ID
#2886266
#3105377
#2603112
#2542103
Model
BLZ-3PRO-LP + BLZ-3PRO-CART
BLZ-3PRO-LP + BLZ-3PRO-CART-LTSC
RON30ALPCK
PF36G-P + PF36SSCBP
Class
Luxury
Luxury
Premium
Premium
Fuel Type
Propane
Propane
Propane
Propane
Collection
Blaze Professional LUX
Blaze Professional LUX
Cutlass Pro
Professional
Configuration
Freestanding
Freestanding
Freestanding
Freestanding
Exterior Material
Stainless Steel
Stainless Steel
Stainless Steel
Stainless Steel
Exterior Stainless Grade
304 Stainless Steel
304 Stainless Steel
304 Stainless Steel
304 Stainless Steel
Primary Color
Stainless Steel
Stainless Steel
Stainless Steel
Stainless Steel
Number Of Main Burners
3 Burners
3 Burners
3 Burners
6 Burners
Grilling Surface BTUs
54000
54000
45000
66000
Infrared Main Burner
Available
Available
Available
Not Available
Main Burner Material
304 Cast Stainless Steel
304 Cast Stainless Steel
304 Cast Stainless Steel
304 Stainless Steel
Flame Tamer Material
Stainless Steel
Stainless Steel
Stainless Steel
Stainless Steel
Cooking Grate Material
Stainless Steel
Stainless Steel
Stainless Steel
Stainless Steel
Cooking Grid Dimensions
30 13/16 X 19 15/16"
30 13/16 X 19 15/16"
30 X 20"
33 3/8 X 20 1/2"
Main Grilling Area
615 Sq. Inches
615 Sq. Inches
600 Sq. Inches
714 Sq. Inches
Secondary Grilling Area
201 Sq. Inches
201 Sq. Inches
240 Sq. Inches
—
Total Grilling Area
816 Sq. Inches
816 Sq. Inches
840 Sq. Inches
714 Sq. Inches
Burger Count
24
24
24
33
WiFi/Bluetooth Enabled
None
None
None
None
Rotisserie Burner BTUs
10000
10000
12500
No Rear Burner
Rotisserie Kit
Yes
Yes
Yes
Available
Heat Zone Separators
Yes
Yes
Yes
No
Ignition Type
Flame Thrower
Flame Thrower
Flame Thrower
Continuous Spark
Flash Tubes
Yes
Yes
No
No
Grill Lights
Internal / External
Internal / External
Internal / External
None
Spring Assisted Hood
No
No
No
No
Thermometer
Analog
Analog
Analog
Analog
Includes Smoker Box
No
No
No
No
Side Shelves
Yes
Yes
Yes
Yes
Hose Included
Yes
Yes
No
Yes
Side Burner
None
None
None
None
Made In USA
No
No
No
Yes
Cart Assembly
Some Assembly Required
Some Assembly Required
Some Assembly Required
Some Assembly Required
Commercial-Grade Multi-User
No
No
No
Yes
Size
Medium (27 - 33")
Medium (27 - 33")
Medium (27 - 33")
Medium (27 - 33")
Marine Grade
No
No
No
No
This product can expose you to chemicals including Chromium (hexavalaent compounds), which are known to the State of California to cause cancer and birth defects or other reproductive harm. For more information go to: www.p65Warnings.ca.gov
Free Shipping on orders over $49
Ship your entire order to your home for free, especially the big stuff! *Continental US only
When will my item arrive?
Once shipped, items usually arrive within 3-5 business days. While UPS and FedEx are our carriers for smaller items, be aware that larger items and orders are shipped via freight. The freight process is a bit more complicated than what we've all come to expect for small parcels, so it's important that you're prepared and understand what's required of you well before delivery day.
Most freight products ship on a pallet
Some carriers will call to schedule a delivery window, while others will deliver the shipment to a reasonably accessible location closest to your residence (their goal is to deliver as near a garage door as they can).
We'll specify which process you can expect in your shipping confirmation email.
For carriers that schedule delivery appointments:
Carriers that schedule delivery appointments require you to be home for delivery and provide your signature. The delivery is made with a semi-truck with lift gate services, and the shipment is dropped off at the curb. If you authorize the shipping company to leave the delivery without a signature, BBQGuys can't be held responsible for damages that occur during delivery. As complicated as this process may seem, we've only scratched the surface here — please review our detailed guide to freight delivery so there are no surprises when a freight shipment heads your way.
For carriers that deliver without an appointment:
Carriers that deliver without an appointment don't require you to be home or set up a delivery window, and you aren't required to sign for the pallet(s). Instead of scheduling an appointment, arranging your schedule to be home for the delivery, and signing to confirm receipt, you can sit back and let your items come to you. If you're home at the time of the drop-off, you can request the driver place your delivery in the garage; if you're out of the house, the driver will leave it near the garage or doorstep.
This item leaves our warehouse within
24 Hours
$6.95 Flat-Rate Shipping
Anything under $49 ships at one low price. If your order increases, your shipping stays the same!
30-Day Returns
Return all new, unused, and unassembled items in their original packaging, and we'll give you a full refund minus the cost of the original AND return shipping.
No Restocking Fee
Most companies charge a restocking fee. We just don't do business that way.
Your Shopping History. Pick up where you left off.