This product is sold out. May we recommend...
Key Features
Blaze Grills offers a best in class Lifetime warranty
Heat zone separators allow you to cook multiple types of food at the same time using different temperatures
Flame stabilizing grids cover the entire grill to minimize flare-ups while you grill
Cast stainless steel burners for durability and longevity
Push and turn flame-thrower ignition delivers a reliable start every time
Blaze introduces an affordable commercial style grill that was designed with your outdoor BBQ challenges in mind. This Blaze 25-inch built-in gas grill comes with three (3) commercial quality 304 cast stainless steel burners that each deliver an impressive 14,000 BTUs of cooking power, for a total of 42,000 BTUs on the cooking surface. Durable 8mm stainless steel cooking rods maximize your searing capability on the spacious 558 square inches of cooking space. Push and turn flame-thrower primary ignition, backup flash tube secondary ignition and cross-tubes ensure a steady, reliable flame with every start. The removable warming rack is an ideal place to keep bread and other food heated while you grill. The stainless steel heat zone separators allow for different cooking zones across the grilling surface. This adds to your grilling experience, creating separate zones that can be used for different styles of cooking. The flame stabilizing grid minimizes flare-ups while you enjoy your Blaze grill and the full-width drip tray makes clean up a breeze. The 304 stainless steel grill hood is double-lined to protect the outer layer from heat discoloration, keeping your Blaze grill looking shiny and new! This product is ETL certified with an ANSI Z21.58-2018/CSA 1.6 rating.
Legal disclaimers and warnings
Product packaging, owners' manuals, installation instructions, and/or operating instructions may include more information than what is shown on our website. The content on our site is intended to be used for reference purposes only. Please fully read all included manuals and documentation before installing or using this product. WARNING for California residents: this product may contain chemical(s) known to the state of California to cause birth defects, cancer, or other reproductive harm.
Product Information
UPC

818718010002

Model Number

BLZ-3-NG
Ask an Expert
Buy with confidence.
Contact our experts today.
Specifications
| | |
| --- | --- |
| Class | Premium |
| Fuel Type | Natural Gas |
| Collection | Blaze |
| Configuration | Built-In |
| Exterior Material | Stainless Steel |
| Exterior Stainless Grade | 304 Stainless Steel |
| Primary Color | Stainless Steel |
| Number Of Main Burners | 3 Burners |
| Grilling Surface BTUs | 42000 |
| Infrared Main Burner | Available |
| Main Burner Material | 304 Cast Stainless Steel |
| Flame Tamer Material | Stainless Steel |
| Cooking Grate Material | Stainless Steel |
| Cooking Grid Dimensions | 22 3/8 X 18" |
| Main Grilling Area | 417 Sq. Inches |
| Secondary Grilling Area | 141 Sq. Inches |
| Total Grilling Area | 558 Sq. Inches |
| Burger Count | 16 |
| WiFi/Bluetooth Enabled | None |
| Rotisserie Burner BTUs | No Rear Burner |
| Rotisserie Kit | No |
| Heat Zone Separators | Yes |
| Ignition Type | Flame Thrower |
| Flash Tubes | Yes |
| Grill Lights | None |
| Spring Assisted Hood | No |
| Thermometer | Analog |
| Includes Smoker Box | No |
| Side Shelves | No |
| Made In USA | No |
| Commercial-Grade Multi-User | No |
| Size | Small (0 - 26") |
Dimensions
| | |
| --- | --- |
| Width | 25" |
| Depth | 25.75" |
| Height | 21.25" |
| Weight | 88 lbs |
| Cutout Width | 23 1/4" |
| Cutout Depth | 21 1/4" |
| Cutout Height | 8 1/2" |
Blaze gas grills have a lifetime warranty that warrants against any defects in the manufacturing and workmanship on the control valves, cooking grids, stainless steel housing, stainless steel burners, flame tamers, heat zone separators, and all other stainless steel components. All electrical and ignition components are covered for one (1) year after the date of purchase. Grills must be registered within thirty days for the warranty to apply. Labor not included.

Refer to manufacturer's manual for full warranty details.
85% of reviews recommend this product
Customer images featuring this product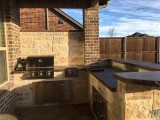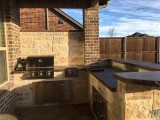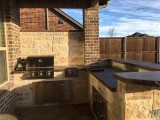 | | | |
| --- | --- | --- |
| | Yes | Was This Helpful? |
| | Yes | Was This Helpful? |
| | Great grill! | Was This Helpful? |
| | Love it | Was This Helpful? |
| | QUALITY QUALITY QUALITY !! superior in all ways | Was This Helpful? |
| | My first grill | Was This Helpful? |
| | great product | Was This Helpful? |
| | Old Griller | Was This Helpful? |
| | Good buy | Was This Helpful? |
| | Better than a Weber | Was This Helpful? |
The Skinny:
304-grade stainless steel construction with outstanding metal thicknesses
Brilliant all-around cooking performance with bulletproof ignition
Dual-zone grilling so effortless, it feels like you're cheating
Thoughtful quality of life features for excellent value
Backed by a best in class warranty
Simply put? The Blaze Gas Grill is the perfect example of a Premium grill.
Blaze Traditional grills offer Premium level quality at a great value. Between thoughtful construction and thick materials, the Blaze Traditional is frankly built to last. It's also built to perform — the burners, flame tamers, cooking grids, and especially the heat zone separators fold together into a multi-faceted grill greater than the sum of its parts. Throw in flamethrower ignition (and an infallible backup), the finest warranty in the game, convenient cart features, and that eye-popping plug and play infrared burner, and you wind up with a guaranteed entertaining investment you'll hand down to your kids.
For this review, our irreplaceable Chef Tony put the Blaze Traditional Freestanding model through its paces in rigorous testing — such as XRF metal analysis, thermocouple heat inspection, and round upon round of roasting and searing. In his words: "It checks all the boxes." We're talking high performance, solid construction, rock-solid features, serious longevity, and that generous Blaze lifetime warranty.
Quality:
Scores high marks for construction — excellent metal, heat resistance, and component thickness.
First up, the Blaze Traditional is 304-grade stainless steel inside and out… minus a few key spots. The interior firebox, warming rack, drip pan, and inner panel of the double-walled lid are all 442-grade stainless steel. This is intentional. Such steel boasts higher titanium content than other grades, which means super strength under intense heat — leaving it less likely to crack, warp, or break welds under repeated extreme conditions.

Not to mention the thickness of these pieces. Those 8mm thick cooking grids are solid stainless steel and wide enough to absorb and hold heat nicely (which means striking sear marks at high temperatures). Blaze Traditional grills also use a 14-gauge, full-width 304-grade perforated flame tamer system that carefully guards your burners from drippings, vaporizing them on contact. Across the entire length of your firebox, your sensitive burner ports will remain grease-free and safe to operate.
Let's talk more about those burners. Cast stainless steel burners are molded from molten steel and formed into shape, avoiding seams — they make a welcome touch for any grill in this class. Chef Tony measured 3mm thick walls on these hefty, nicely-built cast burners. That width not only backs up all claims of burner heat absorption and conductivity but promises endurance through repeated usage.
Performance:
Heat reaches 350–670 degrees Fahrenheit and the heat zone dividers conveniently stagger temperatures.
After 20 minutes with all burners on high, Chef Tony clocked this Blaze gas grill at 670 degrees Fahrenheit. That's plenty for the Premium class, and high enough to drop an amazing sear on the thickest steaks around. For the minimum heat test, 20 minutes with all burners on low produced 350 degrees; that's about what we expected. This holds the door open for various cooking techniques such as baking and roasting, and the potential for low and slow smoking by utilizing fewer burners.

Does "perforated full-width flame tamer system" ring a bell? They're not just burner protection! When grease droplets splatter against the white-hot perforations, a subtle flame kiss sears your foods — much gentler than the charred beating of a fiery flare-up. Overall, this extinguishes flames and dissolves grease before they can cause you any headaches.
Not impressed yet? Here's the Blaze trump card that impressed Chef Tony: heat zone dividers. This multi-zone potential really pulls the Blaze Traditional series forward from other grills in this class. Between each burner rests a 304-grade stainless steel plate that halts the transfer of heat laterally across the grill. You probably won't be ready to appreciate this genius feature until you need to grill at staggered temperatures. As soon as you do, you'll find that heat zone dividers hold one portion of the grill at a much higher heat than the other. For inspiration, this grants you the power to simultaneously flip seared steaks and bake sides mere inches from one another.
Features:
Leads the pack with reliable ignition, swap-in infrared burner, and best in class warranty.
Standing proud and dependable, the Blaze Traditional didn't blow Chef Tony away with its feature list, but some convenient quality of life add-ons lifted an eyebrow. Blaze's ignition system makes another solid appearance here — these flamethrower ignitions are far more dependable than piezo spark designs (and if you do have to replace them, they're much cheaper). They're also far simpler: a separator in the grill sends a small gas line through each igniter and, when used, the sparker igniter throws a small flame that can light the whole grill in one fell swoop. If any igniter fails, the crossover plates in the back step up for the assist; if the whole system goes, the secondary flash tube ignition comes to bat. Flash tubes can't fail, period. If you can produce fire of any kind, and gas is trickling to that tube, the burners will light every time.

Snap in and out infrared caught Chef's attention, however. Most high-end grills won't let you purchase an aftermarket infrared accessory burner like this; Blaze offers it whenever you want, because all these burners are easily swappable. Pop off a regular burner and slip in the plug and play infrared burner — that's it. It doesn't get simpler.
Other accessories include a branded grill cover, robust smoker box, and premium rotisserie kit (which happily works in tandem with the backburner for delicious roasted entrées). For freestanding Blaze Traditional models, the grill cart sneaks in a convenient paper towel rack holder against the double-walled doors, a propane tank holder with locking mechanism, swivel-locking casters, and removable side shelves for extra space and easier storage — naturally, the Blaze Traditional Built-In model doesn't benefit from these niceties.
Chef Tony's favorite feature? The warranty, hands down. Blaze guarantees this grill for the lifetime of the original purchaser. If that doesn't qualify as customer service, we don't know what does.
Product

Current Item

Blaze Traditional 25-Inch 3-Burner Built-In Natural...

Blaze Prelude LBM 25-Inch 3-Burner Built-In Natural...

RCS Premier Series 26-Inch Built-In Natural Gas Grill...

Bull Steer Premium 25-Inch 3-Burner Built-In Natural...

Price & Shipping Information

You Save: $487.50 (29%)

Free Shipping

You Save: $340.00 (20%)

Free Shipping

Leaves Warehouse: 24 Hours

View Item

You Save: $385.00 (24%)

Free Shipping

Leaves Warehouse: 1-3 Business Days

View Item

You Save: $259.00 (16%)

Free Shipping

Leaves Warehouse: 1-3 Business Days

View Item
ID

2856718

3073477

2873154

2841896

Model Number
BLZ-3-NG
BLZ-3LBM-NG
RJC26A
69009
Class
Premium
Premium
Premium
Premium
Fuel Type
Natural Gas
Natural Gas
Natural Gas
Natural Gas
Collection
Blaze
Blaze Prelude LBM
Premier
Steer Premium
Cutout Width
23 1/4"
23 1/4"
23 1/2"
25 3/4"
Cutout Depth
21 1/4"
21 1/4"
21 1/4"
20 1/2"
Cutout Height
8 1/2"
8 1/2"
8 1/4"
9 1/2"
Configuration
Built-In
Built-In
Built-In
Built-In
Exterior Material
Stainless Steel
Stainless Steel
Stainless Steel
Stainless Steel
Exterior Stainless Grade
304 Stainless Steel
304 Stainless Steel
430 Stainless Steel
304 Stainless Steel
Primary Color
Stainless Steel
Stainless Steel
Stainless Steel
Stainless Steel
Number Of Main Burners
3 Burners
3 Burners
3 Burners
3 Burners
Grilling Surface BTUs
42000
42000
36000
45000
Infrared Main Burner
Available
Available
Not Available
Not Available
Main Burner Material
304 Cast Stainless Steel
304 Stainless Steel
304 Stainless Steel
Stainless Steel
Flame Tamer Material
Stainless Steel
Stainless Steel
Ceramic
Stainless Steel
Cooking Grate Material
Stainless Steel
Stainless Steel
Stainless Steel
Stainless Steel
Cooking Grid Dimensions
22 3/8 X 18"
22 3/8 X 18"
23 X 18"
22 1/2 X 16 1/2"
Main Grilling Area
417 Sq. Inches
417 Sq. Inches
414 Sq. Inches
396 Sq. Inches
Secondary Grilling Area
141 Sq. Inches
141 Sq. Inches
132 Sq. Inches
160 Sq. Inches
Total Grilling Area
558 Sq. Inches
558 Sq. Inches
546 Sq. Inches
556 Sq. Inches
Burger Count
16
16
18
16
WiFi/Bluetooth Enabled
None
None
None
None
Rotisserie Burner BTUs
No Rear Burner
No Rear Burner
No Rear Burner
No Rear Burner
Rotisserie Kit
No
No
No
Available
Heat Zone Separators
Yes
Yes
No
No
Ignition Type
Flame Thrower
Flame Thrower
Flame Thrower
Single Spark
Flash Tubes
Yes
Yes
Yes
No
Grill Lights
None
None
None
None
Spring Assisted Hood
No
No
No
No
Thermometer
Analog
Analog
Analog
Analog
Includes Smoker Box
No
No
No
No
Side Shelves
No
No
No
—
Made In USA
No
No
No
No
Commercial-Grade Multi-User
No
Yes
No
No
Size
Small (0 - 26")
Small (0 - 26")
Small (0 - 26")
Small (0 - 26")
This product can expose you to chemicals including Chromium (hexavalaent compounds), which are known to the State of California to cause cancer and birth defects or other reproductive harm. For more information go to: www.p65Warnings.ca.gov
Free Shipping on orders over $49
Ship your entire order to your home for free, especially the big stuff! *Continental US only
When will my item arrive?
Once shipped, items usually arrive within 3-5 business days. While UPS and FedEx are our carriers for smaller items, be aware that larger items and orders are shipped via freight. The freight process is a bit more complicated than what we've all come to expect for small parcels, so it's important that you're prepared and understand what's required of you well before delivery day.
Most freight products ship on a pallet
Some carriers will call to schedule a delivery window, while others will deliver the shipment to a reasonably accessible location closest to your residence (their goal is to deliver as near a garage door as they can).
We'll specify which process you can expect in your shipping confirmation email.
For carriers that schedule delivery appointments:
Carriers that schedule delivery appointments require you to be home for delivery and provide your signature. The delivery is made with a semi-truck with lift gate services, and the shipment is dropped off at the curb. If you authorize the shipping company to leave the delivery without a signature, BBQGuys can't be held responsible for damages that occur during delivery. As complicated as this process may seem, we've only scratched the surface here — please review our detailed guide to freight delivery so there are no surprises when a freight shipment heads your way.
For carriers that deliver without an appointment:
Carriers that deliver without an appointment don't require you to be home or set up a delivery window, and you aren't required to sign for the pallet(s). Instead of scheduling an appointment, arranging your schedule to be home for the delivery, and signing to confirm receipt, you can sit back and let your items come to you. If you're home at the time of the drop-off, you can request the driver place your delivery in the garage; if you're out of the house, the driver will leave it near the garage or doorstep.
This item leaves our warehouse within
$6.95 Flat-Rate Shipping
Anything under $49 ships at one low price. If your order increases, your shipping stays the same!
30-Day Returns
Return all new, unused, and unassembled items in their original packaging, and we'll give you a full refund minus the cost of the original AND return shipping.
No Restocking Fee
Most companies charge a restocking fee. We just don't do business that way.
Message to our customers: Like all retailers and manufacturers, we're currently experiencing well-publicized supply-chain issues and steel shortages that have caused some orders to be delayed. We sincerely apologize for any inconveniences arising from this situation, and we assure you we're making every effort to solve these problems with our vendors and logistical partners.

So, why are some orders being affected? Major ports around the world are still operating at reduced capacity because of COVID-19 restrictions — on average, container boats sit at port for about 3 weeks before being unloaded. Combine these shipping inefficiencies with a scarcity of natural resources, and virtually every industry has been crippled to some degree. Yet we acknowledge that it's our duty to meet these challenges head-on and work toward solutions so you can enjoy more time outdoors with the people you love. We appreciate your patience as we strive to smooth out our supply chain, and we thank you for choosing us for your grilling and outdoor living needs.
Your Shopping History.
Pick up where you left off.